Black Friday & Cyber Monday are here, and we at Imagely want to share with you some of the best photography offers on the Internet. That's why we compiled this amazing list of photography sales only for Black Friday and Cyber Monday.
Scroll through this epic post of 2016 Black Friday & Cyber Monday photography sales, and take advantage offers before they're gone forever.
WordPress Themes & Plugins
Take your photography website to a new level with themes and plugins from Imagely, the WordPress Photography People. Efficiently manage your galleries and beautifully display your photos. Offer proofing galleries to clients and sell them prints and digital downloads. Let your website brag for you with stunning photography themes. Get 40% off all themes and plugins from 11/24 to 11/28.
Our Favorite Sales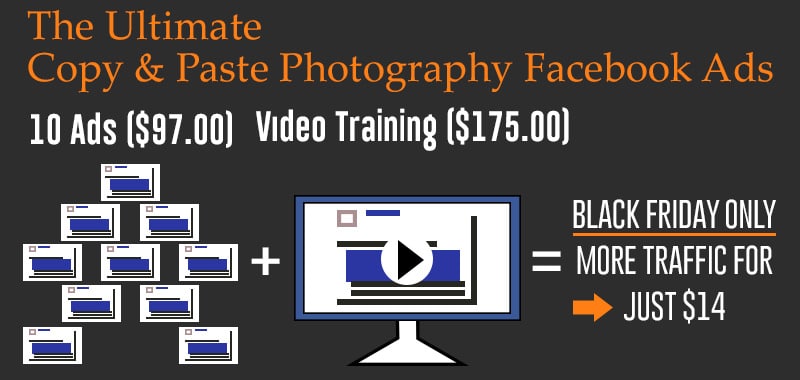 Copy and Paste Facebook Ads for Photographers
Photographers: Struggling to book clients? Copy & Paste these 10 ads directly into your Facebook account and start getting plenty of traffic of great potential clients to your site (so they can call and book you!) Normally the product is $97.00, but today it's just $14 and Get the $175.00 Photo FB Ads Video Training FREE!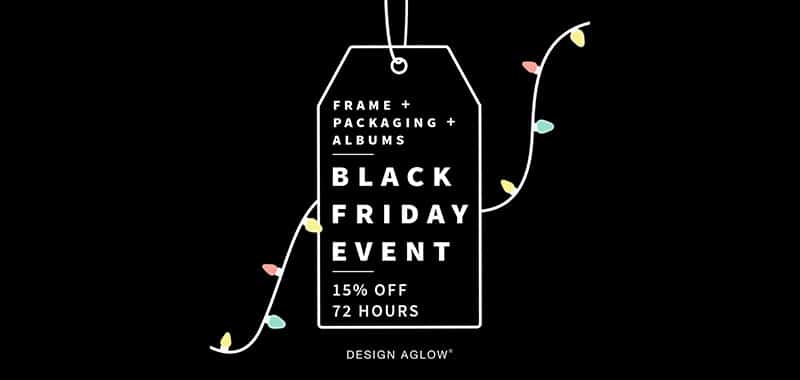 Frames + Packaging + Albums
Shop in your sweatpants and eat that extra slice of pumpkin pie! They won't judge. Design Aglow's Black Friday Event (for 72 hours only! 15% off frames, packaging & albums!) means that you don't have to budge. Design Aglow's sale is from 11/23/16 - 11/25/16. Save on packaging, frames & albums galore.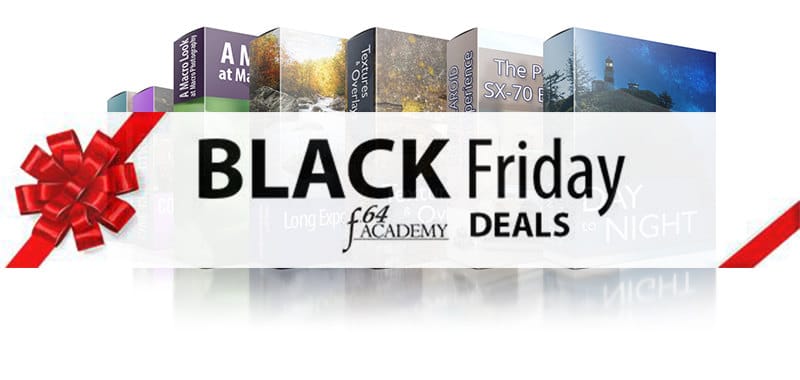 Photoshop Education
Blake Rudis from f64 Academy and f64 Elite is offering big savings on his products. Get the powerful Zone System Express panel, $9 off any courses or $49 off course bundles.
---
Additional Photography Offers
The list below contains additional photography offers in the industry.
Wedding Professional Association is offering 30% off charter memberships until 11/29 with no coupon required.
The Instagram Lab with Jenna Kutcher $197 (regularly $247) valid Black Friday through Cyber Monday.
Simple SLR Lighting Guides has 50% off all products until 12/1/16 with code BF2016.
BorrowLenses is offering 20% off all orders plus two days of free rentals with any order. The offer ends on 11/29/16. Use the coupon code BF2016.
Boudie Shorts is offering 50% various products each day from 11/28/16.
Psychology for Photographers is offering huge savings (we're talking $40-50) on her products, like courses and course bundles.
Formatt Hitech is having up to 55% off for Black Friday. Use discount code BLACK25 to get 25% off any order from their on-line store. In addition, their 40% sale on Firecrest Circulars is still running so you can get a combined 55% off when ordering circular filters.
For Black Friday 2016, Sprout Studio is running their biggest sale ever! Sign up today and save 30% off of your annual Sprout Studio subscription. This plan is normally $539, but sign up today and you only pay $377 for an entire year of Sprout Studio. The offer is valid Black Friday only and for the first 250 signups.
The Snap Society is offering 50% off their Mini Snap course. It's a Mini-Course to guide photographers through planning and executing profitable Mini-Sessions.
Fundy is having its biggest sale of the year from 11/24 - 11/28. Get 35% off Fundy Designer and a free year of Design Proofer.
Photo Flash Drive is having two different sales. 25% off your order and free standard shipping to the US, Canada and EU via batch shipments. That's 11/24-11/25 only. Then 25% off your order from 11/26-12/4 using the code 25CYBER.
AffiliateWP is offering 30% off any price level for new customers only. The offer is from 11/25-11/28.
Peachpit Press is offering buy one save 35% or buy two save 55% using the discount code BF2016 from 11/20-11/26.
Swift Galleries (from the people behind Preveal) are offering their In-Person Sales (IPS) service for $100/yr for life (reg. $150/yr). And you'll receive an exclusive "Wall Art Sales Bundle" of awesome products they have bundled together to help you sell work as wall art. The offer ends Cyber Monday.
Photography Concentrate is offering 40% off all their tutorials from 11/24-11/29. No coupon required.
The Modern Tog is offering 3 big savings opportunities through 11/28.
Free Thank You Gift for Thanksgiving! A free copy of the Photography Client Questionnaire Library, which is normally $49.
Save $100 off The Photographer's Pricing Guide Workbook. Normally $149, only $49 using code thankful100
Save 30% on all other items in my shop using code thankful30
Expert Photography is offering huge savings ranging from 30% to 50% on various courses and services.
MacPhun is offering huge savings on their software, Luminar and Aurora HDR 2017.
OptinMonster is offering 35% off any of their plans from 11/22 - 11/30 by using the coupon code BF2016.
Six Figure Photography is offering 25% off his Advanced Lightroom Editing Course and 20% off Sold: The Ultimate Guide to Wedding Photography Pricing. Both expire on 11/28 and no coupon code is required.
CreativeLive is offering up to 50% off their courses from now through 11/28.