CREATE A NEW ALBUM
1) Navigate to Gallery >> Manage Albums on your WordPress Dashboard.
2) Next to 'Add new album', give your new album a name and then click 'Add'.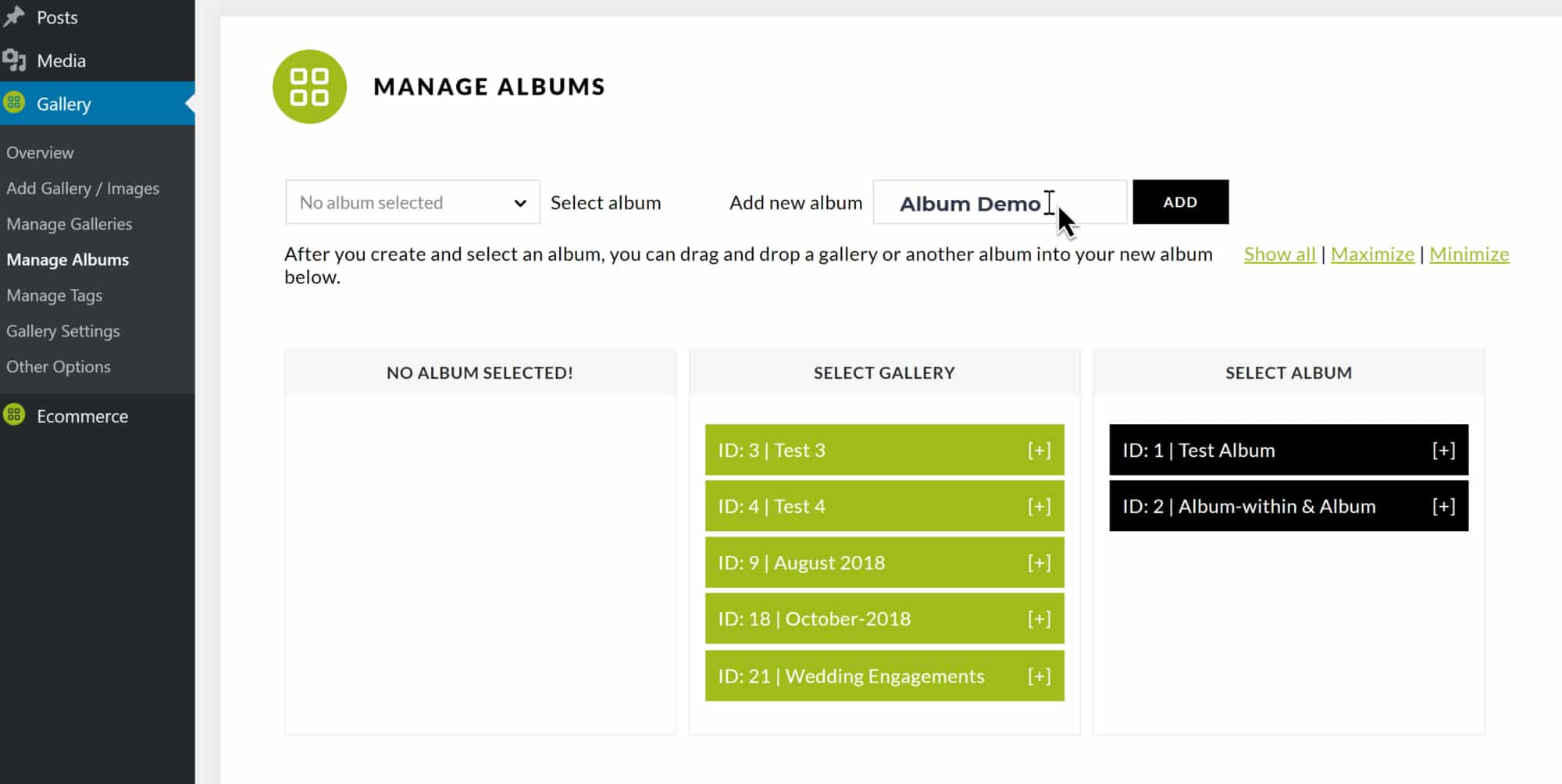 3) Next to 'Select album' > make sure your new album is selected.
4) Drag and drop your galleries over into your new album area, see: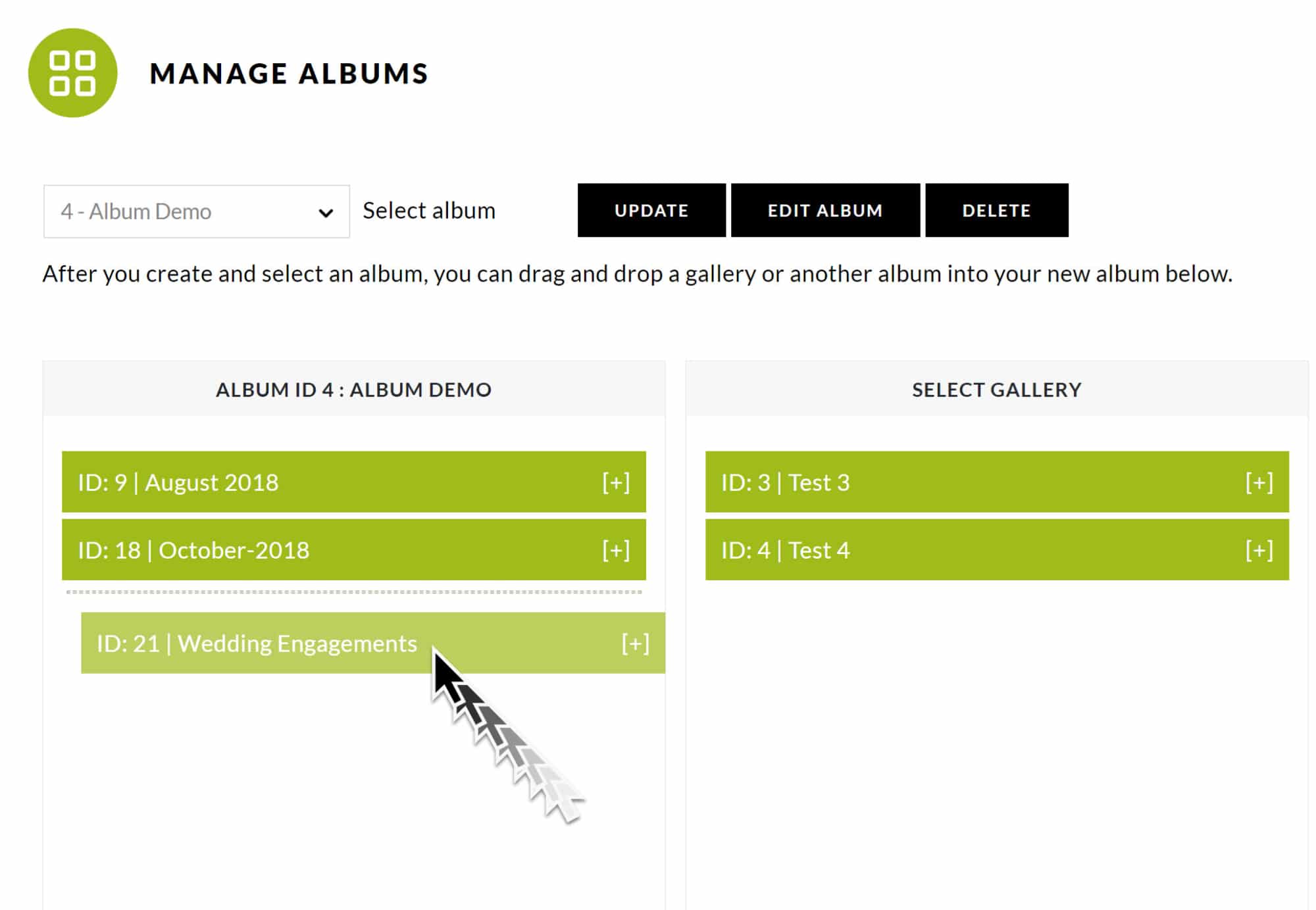 5) Once you're done adding your galleries, click 'Update', and you're done!
EDIT ALBUM refer to the screenshot below when following these steps.

a) Your assigned album name.
b) You can edit your albums name.
c) If you choose to add another album that you previously created, into your new album, select a preview thumbnail that will display within your new album.
d) Albums available to be added to another album will display here. Avoid adding the album you're creating into the same album, it won't work 😉 i.e. you're creating album 1, you can't add album 1 into album 1, the page will just reload itself and nothing will happen. You can add album 2, album 3, or album 4, into album 1.
e) If you'd like to redirect the visitor to another page on your site by clicking on the album (clicking on the album thumbnail in the album) - within the album - you can select a page to link them to. i.e. clicking on album 2 thumbnail (within the album 1) will redirect them to the 'about' page on the site.
f) Technically, you can add an album within an album... within an album 🙂 We'd recommend keeping it more simple with just an album within an album, but it will work if you decide to go one step further.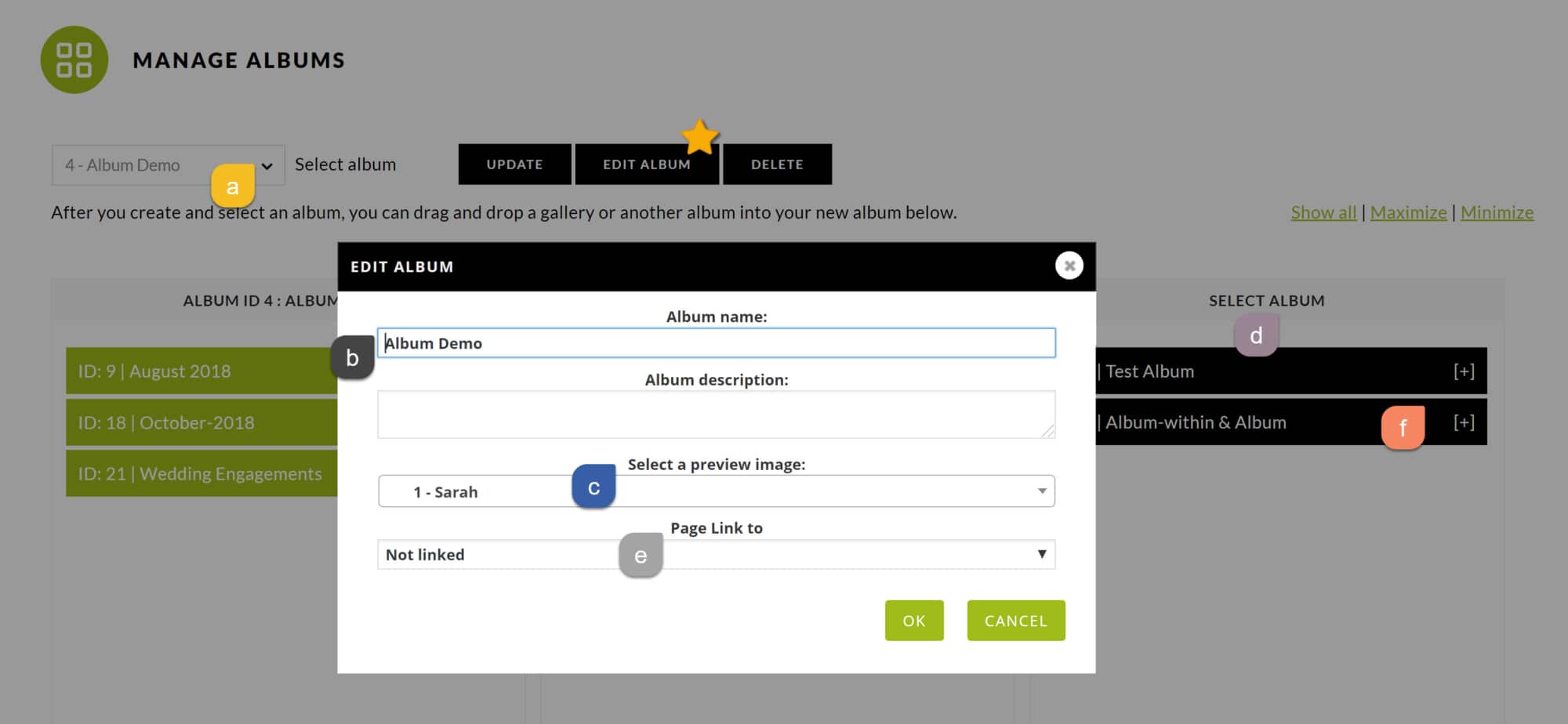 ADD ALBUM TO PAGE/POST
1) Follow the steps below to access our Add Gallery Window.
FOR THOSE WHO ARE USED TO USING THE CLASSIC EDITOR
As of WordPress v5.0 you will need to install the Classic Editor plugin to continue editing your posts and pages the way you have been used to.
The Add Gallery Window is accessed by hovering over the (+) symbol and select the NextGEN Gallery 'Add Gallery' icon to the right as shown in this screenshot below.

Or click on the (+) symbol and select the NextGEN Gallery block under 'Common Blocks' as shown in this screenshot below (or searching for 'NextGEN Gallery' above the list):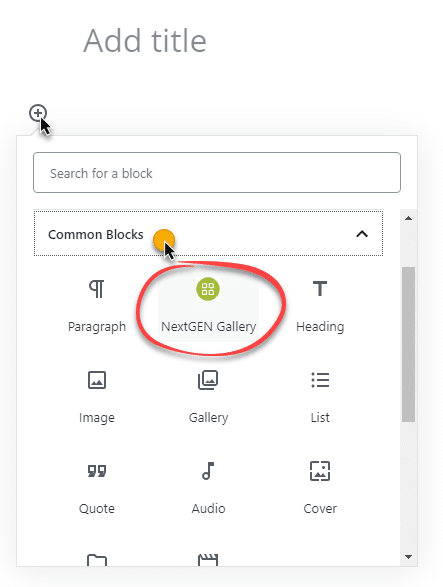 Select a display type
2) Under 'Insert Into Page > Choose Display', select 'Albums' in the dropdown menu to list the album display options, and select Pro Grid Album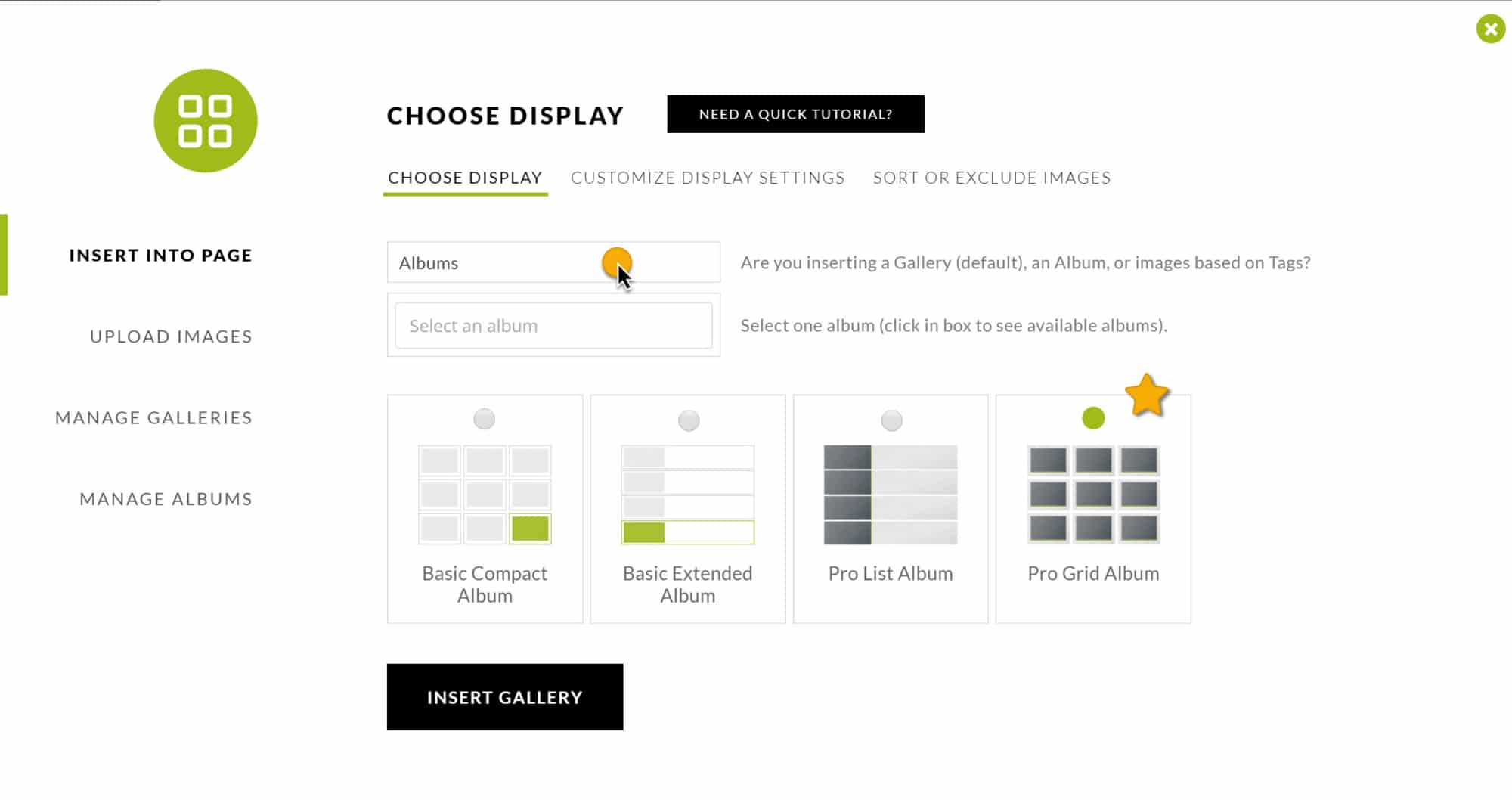 What would you like to display?
3) Under 'Choose Display' by default it should say 'Galleries' in the first field; choose 'Albums' from the list. In the second field below click once on 'select an album' and then select the album you just created (or previously created).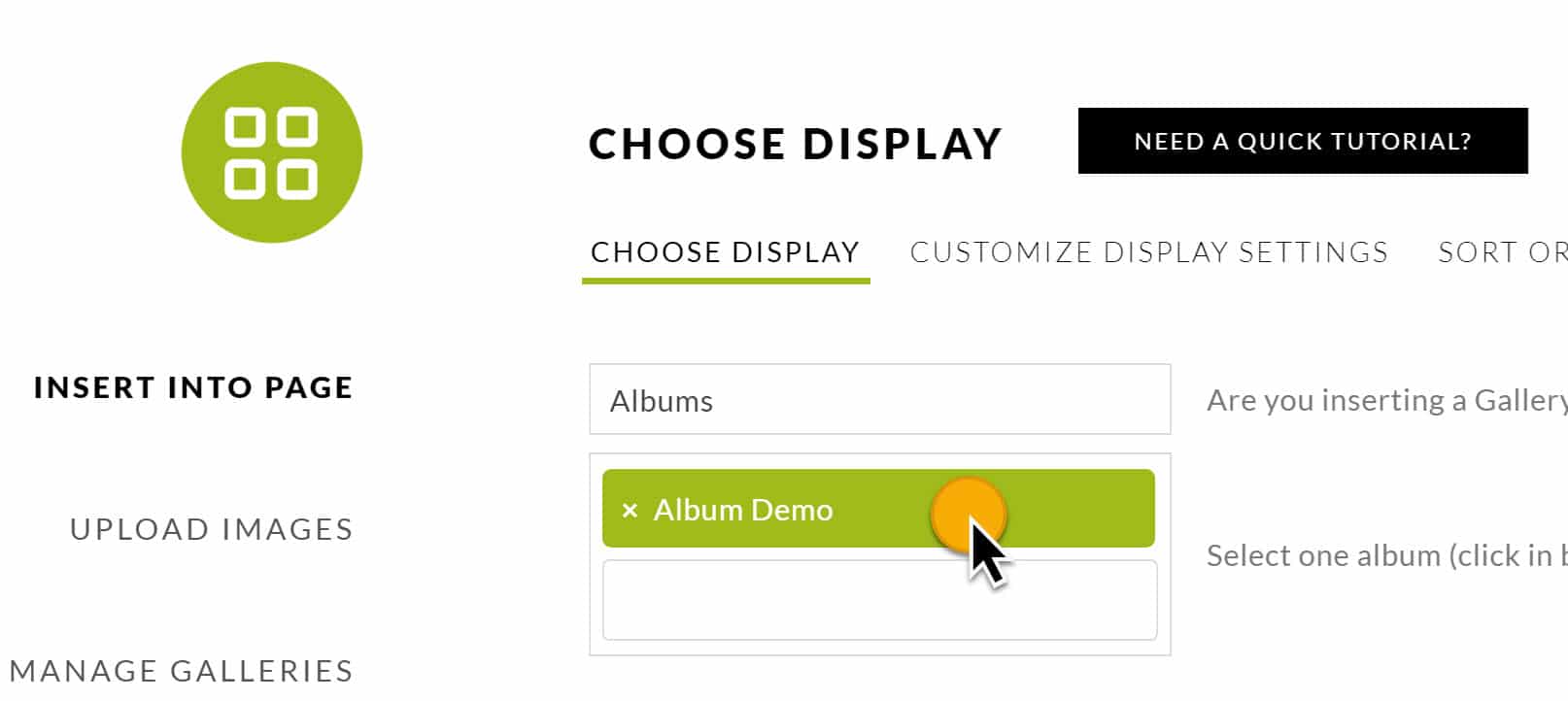 Customize the display settings
4) Under 'Insert Into Page > Customize Display Settings', go through each setting and adjust as desired. You can skip this step if you wish to use the default settings (set under Gallery > Gallery Settings in the dashboard).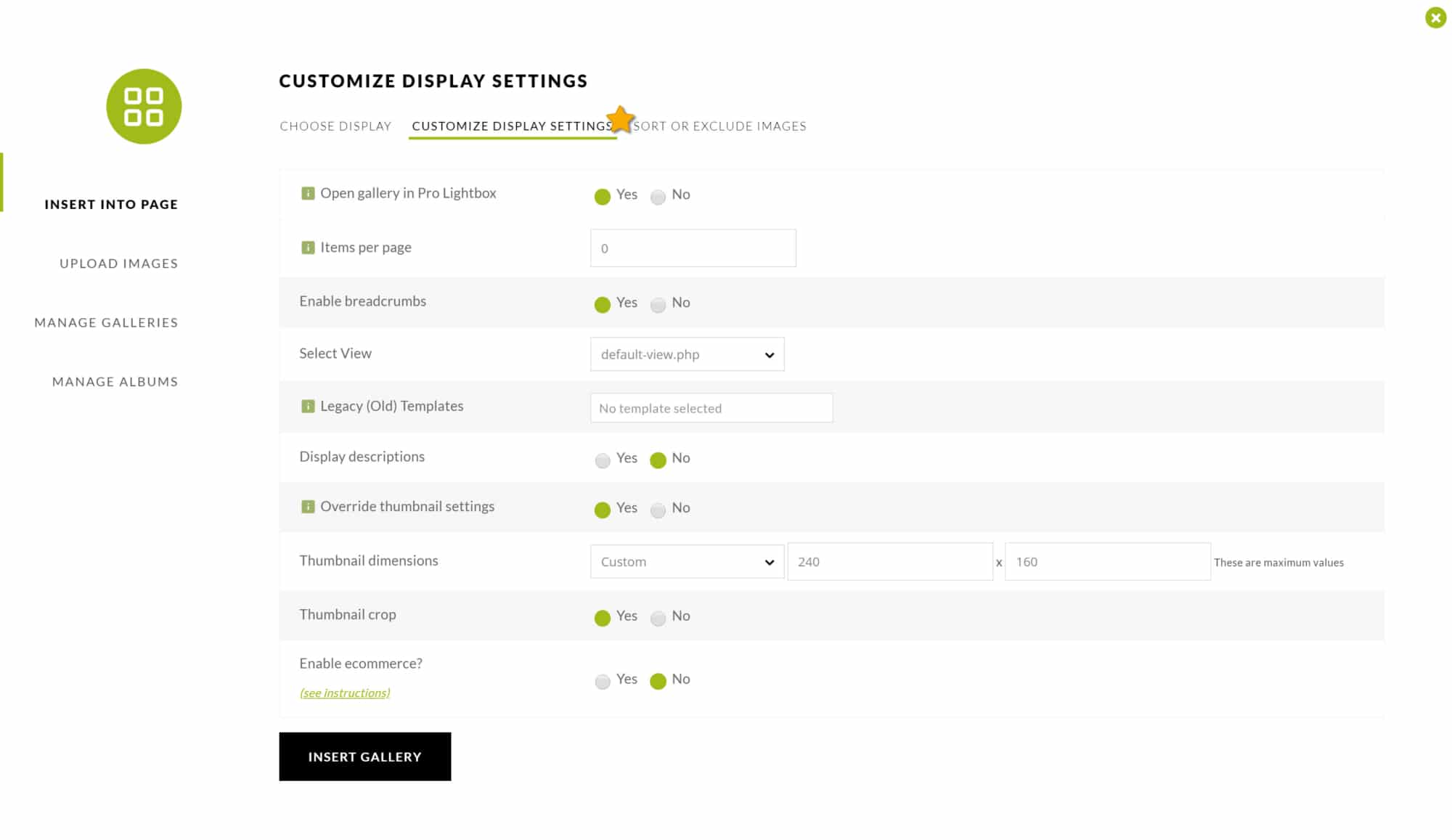 5) If you wish to exclude or sort your galleries in your album, you may do so under 'Insert into Page > Sort or Exclude' tab.
6) Last step, click 'Save', and then publish/update your page and you're done! Your finished album should look something like ours below:
Pro Grid will display like this:
Pro List
will display like this:
Basic Compact
will display like this:
Basic Extended
will display like this: