Please note that in order to use our Imagely theme, you will also be required to have the Genesis framework (parent theme) installed in the wp-content/themes directory on your server.
Learn how to update your theme: Click here.
Installing Imagely Through The WordPress Dashboard
Log in to your WordPress dashboard and go to Appearance > Themes.
Click the Add New button at the top of the page.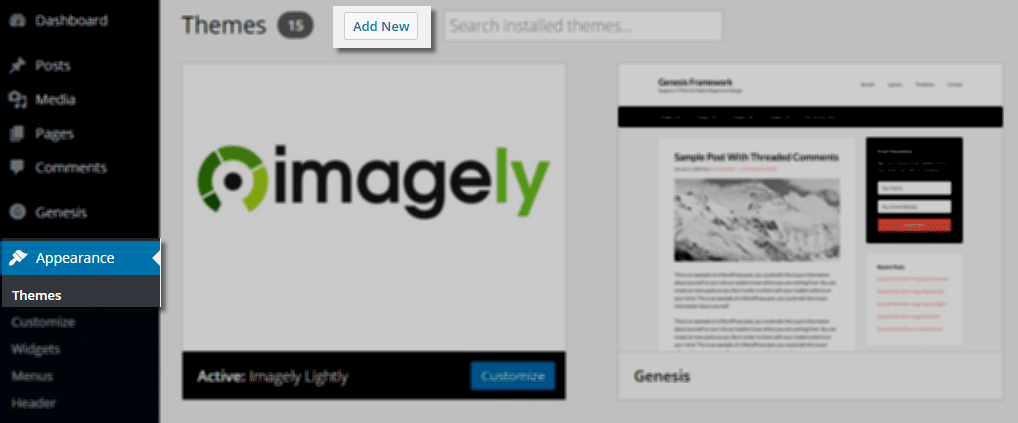 To the right of the "Add Themes" at the top of the page, an Upload Theme button will be visible – select the Upload Theme button.

Select the Choose File button, and locate your theme file you purchased and downloaded on your computer. The file will typically be named with the name of your theme and have a ending of .zip. i.e. "imagely-ansel.zip"
Once you have selected the theme file for upload click the Install Now button.

Activating The Theme
When installation is complete, click the 'Activate' link listed at the bottom: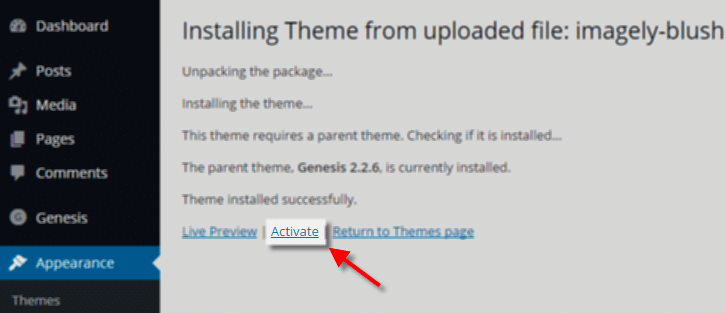 If you're installing more than one theme, to switch to another installed theme go to Appearance > Themes. There will be a list of thumbnails representing your installed themes. In the bottom right corner of these thumbnails will be two buttons: 'Activate' and 'Live Preview'. Select 'Activate'.



Make sure you activate the Imagely child theme, and not the Genesis parent theme.
When switching to a new theme you will need to rearrange your widgets under Appearance > Widgets. When you switch back to a previous theme your widgets should return back to how you arranged them when that theme was active.
*Note
If the theme downloads as a folder full of files, this is a setting in your browser or you're likely using Safari which auto-unpacks .zip files. Delete the folder on your computer and re-download the theme in another browser like Google Chrome to avoid it auto-unpacking.
Do not rename the genesis folder. Child themes look specifically for this exact name. Any other variation will not be found by the child theme.
UPDATE YOUR THEME

Follow this help guide to learn how to update your child theme: How to Update Theme
< Back to Pre-Installation Setup