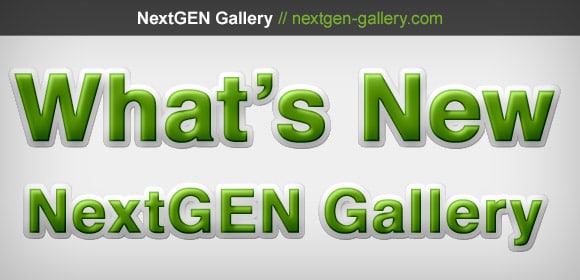 We're happy to announce our sixth update to NextGEN 2.0.0.
Thank you to all users who have been helping us diagnose and resolve the issues, and to each of the public beta testers who provided their very useful feedback and bug reports. We truly appreciate the support you have given us.
Instructions
Download NextGEN Gallery from WordPress.org or visit the Plugin page in your WordPress admin area to utilize the auto-update feature.
Caution and Issues
WARNING: Broken release. Major bug creates redundant cron jobs

NextGEN Gallery 2.0.0 contained substantial changes to the plugin structure over the Legacy versions 1.9.x. NextGEN 2.0.23 builds on those changes, but if you are updating directly from 1.9.13 or earlier, there may be incompatibilities some third-party plugins/extension including mobile apps. If you update and have issues, you can always roll back to 1.9.13 following our rollback guide.
You should, as always but more so, consider back up your site (both server files & MySQL Database).
Changes:
WARNING: Broken release. Major bug creates redundant cron jobs
NEW: WP-Cron job to periodically clean-up displayed gallery transients
NEW: Added "excluded_container_ids" as parameter for ngg_images shortcode
Fixed: Lightbox effect is honoured by all display types
Fixed: Highslide displays images from the correct displayed galleries
Fixed: Ensure that sub-albums display correctly when the word "album" is part of a slug
Fixed: Ensure that sub-albums display correctly when numerical slugs are used
Fixed: Related images heading only added when Related Images functionality is enabled
Fixed: PHP Warning about undefined index when viewing basic albums
Fixed: AJAX handling is third-party compatible
Fixed: Image date is no longer overwritten when an image is modified
Fixed: Fixed issue with displayed galleries using source='tags'
Fixed: Problem with transient cache not getting flushed properly from Other Options page
Fixed: Use correct gallery/transient ID when ajax pagination is used
For the history of changes, view the full changelog.
What's Not Fixed? Known Issues
There are still many known issues, each generally affecting a small number of users, that we need to address. You can see the list of all known conflicts that we are continuing to work on, please visit the Latest Public Beta page.
What's Been Going On?
Unfortunately the update to the new NextGEN Gallery 2.0.0 structure has not been smooth for everyone. If you would like to read about what has been going on behind the scenes at Photocrati and why there are many public betas and official releases recently, please read this open letter to the NextGEN community.