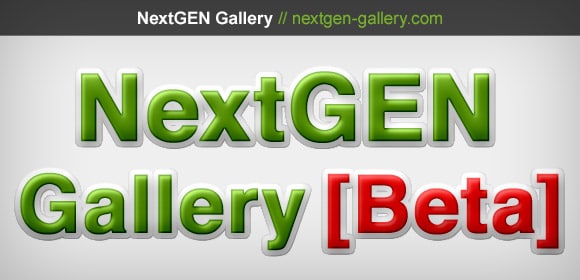 Who doesn't love a beta version, right?
Ok, well some people don't. However, we're working our butts off to release updates for NextGEN Gallery users.  So to get the ball rolling, we are happy to announce the release of NextGEN Gallery 1.9.5 Beta 1.
Please note that this is a minor release and many known bugs are not addressed in this update, but we are aware of them and will be taking them on in the next round of fixes.
Download
Click here to download NextGEN Gallery 1.9.5 Beta 1
Be aware
Beta-quality software could potentially contain issues, so please use it at your own risk and discretion.
Instructions
To install the beta version of NextGEN Gallery for the first time, download the beta and then Go to Plugins >> Add New > Upload > Pick the beta ZIP file > 'Install Now' > 'Activate'
To replace an existing NextGEN Gallery plugin, download the beta, extract (or unpack) the plugin and replace the wp-content/plugins/nextgen-gallery files and folder content with the beta version and you're all set.
Changes:
Changed: Branding changes following Photocrati acquisition (removed donation messages and updated links)
Changed: Added Facebook and Twitter buttons in admin section
Secured: Use WordPress-bundled JavaScript libraries for swfobject and swfupload instead of bundling our own
Bugfix: Adjusted thickbox effect styling to ensure that the lightbox is always displayed in the foreground
Bugfix: Fixed compatibility issues with Contact Form 7 and other plugins by following WordPress Plugin conventions
Bugfix: Fixed network-wide activation in WordPress 3.4
Bugfix: Plugin is no longer dependent on its folder name
Report Issues:
We encourage participating beta testers to report issues at BitBucket.