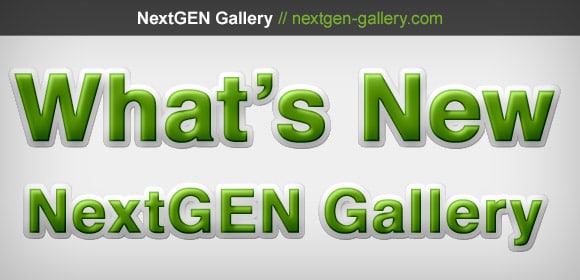 NextGEN Gallery has been updated and is now available in the WordPress plugin directory and in self hosted WordPress installs.
Instructions
Download NextGEN Gallery from WordPress.org or visit your WordPress administration to utilize the auto update feature.
Changes:
1.9.7 is primarily a security update and also a few other fixes.
Secured: Removed bundled version of swfupload; using WordPress-bundled version instead for WordPress 3.2 instances
Changed: Using JQuery UI for the image sorting interface (thanks Tomás Soler)
Bugfix: Image uploads work in WP 3.2 when using Safari
Bugfix: Adjusted TinyMCE window to use built-in Javascript libraries
Bugfix: Removed Photocrati acquisition announcement
Bugfix: Fixed incorrect usage of ImageJpeg() function
Bugfix: Switched from "template_redirect" to "wp_enqueue_script" hook to load scripts and styles
For the history of changes, view the full changelog.
Report Issues:
We encourage any bugs you experience to be reported here.