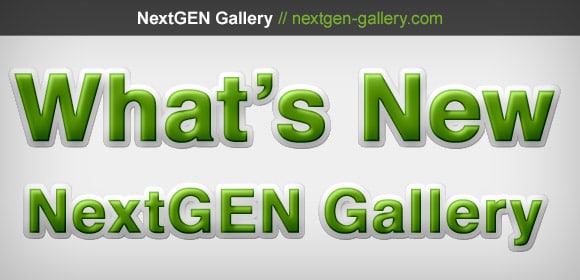 We're happy to announce our latest update to NextGEN 2.0.0. Thank you to all users who have been helping us diagnose and resolve the issues, and to each of the public beta testers who provided their very useful feedback and bug reports. We truly appreciate the support you have given us.
Instructions
Download NextGEN Gallery from WordPress.org or visit the Plugin page in your WordPress admin area to utilize the auto-update feature.
Caution and Issues
NextGEN Gallery 2.0.0 contained substantial changes to the plugin structure over the Legacy versions 1.9.x.  This new version builds on those changes, but if you are updating directly from 1.9.13 or earlier, there may be incompatibilities some third-party plugins/extension including mobile apps. If you update and have issues, you can always roll back to 1.9.13 following our rollback guide.
You should, as always but more so, consider back up your site (both server files & MySQL Database).
Changes:
This is an important update for all NextGEN Gallery users as it contains a performance tweak/bug fix.
NEW: Restored the ability to use imagebrowser display type instead of a lightbox effect
Changed: Displayed galleries are no longer rendered in RSS feeds
Changed: Removed "Plugin Check" widget from overview page
Fixed: Silence PHP warnings/errors in an output buffer for AJAX actions
Fixed: Compatibility issue with WordPress SEO and broken site maps (and large error_logs)
Fixed: Compatibility issue with AJAX Event Calendar (and possibly others)
Fixed: Adjusted Photocrati Resource Manager to be third-party friendly
Fixed: Fixed empty result set for displayed galleries selecting 'All' tags
Fixed: URL generation for imagebrowser pagination links
Fixed: Ensure that image meta is imported on creation
Fixed: Ensure that transients are removed when an external object cache is used
Fixed: Don't load pluggable.php. This will fix plugin conflicts
Fixed: In Attach to Post interface, galleries created in one tab weren't showing in another
Fixed: Don't output frame events cookie for XML-RPC requests
For the history of changes, view the full changelog.
What's Not Fixed? Known Issues
There are still many known issues, each generally affecting a small number of users, that we need to address. You can see the list of all known conflicts that we are continuing to work on, please visit the Latest Public Beta page.
What's Been Going On?
Unfortunately the update to the new NextGEN Gallery 2.0.0 structure has not been smooth for everyone. If you would like to read about what has been going on behind the scenes at Photocrati and why there are many public betas and official releases recently, please read this open letter to the NextGEN community