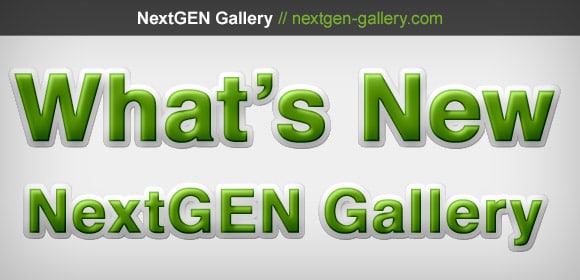 We're happy to announce our latest update to NextGEN 2.0.0. Thank you to all users who have been helping us diagnose and resolve the issues, and to each of the public beta testers who provided their very useful feedback and bug reports. We truly appreciate the support you have given us.
Instructions
Download NextGEN Gallery from WordPress.org or visit the Plugin page in your WordPress admin area to utilize the auto-update feature.
If you run NextGEN Pro
If you also run NextGEN Pro on your website it is important to also update to the latest NextGEN Pro for compatibility.  You can update NextGEN Pro within your admin dashboard or download it manually from your account.
Caution and Issues
NextGEN Gallery 2.0.0 contained substantial changes to the plugin structure over the Legacy versions 1.9.x.  This new version builds on those changes, but if you are updating directly from 1.9.13 or earlier, there may be incompatibilities some third-party plugins/extension including mobile apps. If you update and have issues, you can always roll back to 1.9.13 following our rollback guide.
You should, as always but more so, consider back up your site (both server files & MySQL Database).
Changes in 2.0.40:
This is an important update for all NextGEN Gallery users as it contains a performance tweak/bug fix.
NEW: Added the ability to apply lightbox effects to non-NGG images
NEW: Added NGG_HIDE_STRICT_ERRORS constant. Define and set to TRUE to hide strict errors
NEW: Added NEXTGEN_GALLERY_IMPORT_ROOT constant. Define and set to TRUE to browse from a custom directory
NEW: Added NGG_DEBUG constant. Define and set to TRUE to display helpful messages for debugging
NEW: Each custom table record will have an associated custom post record for expansion
NEW: Display helpful error messages when there's a problem uploading images
NEW: Add data-(src|thumbnail|image-id|title|description) attribute to gallery image anchors
NEW: Variant support for displayed gallery sources. Random images is limited to 5 variations
Fixed: Excessive creation of transients for random galleries
Fixed: Many issues prohibiting the ability to upload images
Fixed: Compatibility with NextGEN Gallery Export Plugin for Adobe Lightroom (thanks Vladimir!)
Fixed: Sorting in the Attach to Post interface
Fixed: HTML allowed in gallery/album descriptions
Fixed: Requests for galleries within albums that have numeric names are broken
Fixed: Call to a non-member function get() on WP_Query
Fixed: Ability to sort by Image ID in the Attach to Post interface
Fixed: Isolate the Attach to Post from implicit third-party script inclusion
Fixed: Check for the existance of thumbnails when generating urls, and if missing, generate new ones
Fixed: Compatibility with NextGEN Facebook OpenGraph+ plugin
Fixed: Various XML-RPC issues
Fixed: Widgets stylesheet not included
Fixed: Issue with color not being pre-selected when previewing Watermark
Fixed: E_NOTICE emitted when cleaning up cached image files
Fixed: E_NOTICE emitted when viewing display type settings
Fixed: Typo adjusting pcre.backtrack_limit for shortcodes
Fixed: Content within the tabs of the Attach to Post interface cut-off
Fixed: Routing problem which would cause conflicts with different display types on the same page
Fixed: Broken Dynamic CSS links on GoDaddy
Fixed: Ability to use HTML in gallery/album descriptions
Fixed: Sub-album requests conflicting with paginated galleries on the same page
Merged: Pull request from andreasE (https://bitbucket.org/photocrati/nextgen-gallery/pull-request/6/)
For the history of changes, view the full changelog.
What's Not Fixed? Known Issues
There are still many known issues, each generally affecting a small number of users, that we need to address. You can see the list of all known conflicts that we are continuing to work on, please visit the Latest Public Beta page.
What's Been Going On?
Unfortunately the update to the new NextGEN Gallery 2.0.0 structure has not been smooth for everyone. If you would like to read about what has been going on behind the scenes at Photocrati and why there are many public betas and official releases recently, please read this open letter to the NextGEN community