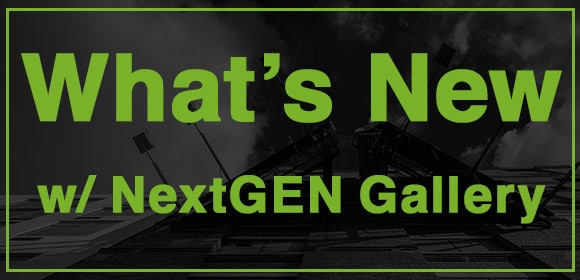 We're happy to announce our latest update to NextGEN 2.0.0. Thank you to all users who have been helping us diagnose and resolve the issues, and to each of the public beta testers who provided their very useful feedback and bug reports. We truly appreciate the support you have given us.
Instructions
Download NextGEN Gallery from WordPress.org or visit the Plugin page in your WordPress admin area to utilize the auto-update feature.
If you run NextGEN Pro
If you also run NextGEN Pro on your website it is important to also update to the latest NextGEN Pro for compatibility.  You can update NextGEN Pro within your admin dashboard or download it manually from your account.
Backup Before Upgrading
Please consider backing up your site (both server files & MySQL Database) whenever updating plugins.
Changes in 2.0.66.16:
NEW: Added new "limit" setting to Slideshow widgets
NEW: Added a "ngg_routes" action for other plugins to hook into to provide new routes
NEW: Added NGG_SKIP_LOAD_SCRIPTS constant, which existed in 1.9.x
NEW: Added NGG_GALLERY_ROOT_TYPE constant. Set to 'content' to load galleries from the content_dir / content_url
NEW: Bosnian (bs_BA) language thanks to Nevesin Srdoc
NEW: Chinese (zh_CN) language thanks to Vahi Chen, http://www.vahichen.com
NEW: Dutch (nl_NL) language thanks to Taeke Kooiker
NEW: Filipino (fil) language thanks to Find Hold, http://www.findhold.dk/
NEW: French (fr_FR) language thanks to Jean-Yves Dumaine & Le Blog de Lise
NEW: Hungarian (hu_HU) language thanks to Zoltán Varanka
NEW: Italian (it_IT) language thanks to Jacopo Caggiano, @tizz
NEW: Russian (ru_RU) language thanks to SnakeD3
NEW: Spanish (es_ES) language thanks to Andrew Kurtis at WebHostingHub
Changed: Updated Czech language thanks to Separatista; additional thanks to Martin Krizek for the original translation who was mistakenly unaccredited
Changed: "Upgrade to Pro" page has new design, advertises for NextGEN Plus
Changed: Basic Albums templates now given the image counterelement the class 'ngg-album-gallery-image-counter' (by user request)
Changed: Gallery widgets now apply height:auto to their element; fixes compatibility with some themes
Changed: Random galleries should be substantially faster now (1000% or more for large image tables)
Fixed: Complete WPML compatibility
Fixed: Disable Buddypress 'bp_do_redirect_canonical' filter as it ruins our routing system
Fixed: Use plugins_url() content_url() when appropriate rather than just site_url() and home_url()
Fixed: WP Cron job will remove not only displayed gallery transients, but rendering transients as well
Fixed: NGG_RENDERING_CACHE_TTL constant is honored properly
Fixed: If using the caption template for Basic Thumbnails, only show the image caption when appropriate
Fixed: If NGG is uninstalled, so are it's custom capabilities
Fixed: Translate "Attach NextGEN Gallery to Post" ATP icon alt text when translations are active
Fixed: Multisite gallery path tooltip gave a wrong default setting
Fixed: Flush 'all' caches when pope_module_list setting changes
Fixed: Don't enqueue related images css in the admin
Fixed: Basic Slideshows fixes WP creating extraneouselement above the slideshow display
Fixed: Basic Singlepic will now display images marked 'excluded' in the admin
Fixed: Admin pages can now update when the "Save" button text has been translated
For the history of changes, view the full changelog.