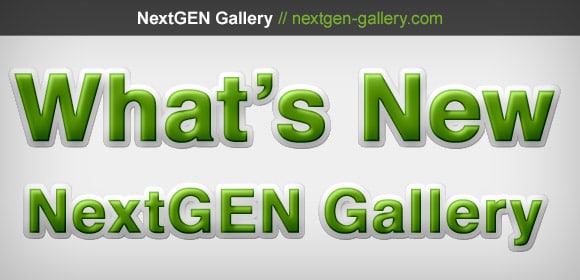 We are so happy to share that after over a year of of hard word, NextGEN Gallery has been updated to 2.0 and is now available in the WordPress plugin directory and in self hosted WordPress installs.  Thank you to all the beta testers who provided their very useful feedback and bug reports.  We truly appreciate the support.
This is a big update with a lot of major changes.  Each of which were made with users in mind.  In fact, the majority of the changes were made by requests from users.  So thank you for that!
Instructions
Download NextGEN Gallery from WordPress.org or visit your WordPress admin to utilize the auto update feature.
Be aware
NextGEN Gallery 2.0 contains substantial changes to the plugin structure which means there might be incompatibilities some third-party plugins/extension including mobile apps.
Back up your site first (both server files & MySQL Database)
Changes:
NEW: Improved user experience throughout the plugin, settings and usage.
NEW: Plupload queue uploader that allows for bulk and zip uploads within the same interface.
NEW: Complete redesign of the NextGEN options panel
NEW: Added new interface for adding galleries from pages and posts.
NEW: Galleries are now mobile friendly and responsive, which is most noticeable with a responsive theme.
NEW: Streamlined functionality for displaying galleries based on tags.
NEW: Architecture based on  Pope Framework
NEW: New shortcode, "ngg_images", and corresponding Attach to Post interface
NEW: Galleries have now global and instance settings
NEW: Support for FastCGI environments
Changed: Replaces shortcodes with placeholder images, however still supports legacy shortcodes.
Changed: Introduced new Growl-like notifications
Changed: The container and it's images are centered for slideshows
Changed: NextGEN styles now override vs replace default styles
Changed: NextGEN legacy templates have been deprecated (but still function)
FIXED: The ability to use NextGEN image as a Featured Image.
FIXED: Many bugs and annoyances, such as PHP warnings, errors, etc.
For the history of changes, view the full changelog.
At the time of the announcement, 2.0  has incomplete BBPress and Multisite support and partial support for Windows hosting environments.  Please know that these three items are on the priority list for updates.
NextGEN Gallery 2.0 Screenshots

For the past few weeks we have been sharing some of the great things you can do with NextGEN Gallery 2.0.  Here are some of those articles:
Of course, our developers and support team are working hard to develop documentation for extending NextGEN Gallery.  Here are a few links to get you starts.