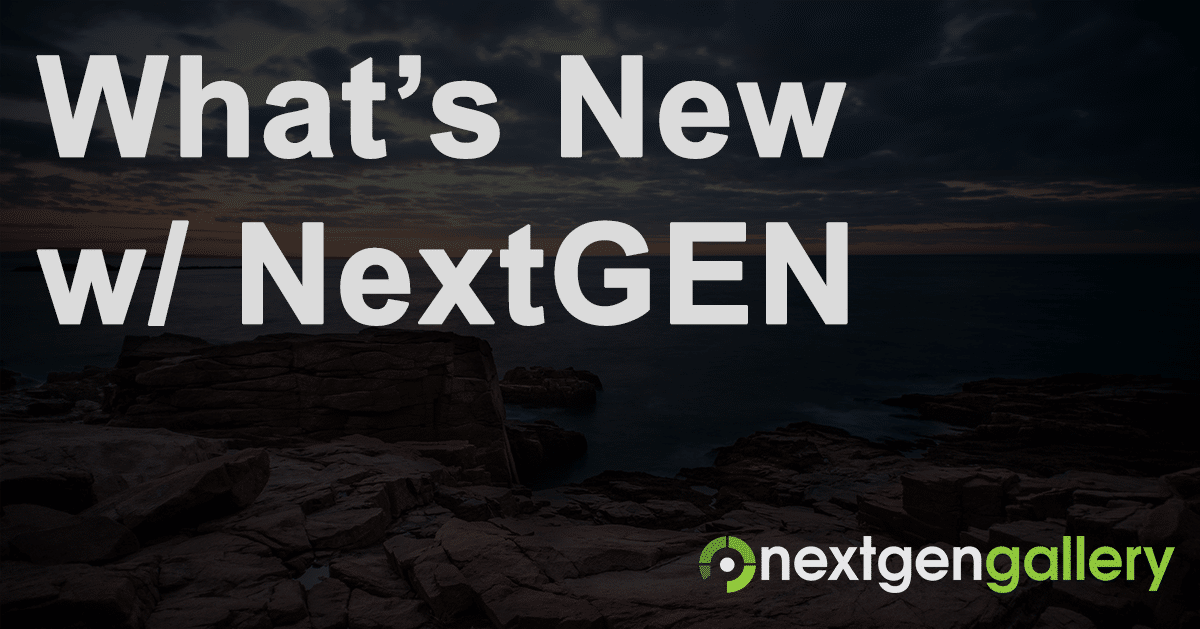 Today's release is another milestone in our ongoing efforts to reduce and remove as many bugs as we can which impacts a wide range of users.
Many of the bugs are not introduced by us, but rather other plugins and themes. Although we have tried contacting many of the theme and plugins developers to have them correct their bugs, we do not often see responses. So we have continued to include those patches within our own plugin as a courtesy to the users experiencing the issues.
We have made additional fixes and improvements to the plugin, and prepared NextGEN Gallery to handle upcoming NextGEN Plus and NextGEN Pro features as well.
One new feature is album breadcrumbs for when you allow NextGEN Gallery to automate the album to gallery display. It's pretty neat!
Backup Before Upgrading
Please consider backing up your site (both server files & MySQL Database) whenever updating plugins.  Here are some backup recommendations.
Instructions
Download NextGEN Gallery from WordPress.org or visit the Plugin page in your WordPress admin area to utilize the auto-update feature.
Changes in 2.0.10:
NEW: Album breadcrumbs and pagination
NEW: Ability to override builtin MVC templates
NEW: Robust transient management
NEW: Added the ability to set post thumbnails via XML-RPC module
NEW: Added 'ngg_get_image_size_params' filter to control image generation
NEW: Added 'ngg_basic_tagcloud_title' and 'ngg_basic_tagcloud_excluded_display_types' filters
NEW: Added ngg_manage_images_items_per_page filter
NEW: Added "ngg_get_image_url" filter
NEW: Including Ukranian and Polish translations
NEW: The ability to set template in widgets
Changed: Default thumbnail dimensions set to 240x160
Changed: Product now adheres to Pope 0.12 and provides get_modules_to_load()
Changed: Updated translations
Changed: Removed link to capsman plugin in Roles accordion
Changed: Taxnomies now use internationalized strings
Changed: Image date/time meta data fields are stored as UNIX timestamps
Fixed: Various PHP warnings and notices
Fixed: Compatibility fixes for WPML
Fixed: Ensure that backup image functionality fails gracefully
Fixed: WP option 'ngg_do_upgrade' updated in every HTTP request
Fixed; Empty $_SERVER['PATHINFO'] causing multiple routing issues
Fixed: "Manage Galleries" display image alttext in the filename column
Fixed: Various issues with the tag cloud display type
Fixed: Integrity check when updating from 1.9.x
Fixed: Image filenames substituting spaces for + which is only proper in the query string
Fixed: Insert Gallery Window not working with nested levels of gzip compression
Fixed: Imagebrowser as lightbox effect not working with pagination
Fixed: Compatibility with MultiVerso Advanced File Sharing
Fixed: "Add page" button not displaying on the next immediate page load
Fixed: Double-escaping of non-latin characters
Fixed: Imagebrowser pagination with custom templates
Fixed: Custom CSS is enqueued late to ensure it's one of the last stylesheets loaded
Fixed: Fixed watermarking PNG images
Fixed: Using the "Import Metadata" bulk action overwrites existing data
Fixed: Seconds were not retained from CaptureTime EXIF field
Fixed: Conflicts created by our TinyMCE plugin
Fixed: Image mapper setting gid to gallery name, not the unique ID
Fixed: Restored nggdb->get_random_images(), nggdb->search_for_file, and nggdb->find_all_albums()
Fixed: Allow gallery slug as parameter to nggdb::get_gallery()
Fixed: Don't minify Plupload's i18n JavaScript
Fixed: Custom template images not being given their full effect code attributes
Fixed: When importing galleries from folders, allow symlinks
Fixed: Use of C_Gallery_Mapper in C_Image_Wrapper
Fixed: Properly handle themes that don't call wp_footer() or wp_print_footer_scripts()
Fixed: Warning about missing style.php file on Network Admin -> Gallery page
Fixed: Warning about getimagesize() failure when backing up an image
For the history of changes, view the full changelog.