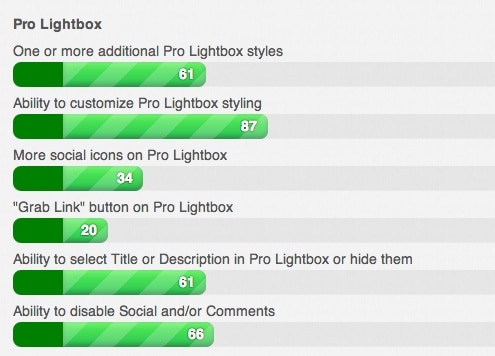 We get a lot of feature requests through the WordPress.org forum for NextGEN Gallery.  We also get a lot of the requests through NextGEN Pro support as well.  To keep it organized we created a Feature Voting page.
The way that features will work in the future is fairly straight forward.  The majority of new features will be added to NextGEN Pro father than the free version of the plugin.  The exception to this is of course when the feature really has to be in the free plugin rather than the Pro version.  An example of this exception is a bulk tag deletion feature.  Since NextGEN Gallery controls the tags, a feature like that would have to be in the free plugin.
With that said, here is a list of the most popular NextGEN Pro feature requests taken directly from the Feature Voting page.
Ability to customize Pro Lightbox styling (added in NextGEN Pro 1.0.10)
Overall ecommerce, ability to sell images (officially in development)
PayPal integration (will be the 1st form of payment accepted in the new eCommerce system)
Ajax pagination on any gallerires or albums to advance without reloading page (added to more gallery types and will be added to albums in the future)
Option to import images from WordPress Media Library (this can be done already but we plan to add a more visual method in the future)
Provide option to include videos in gallery
Right click protection
NextGEN SEO for WP SEO by Yoast
So as you can see we have already addressed and have begun addressing many of the popular feature requests.  We can only work on so many at once, in addition to addressing user conflicts.  However, if you want to cast your vote for a feature, visit the Feature Voting page today.
Thanks for reading,
Scott