How Can We Help?
Search for answers or browse our knowledge base.
Adding Images (Uploading/Zip Files/Image Folders)
We know that a lot of our users are photographers and have hundreds of images they would like to upload in one large batch. The options on how to create your galleries are listed below:
How to Create a Gallery

There are three options to upload and create a gallery (explained in more detail below), but lets start out with the quickest way to create one. Under the Add Gallery Window in your page or post. Under 'Upload Images' choose the gallery in the dropdown to upload your images to, or create a new gallery by entering the name of your gallery in the text field. Once the upload process is complete, that's it! You're done 🙂 You can manage your new gallery under the 'Manage Galleries' tab in the left menu, or insert your gallery right away under the 'Insert Into Page' tab in the left menu.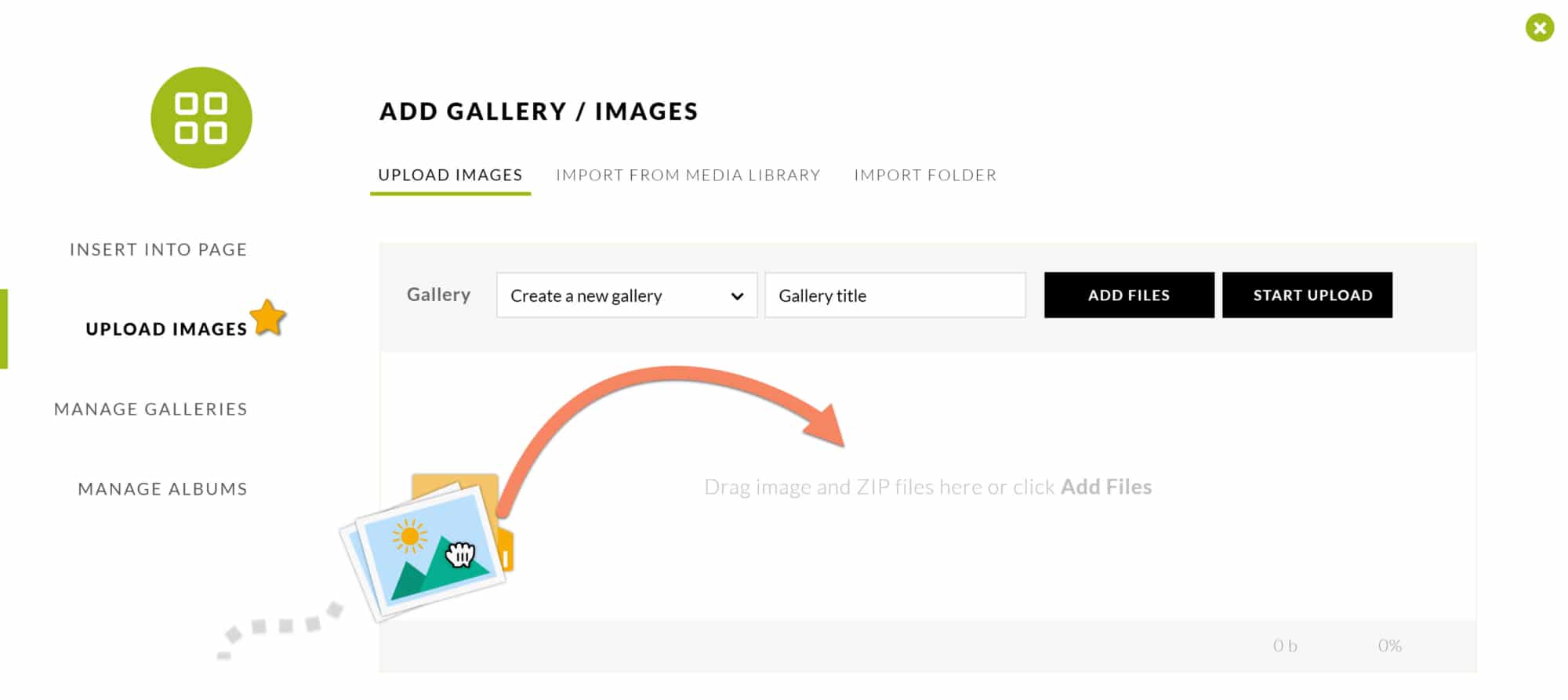 THREE OPTIONS TO UPLOAD AND ADD IMAGES TO YOUR GALLERY

1. Upload Images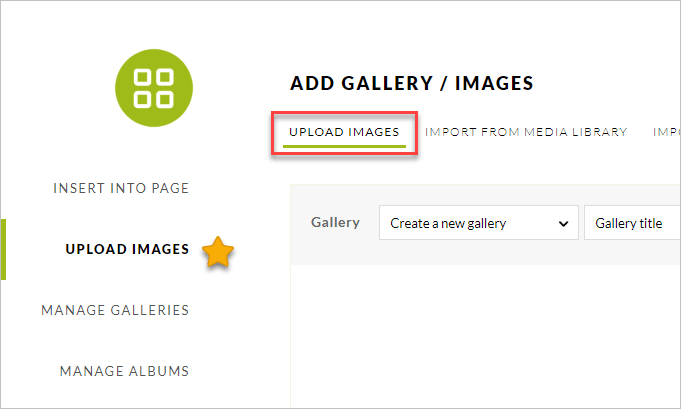 a. First, choose the gallery to upload images to (or create a new one).
b. Select your image files from your computer, or drag a batch of images (you can include .zip files) and drop them in the queue to upload (as illustrated above).
c. Click 'Start Upload'.
2. Import WordPress Media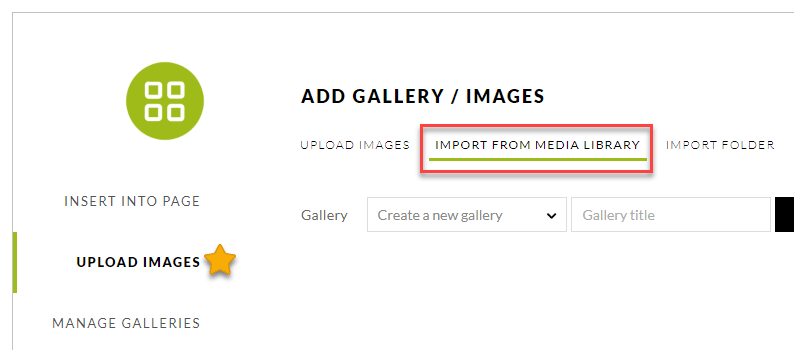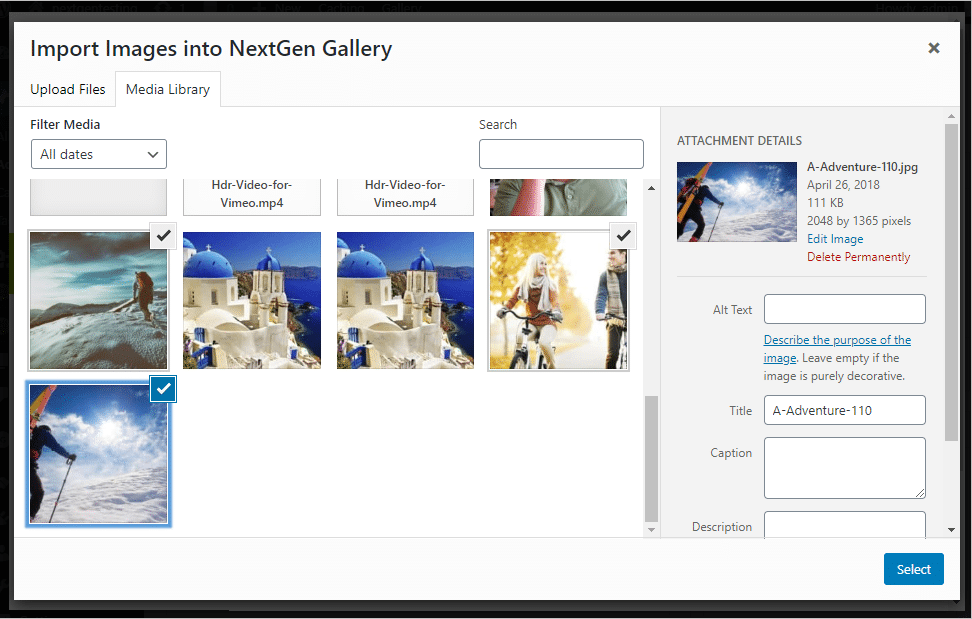 a. Select folder to import images to, or provide a name to create a new gallery.
b. Click the 'Select Images' button that will appear to the right, and the WordPress Media window will open. Select as many images as you wish by clicking the first image, and then press the Ctrl key down and select others. Once you have selected all of your images, click the 'Select' button in the bottom right corner of your window.
c. The window will close and a new 'Select' button will appear. Click the button and it will import the images to your new or existing gallery.
3. Import Folder of Images from the Server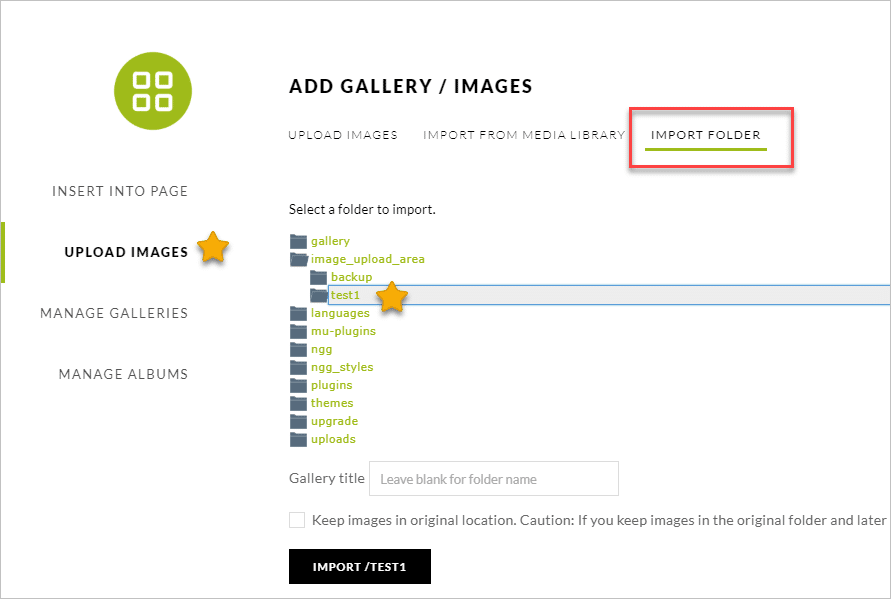 *Your folder of images must be located under the /wp-content folder on your server.
a. Select a folder to import. *The folder name will be used as the title of the gallery by default.
b. You may select to keep images in the original location, but if you keep this option unchecked, images will be copied over to your NextGEN 'gallery' folder under /wp-content/gallery.
c. Click 'Import folder'. This will import (copy) the images in that folder on your server to a new gallery that will appear under Gallery > Manage Galleries.
Upload in bulk to NextGEN Gallery
This video by Scott will guide you on how to upload batch images with NextGEN Gallery.