How Can We Help?
Search for answers or browse our knowledge base.
Adding Printlab to Your Gallery
Refer to our Printlab Overview for more detailed information on how the orders will be processed and to learn how to set up the payment checkout.
1) Navigate to Ecommerce Options > Manage Pricelists and create (or edit) a pricelist. Select 'Add Product' at the top and select 'WHCC' from the list of three options: WHCC, Manual Fulfillment, and/or Digital Downloads...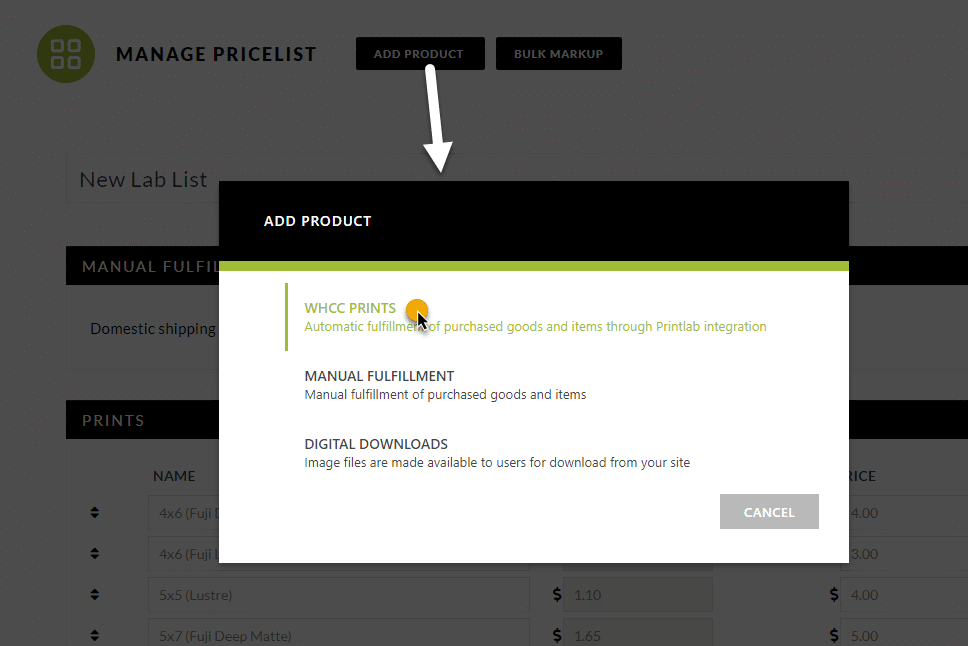 WHCC - These products will be automatically fulfilled through White House Custom Color print lab.
Manual Fulfillment - These products will be fulfilled by you and will not be submitted to WHCC.
Digital Downloads - will be made available to users for download immediately after purchase.
2) You may add all or select only the specific prints* you want to offer. You can choose from Matte, Lustre, Glossy or Metallic prints, Mounted Prints - Traditional, and/or Canvas...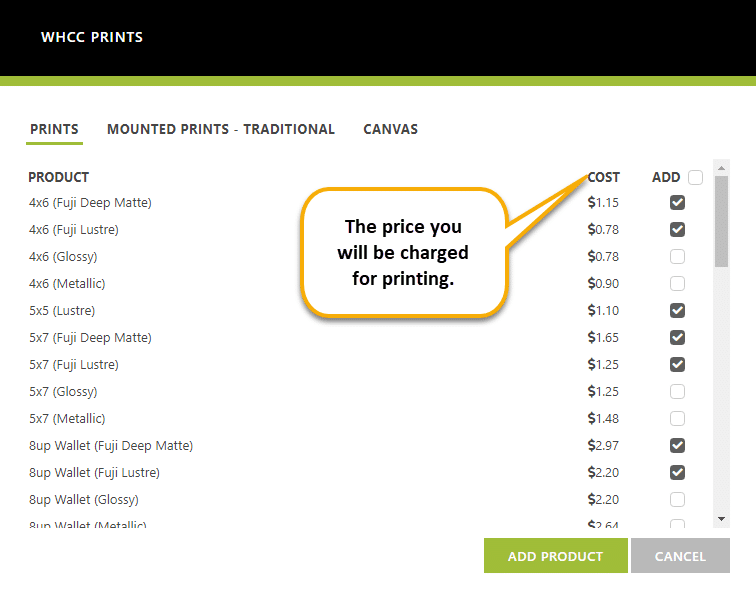 * IMPORTANT to note - the size of the original upload will determine which catalogue items will show. For example, if you add the standard/default WHCC catalogue to a pricelist - not all of them will show up on the front end if your images aren't big enough. The files that are sent to the WHCC lab are the backup image copies that are created when you upload your images to a gallery. To ensure backup images are created, navigate to Gallery > Other Options > Image Options: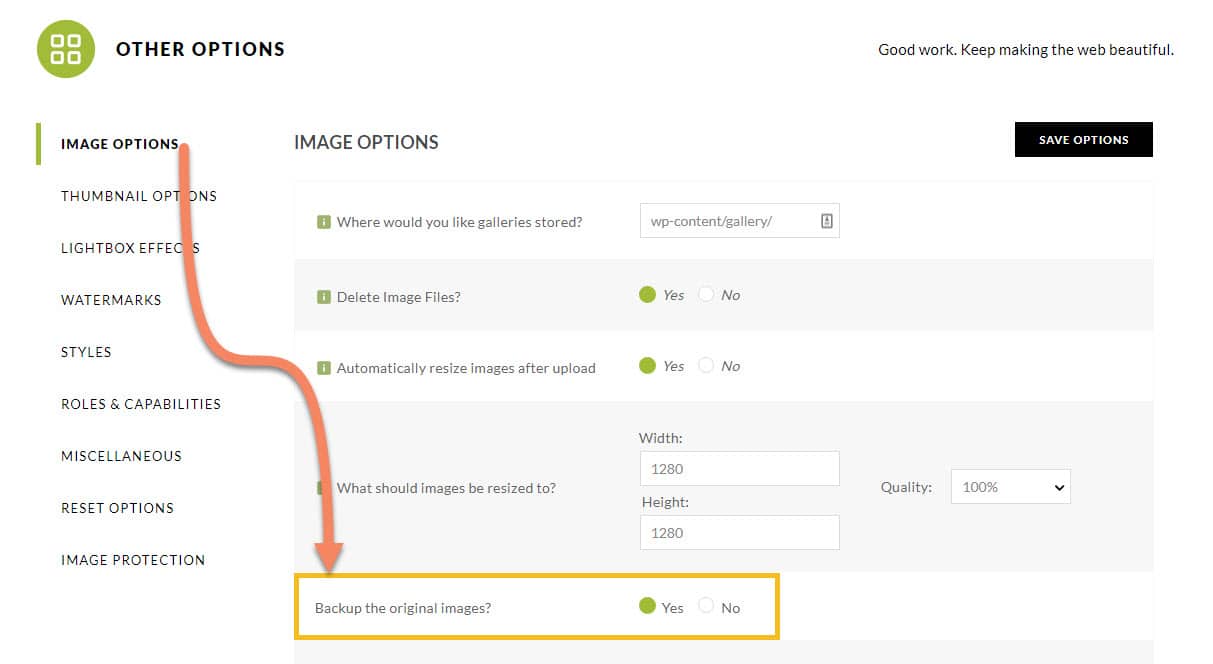 You can resize your images for display under Gallery > Manage Galleries > [select gallery] and under bulk actions select 'Resize Image'. This will not effect the size or resolution of your backup image.
COST: This is the price you will be charged for printing.
PRICE: This is the price your customers will be charged at checkout. You may edit this anytime under Ecommerce > Manage Pricelists.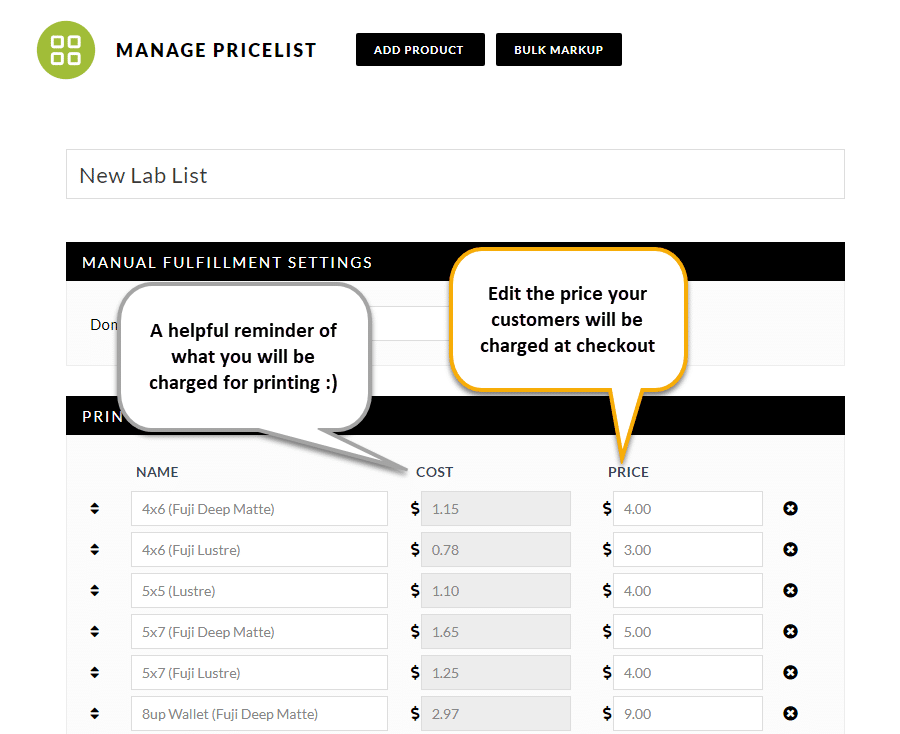 3) To assign your pricelist to a gallery navigate to Gallery > Manage Galleries > Select your gallery, select the 'Gallery Settings' tab at the top of the list of images and select your pricelist and save changes. You can modify what images are for sale, what images should be assigned to a different pricelist, or leave the assigned pricelist as the default listed under 'Gallery Settings'.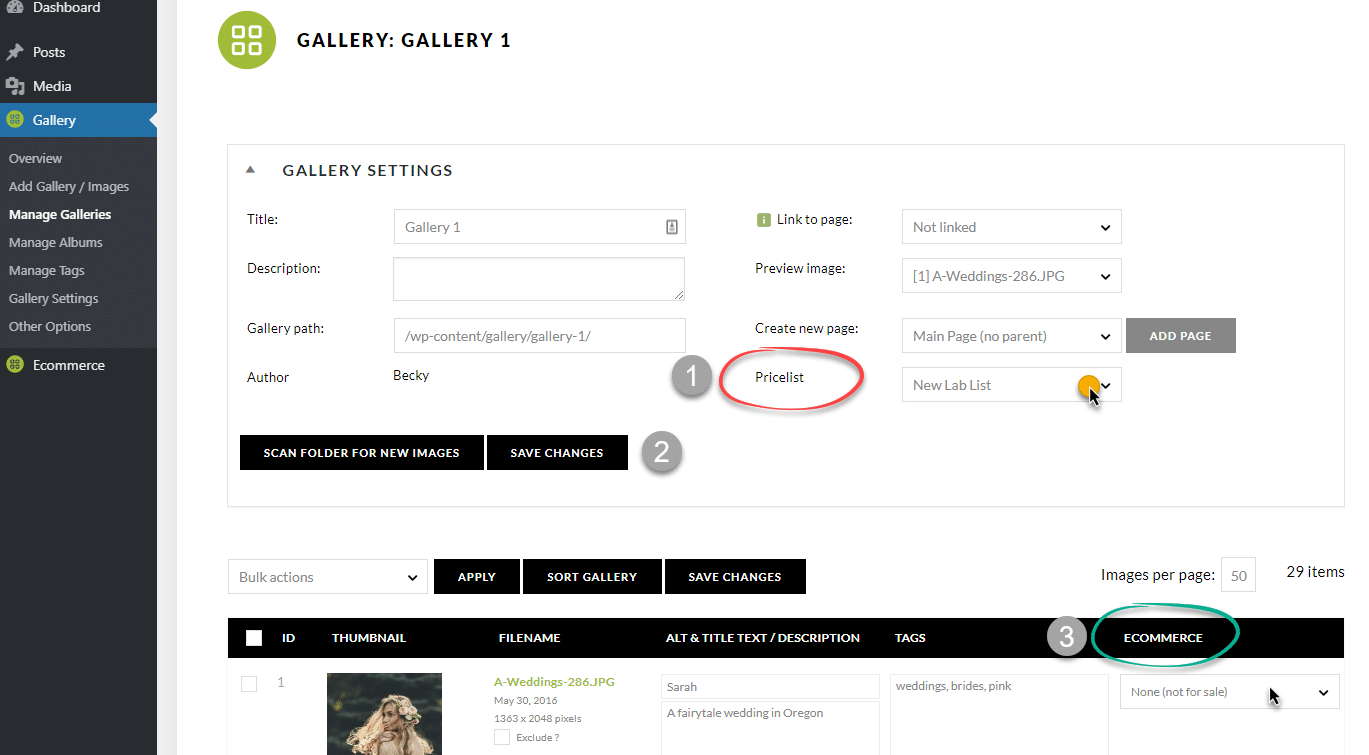 4) INSERT YOUR GALLERY TO YOUR PAGE OR BLOG POST
Follow the steps below to access our Add Gallery Window.
FOR THOSE WHO ARE USED TO USING THE CLASSIC EDITOR
As of WordPress v5.0 you will need to install the Classic Editor plugin to continue editing your posts and pages the way you have been used to.
The Add Gallery Window is accessed by hovering over the (+) symbol and select the NextGEN Gallery 'Add Gallery' icon to the right as shown in this screenshot below.

Or click on the (+) symbol and select the NextGEN Gallery block under 'Common Blocks' as shown in this screenshot below (or searching for 'NextGEN Gallery' above the list):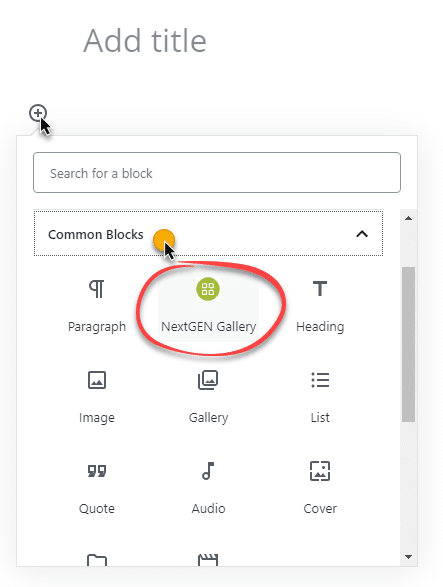 After selecting your gallery display, select the tab at the top of the Add Gallery Window 'Customize Display Settings'...

Under 'Customize display settings' be sure to select 'Enable ecommerce' before inserting the gallery to the page.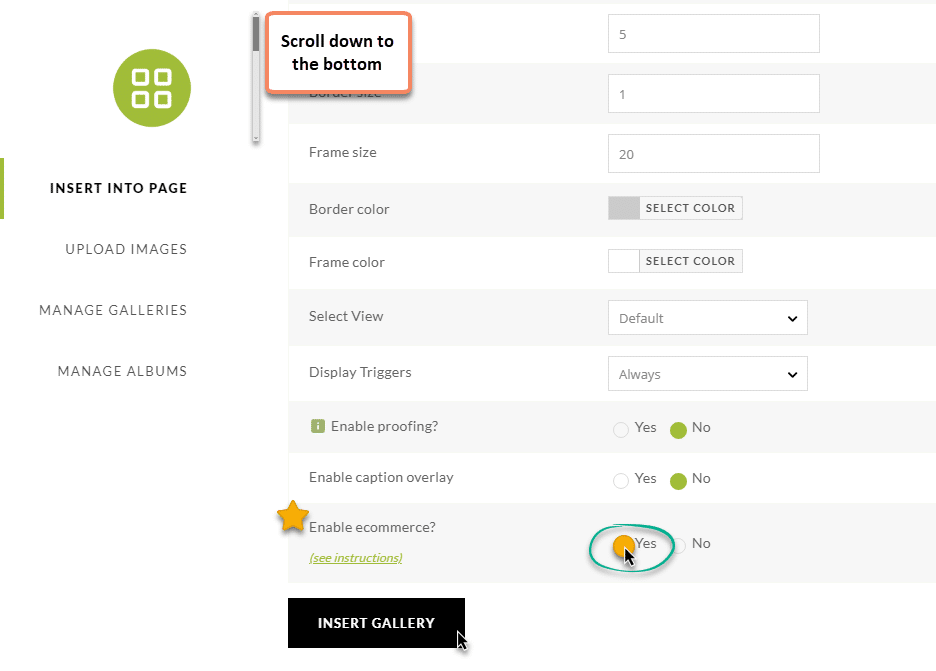 5) Publish/Update your page. You should now see your prints available in the Pro Lightbox. If you do not see the Pro Lightbox display, navigate to Gallery > Other Options > Lightbox Effects to activate it.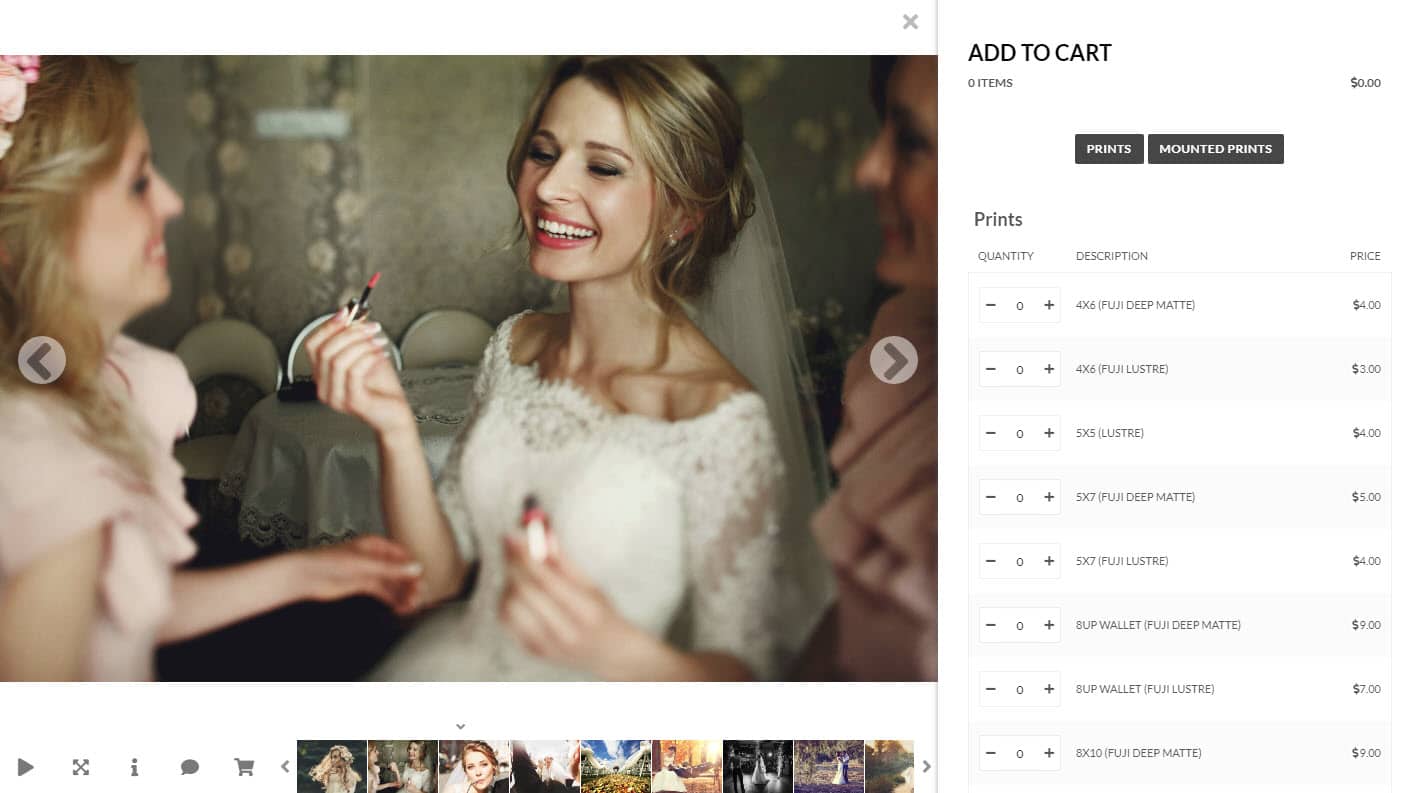 < Back to Printlab Payment Gateway Setup