Before setting up Imagely Lightroom plugin with Lightroom Classic, you need:
Your Imagely Lightroom plugins installed: Open Lightroom and please double-check that you have "Imagely" plugin installed and that it is enabled. You need Version 1.0.15.0 of our plugin installed. If you haven't installed the plugin, please, check this document: How to install your "Imagely Lightroom" plugin.

The last version of NextGen Gallery installed.
In your WordPress install, clear or purge any plugin cache.
A WordPress Administrator user with access to your site: Check your WordPress URL, username and password (that user should have an "Administrator" role).
Setup Imagely Lightroom plugin with HTTP
You have two options to set up your Imagely Lightroom plugin: HTTP or FTP. We do recommend using HTTP at the moment because it's easy to setup.
STEP 1 - Open Lightroom and click on the symbol "+" in Publish Services > Use the link "Go to Publishing Manager..."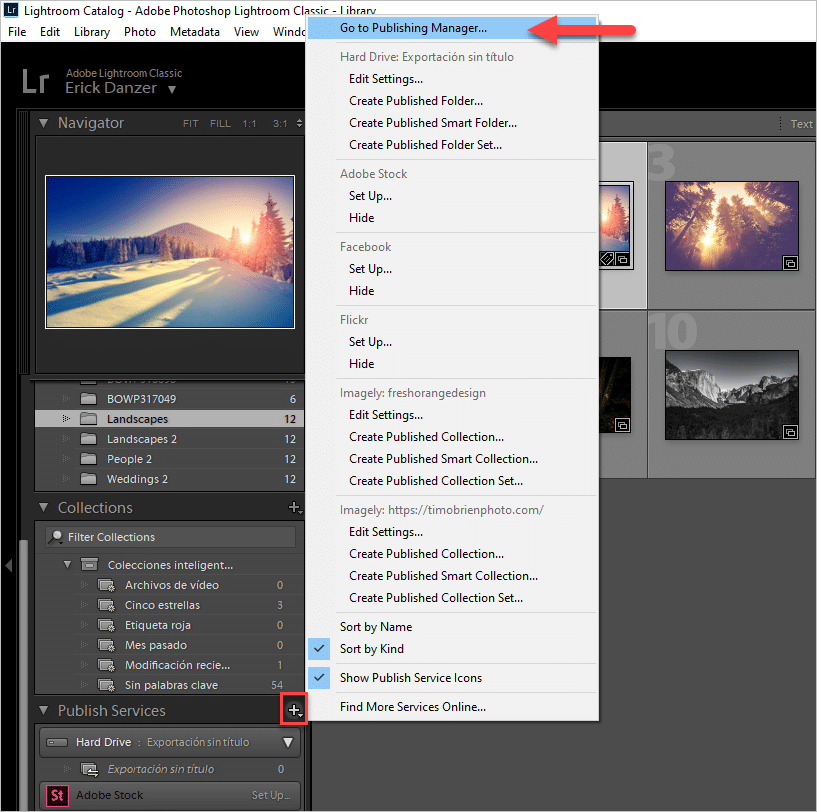 STEP 2 - Create or update a Publishing service: while on the Publishing manager windows you have the option to either edit or add a new publishing service to connect Lightroom Classic with NextGEN Gallery.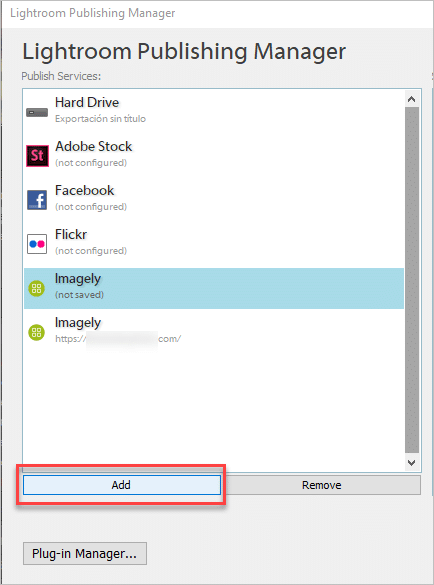 STEP 3 - Add your site Description, Address (the domain), Choose "HTTP" as your Upload method. Next, click on "Get Token".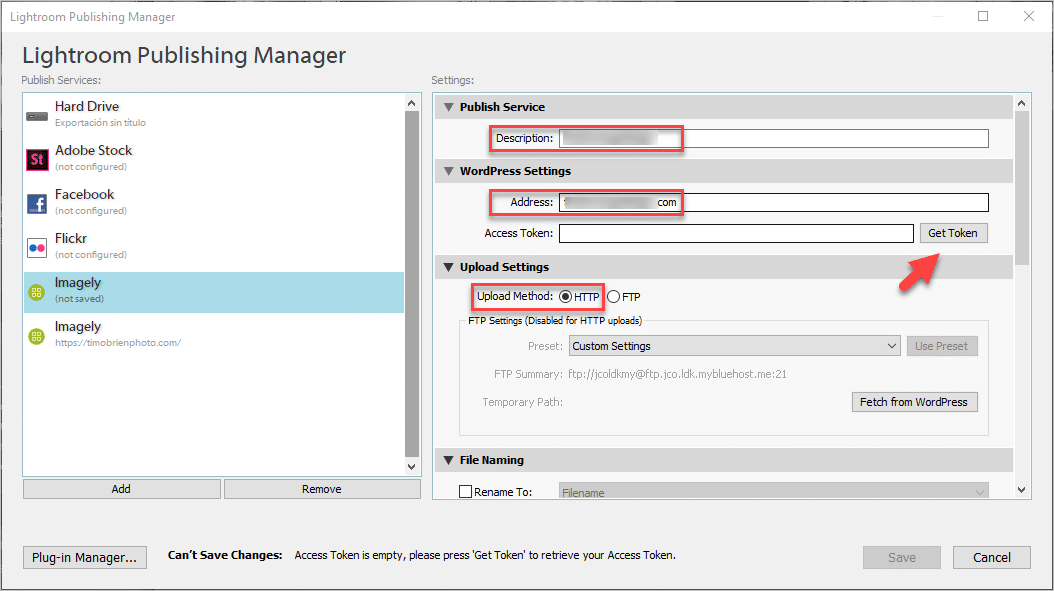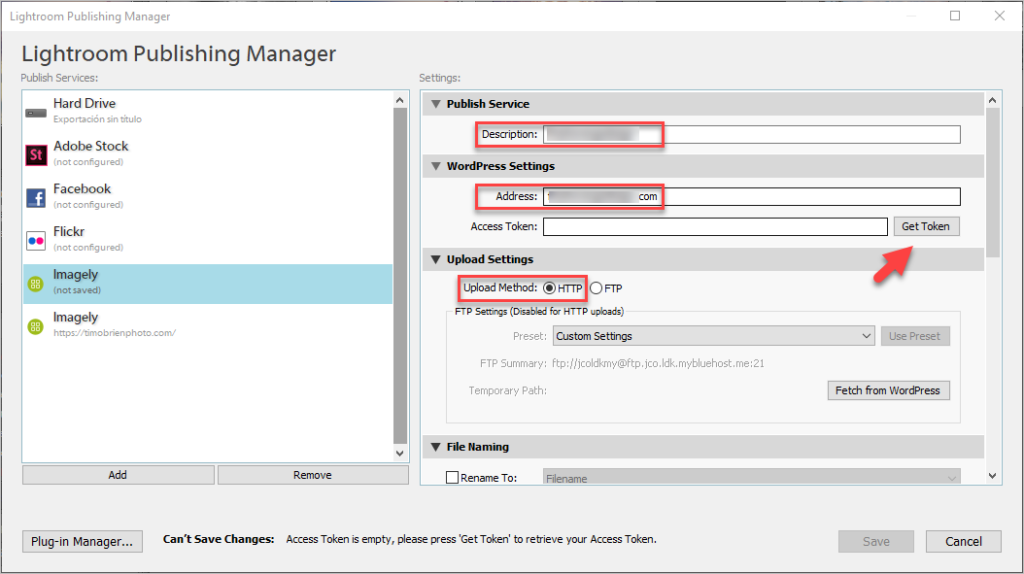 STEP 4 - Obtain Access Token: Confirm your site address, add your username (do not use your login) and password and select 'Retrieve Now'... wait for the process to complete and select 'OK'.
Note: be sure to use your WordPress username (do not use the email address). "Generate a new token" should be checked.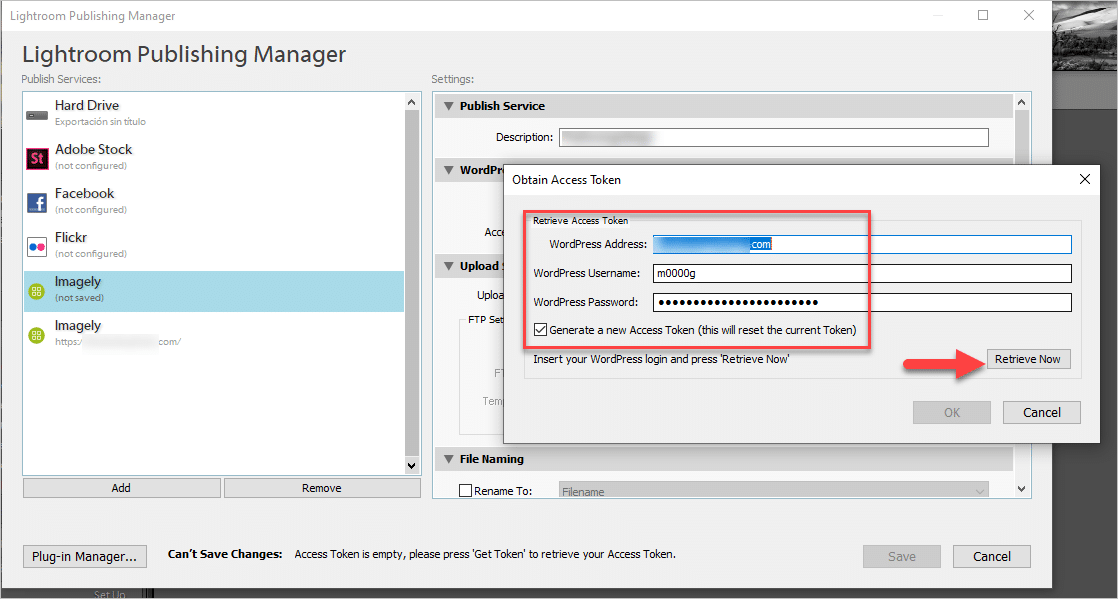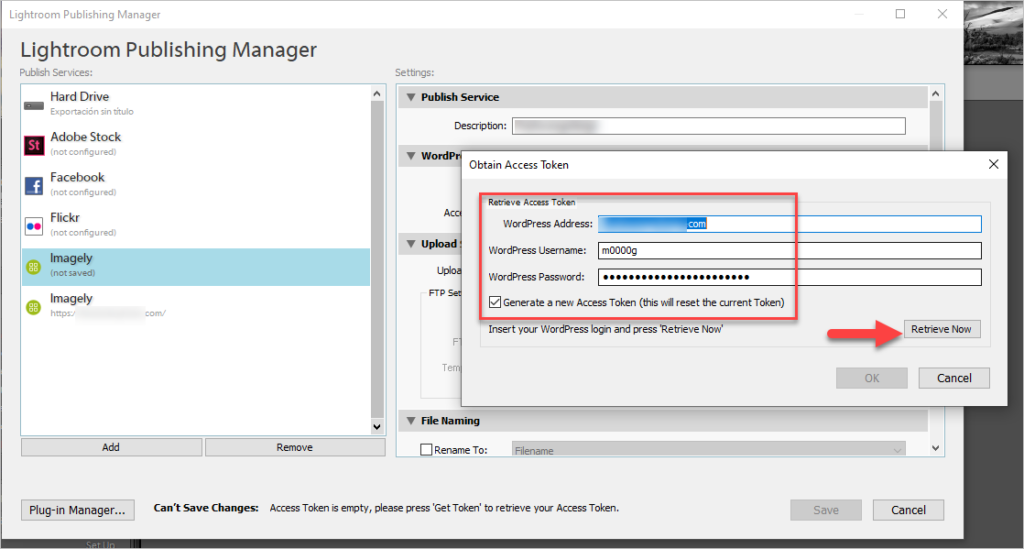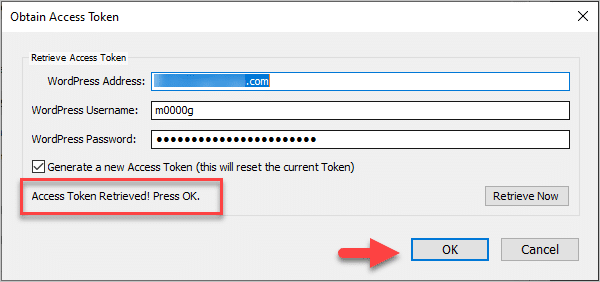 STEP 5 - Select 'Save'. You're finished and now ready to publish images.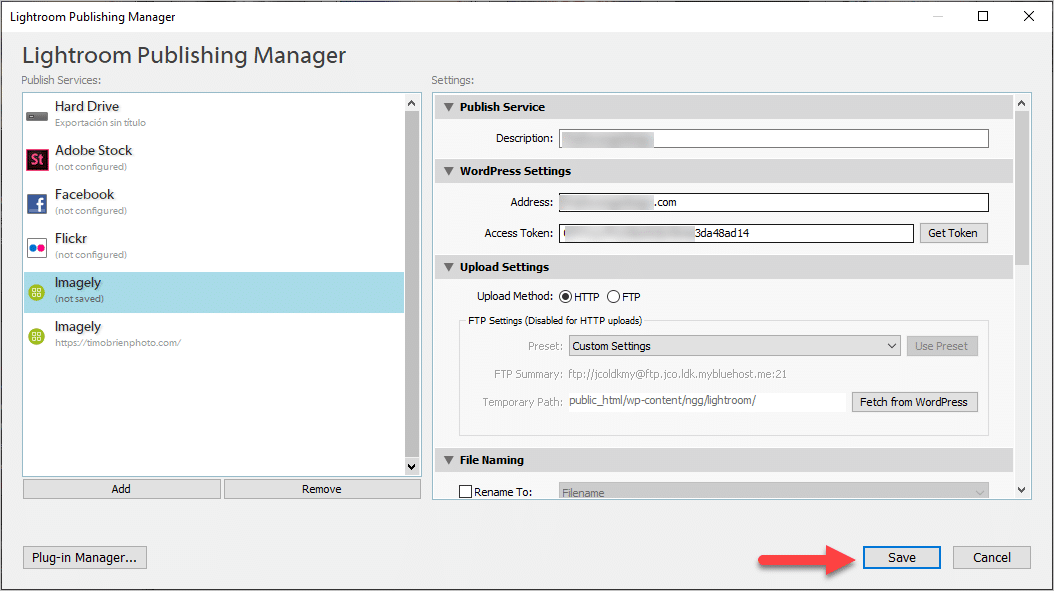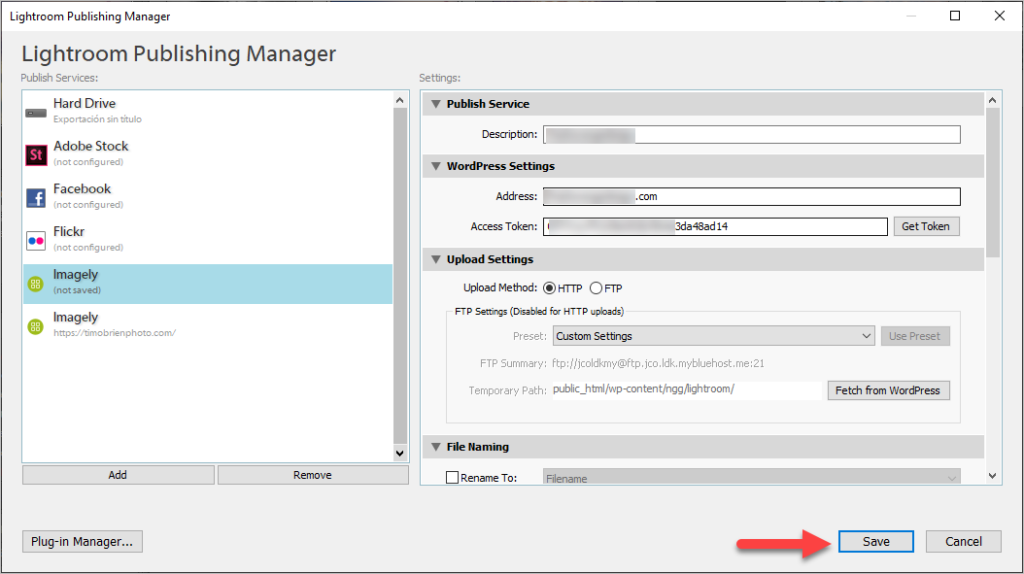 Setup Imagely Lightroom plugin with FTP
(We recommend only using FTP if the HTTP set up doesn't work out for you.)
STEP 1 - Click on the Set Up button for the Imagely publishing service.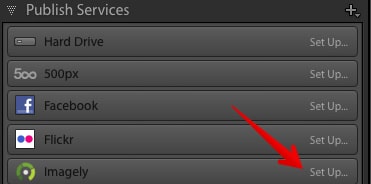 STEP 2 - Fill in the description, WordPress Settings, and FTP Settings.
Description: A description can be anything you want to call it.
Website Settings: You can leave those as it is.
Upload Settings:

Choose FTP.
Click on the preset dropdown and choose Edit. That will bring up the FTP module.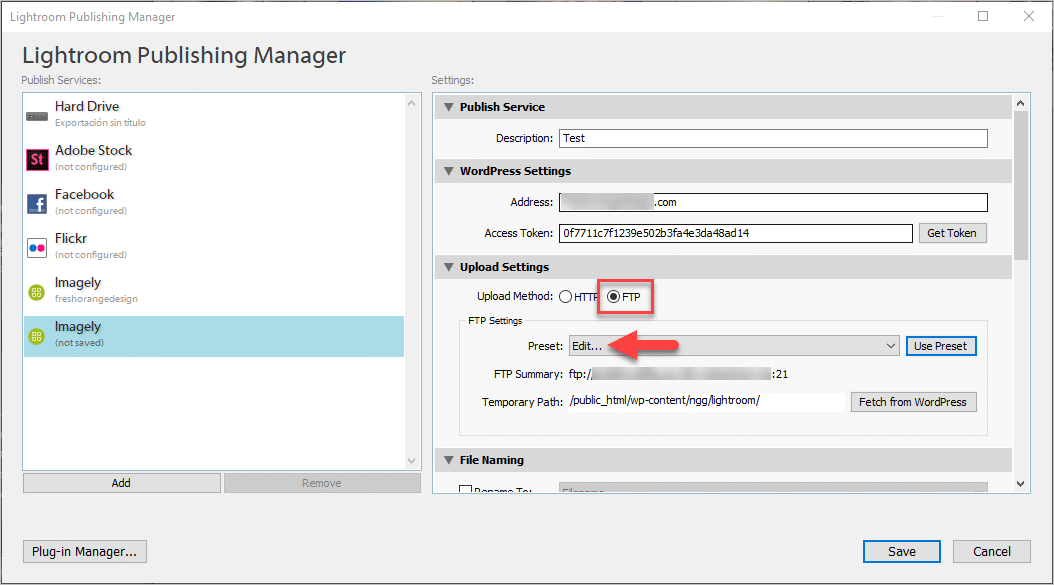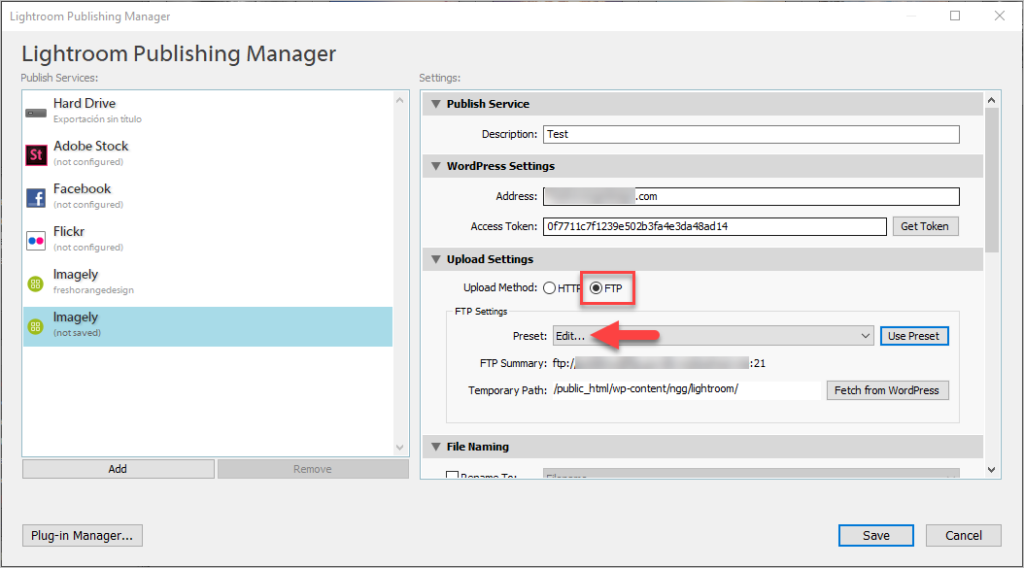 Step 3 - Enter your FTP or SFTP settings as needed.
Include all required FTP or SFTP credentials as required by Lightroom and supplied by your hosting company.
Once entered, click the Browse button and click to your /wp-content/ folder and save. Note: Lightroom stores passwords in plain text.
Once you click OK to close the FTP module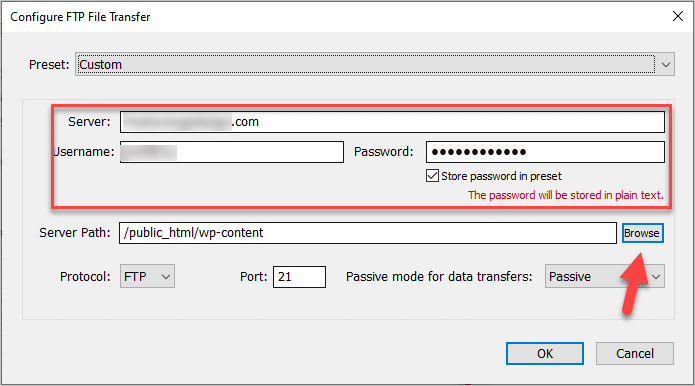 Step 4 - Click on the Fetch from the WordPress button for the temporary path.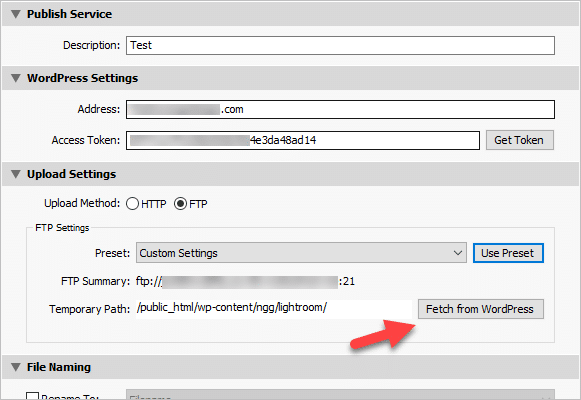 Step 5 - Once the connection has been established you can click on "Save".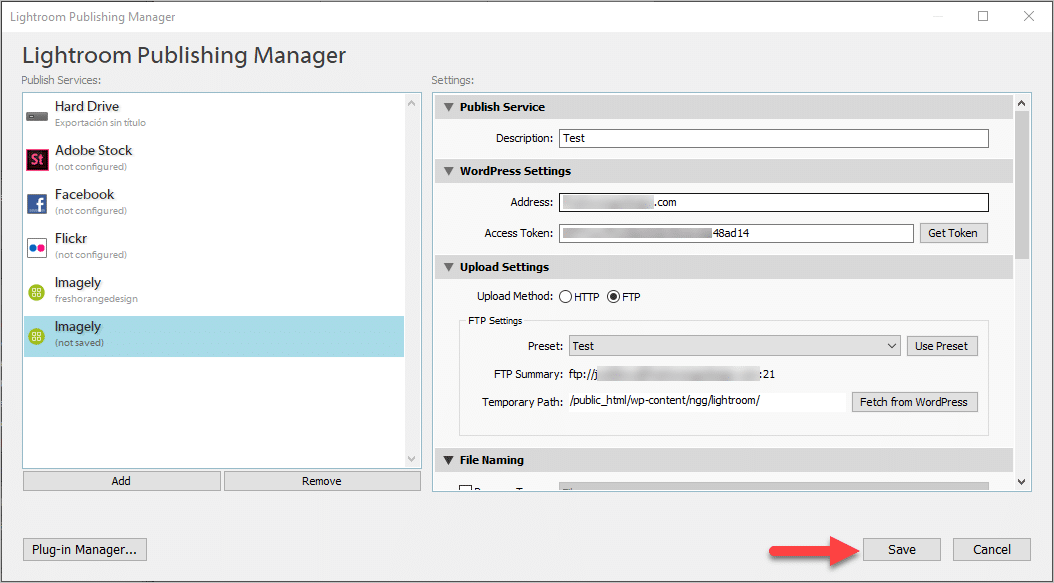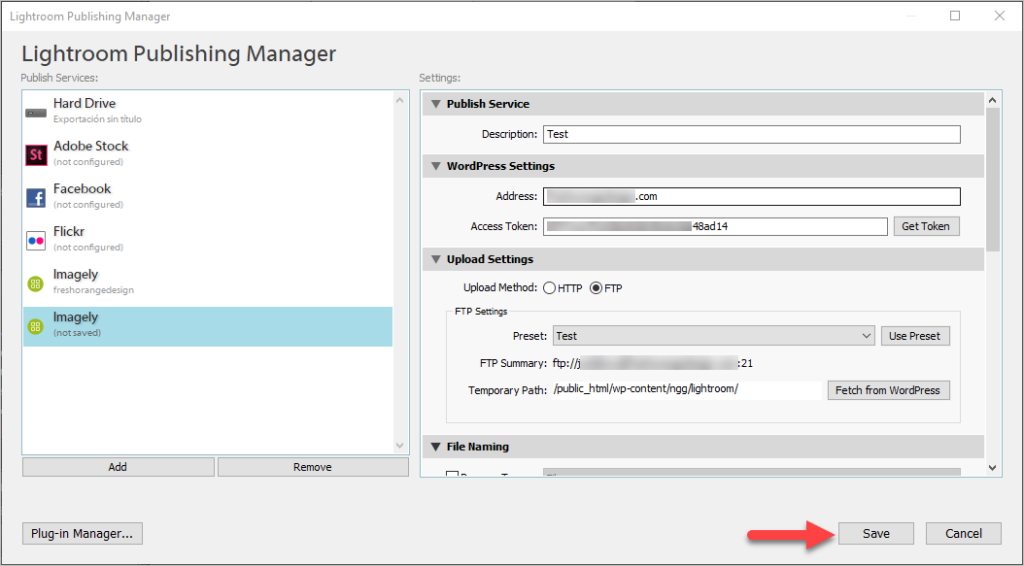 Additional settings (Optional)
You can configure any additional settings that you want to use for the publishing service.
< Install the Lightroom plugin