How Can We Help?
Search for answers or browse our knowledge base.
For those who need to clear their image cache (helpful when applying watermarks - use this setting after applying the watermark) and modify the permalink slug that appears in URLs to galleries and images (great for SEO), this is where you would make those changes; Gallery > Other Options > Miscellaneous.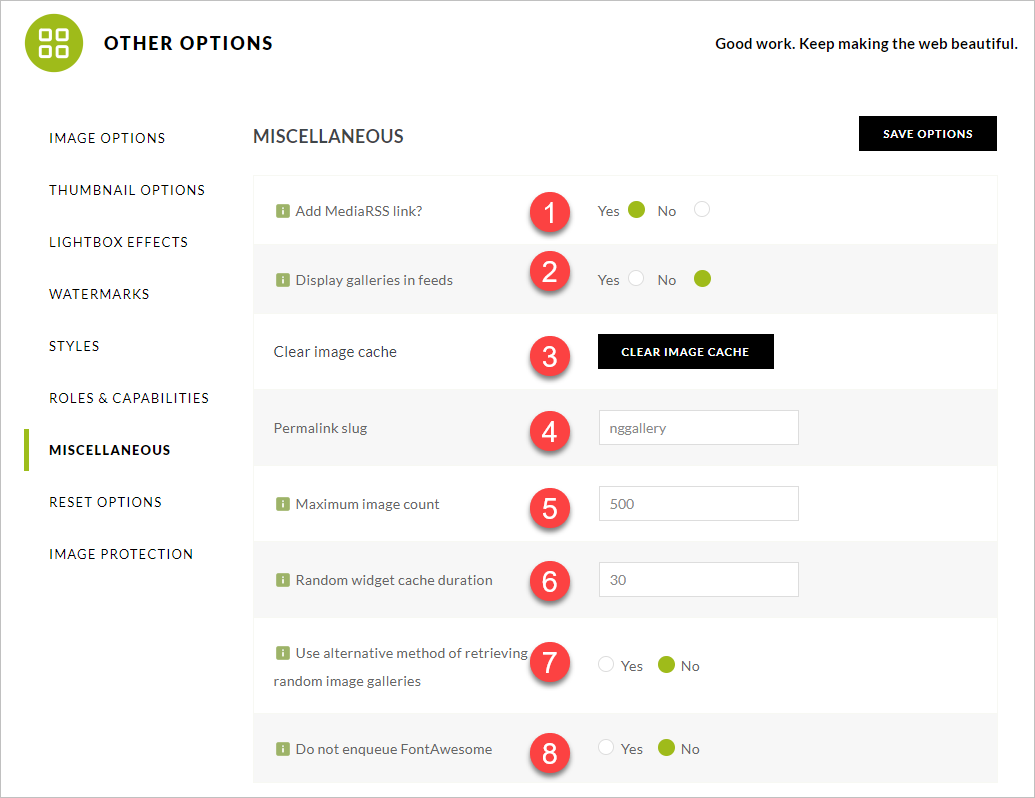 Add MediaRSS link?: When enabled, adds a MediaRSS link to your header. Third-party web services can use this to publish your galleries.

Display galleries in feeds: NextGEN hides its gallery displays in feeds other than MediaRSS. This enables image galleries in feeds.
Clear image cache: This button will let you clear the NextGEN Gallery image cache. Sometimes it's necessary while you are setting up a watermark and is not visible the first time.
Permalink slug: That slug is the one used by our breadcrumb system once you include one of our Album displays. It will be visible as part of the URL.

Maximum image count: This is the maximum limit of images that NextGEN will restrict itself to querying. Note: This limit will not apply to slideshow widgets or random galleries if/when those galleries specify their image limits.
Random widget cache duration: The duration of time (in minutes) that "random" widget galleries should be cached. A setting of zero will disable caching.
Use alternative method of retrieving random image galleries: Some web hosts' database servers disable or disrupt queries using 'ORDER BY RAND()' which can cause galleries to lose their randomness. NextGEN Gallery provides an alternative (but not completely random) method to determine what images are fed into 'random' galleries.
Do not enqueue FontAwesome: Set that setting to "Yes" if you do not want to use the FontAwesome version included in our plugin. Warning: your theme or another plugin must provide FontAwesome, or your gallery displays may appear incorrectly.