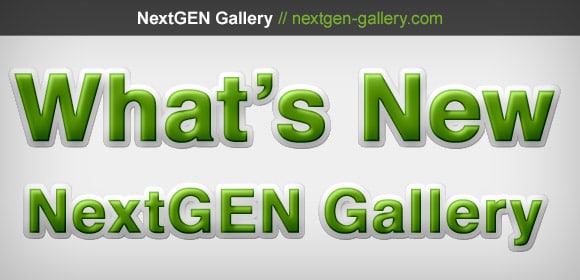 We're happy to announce our third update to NextGEN 2.0.0.
Thank you to all users who have been helping us diagnose and resolve the issues, and to each of the public beta testers who provided their very useful feedback and bug reports. We truly appreciate the support you have given us.
Instructions
Download NextGEN Gallery from WordPress.org or visit the Plugin page in your WordPress admin area to utilize the auto-update feature.
Caution and Issues
NextGEN Gallery 2.0.0 contained substantial changes to the plugin structure over the Legacy versions 1.9.x. NextGEN 2.0.14 builds on those changes, but if you are updating directly from 1.9.13 or earlier, there may be incompatibilities some third-party plugins/extension including mobile apps. If you update and have issues, you can always roll back to 1.9.13 following our rollback guide.
You should, as always but more so, consider back up your site (both server files & MySQL Database).
Changes:
NEW: Added the ability to override thumbnail settings for NextGEN Basic Albums
NEW: Shortcode Manager API, which ensures that shortcodes are outputted as intended
Changed: Re-added the ability to select the original image size for widgets
Fixed: Ensure that stylesheet url returned is correct for Windows hosts
Fixed: Broken links and lightbox effects with AJAX pagination
Fixed: Try to ensure that third-party plugins don't add content to our dynamic JS
Fixed: Improved reliability of iframely.js
Fixed: Ensure that urls are generated correctly in HTTPs environments
Fixed: Datamapper works correctly in environments where temporary tables aren't supported
Fixed: Fixed an issue with thickbox loading animation when home url differs from site url
For the history of changes, view the full changelog.
What's Not Fixed? Known Issues
There are still many known issues, each generally affecting a small number of users, that we need to address. You can see the list of all known conflicts that we are continuing to work on, please visit the Latest Public Beta page.
What's Been Going On?
Unfortunately the update to the new NextGEN Gallery 2.0.0 structure has not been smooth for everyone. If you would like to read about what has been going on behind the scenes at Photocrati and why there are many public betas and official releases recently, please read this open letter to the NextGEN community.