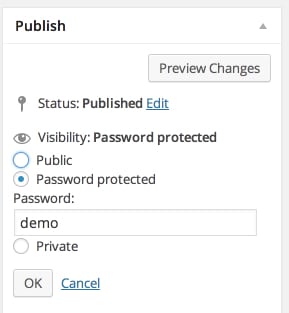 NextGEN Gallery, Plus and Pro do not come with password protected galleries.  It's not that we don't believe in them.  It's that WordPress already has password protection as a feature for pages and posts so we didn't feel the necessity to create our own.
If you do then please vote for the feature.
With that said, though, we wanted to share how to go about password protecting galleries.  So for example, if a wedding photographer wants to share a gallery with only the bride and groom.
When creating a page or post, look at the Publish widget and next to Visibility: Public is an Edit link.  Clicking on edit will bring up the password protection options.
From there you can select Password protected as the option, and then type in the neccessary password.
Here is an example of a password protected page.
You can learn more about this WordPress feature in the WordPress codex.
Feel free to comment with related questions as well.
Thanks for reading,
Scott