Note 11/17/2020: Imagely now has it's own theme framework which is more customizable than ever. 
Supercharge Your Photography Website
Customize and Publish Your WordPress Photography Theme in Minutes
What are you waiting for?
If you are unfamiliar with theme frameworks then this is the article for you.
But if you understand frameworks and have hard of Genesis then do not need to read this. But please check out the other articles here on the Imagely blog.
Theme Frameworks
Theme frameworks are themes that consist of a library of code which other themes can build on. Think of them as start themes.
Some theme frameworks include Foundation (made by Zurb), Bootstrap (made by Twitter) and Bones (made by Themble).
In a way, theme frameworks are all considered bootstrapping, because developers build on something that already exists. They build on something that already has a foundation that can carry the weight of more code, functions and styles.
Genesis is a theme framework created by StudioPress, a division of Rainmaker Digital.
Genesis Framework
The Genesis theme framework is one of the most popular for WordPress. In fact, it is one of the most popular themes for WordPress. Even more than the default themes that come bundled with the WordPress software.
Genesis has solid code which has been tested by developers and users around the world for many years. It has a reputation for quality and speed.
The theme includes SEO functionality, like to the Yoast SEO plugin, but also plays well with Yoast SEO to prevent conflicts. It has few features and few options, although developers can always build those in as needed.
Genesis runs fast, performs flawlessly and has a great community both at StudioPress and in various other locations, to seek help.
The Genesis theme is a parent theme, and Imagely themes are child themes.
What this means is that Imagely themes need the Genesis theme to be installed (not active) at the same time. Imagely themes then use the framework provided by Genesis to lay the bottom foundation of the site's design and function. Then, our themes add our own photography based styling and layers on top. We also add our functionality, like more color control and slideshows.
The Genesis theme is known for being SEO friendly out of the box. Earlier I mentioned its SEO features, like the Yoast SEO plugin. But Genesis is also developed in HTML5 and uses schema markup. The combination of these three things, and the clean code has made Genesis a theme which search engines like to see.
But Genesis, on its own, is not the prettiest.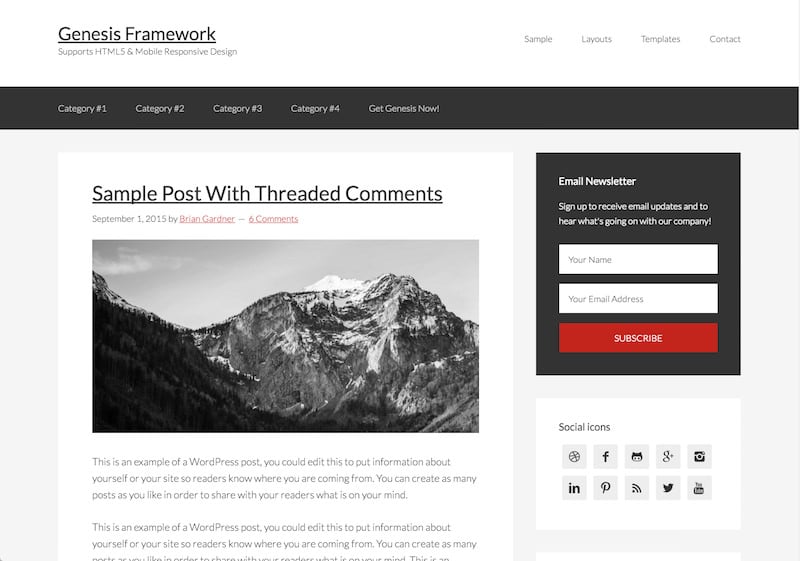 Child Theme Advantage
The advantage of using a child theme is awesome. The Genesis theme (the parent theme) is updated many times throughout each year. When an update is needed, a photographer's website will not change looks or lose function. Because the website is running our Imagely child theme.
At the same time, it means we, Imagely, need to stay on top of potential Genesis changes which could impact the look and function of our child themes. Not a big deal and it's something we are happy to do because we believe in the Genesis framework.
On its own Genesis is not pretty. It looks like a standard blog theme, not a website.
That is where child themes come in. StudioPress sells their own child themes, but they're designed for general business use. Imagely themes are Genesis child themes, designed for photographers.
Added Theme Cost
One thing that has come up from customers is the added cost of buying Imagely themes and then the Genesis theme.
When considering a WordPress theme, consider all that goes into the theme. Think about the people creating the theme and the community surrounding it.
You can buy all our Imagely themes in a package, or buy them in a package with our plugins. But, the price does not include Genesis. Customers must buy Genesis direct from StudioPress for an extra $59.95.
While this might sound like a turnoff to some, think about what we said earlier.
Genesis is solid.
It's fast.
It's robust.
It's highly tested.
It's extremely well optimized for search engines.
It has a huge community.
There is another advantage of using Imagely child themes and the Genesis framework. You can change Imagely themes anytime and not lose any of the content created, or the optimization efforts you put in, because they're all built on Genesis.
It also means that you could change from an Imagely theme to any other Genesis theme and still keep most of your content. But, specific Imagely designed functions might be lost, like our homepage slideshows.

Genesis Plugins
The large community around the Genesis theme, which we mentioned earlier, goes beyond just the theme. There are hundreds of plugins, free and premium, available only for Genesis based sites.
Searching for Genesis in the WordPress plugin directory brings up over 230 plugins. Some of those include:
Genesis Connect for WooCommerce (Because WooCommerce doesn't work with all themes out of the box)
Genesis Simple Share (fast loading share buttons)
Genesis Club Lite (a suite of tools for Genesis themes)
Genesis Dambuster (for use with Drag & Drop plugins)
Genesis Slide-in Widget
Genesis Testimonials Slider
Visit the WordPress plugin directory to see others.
Genesis Course at Lynda
Carrie Dils, a WordPress developer who specializes in Genesis development, has created multiple courses at Lynda.com. Courses that range from DIY (end user) and development. Visit Carrie's website for a full list.