Starting your own photography business can be extremely lucrative. However, one aspect you may struggle with at first is figuring out how to price your services. Fortunately, there are ways you can determine a competitive pricing structure that is both sustainable and profitable. By considering a handful of factors (such as your experience and unique skill set), and making some simple calculations and assessments, you can develop a strong pricing model that benefits both you and your clients.
In this post, we'll discuss the important factors to consider when setting your rates as a photographer, as well as some of the popular approaches you can use. Then we'll explore three tips you can use when determining your final pricing structure. Let's get started!'
Factors to Consider When Pricing Your Photography Business
As a freelance photographer, it's your responsibility to come up with a fair pricing structure that positions you to make a sustainable income. A common mistake among new freelancers is setting prices too low.
To avoid this, there are some key factors to consider:
Business Expenses. It's essential to consider the costs not only of the products or services you're delivering to clients but the expenses required to facilitate your work. In addition to your camera and equipment, this includes other expenses such as taxes and insurance, website and marketing materials, and studio space.
The Value of Your Time. If you underestimate the time you'll spend on projects, you may quickly find that your fees don't cover the hours you're working. Remember that time is money, and this includes time spent on travel, setting up equipment, etc.
Your Experience and Perceived Value. When you're first starting out, you might err on the low side of the pricing spectrum, hoping to attract more clients. However, prices can influence the perceived value of your services. Clients may assume your low prices are a reflection of your quality of work.
Of course, high rates aren't universally better, as they can scare off business. Instead, you're looking for a reasonable balance that enables you to attract work while getting paid adequately for your time, effort, and skills.
Options for Pricing Your Photography Business
Along with the specific rate you charge, you'll also want to consider the pricing model you'll use. For example, hourly rates often make sense if you're an event photographer, and need to carve out large chunks of time for projects. Again, it's important to factor in time and expenses for travel, pre- and post-production, and editing. On the other hand, flat or 'all-inclusive' rates can be useful for portrait or product photography. You can create package tiers and base their prices on volume. For example, for X dollars, the client can get a certain amount of prints and retouches. The good news is that choosing a pricing model doesn't have to be a permanent decision. As you grow more experienced in your photography business, you can raise your rates or shift your pricing strategy as needed.
How to Determine Pricing for Your Photography Business (3 Tips)
Now that you know what considerations are involved, let's look at a few ways to determine your rates.
1. Research Your Competitors and the Market Value of Your Services
If you don't know where to start, you can look for professional photographers in your niche who offer comparable services. Their prices can give you a baseline number to work from.
There are also plenty of market resources online that you can use to gain a better understanding of your services' value. While you can use these as a reference point to inform your decision, be mindful that they shouldn't necessarily be taken at face value. For example, according to the U.S. Bureau of Labor Statistics, the median hourly wage for photographers is a little more than $20. However, this doesn't take into account your unique skills, niche, business expenses, etc., so don't be afraid to adjust as needed.
2. Estimate Your Rates With Simple Calculations
To determine how much to charge clients, it helps to first assess how much it will cost to run your business. This way, you can build those expenses into your pricing model. One method is to add your total cost of materials, labor, and overhead to your profit margin. The product will be your final 'sale price'. To estimate your total business expenses, you can use a tool such as the Cost of Doing Business Calculator: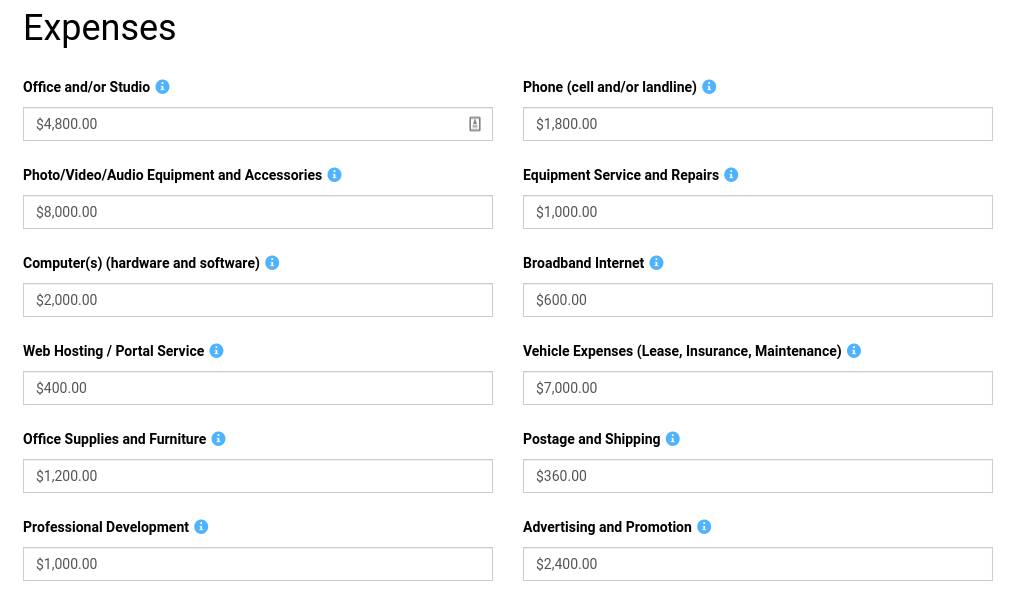 After you input your information, you'll get three totals: annual expenses, the weekly cost of doing business, and overhead cost for each assignment day. You can use this to predict the minimum amount you'll need to earn per project. There are also tools that can help you set a price for per-image fees. Getty Images has a calculator for rights-managed images, for example, and The Association of Photographers offers a tool for Base Usage Rate (BUR) and licensing work.
3. Use a Time-Tracking App
It's easy to underestimate the scope of a project. To avoid this pitfall, consider using a tracking tool that automatically logs the time you spend on various tasks. This way, you can get an accurate understanding of how your time is spent, in order to set your prices accordingly. There are a plethora of free and inexpensive apps you can use for this, such as Harvest: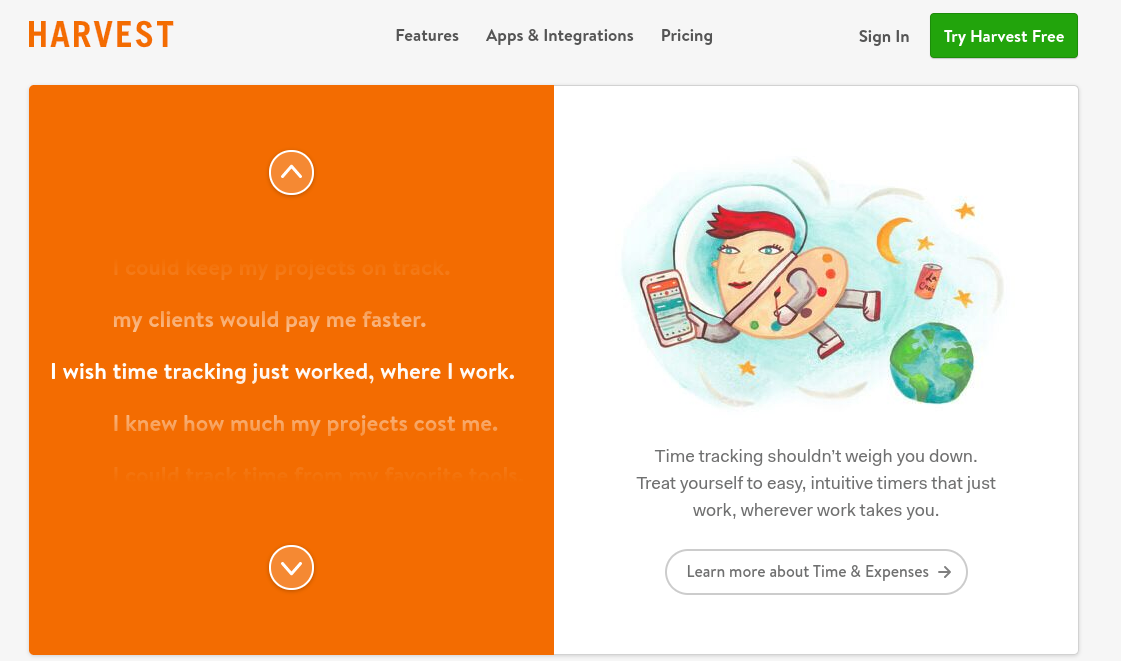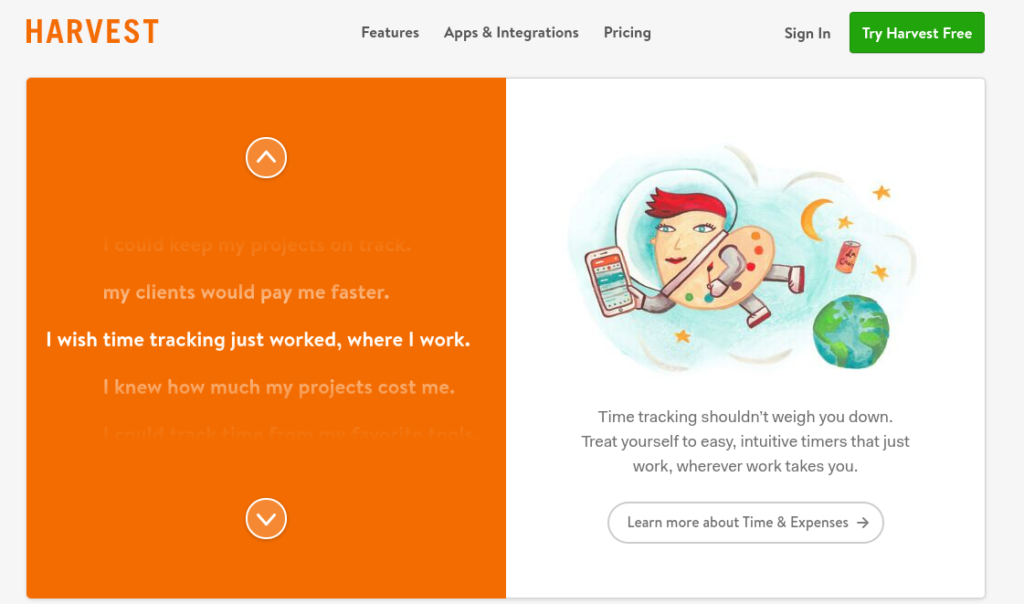 You can use this freemium tool on your phone or computer to effortlessly keep track of time spent on projects. With that data in hand, you can set or adjust your rates accordingly.
Conclusion
When you're starting out as a professional photographer, figuring out how to set your prices can be challenging. It's important to avoid the common pitfall of undercharging because you're scared of missing out on clients.
Let's recap our three tips for setting the pricing for your photography business:
Research your competitors and the market value of your services.
Estimate your rates with simple calculations.
Use a time-tracking tool to find out how long tasks actually take.
Do you have any questions about setting rates for your photography business? Let us know in the comments section below!