How Can We Help?
Search for answers or browse our knowledge base.
Image Options are located under Gallery > Other Options > Image Options...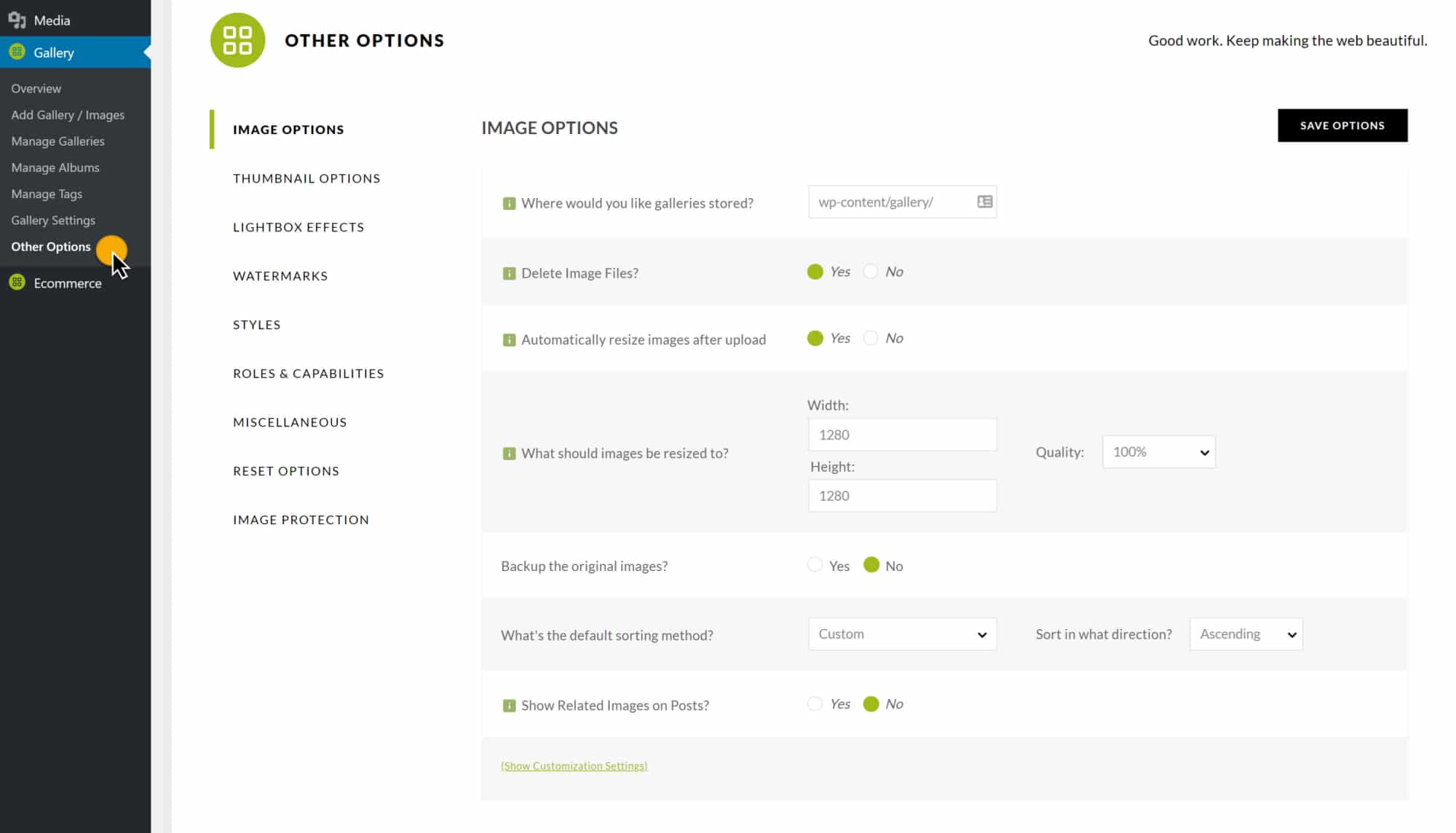 Under the Image Options settings you can adjust:
Where galleries are stored on your server.

Set images to be deleted off the server when a gallery is deleted.
Set to have images automatically re-sized when uploaded.
Set custom image dimensions for the re-size action option and set image quality.
Turn on/off option to backup images before you re-size them.
Set default sorting option.
IMAGE OPTIONS SETTINGS EXPLAINED
Where would you like galleries stored? - You can change this folder if you'd like to change the default location where NextGEN creates folders and stores image files. Please note that if you already have NextGEN Galleries and you change this setting, your old folder and files will not be moved. Your old galleries should continue to work from their previous locations, but you should confirm after any changes. The best time to change this setting is when you are first starting to use NextGEN Gallery.
Delete Image Files? - With this setting selected, all images will be permanently deleted when you delete the gallery. You can delete a full gallery under Gallery >> Manage Galleries tab in your WordPress dashboard.
Automatically resize images after upload - This setting turned on, images by default will be resized to the setting you set below...
What should images be resized to? - With the above setting selected, images will be resized automatically after upload to be web-friendly. This setting is recommended if you're uploading your images at full resolution. Full resolution images will slow down the load time of your galleries without being resized.
Backup the original images? - We always recommend this be set to yes. If yes, a back up of the original image will always be available in case you need to restore it. For example, if you later resize an image, apply a water mark, rotate or flip an image, etc, and decide you do not like the change, you can select the same image and click "Recover from Backup" and the original image will be restored.
Default Sorting Method - If you set this to "Custom" you will be able to customize the sort order as needed on a gallery by gallery basis. If you select any other default sort order NextGEN Gallery will automatically sort images based on those settings, and you will not be able to customize them for individual galleries.