We recommend that you re-size your images to no larger than 1920 x 1280px ... even more ideal would be 960px wide. This is optimal for download speed of your gallery and overall website. If you would rather re-size your images after you upload your batch of images, follow the instructions below:
HOW TO RESIZE YOUR IMAGES
1) After uploading your gallery, go to Gallery >> Manage Gallery > select the gallery you wish to edit the images.
2) Select the 'all' selection box here (or you may opt to select and modify a single image at a time, in which case you would select the box next to the single image you wish to edit):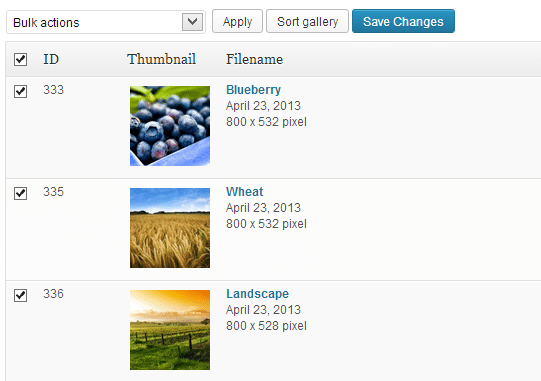 3) Select in 'Bulk actions' dropdown, the option to 'Resize images' and then click the 'Apply' button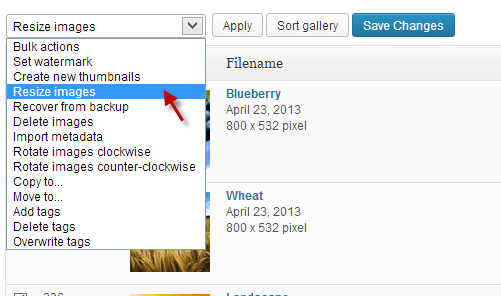 4) A pop up window will appear where you can set the width of the image. NextGEN Gallery will keep aspect ratio intact. Once you are done, click 'OK' and NextGEN Gallery will make the changes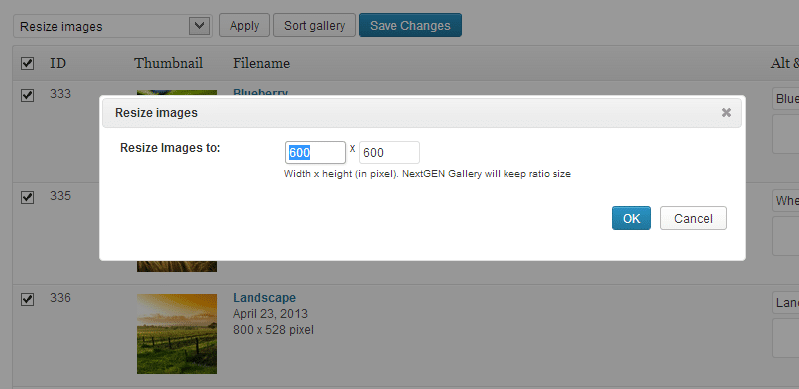 5) Once the process is complete, you should see the updated image size under the image information as shown in this screenshot: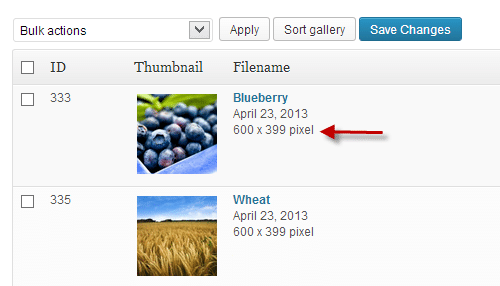 6) Save changes and you're done!
HOW TO SET YOUR IMAGE RESOLUTIONS
Go to Gallery >> Other Options > Image Options. Here, you may set image quality next to 'What should images be resized to?' setting, see: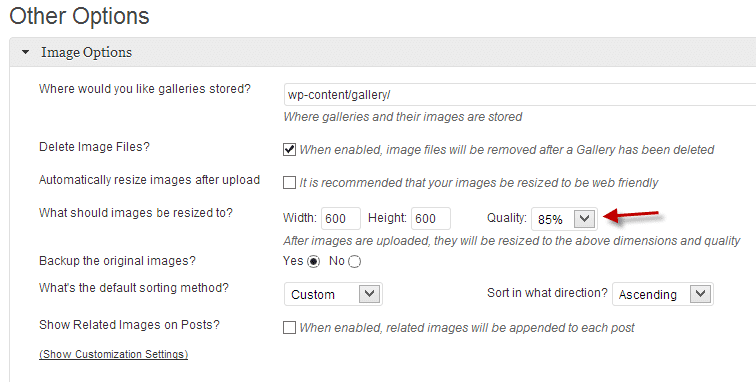 IMAGE QUALITY & COMPRESSION
If you want to ensure clear, crisp high quality results, check under Gallery > Other Options > Image Options and make sure image quality is set to 100. Next, follow this help guide to modify WordPress' internal default quality setting to 100. Or you could also install this plugin to make that change: Super Simple Changes
One of the best things you can do for your galleries is compress the images before upload. Here are some helpful apps that will keep your images at high quality, but the file-size very small.
IMAGE COMPRESSION:
TinyPNG: https://tinypng.com/
JPEGMini: http://www.jpegmini.com/