How to Recover Image From Backup
If you've watermarked or resized an image and you'd like to restore the original image you'll need to do the following:
1) Before you create any galleries or make edits to images, first thing you'll need to do is turn on backups. Go to Gallery > Other Options > Image Options. Select 'Yes' next to 'Backup the original images?' This is turned on by default, but just in case you may have changed this setting, it's best to confirm: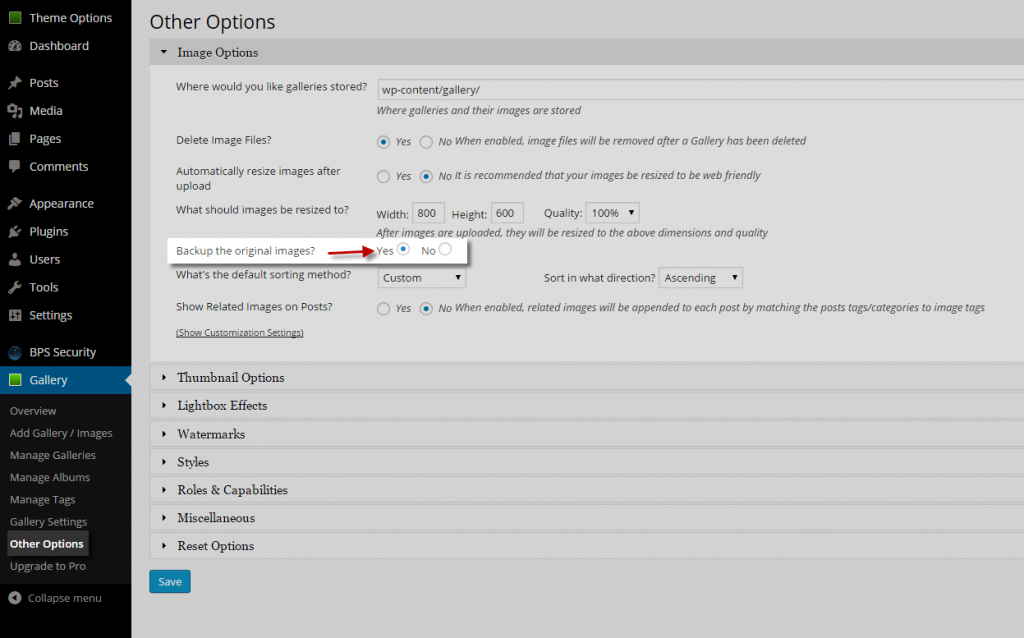 2) To recover the backup image, go to Gallery > Manage Galleries > [select gallery to edit] > select image to recover and either under bulk actions select 'recover from backup' and click 'apply' or hover over your image and click 'recover'. Once the process is complete click 'save changes' and your original image is now recovered! 🙂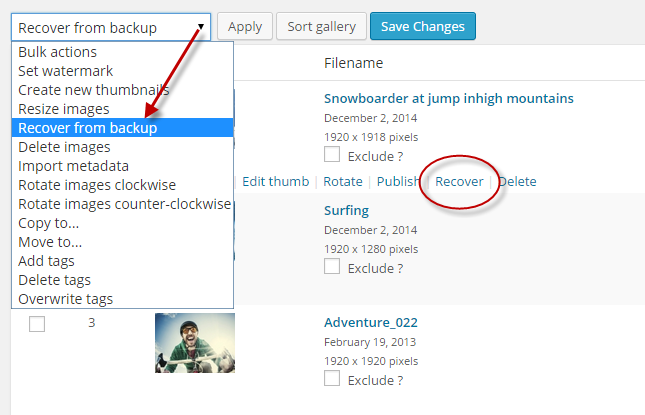 How to Restore Your Site
Not only is it important to keep your site up to date, by upgrading WordPress and plugins when an update becomes available, but it is also important to do a full backup of your site on a monthly basis, in case you choose to move your site in the future, or need to restore your site due to data loss or other unfortunate event, like your site was hacked.
What if my site breaks, and I lose everything? How can I restore my site to a working version?
This is where a backup tool comes in. Of all the backup plugins available, BackupBuddy has the easiest for restoring a WordPress website. Another option is going with a host that supplies backups on a daily or weekly basis [read more about creating a full backup from server].
Backup: Files & Database
BackupBuddy is a fantastic WordPress plugin to automate full-site backups. However, there are many free alternatives in the WordPress plugin directory that can also get the job done. For example, WordPress Backup to Dropbox. Keeping regular backups offline is ideal for a WordPress website so it can be restored if something did happen.
BackupBuddy – Premium plugin with annual subscription. Can backup to FTP, Amazon S3, Dropbox and more
WordPress Backup to Dropbox – Free with premium upgrades – Can backup to Dropbox only
VaultPress – Premium plugin with monthly subscription. Service from Automattic, developer of WordPress
When restoring your site back to its original working state, with the back up of the database, and the backup of the server files in their proper place - your site should function as it did before.
*IMPORTANT! - If you're troubleshooting your site, please DO NOT select 'delete plugin' from the WordPress dashboard. Deleting the plugin will not only delete the files, but it will also delete the database information. Unless you have backed up your site before, this will remove all gallery information from your site permanently.
For more useful information on site security, optimization and maintenance, please read our article here: How To Help Prevent Your WordPress Site From Breaking & Being Hacked