It's the 18th of May, 2019, and former Vice President Joe Biden is holding his 2020 presidential election kickoff rally in Philadelphia, Pennsylvania. Photographing a political event is a stressful experience for photographers, and all members of the media, as you are hoarded in together, cramped in waiting for events to start, and for the most important people at the events to show up. Despite all that, shooting a political event such as a rally or election as a member of the media really pushes you into an atmosphere of competitive yet friendly electric energy.
This is how I prepared for, and was fairly successful, in the photographing of Biden's 2020 presidential election kick-off rally.
Getting in, and getting ready
I was incredibly lucky to get the opportunity to shoot this event, as it is a rare occasion that allows a young photographer the chance to shoot something as important as the campaign trail, and even more rarely, a kickoff rally in an incredibly heated election. So, how was I able to shoot the rally?
The first step was having a publication to work for that would allow me to shoot the event. At the time, I was a photo editor for my University's independent student newspaper, the University of Pennsylvania's Daily Pennsylvanian, and a member of the Editorial Board there. This meant that we could apply to send a photographer, and I jumped on the opportunity.
Once you have applied to shoot something, all you can really do is wait to find out if you've been given the go-ahead, or not. If you are well connected at a venue or with event coordinators, I'm sure you could shimmy out an early answer or invitation, but I had to do the waiting for the old fashioned way. Thankfully, several days before the event, I received an email giving me a green light for attending the event as a photographer.
Preparations made before the 18th
Because this was such a large event, and certain to be rather overwhelmed by the media, I wanted to take advantage of the fact that the event was in Philadelphia, and I could do myself a favor with some advantageous location scouting. The day before, I walked over to the Philadelphia Museum of Art and took time to see what angles and ways I could take advantage of the stage.
Sadly, I was unsure of the level of freedom that I would be granted, and expecting the ability to freely roam the event wasn't the smartest idea. Thankfully, that meant that I overpacked in terms of gear, so I wasn't too worried when I later learned of the severe restrictions on the mobility of the press at the event.
This act of being physically present before the event let me start planning how I would approach the photographs I would take of both Biden and the crowd. I, as a photographer, really like understanding and being able to think about a location before I intend to work there. I have worked with photographers like me, and those opposite me, who favor being able to explore when something is actually happening. I personally think you should try all methods and see what lends itself better to you.
The day of: entering the venue
That morning, after walking the short distance from my apartment to the Museum, I found the media entrance, along with what seemed like a legion of other journalists, videographers, and photographers. The media stood on the road, separated several yards from the burn atop of which the fence that bordered the event grounds sat. On the ground below the fence sat a whole manner of equipment, each media member or team standing parallel to their own respective pile of gear.
Once I had walked my way down the line, a staffer for the rally asked me to place my belongings in line with the rest. I was further instructed to take my place in line with the media, where I waited along with the horde of journalists. After almost an hour of waiting, police and K9 units came and worked their way slowly through all the equipment. Finally, once all had been cleared without any problems, a line was formed where Biden staffers handed out the media credentials for the event.
The gear
With the event credentials and my gear safely back with me, I was allowed into a tent that would sit behind the bleachers for the event, where tables were taped with names of media organizations. I found mine and started to get my laptop and cameras set up.
Because of restrictions to where we could photograph once the event had started, as well as the sheer number of photographers that were cramped in one individual space, there was little opportunity to take images of the crowd, similarly to how I would if I was photographing a concert. My first step was to get a rough measurement of the distance from the stage from where I would be photographing, so I found myself a spot on the bleachers that would provide me both the right angle I wanted and would allow me to get some decent test shots up.
For any event where I am unsure of what focal lengths will work best, I tend to pack more than I need. For this event, I believe I brought a pair of camera bodies and four or five lenses. My general kit is two similar camera bodies, a 15-30mm, a 24-70mm, a 70-200mm, a 100-400mm, and one or two very specific prime lenses, which rotate depending on the type of images I need to shoot.
This array of zoom lenses makes it really easy for me to cover any focal length which I may need to, and for the most part, I feel comfortable working with them. If I know the specific images that I am working with/on for a client, I will usually work mainly in prime lenses, as I prefer working with lighter gear when actually taking images, and the sharpness and aperture speak for themselves.
In this event, I clearly overpacked. While I thought about what lenses I would want to use during my earlier location scout, I didn't realize that I wouldn't really be able to photograph the audience from the stage's point of view, or that I would be so far removed from the stage that I couldn't use anything shy of a 70-200mm.
Test shooting during the event
One thing that you can't really make up for while scouting is the exact lighting conditions and positioning that you will be able to use during an event. Because of that, I heavily believe in showing up early to tune your camera's settings and work on getting everything ready to go, including the generic shots you may be working on.
Here is a brief description of my two test shots, working on them before the event started:
My first test shot was shot at 111mm focal length, and I was taking a whole array of shots just to see where I could place town hall in the background of the image, as it was one of the most interesting parts of the background. I wasn't going to be using the image for anything, and it is rather clearly out of focus, but test images aren't meant to be works of art. This is that image: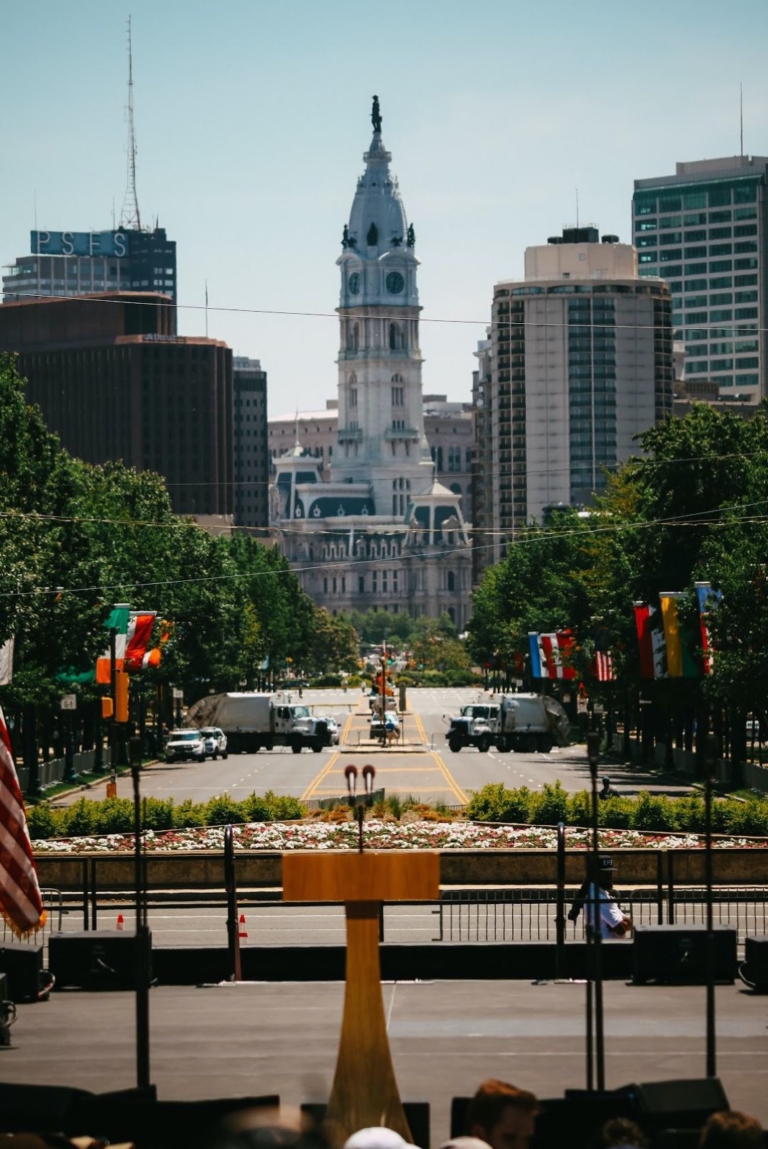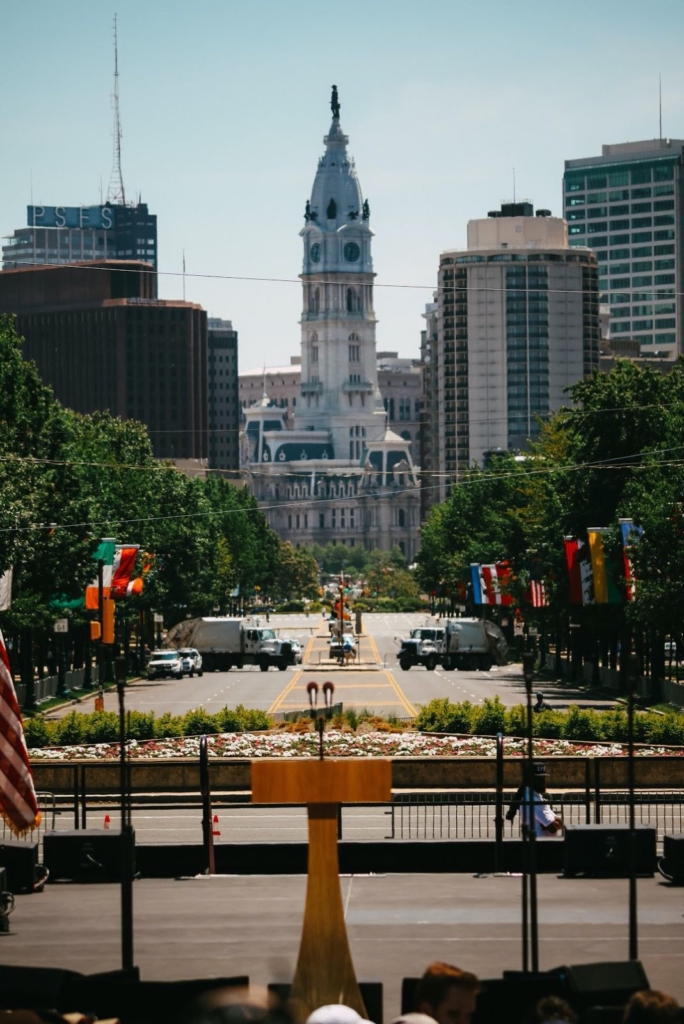 In general, though, try to focus in the area of which your subject will be, as you don't want focus breathing or focus distancing to arise as problems when shooting the real shots.
While this image was interesting, the angles at which I ended up shooting didn't lend themselves to really including the entirety of town hall, and the number of other photographers getting in the way of one another made it hard to get a successful rendition of this image. I have a couple of attempts of this image with Biden in them, including some incredibly titled dutch angle shots that I thought might work, until I pulled them up on a bigger screen.
The objectively more important test image was the lectern at which Biden would later speak, and I thankfully intuited to spend more time working on that shot. Sadly, with the restricted space I had to shoot the image, the answer to how creative I could get with it was relatively little. Here is my test image for just the lectern: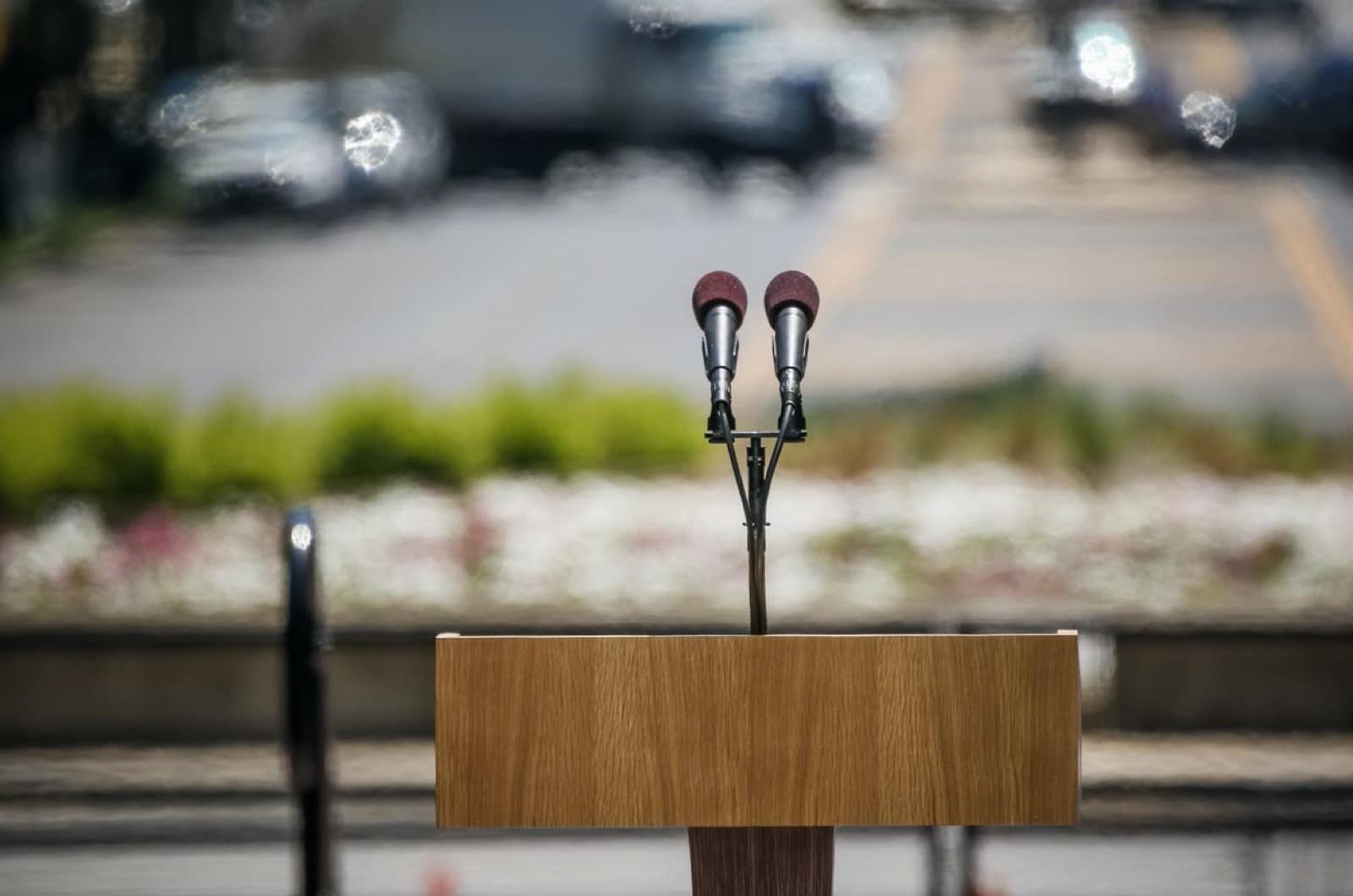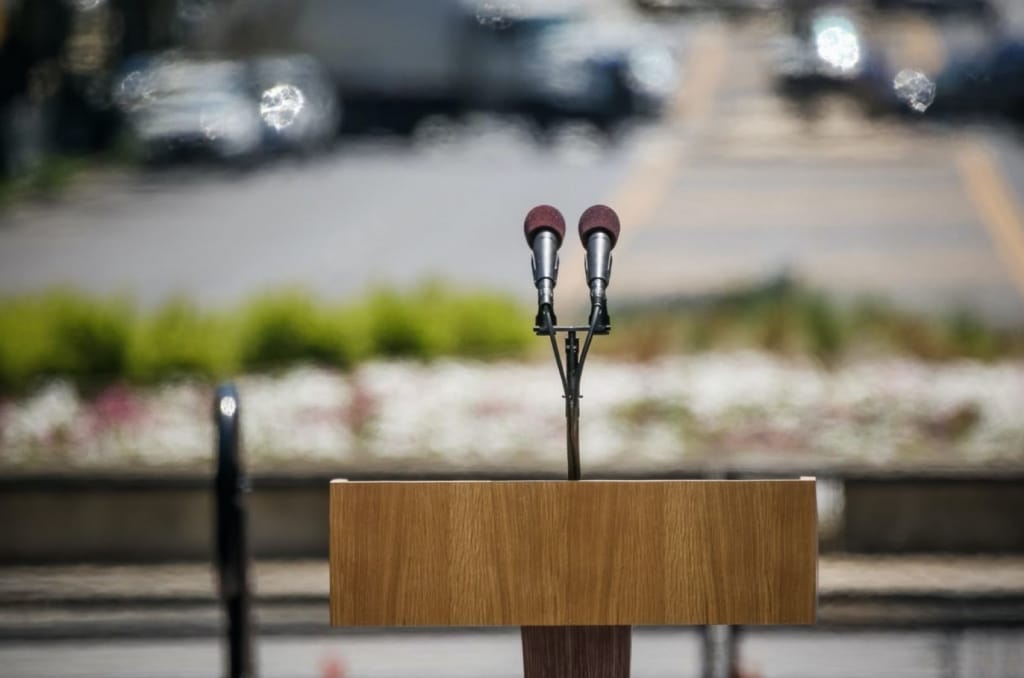 Again, a relatively uninspiring image, and I especially hoped that the police would remove themselves from the background of my shots so that I wouldn't have such harsh reflections in the final images. Their vehicular barricade spanned the entirety of the road behind the stage, and any angle from where the photographers could stand would have included them.
Because of the limitation of space, and the fact that I knew I would be waiting for several hours at this point, I made my way back to the tent and grabbed myself a bottle of water and settled on simply carrying my pair of camera bodies with my two telephoto zoom lenses. Any wider angle lenses would not really have worked, as when I tested them I could not shoot them without either having a sky-dominated image or capturing an array of other media teams and ensembles.
The police cars, however, never moved. Instead, the team of Biden volunteers wearing blue shirts formed a wall behind the stage, blocking the harsh reflections created by the police cars.
The event itself
I captured some photographs of the assortment of speakers and people that came on stage, mainly just in case one of our writers might have needed them, and awaited the main event with great patience. Biden showed up late, as was expected, and here are some of the images that I caught: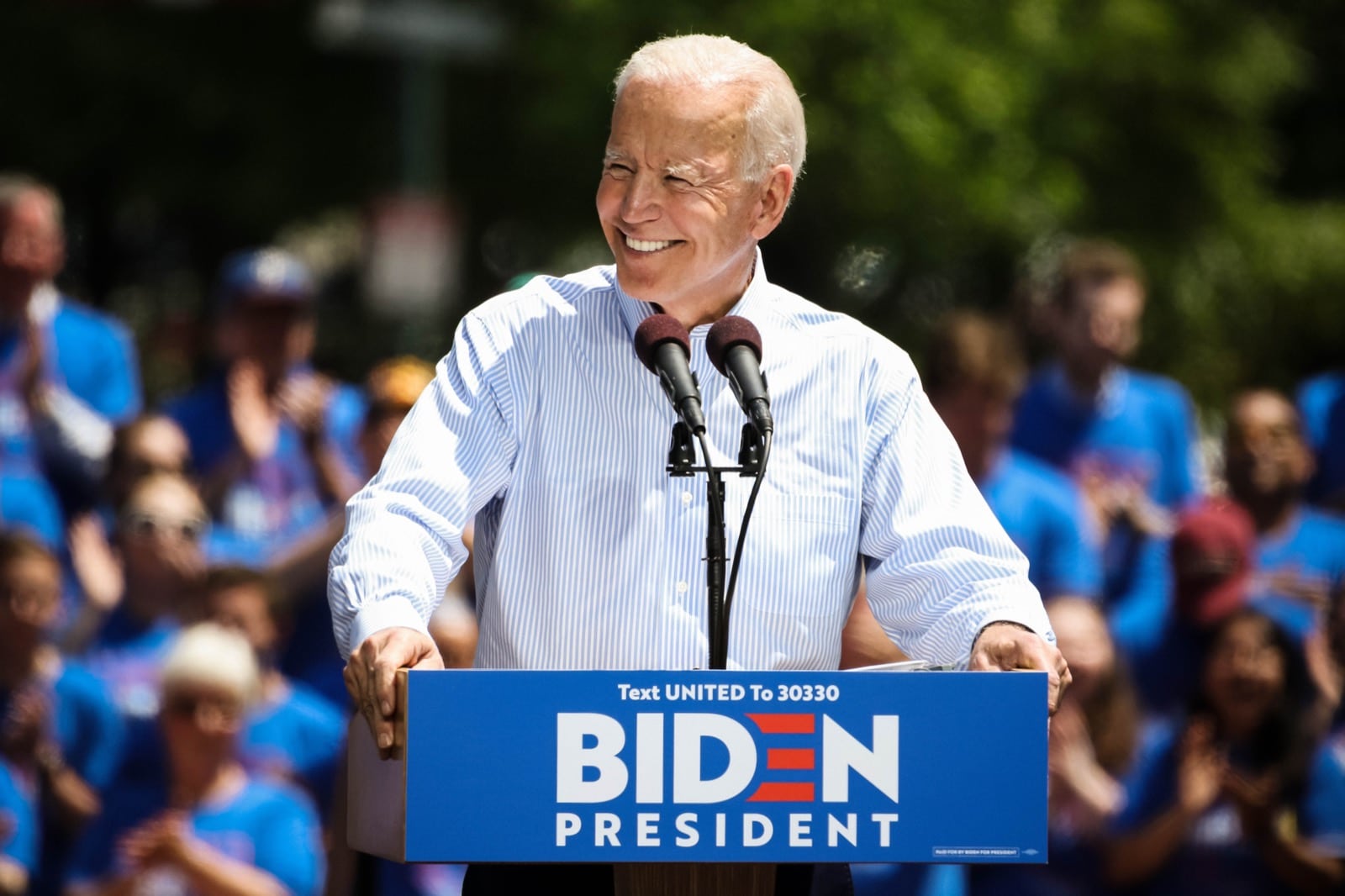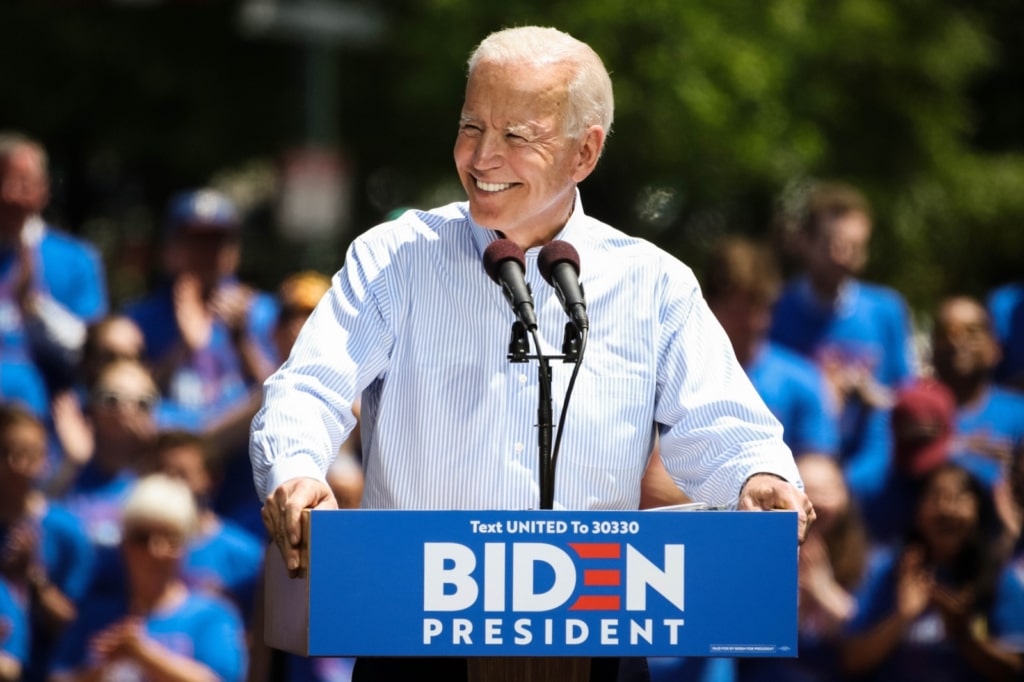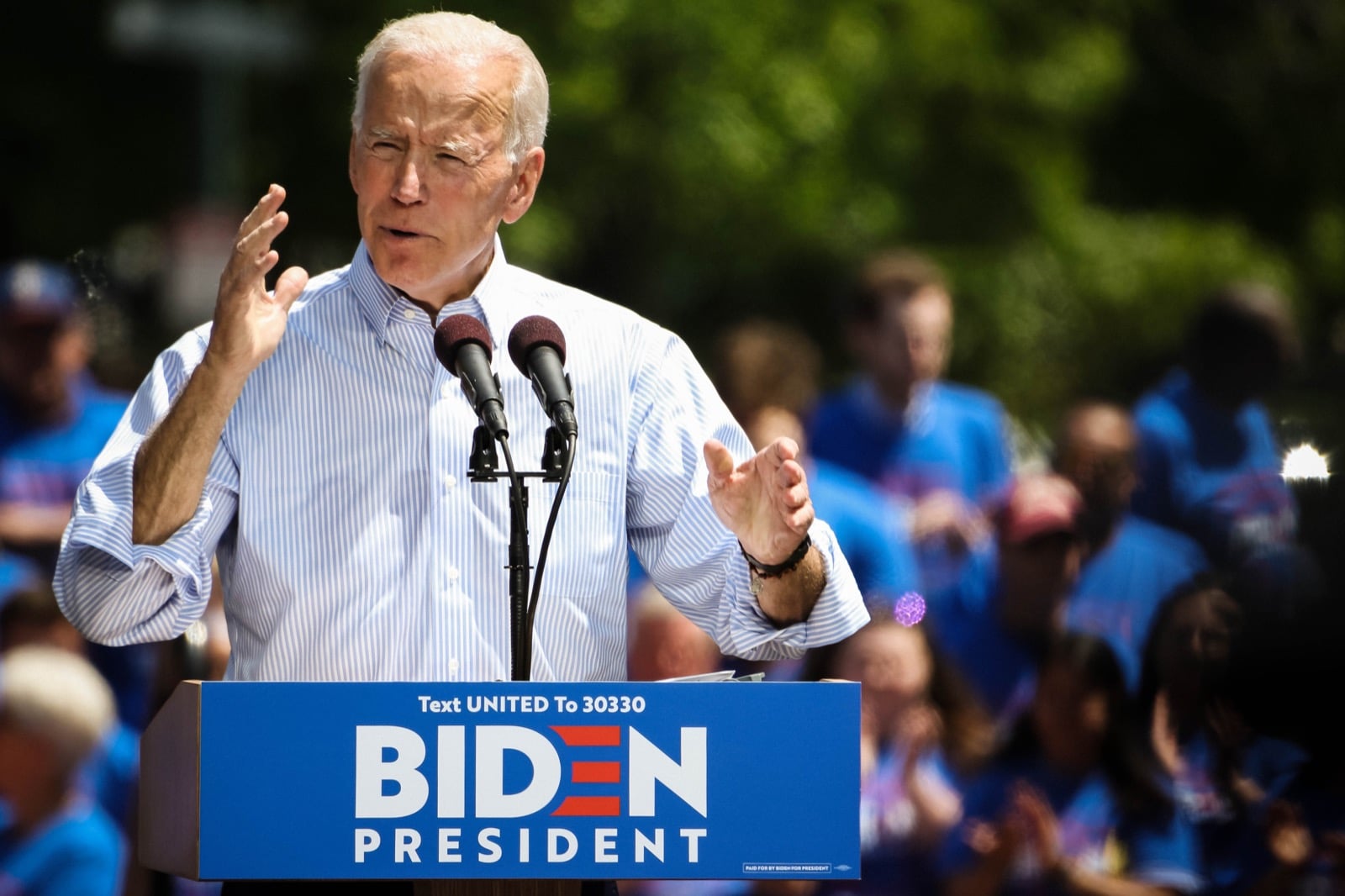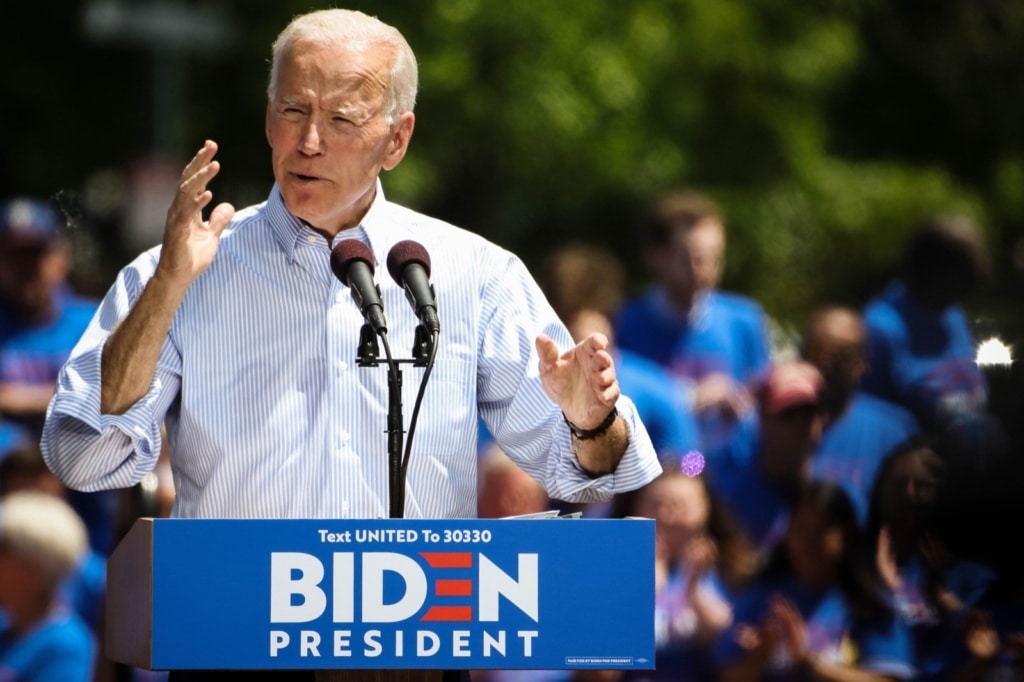 For these images, I found myself a spot a little further to the left of the stage, aiming to use the trees and the Biden supporters to create a more pleasing background, allowing the value of the highlights on Biden to draw the viewer into him. The division of the greens and blues of the background also creates a horizon-esque line, so it was important to keep it rather level and use it to draw towards my subject, rather than away from.
These photos were also for an editorial publication, and with the knowledge that we would be using some of the images in the weeks to come, I wanted to make sure I snapped an array of emotions so that future stories could be paired with the right images.
Photographing political events is a lot of hard work, but the subjects you are allowed to photograph are incredibly important people, and that makes the images more valuable, in a sense. In the other political events I have covered since, I have vastly improved at working in such a restrictive space, and I think that, given the opportunity, photographers that are more used to working in the freedom of the outside world or in studios should attempt something like this.