How Can We Help?
Search for answers or browse our knowledge base.
Imagely has partnered with White House Custom Color (WHCC) print lab to offer an easy way to have your print orders automatically fulfilled. Not only does this save you time, but it also provides you a wide selection of printing options (i.e. Fuji Deep Matte, Fuji Lustre, Fine Art Canvas, Standout Black Edge and White Styrene Mounted + more!).
YOU DO NOT NEED TO CREATE A WHCC ACCOUNT
All orders are sent through us to WHCC. You do not need to create a separate account.
Printlab requires an active NextGEN Pro license to work.
If you see this error message at the top of your WordPress dashboard you need to return to your Imagely Account to renew your membership. This may require that you repurchase NextGEN Pro, and then re-install the NextGEN Pro plugin to install the new active license. Once installed this message will disappear and your orders will submit to WHCC to be automatically fulfilled (you can confirm the successful orders under Ecommerce > View Orders > Order Status 'Submitted'). If your license expires again (you choose to not renew your membership) your orders will no longer submit to WHCC.

How It Works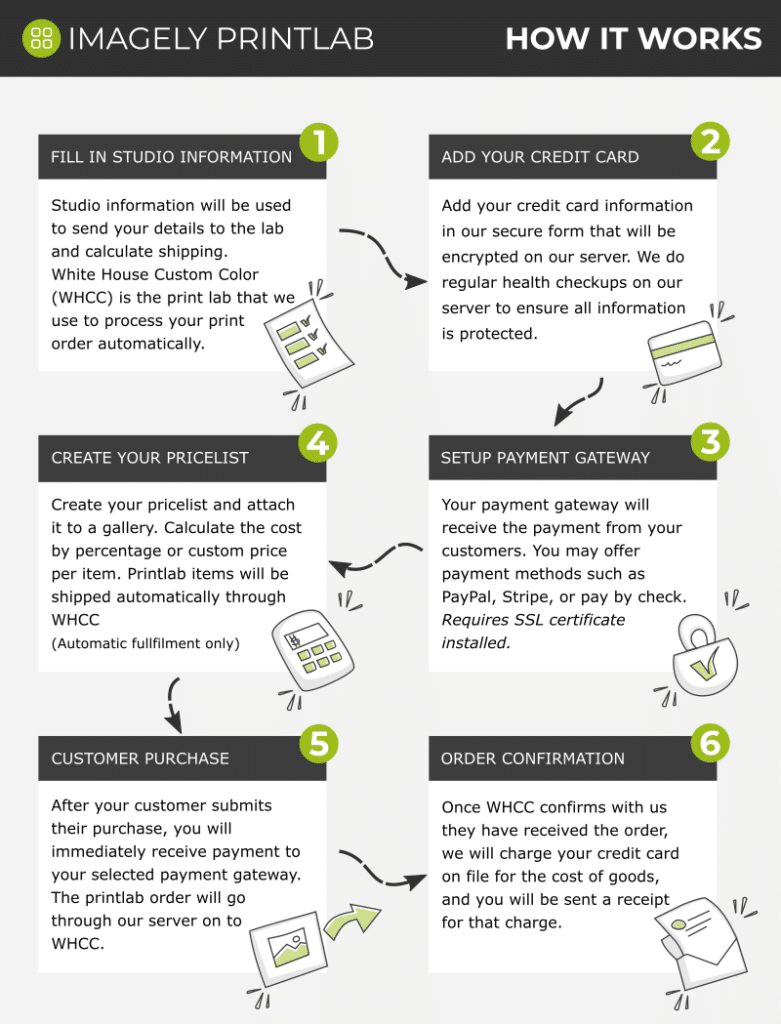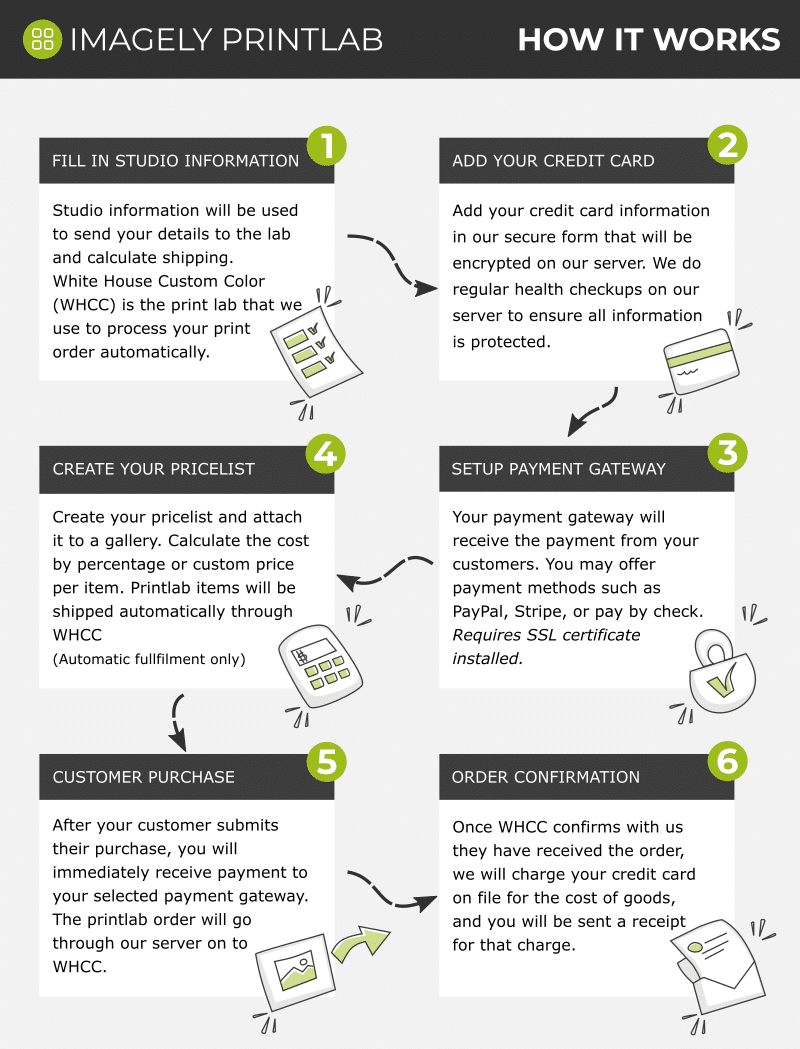 1) Navigate to Ecommerce Options > Print Lab Integration: You can use any NextGEN Pro payment gateway to collect payments for orders. However, if you wish to process lab fulfilled orders, you must provide a credit card that that will be billed for the cost of goods for orders fulfilled by the print lab. When a customer purchases a print, the cost of prints will be immediately charged to this credit card and order submitted to WHCC to be fulfilled.
To break it down in steps, this is how the order will be processed:
Set up your Stripe and/or PayPal accounts under 'Payment Gateway'. This is where you will receive the payment from your customer. Learn how to set these up here: Printlab Payment Gateway Setup
Add your credit card for Printlab Integration. After your customer submits their payment you will receive the total amount charged to them - to your PayPal or Stripe account. Their order will be processed through us and submitted to WHCC. The total cost charged to your credit card will be the 'COST' listed when you add a print option in your pricelist. The profit you keep will depend on the price you list for your customers.


2) Navigate to Ecommerce Options > Manage Pricelists and create (or edit) a pricelist. Select 'Add Product' at the top and select from the three options: WHCC, Manual Fulfillment, and/or Digital Downloads...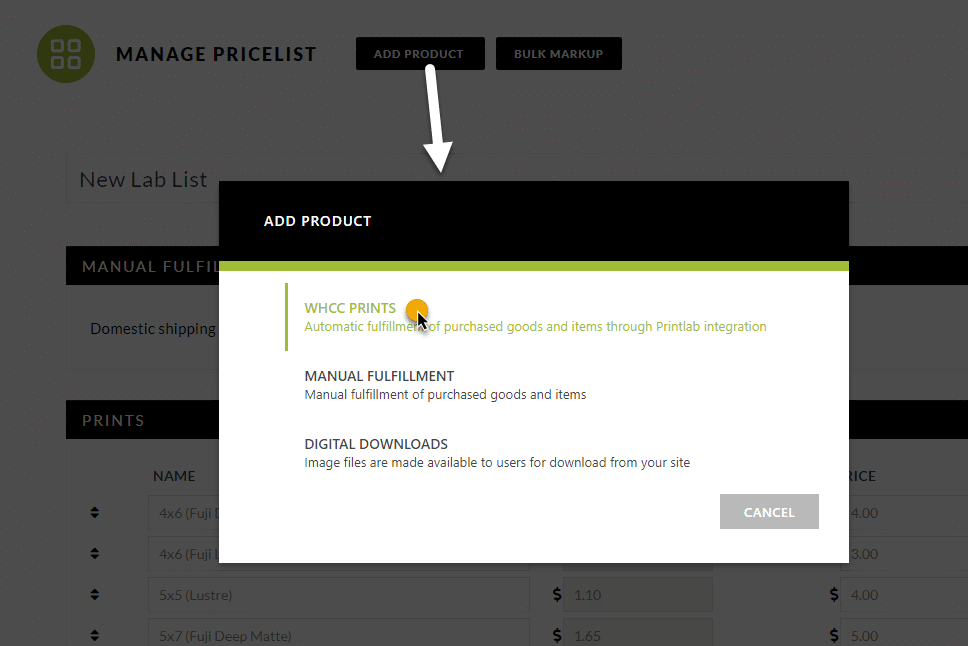 WHCC - These products will be automatically fulfilled through White House Custom Color print lab.

How do the prints get sent to WHCC?
When your customer submits an order from your checkout page, the following takes place:
1) The order is sent to us where we run through a process of steps to fulfill the order.
2) The order is segmented into shipments as dictated by WHCC's drop-shipping specifications and the shipments are submitted to WHCC using their API.
3) WHCC provides us with an invoice for the cost of goods.
4) We will bill your credit card that you setup under Ecommerce > Ecommerce Options > PrintLab Integration.
5) WHCC bills us for the cost of goods. We covered our cost in the step above.
6) You will receive an e-mail informing whether their order was sent to WHCC successfully or not.
Manual Fulfillment - These products will be fulfilled by you and will not be submitted to WHCC.
Digital Downloads - will be made available to users for download immediately after purchase.
Read more about setting up your pricelist here: Adding Printlab to Your Gallery
3) To assign your pricelist to a gallery navigate to Gallery > Manage Galleries > Select your gallery, select the 'Gallery Settings' tab at the top of the list of images and select your pricelist and save changes. You can modify what images are for sale, what images should be assigned to a different pricelist, or leave the assigned pricelist as the default listed under 'Gallery Settings'.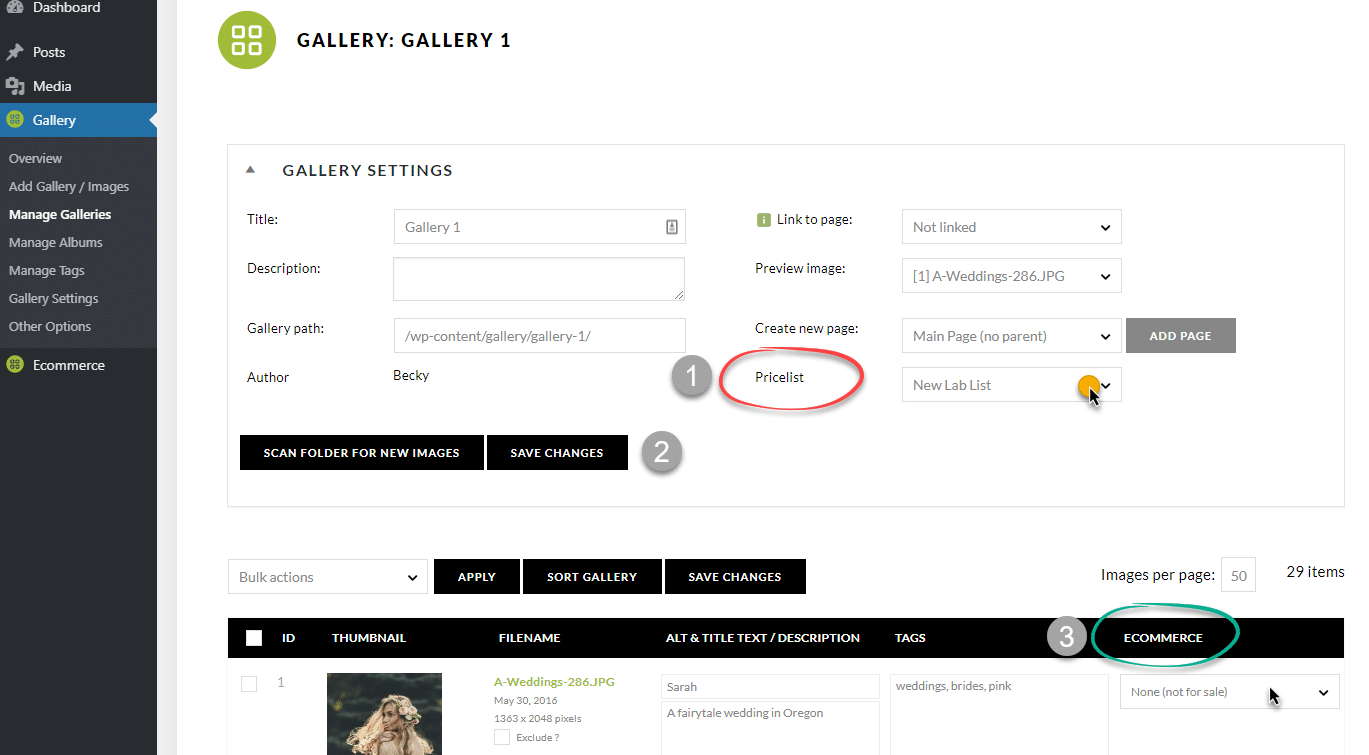 4) INSERT YOUR GALLERY TO YOUR PAGE OR BLOG POST
Follow the steps below to access our Add Gallery Window.
FOR THOSE WHO ARE USED TO USING THE CLASSIC EDITOR
As of WordPress v5.0 you will need to install the Classic Editor plugin to continue editing your posts and pages the way you have been used to.
The Add Gallery Window is accessed by hovering over the (+) symbol and select the NextGEN Gallery 'Add Gallery' icon to the right as shown in this screenshot below.

Or click on the (+) symbol and select the NextGEN Gallery block under 'Common Blocks' as shown in this screenshot below (or searching for 'NextGEN Gallery' above the list):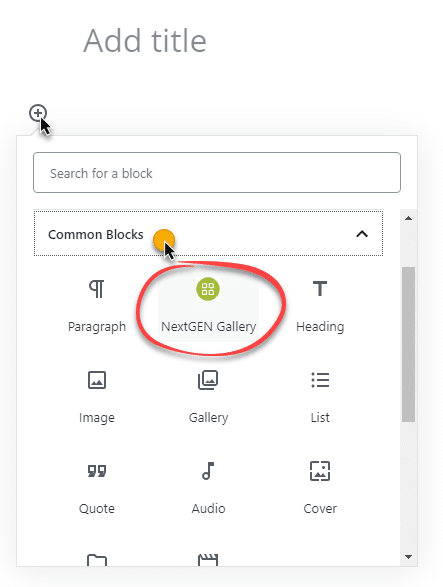 After selecting your gallery display, select the tab at the top of the Add Gallery Window 'Customize Display Settings'...

Under 'Customize display settings' be sure to select 'Enable ecommerce' before inserting the gallery to the page.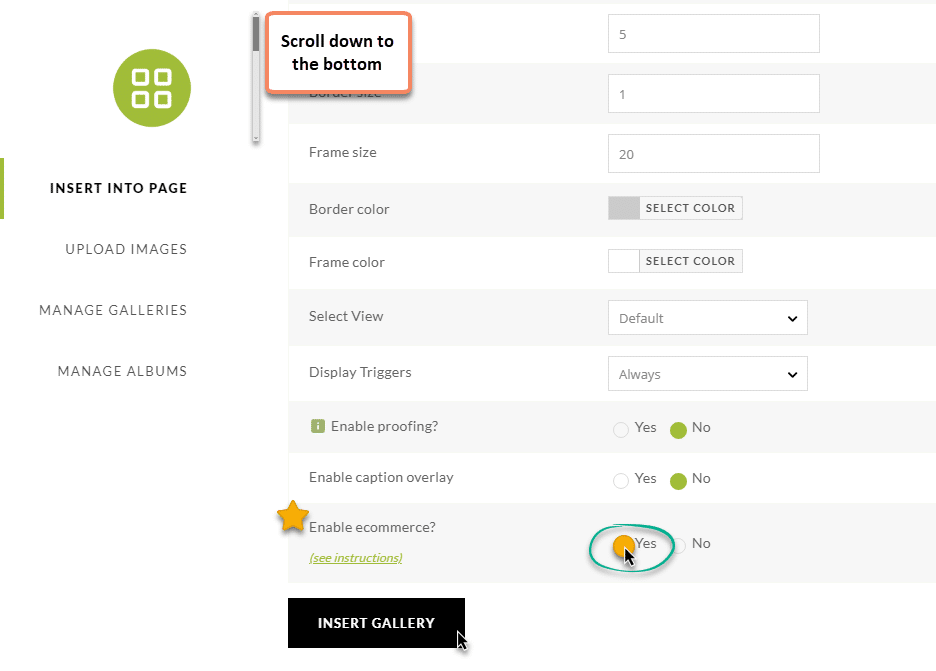 5) Publish/Update your page. You should now see your prints available in the Pro Lightbox. If you do not see the Pro Lightbox display, navigate to Gallery > Other Options > Lightbox Effects to activate it.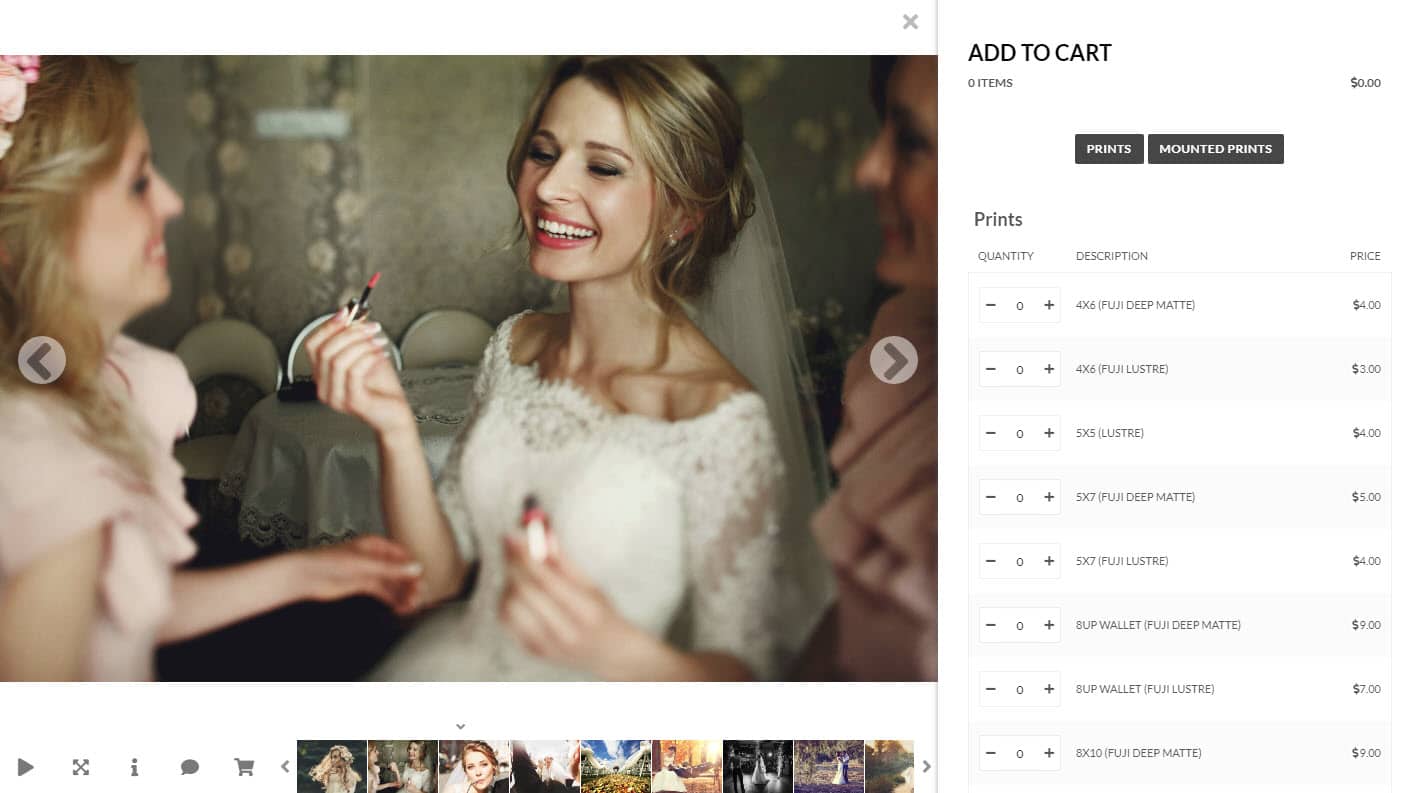 Printlab Payment Gateway Setup >