GENERAL OPTIONS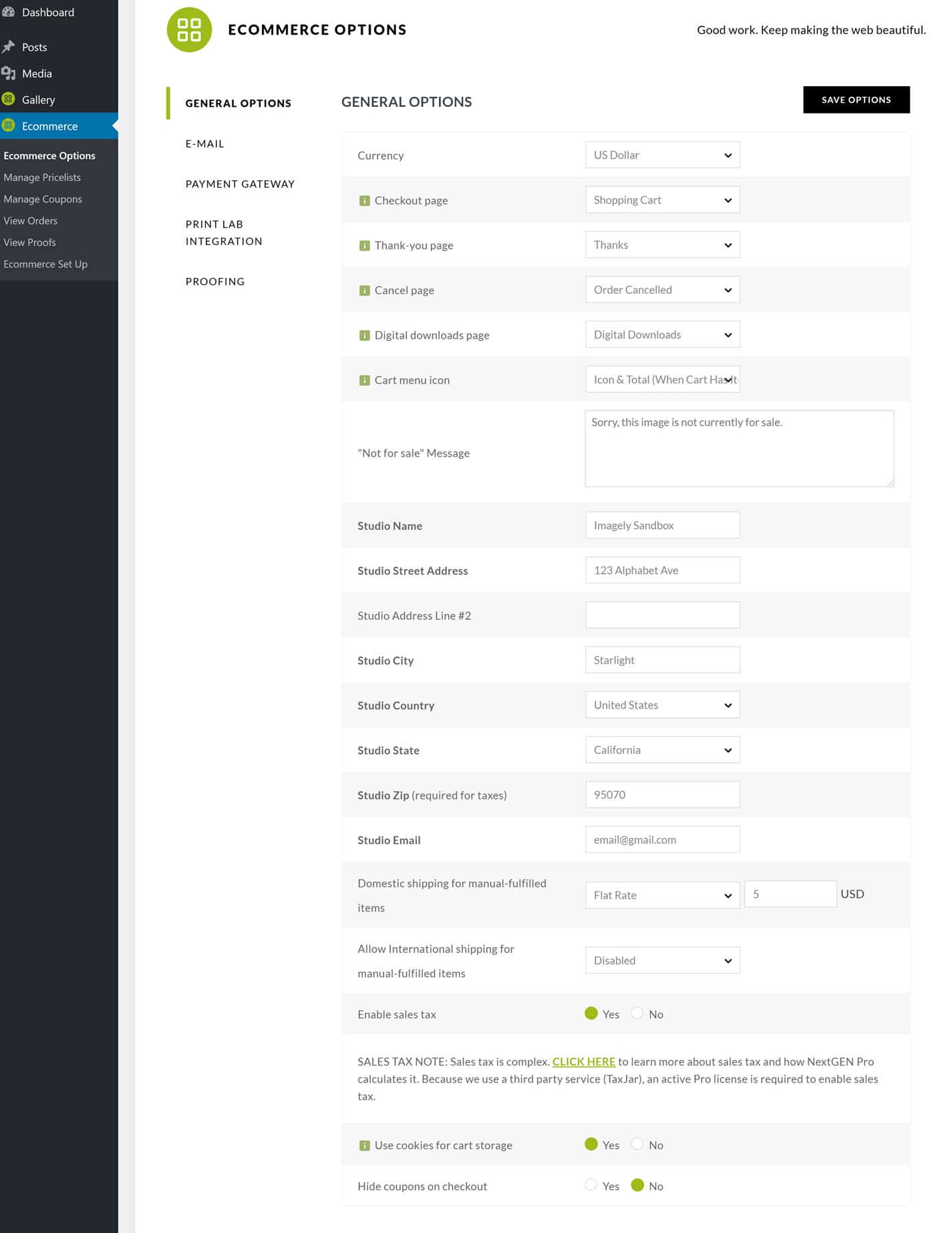 1) Select your home country
2) Set your currency
3) The Checkout, Thank-you, Cancel, & Digital downloads pages can be set by an existing page you have created and published (an associated short-code will need to be added to those pages), or if you leave the drop-down selection at 'Create new' when you save the Ecommerce settings it will create those pages automatically for you (and automatically add the shortcode to those pages)
Shortcodes: if you select a previously published page in your General Options ecommerce pages, it will need this shortcode (without the spaces) added wherever you'd like the ecommerce content to appear...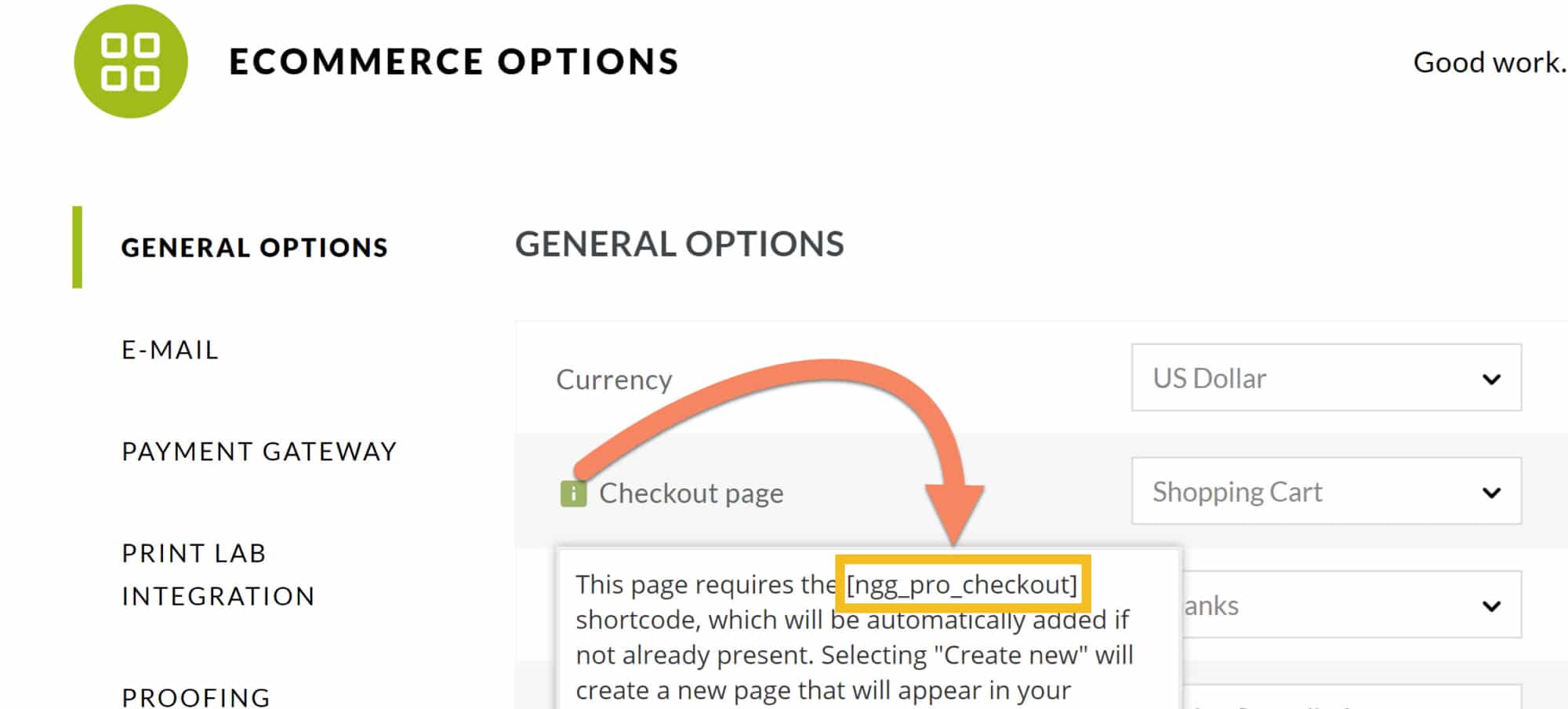 Checkout: [ ngg_pro_checkout ]
Thank-you: [ ngg_pro_order_details ]
Cancel: no shortcode needed
Digital downloads: [ ngg_pro_digital_downloads ]
4) Set your "Not for sale" message that will appear in place of the cart option for images marked not for sale
5) Enable sales tax is a flat rate that will apply for everyone regardless of their location.
6) Cookies are adequate for most customers but can only hold a limited number (around 30) of products due to browser limitations. When disabled the browser localStorage API will be used which does not have this problem but cart contents will be different on 'example.com' vs 'www.example.com' as well as across HTTP/HTTPS
7) Hide coupons on checkout, when turned on will hide the option to insert a coupon at checkout. If you're offering discounts to your customers you will want to keep this on, or turn it off if you don't plan on offering a discount.
Shipping
The cost of shipping is set in your pricelists under Ecommerce Options > General Options. You can set it by 'Flat Rate' or 'Percentage'.

Taxes
Under Ecommerce > Ecommerce Options you can enable sales tax (optional). We use an api from taxjar that will calculate the total tax from your studio zip code and the customers zip code. You must have your studio information filled in under Ecommerce > Ecommerce Options.

E-MAIL
Set your order notification subject, email and message to notify you (the seller) of any new purchase made. You also have the option to send the customer a receipt of purchase. You may customize the message or leave it at the default message.
If you decide to customize the notification message, here are the parameters you can include:
Wrap placeholders in %%param%% (see screenshot example above for reference).
Accepted placeholders for seller notification:
customer_name
email
total_amount
item_count
shipping_zip
shipping_country
order_id
hash
order_details_page
admin_email
blog_name
blog_description
blog_url
site_url
home_url
Accepted placeholders for customer notification:
customer_name
email
total_amount
item_count
shipping_street_address
shipping_city
shipping_state
shipping_zip
shipping_country
order_id
hash
order_details_page
admin_email
blog_name
blog_description
blog_url
site_url
home_url
PAYMENT GATEWAY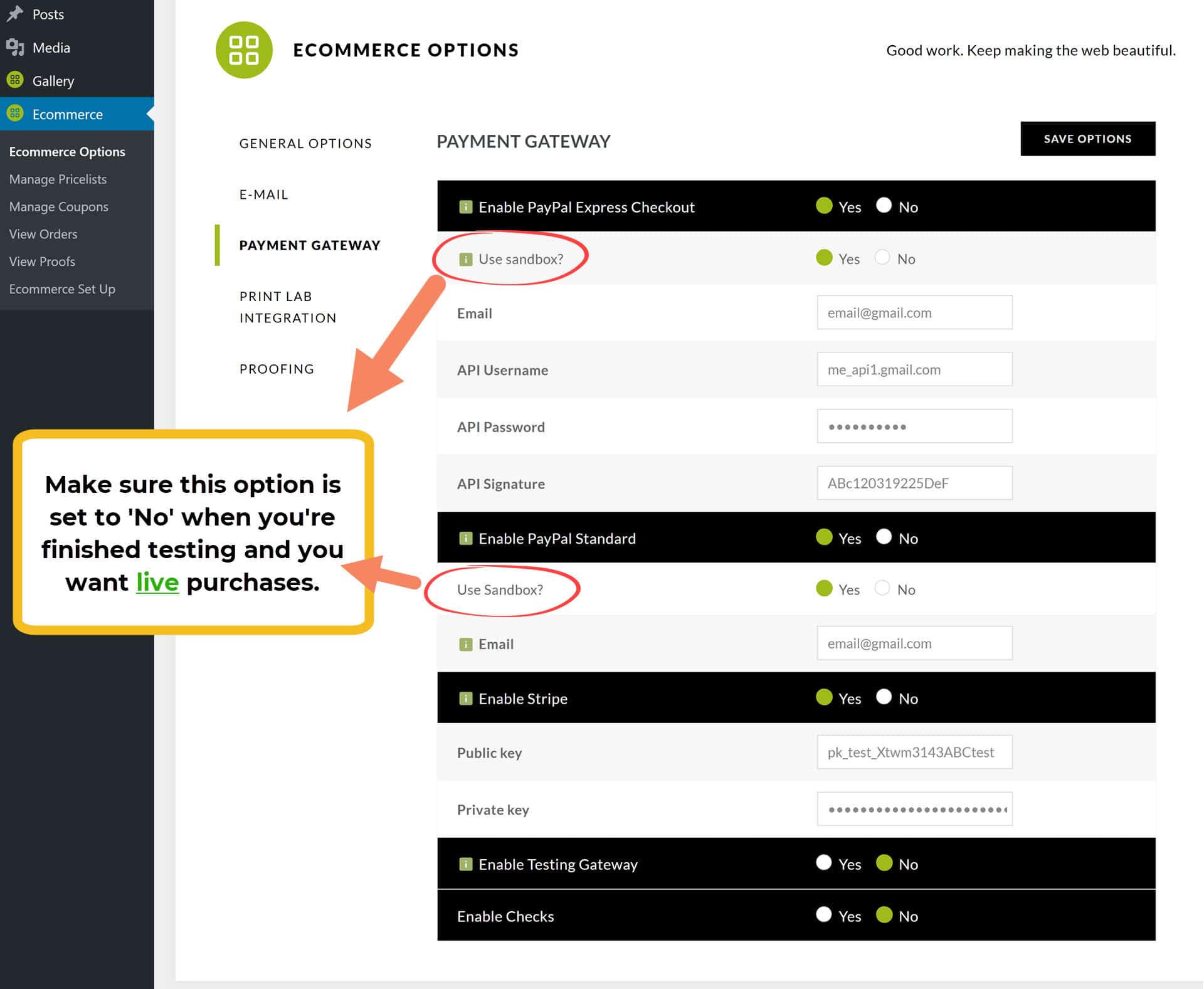 You have 4 payment options for checkout:
Enable Checks
If you would like to offer an option to pay and pick up in store, pay by check would be a great option to offer.
Stripe
For stripe you'll need a public key and a private key. More information on stripe setup can be found on their website here, including signup instructions: Stripe - Getting Started and then grab your Stripe API Key. Stripe does not provide a sandbox option within our settings. If you want to test the checkout process you will need to set this up manually following the instructions on their website: Stripe-Testing.

*Global options for Stripe, see: https://stripe.com/global
PayPal Express Checkout
A faster way to checkout with PayPal, learn how to create a PayPal Express account: PayPal - Express Checkout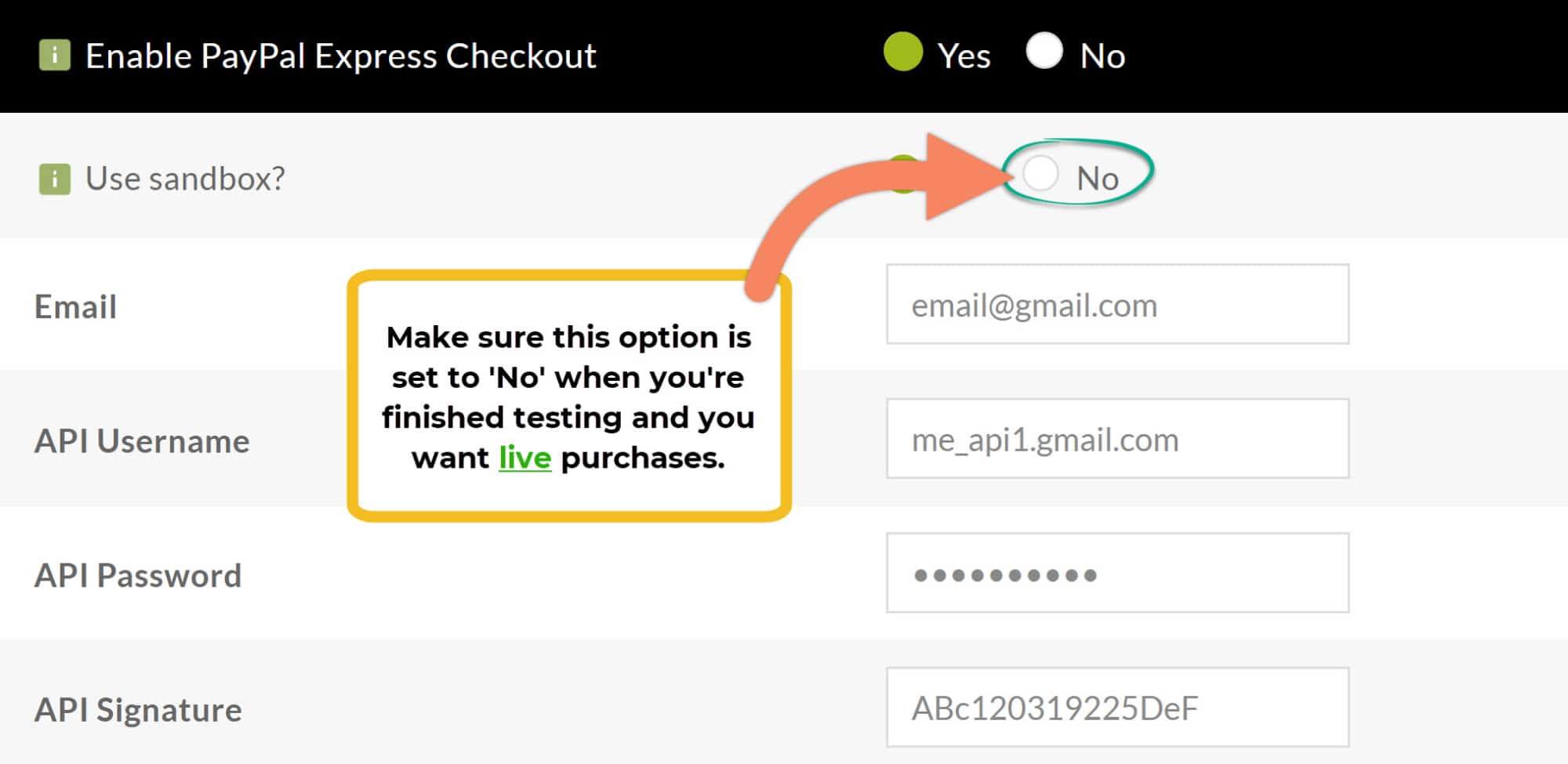 PayPal Standard
The most popular, easy way to signup and get started with taking online payments. After creating a PayPal Business account, all you need is your PayPal email address.
Learn how to create a PayPal standard account: PayPal - Getting Started
*What is sandbox mode?
The PayPal Sandbox is a self-contained, virtual testing environment that mimics the live PayPal production environment. It provides a shielded space where you can initiate and watch your application process the requests you make to the PayPal APIs without touching any live PayPal accounts. In other words, it's a safe way to submit a payment without the transaction actually going through. 🙂 Learn how to set up a sandbox account...