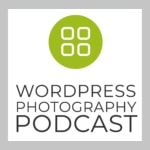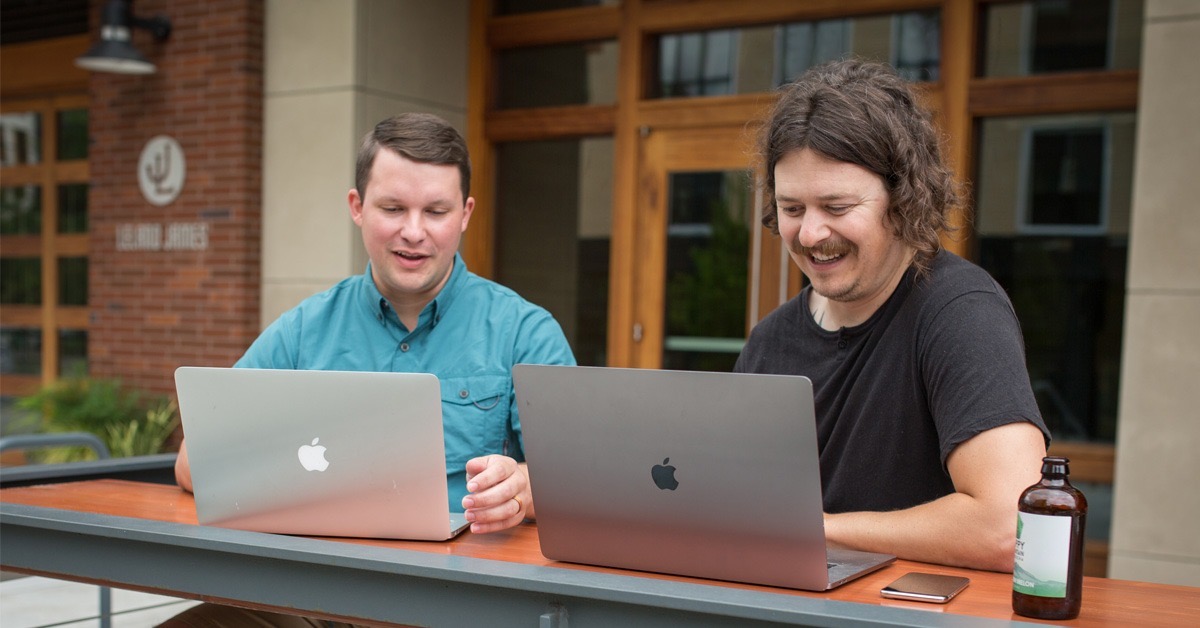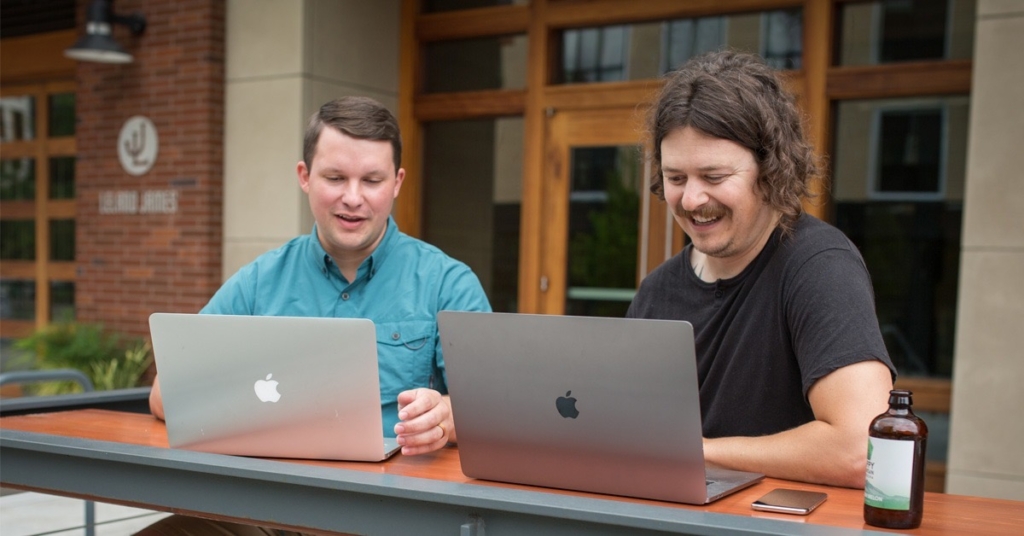 In this episode, we talk to Corey and Dylan from Fuel Your Photos about their new podcast, SEO for Photographers. Not only will you learn about their new show, but you'll also get some immediate action items to take away with you right now.
These are two guys study and implement search engine optimization for the photography industry. Corey has been running a very large SEO Facebook group for many years, and he brought Dylan on as a partner as he has been growing the Fuel Your Photos brand.
Joke of the day:
The only person happy with a 100% crop is a farmer.
What we discuss:
The SEO for Photographers Podcast.
The one SEO action item you should take at this moment.
What you can expect from Fuel Your Photos in the future.
Where to find Corey and Dylan:
Transcription:
Transcription was done by Rev.com, using their AI (artificial intellegence) generated transcript. The transcript may contain spelling, grammar, and other errors, and is not a substitute for watching the video or listening to the episode.
Scott:
The only person happy with a 100% crop is a farmer. Welcome to episode one zero three my name is Scott Wyden Kivowitz and I'm joined by my guest, Corey Potter and Dylan Howell. Now you might recognize Cory's voice from episode 32 when we talked about SEO in 2017. Wow. But now for now we're in, we're in the year 2020 and a lot has changed. In fact, a lot has changed because in 2017, Corey and I could just hang out at WPPI, but if she doesn't 20 and we're all kind of bunkered down in our homes because of coven 19. So we can do things like this, a podcast remotely. In fact, the three of us are in very different parts of the United States. So that's always fun, right? So why don't you each introduce yourself Corey just share a little about yourself and then we'll go onto Dylan. Sure. It's funny, I was always like, whenever you say introduce yourself, I'm like, what do I want to talk about here? But I mean, like in,
Corey:
In context for this podcast, you know, I was a, in high school I started with some web development and website building and right, right around college I started deciding that I was going to offer SEO services to local businesses and build websites and all at the same time I stumbled across photography and it ended up taking off pretty fast to the point where I was like, Oh, well actually I'm just going to do photography full time. So my wife and I were wedding photographers for almost 10 years. And we grew the business pretty fast in the beginning, mostly because of WordPress, in my opinion. It's, I was, I was on WordPress before most photographers were using WordPress and it was a huge advantage for me back in the day. So that's my little that's how I got into photography and how I got into WordPress SEO all at the same time.
Scott:
Great. And Dylan?
Dylan:
Yeah, so I'm a photographer as well based in Portland, Oregon. And I got into SEO also, like around my college years. I had a business building bicycle wheels that I needed to do marketing for. That was a fun business, but I also stumbled into SEO or sorry, into photography actually to do the product photography for that business. And then had friends getting married, shut their weddings and the wedding photography business absolutely took off as well. So I've been doing that. I've, I've been slowly not phasing it out, but shooting less weddings over the last few years and concentrating more on SEO and marketing. But yeah, still shoot a few weddings, maybe about 10 a year and a really concerning on SEO education.
Scott:
Great. Yeah. You know, doing some, especially when it's not your, your, your main thing anymore doing photography even 10 times a year, like, which a wedding is not a little thing. Right. It's a, that's a, that's a big thing. So doing it 10 times a year is more than enough for somebody who's doing that as a secondary job to keep it fresh in your mind and, and keep the gears turning and whatnot. So for sure. Yeah. I do have a question though about the whole bicycle tire thing. Well, bicycle wheel. So you're talking, you're talking like you actually bent the metal, put in the spokes, like talk, tell, tell, share a little bit about that. Cause I'm so curious
Dylan:
For sure. So I was, I was mostly concentrating on high-end racing wheels and so I would be getting typically carbon fiber rims either from U S sources or from China. And then I'd be sourcing the hubs and spokes and all of the small parts. And then I'd be putting them, I'd be pretty much assembling. So I'd, I'd spec out the correct components for the writer and assemble them in the, ship them off.
Scott:
That's really cool. That's really cool. Yeah. I with this whole lockdown thing, I've been doing a lot more cardio work than cause I have a little bit more time now. I'll be doing some more cardio work than in the past. So mixing up between biking and and running. And my bike is a heavier Trek bike, even though it's aluminum, it's still heavy. And I have a car baby seat on the back. I was going to say car seat, a baby seat in the back. So I'm not so not so fun. It's so heavy. You're getting a workout, but yeah, and getting a workout. Okay. So let's dive into this. You guys partnered together first. Furio fuel your photos was just Cory's thing. And then when I met Corey at WPPI, probably 2017, 16, actually 16, 2016. I think you were just starting fuel your photos at that point or, right.
Scott:
So you guys partnered, I was going to say recently, but it's been a while at this point too. It's like the end of 2018, I think. Great. Yeah, so it's been growing. You've, you've put out an SEO course. You've got this striving Facebook group all all of you know, your community of a few of your photos, followers and readers and listeners and whatnot. And now you have a podcast. Now the time we're recording this, I think you have seven or eight episodes, if I'm not mistaken. And by the time this airs you'll have probably double that I'd imagine, because this is entering a month from basically a month from now. So so tell the listeners about your podcast because I feel like yes, there's going to be some overlap with the WordPress photography, but at the same time you have a, because the, the title of it, you've got a heavy focus on specific thing, which is also a very specific but also broad cause that's the, Oh isn't just a fine needle thing anymore. It's so broad. So why don't you share a little bit about that?
Corey:
It's funny because we had, we've talked about starting a podcast since when we first started partnering and it was like we should definitely do a podcast. And we tried it a couple of times and it was just super awkward at first. And then as our relationship grew, we talked a lot more, all that stuff, you know, after a year or so of, I was working together on a daily basis, we're like, Oh, this will be much easier now. Let's try it again. So we decided to start recording and basically we were like, there's a lot of stuff we could do, but we could just talk about SEO for hours. So let's just pick some thing to talk about and start talking and see where it goes. And then we did and people gave us pretty good feedback and so we decided to keep recording episodes. Yeah. And yeah, I think we're up to two episodes a week right now because we have the time.
Scott:
It's amazing how like, you know such a world changing thing can, it has a lot of negatives of course, but at the same time it allows a lot of us to do things that we've been trying to do for awhile and haven't had a chance to do or, or in some ways be more productive in and knock out a whole bunch more content than we might normally have been able to do. So can you share a, a few topics that you've already talked about on, on the podcast?
Corey:
Yeah. Our, our most recent ah, topic was pretty fun. It's been well received, but we, we looked at all of the website platforms that photographers typically use and we just tore them apart. We only talked about the cottons. And so that was kind of fun to show people that each platform has issues and there you have to find workarounds for those. Some platforms just have more issues and probably aren't worth dealing with. But yeah, we had a whole episode where we like looked at our own websites and our link profiles and just went through 30 different links that we had obtained over the years and talked about how we got them. We've had Q and a episodes, or at least one, I think we recorded two. We've only published one. So we're just trying to, I mean there's a lot of different topics we're probably going to cover in the future. We're thinking about how many guests and you know, just interviewing people who have had success with different SEO methods and yeah, it, it's been fun and random so far.
Scott:
Great. Yeah. So yeah, I, I'm, I'm, I'm just, because of my technical nature of things, of course I'm very excited for, for where you're going to take the show and what, you know, all the different topics that you could be bringing up. And I like the fact that you're mixing it up between Q and a and then some you know, some, some sort of data driven things and it's going to be good. I'm looking forward for it. So now if the listeners have everybody listening right now had to take only one SCO action, like at this moment, what would be each of your recommendations? If they can only do one thing right now, what would it be, Corey?
Corey:
Oh, let's see. Hmm. It's, it's tricky to pick one thing. I would say the easiest thing you could do right now would probably be to check your homepage title, make sure that your title is solid, it's matching keywords that people are actually searching for. I mean, I feel like that's where I would start. But then again, maybe 50 or 70% of people have already done that. So, I mean, if you haven't done that, that's one thing I would recommend fixing both.
Dylan:
Yeah. And I would take that like the next step further that you're only targeting that keyword with that homepage or one page. That's like, those are the two issues that I think we see on most photography sites.
Scott:
Oh yeah. People, people adding multiple keywords that are there. Oh yeah.
Corey:
Multiple pages that target the same keywords. So like if you, if you target Columbia wedding photographers with your homepage, then you don't want that appearing on every other page of your site. So I guess, you know, if you've already fixed your homepage, then maybe take that a step further. I think what Dylan's saying here is basically look at your template settings, like in WordPress, your site title, and see is it being appended to every single page on your site? And if so, is it using the same keyword as you use on your homepage? If so, cut that out. Yeah.
Scott:
Great. And you know, if for people using Yoast SEO, they can actually not necessarily automate this, but they can actually, if they're using the focus keyword or focus query after I already have it, they even call it now the focus word in, in on their pages and posts. The Yoast will actually tell you if you are using it the same one in multiple places. Or so that's kind of a nice, nice little thing that if you're utilizing it it'll actually in theory prevent you from, from doing it. So so what what can we expect, I know you talked, you touched a little bit about you know, where, you know, a little bit where you could take it, but what should we expect from the show in the future? Are you going to try to stay consistent or are you going to just go with the flow and put out episodes when you can? You know, what should we expect what your listeners expect?
Dylan:
Yeah, I think we're going to be aiming for at least one episode a week. I think during this time at home we might be doing up to two a week. We're also putting out constant YouTube content and we're trying to also publish blogs. So it's a lot of content coming from fuel your
Corey:
Photos right now. Yeah, yeah. From the podcast I would say. It kind of depends on how people are responding. So we'd love to get feedback, you know, if people love specific kinds of episodes, we'll probably do more of those. Like I said, we're going to experiment with bringing on some guests who are not necessarily SEO experts, but people who have had success with a specific method or you know, maybe they've had success going through our course or something like that. We may interview those people to say what exactly worked for you and how, how could other people potentially apply that? That's kind of something I'm excited about for the future of the podcast. And then, I mean, just Dylan and I talking, one of the things we've decided is a podcast is a great way for us to basically do our initial content brainstorming so we can just talk it out on a podcast and it's more casual laid back. And then we get it all out there and then we can listen back to it, take notes or look at the show notes and our transcript and then turn that into a blog post or a YouTube video or something like that. So yeah, it's just going to be our way of talking through ideas, what's working, what's not working.
Scott:
You know, that kind of thing. Great. And so you touched on, you touched on something that, phew, feel your photos, you've got the podcast, you've got the deep channel, you've got the blog, you've got the Facebook group, each of which you're knocking out content pretty consistently across the mall. The YouTube channel, especially now, I mean, I know you did that, that challenge for yourself, you know, to, can you actually do it and you're doing it. You've done your R U B Oh, you passed a month already of daily videos. Are you still on the, I think we, I don't know how that exactly played out
Corey:
Goals for doing daily content and then not doing it. Exactly. Yeah. No, I'm working on trying to create one new piece of content every day in April, but I'm not being too strict about it. So it's not necessarily like a blog post or a YouTube video. It can be like any piece of content. Yeah. But yeah, we did put out a bunch of YouTube short YouTube videos when we were, we actually did make it to WPPI this year, just before all this stuff really broke out. And when we were there together, we recorded like 10 videos, just, you know, two minute tips and put those on YouTube.
Scott:
Right. Yeah. And it's cool. It's cool seeing each of you you know, individually doing, doing the, you know, on camera, doing the videos and nice. It's nice to break it up from the same person all the time, which, you know, excuse me, my, my my own YouTube channel is just me. So it's like I fall into exactly what I'm saying is nice to not do so. But anyway, so with all this content, is there anything that you guys have been talking about potentially doing that, that, that fans of your photos could expect it? A feature from the brand in general?
Corey:
Oh man, we have so many plans. Tell him what jumps out to you. Gosh. we really want to teach people how to utilize WordPress properly. And so I think we're going to plan a series, I don't know if that's going to be podcasts, YouTube videos, blog posts or all, but just how we recommend to use WordPress just to get rid of the common misconceptions that WordPress is hard or WordPress is complicated. So that's, that's one topic we're really wanting to push into a little bit. Yeah. We're actually really excited about WordPress right now. So it's nice being on the WordPress photographers, podcasts because we're going to be talking a lot about WordPress soon. We're talking about using, yeah, we're thinking forward, you know, how, how can we better utilize Gutenberg as it becomes more and more tied into everything more features are available.
Corey:
How can we think about being amp first, potentially with WordPress. In the meantime we're kind of leaning on element tour a bit because it seems like a decent stop gap for now. It's like the, as far as page builders go, it's like the best bad option. I say bad because I just generally would rather not use a page builder. But for now it's what we're using because we do think it's a decent option. So just all of that kind of education around WordPress as a platform and how it compares to other platforms because we still need to talk about for our audience, like show it and Squarespace and how can you make those work or how would you switch from those to work presser, those kinds of topics. So speaking of Gutenberg or the the block editor have you tried block patterns yet?
Corey:
No. Tell me more. So you know how the block editor has reusable blocks, right? You can go in, make a block, save it, and then use it on any page or any post wherever you want. So they now have blocked patterns in beta, which is basically like page templates for what block editor and it's completely beta in. You actually have to install the Gutenberg plugin in order to access it right now. And Justin Tadlock who's one of the, he's been a core developer, he's done a bunch of development on variety of things. He's now a writer for WP Tavern. He just released a plugin that allows anybody to create block patterns and save it and it'll be usable. So that's going to actually be in that, be able to make your own block patterns, will be in court eventually, but right now one developer has made a product to, to do that. So that's one of the many things that I'm very excited for in, in the block editor. But there's, there's other things they're doing, like they're, they're, they're, they're doing mobile and tablet previews which is nice, but in the backend it's all just like Elementor and Devi and all the others, except right now all the blocks don't have
Scott:
Mobile controls in court. So it's kind of funny that they're giving you the preview but not giving you the controls to change font size on phone versus tablet. But yeah, but it's coming along. It's come along. So I am actually curious what, what excites you the most about the new block editor?
Corey:
Gosh Hmm. My thing, I think I'm really excited about the fact that it's built in and it's going to be able to do the majority of things that most people would want to do with an editor like Divi or Elementor. Just by default. I mean it's hopefully more streamlined and more, you know, fits within the UI of WordPress and it's just like all built in. I also like the fact that by default, at least right now, what's included in the block editor is amp compliant. As far as all the testing we've done so far, and that's something that we're, it's like really on our radar in the future.
Scott:
Yeah. And you know, I don't know if you knew this, but the, the header menu and also your widgets and your footer menu, I'll let those are all becoming blocks as well. Nice. So yeah, it's sort of just like how BeaverBuilder and element or have their theme or stuff where you know, the elements become all components of the site. It just, that's, that's how that's the future of WordPress now is, is blocks you have. So yeah. You know and, and for, for people who are using the block editor and want to use the block editor, not a non WordPress style page builder, they, there's, there's hundreds of block editor, page builder plugins, they can add that, that offer more control
Corey:
Over the, the core blocks. We've been playing with atomic blocks and co blocks and a few others like that.
Scott:
Yeah. Yeah. So, so yeah, there's the one that we're recommending an Imagely is cadence just from a code review. And and UI perspective cadence
Corey:
Blocks as a tourist is quite nice. Yeah. One thing I'm really worried about with these like third party blocks is that right now we're in such an early stage with the block editor that so many of the features that are in these third party plugins are going to eventually become part of [inaudible] and then like they start to conflict and it's just, well not always, but at least in some cases in the past I've had like back before you could add columns in the block editor, you added a plugin and now you can add columns and it's like you get a weird UI experience when it's like you want to add columns here or here and it's just messy, you know?
Scott:
Yeah. You get multiple, fortunately both in the block editor and also in a lot of these party plugins you could hide specific blocks. So if you have, let's say code blocks installed and you're using the block, the default of course block editor, then you're going to have to row or column type blocks where you can go to the code blocks, you know, manage visible blocks or whatever they call it. And then you can stop that from showing in the UI. Same thing with cadence and so on. You can just stop it, stop there. I can stop the cadence button from showing it, just use the core button, which has its advantages and disadvantages. Because in some ways, like for example, if I am concerned over the font size of the text and a button or the padding of of a button on mobile, on a mobile phone versus I am 1:00 AM on a desktop, then the core button block is not the way to go right now.
Scott:
But exactly what it's going to get there. It's going to get there in the past two releases at least. Oh yeah, they haven't, there's now a social icon block, so you can do social follows. Even the button block has now Mo you could do multiple buttons in a row and you could do gradient backgrounds on certain blocks. So 5.4 release notes this week. And I was like, this is like all just additions to Gutenberg. That's kind of cool. Yeah. Yeah, that's, that is an Matt Mullenweg actually is the lead on this, on these releases right now. So that's why we're seeing this. That's why we're seeing such a push on, on the block editor. So you know, I'm I'm, I'm glad to hear that you guys are both excited for, for that, for the block editor. Because I am, I think it was necessary and it's a huge push into futurization of WordPress, so I'm excited.
Scott:
Yeah. Yeah. So anything you guys want to share as we close this up? Any final thoughts you want to share, whether it's about your podcast or YouTube channel or anything? What we did just release a free seven day challenge that people have been loving. It's just like really easy. The thing that you asked earlier, like what's one thing you could do right now? Well, it's seven days in a row of that. So I think that'd be a great thing. People could go check out if they're looking for more tips like that. And that's in the, that's in the group, correct. Yeah, it is in the group. But you can just go to fuel your photos.com/challenge and sign up there. Great. So I will make sure I link to that cause I obviously this is going out a month from now so I want to make sure I can still get people access to that.
Scott:
So cool. So fuelyourphotos.com/challenge. I'll link to that in the show notes. So thank you Corey and Dylan for joining me today on this show. Obviously the best place they can find you is fuel your photos.com, but if you want to share anything else where the listeners find more about you guys. Yeah, that's place is probably the Facebook group for now. I think we're pretty active there and it's pretty thriving community. So yeah, check out fuel your photos on Facebook. Totally cool. So you can find the show notes and where to find both guys at imagely.com/podcast/103 don't forget to subscribe to the show on Apple podcasts, Spotify, Pandora, Google play, and wherever you listen to podcasts. Until next time.