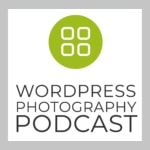 This is going to be a very emotional one for me. This is my last episode of the WordPress Photography Podcast and my last episode for Imagely. Because I am officially leaving Imagely to pursue the next chapter in my career.
I wanted to take a moment to reflect on the past nearly 10 years that I've been with Imagely.
My journey here started when I was recruited by the original founder of Imagely, Erick. At that time, the company was called Photocrati. The company was doing really cool things. We had a full community teaching people about SEO (search engine optimization), and a bunch of other sites that we were teaching photographers about different things.
I was brought on to basically be the public face of the company and create content of text nature (like blog posts). I eventually shifted into doing some more audio and video content, which I basically assigned to myself.
I wanted to do some more audio and video. I started doing it, created this podcast, created the Imagely YouTube channel, and much more.
Over the years, we realized that Photocrati became hard for people to say. They thought it was photo karate. So we eventually rebranded as Imagely. I remembered that I was going back and forth with Erick about what should we call ourselves.
We couldn't come up with a name. Every time we did a domain was taken and then we said, well, what about those domains that have LY or, or missing a vowel or something like that. We didn't want something too outrageous. We want it to be clever fun and still clearly show it's the photography space.
Eventually, I said to Erick and the team, what do you think of the name Imagely and the entire team loved it. The domain name was not available so we had to buy the domain from somebody, and all the social media handles were not available so we had to buy those from some other person.
So that was interesting, but we all love the name so much that it was worth the financial investment in the name. And of course, it's paid off over the years because Imagely is more fun to say than Photocrati, and it's easier to say. So we eventully rebranded as Imagely with a new logo as well.
We went to WPPI when we launched e-commerce. The first true photography e-commerce in the WordPress space. And we did our own events like at Red Rocks in Colorado.
And Imagely grew we eventually launched the first-ever print lab integration. A true professional print lab integration in the WordPress space - in a gallery plugin.
Between Erick's leadership and between my marketing efforts, all the content I was publishing, all the interaction with the community and so on. We grew the company to the point where it caught the attention of the current CEO of Imagely, Nathan.
When the pandemic started and the world was falling apart and everything was shutting down Nathan acquired Imagely. Two or three years prior, Nathan also acquired Envira Gallery. So since aquisition two of the most popular gallery plugins, with comparible feature sets are under one roof, LionSher Technologies.
Both are fantastic gallery plugis and have proven themselves over the years. And since they're both under one roof, the teams have worked together. Developers are working together, marketing works together, and customer services works together. It's been great to see the company grow.
It's been an amazing ride. It'll be weird, not to talk about Imagely on a daily basis. It'll be weird, not talking about websites and online marketing daily with photographers and WordPress in general.
If you want to follow me, and see what I'm up to. I have my personal website, scottwyden.com. You can also find me everywhere on social media at @scottwyden.
I want to thank the entire Imagely team for continually making Imagely a fantastic brand that really does help, not only the WordPress space but also the photography space.
Thank you for everybody who's been listening, subscribing, and watching the videos. I greatly appreciate your time paying attention and engaging with us when we ask you questions. I appreciate every single one of you.
I can't wait to see what Imagely keeps doing in the future. So stay tuned.