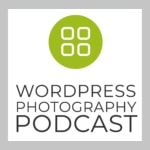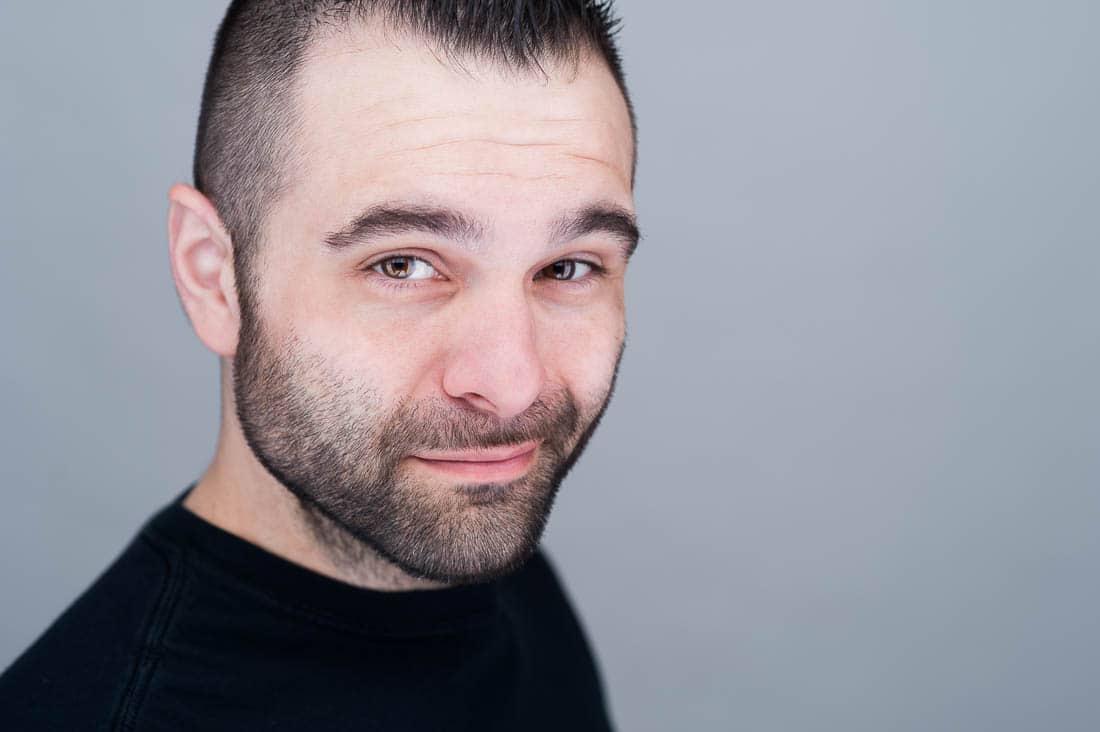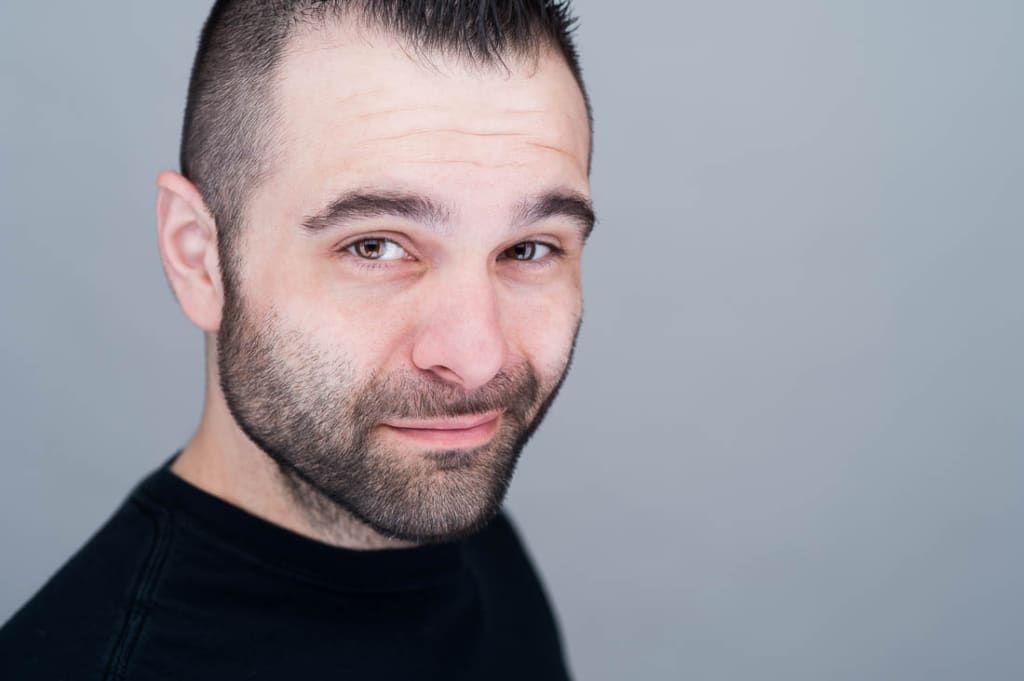 John DeMato is a branded lifestyle portrait photographer who collaborates with expert-based business owners to create an emotional connection with their audiences through persuasive visual storytelling.
More than just a photographer, John sets his clients up for success beyond the portrait session by coaching them on how to best leverage their image content for every touchpoint across their online, and off-line, presence.
A former television producer, John has over 20 years of production experience and has been featured as a portrait photographer expert on several NBC Universal daytime talk and reality shows.
Joke of the day:
A photographer told me his camera didn't have continuous high-speed mode and I almost burst out laughing.
What we discuss:
How we present ourselves as photographers.
John's take on personal brand photography.
How John helps clients with their branding.
John's website advice.
Where to find John:
Transcription:
Transcription was done by Rev.com, using their AI (artificial intellegence) generated transcript. The transcript may contain spelling, grammar, and other errors, and is not a substitute for watching the video or listening to the episode.
Speaker 1:
A photographer told me his camera didn't have continuous high speed mode and I almost burst out laughing. Welcome to episode one Oh six. My name is Scott Wyden Kivowitz and I'm joined by my guest, John Demato. John is a branded lifestyle portrait photographer who collaborates with expert based business owners to create emotional connections with their audiences through persuasive visual storytelling more than just a photographer. John sets his clients up for success beyond the portrait session by coaching them on how to best leverage their image content for every touch point across their online and offline presence. And as a former television producer, John has over 20 years of production experience and has been featured as a portrait photographer expert on several NBC universal daytime talk and reality shows. So as you might know from what I just told you, John knows what he's doing when it comes to branding, headshots, brand photography, and just really publicity and, and, and persona in general. So this is going to be a really nice conversation, John. Welcome to the WordPress photography podcast. Wow.
Speaker 2:
Thank you Scott, for having me. Although I'm having second thoughts after listening to that dead joke. You just dropped.
Speaker 1:
Oh boy. Yeah. Yeah. We have like what I call informal seasons cause I don't really put a S like a cap on seasons. I take a break every August and then start the podcast again after that. So basically since September I've been trying to do a really cheesy joke for every episode it's been working out. But my my Arsenal's running out, so I'm sure there's a website somewhere that you can grab a whole bunch of those and apply for, for us photographers. Yeah. So today we're going to be talking about brand photography and really the differences between being a brand photographer and really a brand specialist. Cause I think you are more than just a brand photographer. You are a brand specialist.
Speaker 2:
Well, first, the first thing, Scott, is a, for me when it comes to branding, photography, I, there's a certain way in which I see our community using it that I feel is being misused. Quite frankly, I think that a lot of photographers refer to themselves as quote unquote branding. I do not refer to myself as a branding photographer. By the way, the only place that you'll ever see me say branding photography is in my SEO, my URLs and metadata because that is what my audience knows me as, but I've referred to myself as a Brenda lifestyle portrait photographer, and it's because when you're talking about serving a particular audience and you're talking about branding, it's not just a headshot. It's not just a photo of someone working on a laptop. It encompasses a wide array of images that illustrate who that person is, who they serve and why they do what they do.
Speaker 2:
Essentially, it's not just about the aesthetics, it's not just about the one thing. It's it's understanding that person, their personality, why they do what they do and how they do it, and incorporating all of those key elements into the photography because the photography is not about the photographer. Contrary to what a lot of us believe, contrary to what I believed up until about three years ago when I niched my business to serve speakers and authors and expert based business owners, it's about them. It's about finding the beauty of what they, at least for my particular the way in which I shoot lifestyle photography as well as some portrait work as well, looking into the camera. But it's, it's about finding how to use our aesthetic abilities and our gift behind the camera and finding the beauty in those moments and centering it on them and not just making it about the aesthetics. It's the value proposition of these images really creating an emotional connection with their audiences. Cause that's what we're doing. Right.
Speaker 1:
True. Yeah. yeah. And you know as photographers we, we need to present ourselves how we want our clients to see us as well. We, we need to be seen in a way that will appeal to the clients that we want specifically, right? Not, not just to anybody. So for as, as a good example a friend of mine, Mike Alibaba, he originally, when he, for years, he was a wedding photographer. He's now switched John Rose to now doing boudoir photography mainly. But he always called himself the tattooed bride photographer because he wanted clients who were covered in tattoos and wanted these, these more exotic weddings. Like he, I don't know if you've ever been to Eastern state penitentiary in Philadelphia, but he would always have clients whose weddings were at this prison, this abandoned prison, and it's now a museum. Yeah. I love that place. So, so a good example is if we want tattooed client that we need to show off our tattoos, right? I mean, if you want, if you want that client, you need to portray yourself and your work in that way. So I'm wondering if you could talk
Speaker 2:
A bit about how we present ourselves as photographers. Absolutely. In fact, that is one of the biggest things that I harp on when it comes to educating photographers on how to present themselves memorably and referrability through their online presence. It's not just about the images, it's not in fact that's, that's one piece. But what it really is about, it's about the stories that you share. It's not about sharing your images and show how great your work is. In fact that you know, your client doesn't care if you had a wonderful session or a great, you know, a bridal shoot or a save the date and we rocked the session and you know, some crap like that. No one cares about that. What they care about is what were the challenges that these people had in front of your camera that you solved for them.
Speaker 2:
It always comes down to problem solving. It always comes down to making it about what you do for the client and you do. And in terms of sharing who you are as a person, it's the way in which you share that story. Your voice comes through those words. Your voice comes through in that video where your personality comes out and the way that you direct people and basically potential clients will see this stuff and they see the work and the work is great that gets them in the front door. But what keeps them in the house is who you are as a person and whether or not when they qualify you, that will let them know that you're a good fit to work with them. So it's about, it's a mixture when it comes to branding yourself through your online presence. It's sharing your expertise.
Speaker 2:
It's sharing your life as a business owner, as a photographer, as someone who is out there in the world, making it for him or herself, and it's sharing your life as a human being on the planet. See those other two piece, the expertise piece. A lot of people may or may not get, and I'm not talking about, I shot at F two at one 61 60th of a shutter, not the, not the numbers, it's about the problem solving stuff that illustrates your expertise. How did you troubleshoot? You know, why do you do what you do? But then the stuff about being a business owner and and sharing your life, that stuff is about creating relationships because ultimately that is how photographers build a referrable brand and a memorable brand. It's by building relationships. It's by connecting with people beyond the photographs. It's building trust and it's being relatable. That's why you want to share a full scope of your life with your audience because otherwise you're playing the SEO game. You're commoditizing your business and it's a race to the bottom. But when you do the opposite and you present yourself in that way and you go after relationships, that's a race to the top that makes you a premium photographer. It presents you as an authority in your particular space of photography, whatever that discipline is by niching yourself and presenting yourself as that thing and that's how you make more money.
Speaker 1:
Would you say that besides from sharing your stories and photographs of you as the photographer, maybe behind the scenes or things like that, would you say having somebody film you on EnVideo is also really important for your, for your, your, your photography brand to show who like you, you like actually show you like moving in your life. Okay. So it might be worth for, for photographers to start considering having assistance there to, to their sole purpose is not to help you with the lighting and stuff, but their sole purposes document you in video.
Speaker 2:
Yeah. It's not an assistant. I wouldn't even refer to him as an assistant. I would refer to that person as someone who is con. Maybe like a PA, like a production assistant or a social media person, someone basically if I had the obviously you know, dealing with what's going on right now is a little bit of a push with finances and everything and shoots. But when, when things are going, when when I'm rolling, whenever I have an opportunity to hire somebody to do some behind the scenes video and kind of capture those moments, it's important because what, what that's doing is yeah. Yeah, it looks cool. I had that hap, I had that done once. A client actually brought her videographer to our session in Manhattan and he shot some stuff and I asked him afterwards cause he was not going to, he was just using that stuff for a documentary on her, cause she's a keynote speaker.
Speaker 2:
I asked him to just send me some selects because obviously, you know, I'm producer and video editor and all of that. So I'm like, just send it to me, I'll cut something. I put that thing off and I got a ton of response. And it wasn't just because, Oh look at Johnny looks like the bad-ass. I mean it looked great, but what it really did was I harped on the fact that it showed the connection and the relationship during the session of me sharing the photos with her as we're shooting me directing. And it was all voice. It was all a music and montage, but it was the facial expressions and you could see the slow roll of me directing and that stuff really helps kind of demystify your process and that's a part of building your brand, demystifying your process so people really can have that, those touch points to really kind of understand how you create your magic.
Speaker 1:
Yeah. And you know, it's, it's, there's something about video that really makes somebody connect with you in your business. That about it. So there is a huge difference between headshot photography, commercial photography and, and branded lifestyle photography. So can you share with the listeners some, some insights into the lengths you go to dig deep into helping your clients with their branding? And even if it's just like an example client that you don't even have to say names, but like an example of, of a way that you dug deep to figure out how you could help that person more than just here's some photos.
Speaker 2:
Yeah. that's every single client I have. I don't just show up in at a location and hope for the best. We don't do that. What I do is I have a list of about 30 questions that I ask before every single session to unearth certain things about not just who the person is. You know, just kinda, basically I'm gauging their personality to see how I need to adapt my direct directing style to really resonate with them to make sure that I get them on board. That is always happening in the background. But aside from that, I'm trying to find out what does work look like to them? Is it all virtual? Is it in person? Do they work in a coworking space? Like I'm getting ideas on locations of getting ideas on that process. Is that a tablet? Do they work off the phone?
Speaker 2:
Do they use zoom? Are they, are they in person most of the time? Then I'm finding out other things like what books inspire their thought leadership, like what books inspire their productivity, what does productivity look like to them? How, you know, what does a typical day look like? Because I'm shooting lifestyle portrait. So I'm trying to get all of those pieces and figure out if I'm going to their house to shoot it in real life or if we're going to stage it in a coworking space or in a Airbnb or if we're going to shoot on the street in the park, whatever. So I'm getting all of this insight into who they are. And then once that is done, as a matter of fact, there was one time where this led to a really interesting little addition, which is I had a client who is originally from Nigeria.
Speaker 2:
She's a keynote speaker and a lawyer and she speaks on the immigrant women experience here in the United States. And I was talking to her about her wardrobe cause that's another, I mean, I mean, yeah, I don't really harp on the traditional makeup and wardrobe. It's like, yes, we need makeup. Yes we need wardrobe and blah, blah, blah blah. And I kind of have questions that, but this particular case, the wardrobe question really, really helped because she was just like, yeah, corporate attire and I wear this. And I'm like, what do you wear when you're public facing when you speak, not just when you work as a lawyer for a banking institution as well, where I wear basically the same thing. I'm like, Oh, okay, well I was on your social media feed before we got on the phone and I noticed that you weren't a lot of traditional African outfits.
Speaker 2:
And I saw a bunch of them and she said, yeah, well you know I wear them a formal occasions but what does that have to do with, you know, what we're doing? I'm like, you speak on the immigrant woman experience, you're from Africa, you're in the United States. I think it's kind of would be cool if you would wear some of those assets. Turns out she brought three of them. We shot a bunch of them and she uses them everywhere, including all of the talks that she does. She uses them as promotional images for the talks that she does for, especially on the immigrant stuff. So I'm like, do you see how that works?
Speaker 1:
You know? And I would imagine that just aside from it being more her personality and who she is and her background and everything, but I'd also imagine just from the way you explained it, lawyer outfit versus this, that these outfits are probably way more colorful too. They're probably a whole nother vibe.
Speaker 2:
Oh yeah, no, yeah, I mean aesthetic. And then I had her dancing in them. I shot photos of her against the wall dancing in the house. It was great. But yeah, exactly. Because the thing is is that when it comes to personal branding photos, all of that stuff matters. The aesthetics matter, the emotion matters. The personality matters. The how you serve your people, all of it matters. It's not just, you know, one piece. Right.
Speaker 1:
Okay. So I want to dig in a little bit into some more website specific things now. So are there any specific website tips, advice that you would give to headshot photographers or other branded lifestyle photographers that are trying to pill buildup that part of their business or pivot to that type of business or something? Any funnel tips, organization tips, design tips, anything that you have that you, that you have found has worked well for your website or, or colleagues of yours that, that you think could work well for others?
Speaker 2:
Sure. Identify, first of all identify who your core audiences. Now let's more photographers will shoot whatever the hell we can shoot just either for fun for the hell of it or maybe make some money on the side, but, and that's all well and good. But if you're looking to get into a place where you build a, you know, referrable business that like, as I mentioned earlier, you know that that builds in premium rates, presents you as an authority. You need to niche, identify a core audience that you serve and figure out what their problems are that is above all else because, and then you write about that stuff. Go ahead. I'm sorry. Yeah, no, and when you say that, you don't just mean, okay, I'm, I now photograph regular lifestyle portraits. You mean? You mean not only do I do it, but speakers are my niche.
Speaker 2:
Yes. So you're talking like really specific. Yeah. There's a fear amongst us amongst our shooters where it's like, Oh my God, if I, if I don't talk to everybody, I'm going to shoot nobody. The reality is this is the less people that you talk to, the more work you're going to get. That is something that is the most important thing about your website that photographers need to understand because it's the one that most of us don't do and it's what pigeonholes us with every body else. And as I said, it becomes a commoditized product and it's a race to the bottom. That fear needs to be broken and clearly illustrated in your website that you serve one audience with one particular style and you solve a specific set of problems to that audience with that niche period, you know, in, in the for anybody listening who does family portraits, for example, you might be wondering, okay, well how do I niche down when it comes to families?
Speaker 2:
Well, one thing would be, for example you know, instead of being the photographer who takes the $150 sessions and calls a day and then knocks out 10 of those in a day in order to make money, you could be the photographer, the family photographer that has a higher session fee and on your website, your marketing, Prince, Prince, Prince, wall art, wall, wall art, so that you're showing people, look, it's not just Prince, it's albums, it's Walmart, it's, it's higher end items, not just a quick session with digitals. Right. so it's funny you mentioned that actually because a colleague, a friend and a client of mine, Jeff Shaw, who is a speaker and speaks on personal branding, is a photographer. And he built exactly what you just said into a six and seven figure business for a very long time focusing on wealthy families and his, and basically the way he did that was changed the lingo. That's the name of his book, the lingo in his, all of his messaging. That's his, that's his jam. That's what he speaks on. He changed his messaging on his website, in his social, the way he presented himself physically to these people as a way to attract them in. And that's who he shot, that's who he served. It's exactly what you could do with your online presence starting with your website.
Speaker 1:
Awesome. okay, so a bit of a rapid fire question. This one, you might take you a little bit to figure to it, to come up with an answer and that's okay cause we can edit out that space. If you had the time, which I know right now, a lot of us have time, but if you had the time and the money to make a drastic change to your website that is guaranteed to boost business 10 X, what would it be?
Speaker 2:
Wow. I wonder, I wonder if such a magic pill exists. I don't know. I mean honestly I kinda dig where I am with my website, but if I had like a way to make it better.
Speaker 1:
Is there, is there something that you've been dying to do that you just haven't had the chance to do to your website?
Speaker 2:
Well, well, you know what, I would, you know what? Yeah, actually I do what I would probably do because I don't really play the SEO game very much to be quite honest with you because my work is basically through referral and, and, and that's kinda how and the communities in which I'm a part of. However, what I would probably do for the website is hire someone to duplicate my homepage and duplicate some of my other pages for some of the other services and play with the keywords. Cause I would never want to do that. That would absolutely drive me not. So I would change everything and isolate and maybe do different keywords on the thing, on each page and see, see if that actually would make any difference whatsoever in what I do. My, my, my initial inclination is it wouldn't simply based on my model. However, if I had money and time, that's what I would do,
Speaker 1:
You know, and, and SEO like putting a, have a dedicated SEO person is expensive. So that's the good answer. It's right in line with it. You know, it, I have, I have a feeling that, that, you know a successful business that is not focused on SEO, you actually can, by focusing on SEO, you can actually improve your business even more because you're just going to show up in more search terms that you're not showing up.
Speaker 2:
I know. I, yeah. Well I will say this in, in, in fairness to SEO, I still play the game to a certain extent because through my blogs and through my metadata, through the URL codes, like I said before at the beginning, I write personal brand photo, like everywhere, all tags, all of that. So yeah, it has a purpose.
Speaker 1:
Yeah. and, and the other thing is like a lot of people focus on Google and only Google when in reality and, and you're, you're partially, you're partially doing this is in reality. The second most popular search engine is YouTube. So you know what we talked about earlier, getting to video, you can optimize the heck out of YouTube videos and now you'll show up for, for a Google's terms and you'll show up in video on YouTube and on Google
Speaker 2:
As well. Yeah, yeah. I do a blog. So I, I read a blog, speaking of YouTube, I write a blog and every it's 13 blogs a month, by the way. I do Monday, Wednesday and Friday. And up until this whole thing happened, I was scheduled two and a half months out. But I paused it because a lot of this stuff's written out of context. However I will go back to them, but every Friday I do a video blog and it's through YouTube. I started doing that for that very reason to show up cause it is the second largest search engine in the world. And also it allows people to get a sense of your personality. That's the other cool thing about it because what a lot of people, what a lot of photographers do is, Oh, and behind the camera I only want to be behind the camera. That's a load of BS. You could be behind the camera all day, but if you want a successful business, people need to know who the hell you are. And they need to know whether or not your, you know, the type of person they want to work with. And by doing that YouTube stuff, it immediately lets them know whether or not your style and your personnel is going to resonate.
Speaker 1:
Yup. I can't agree more with that. So is there, is there anything before we wrap this up, anything that you'd like to share? Any final advice or just something you want to you know, promote or anything you got going on that you want to talk about? I mean, I think one of the biggest things
Speaker 2:
When it comes to being a photographer is that I think oftentimes we get lost in the fact that it's a job. But we need to be grateful for the fact that we have figured out a way to make money off of something that we would do for free. And that, and honestly and honestly, it's, it's really on us to figure out what is the type of work that we want to do in photography that will, we will never feel resentful of and build our business based on that love and that passion and not just pick up the camera because we can make a check off of it. Don't lose sight of that, that passion that you have for what you do for your art. Build on that. Don't just have that on the side. Let it be the thing because that is what will get you through all the dips, the ups, the downs, the twisty turns that we inevitably go through as artists making a living. And I think really that's something that especially now with all of the time that we have on our hands to think about stuff, I think we really need to kind of hone in and kind of think about, you know, where we are with what we're doing. And
Speaker 2:
Maybe make some adjustments or, or double down on what we're already doing.
Speaker 1:
Well said. That was very well said. So I want to say thank you, John, for joining me today on this episode. I'm going to share wherever all the places, everybody can find you on the show notes. But if you can tell the listeners the absolute best place to find more information about you, the best place
Speaker 2:
To find me would be John demato.com. You can start there and all my socials there. You can sign up for my newsletter there to read about all the fun meanderings that pop out of my head and shoot me a little message and say hi and introduce yourself.
Speaker 1:
Awesome. you can find the show notes and where to find John at imagely.com/podcast/one zero six and don't forget to subscribe to the show on Apple podcast, Spotify, Pandora, Google, play in the, wherever you listen to podcasts. Until next time.