HOW TO CUSTOMIZE YOUR GALLERIES USING CSS for v2.0.x users...
As of v2.0.7, NextGEN will automatically create a directory in /wp-content called ngg_styles and a css file for you called nggallery.css . The full URL to the stylesheet would be /wp-content/ngg_styles/nggallery.css
To edit the CSS stylesheet, go to your WordPress dashboard >> Gallery > Other Options > Styles, there you can edit and save your CSS without having to use FTP.
After saving changes to the stylesheet, you may need to clear your browser cache to see the update on your site galleries. If you have a caching plugin installed, you may need to clear its cache as well.
* If you're using an earlier version of NextGEN Gallery v2.0, we recommend that you update to the latest version. If for some reason the ngg_styles directory was not created for you, create a folder directly under wp-content, and name it ngg_styles, then create a stylesheet named nggallery.css and include this at the top of the stylesheet:
/* CSS Name: Default Styles Description: NextGEN Default Gallery Stylesheet Author: Photocrati Media Version: 2.12

This stylesheet is provided to allow users the ability of overriding the default styles for all display types */
HOW TO CUSTOMIZE YOUR GALLERIES USING CSS for Legacy v1.9.x users...
Go to /wp-content/plugins/nextgen-gallery/css and make a copy of the nggallery.css file
Place a copy of your nggallery.css file in your themes folder: /wp-content/themes/[theme you have activated]/nggallery.css
NextGEN will look to see if you have this css file in your theme and use that, or it will proceed with using its own if there isn't a file there.
--
HOW TO FIND THE .CLASS OR #ID
Using the Chrome Browser, right-click on any element of a gallery, as shown in this screenshot: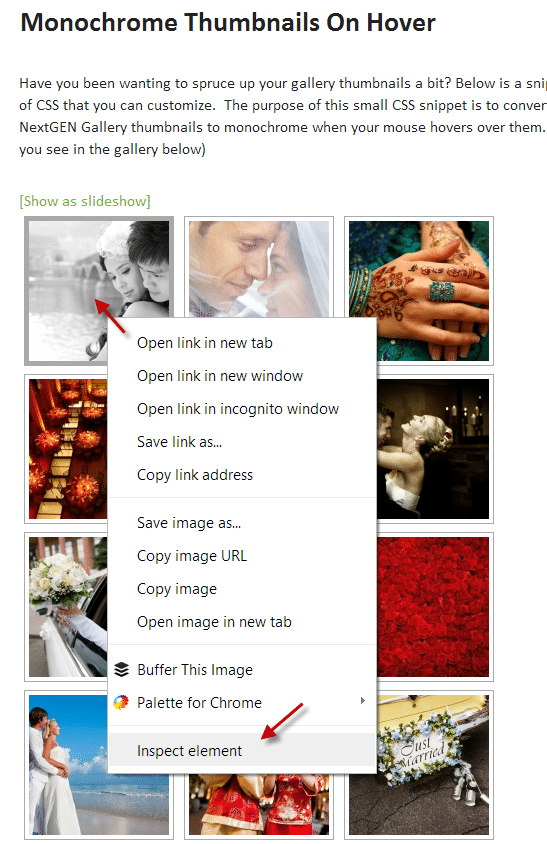 [See how to customize your galleries to be monochrome on hover]
Next, you should see a window appear in your browser that will show you the code and CSS for that site element, see: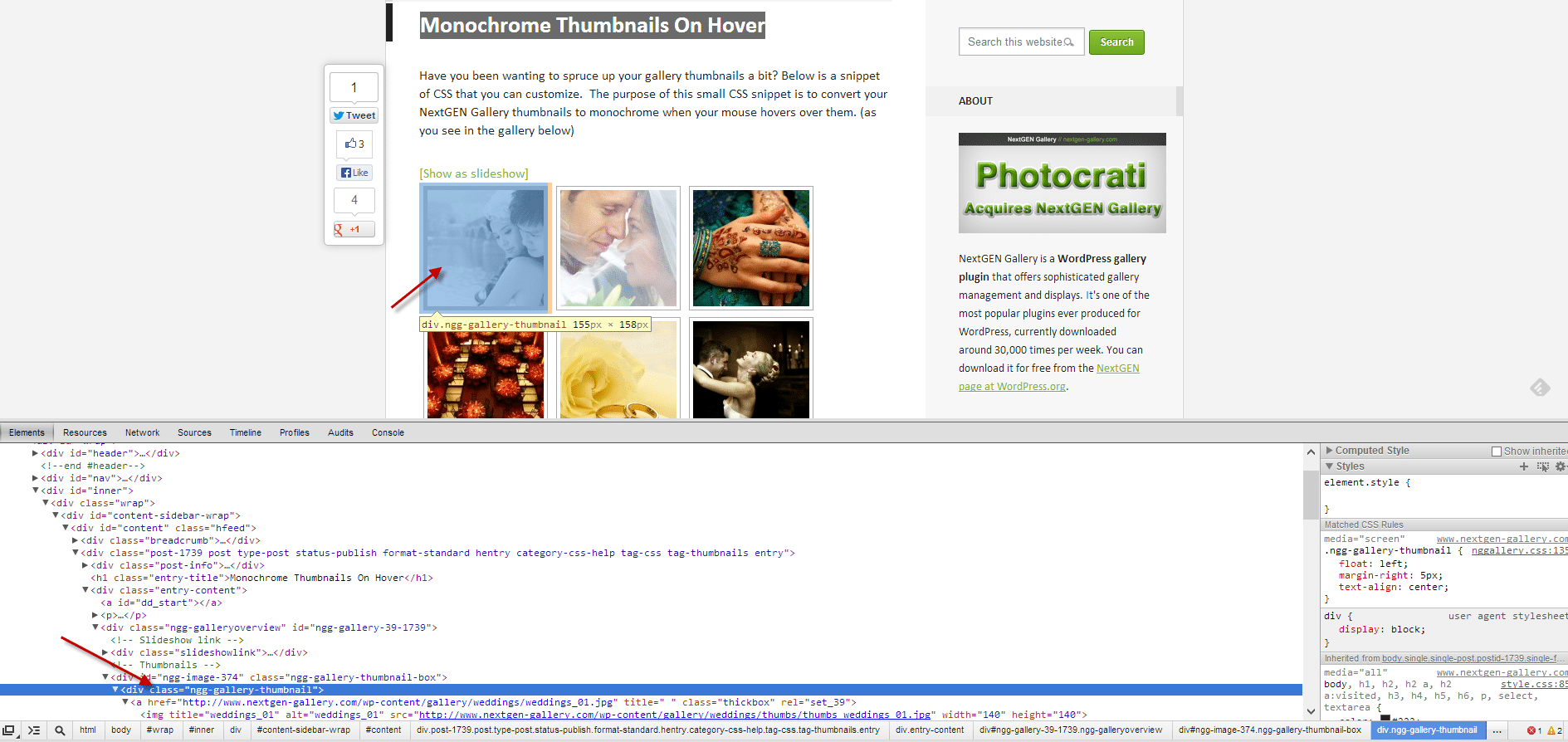 Now you can take that class you found, and add it to your your custom css stylesheet, an example could be:
.ngg-gallery-thumbnail img:hover{
filter: grayscale(100%);
-webkit-filter: grayscale(100%); -moz-filter: grayscale(100%);
-ms-filter: grayscale(100%); -o-filter: grayscale(100%);
filter: url(desaturate.svg#greyscale);
filter: gray;
-webkit-filter: grayscale(1);
}

To help get you started customizing your galleries, here are a few tutorials we have put together to show you some cool tricks:
*Customizing your galleries with CSS requires knowledge of CSS. Some resources on learning CSS can be found here: