Sometimes upgrading NextGEN Gallery isn't always compatible with your current WordPress environment or other third-party plugin, and you'd like to go back to an earlier version of the NextGEN Gallery plugin. If so, you will need to have knowledge of FTP (file transfer protocal) to access the files on your server. We suggest using Filezilla.
WARNING!
- DO NOT delete the plugin through your WordPress dashboard! Doing so, you will lose all of your galleries PERMANENTLY!
Follow the below steps to rollback to an earlier version of NextGEN Gallery:
*before you begin this process, if you have not yet already - create a FULL backup of your site and then deactivate NextGEN Gallery on your site.
1) Go to http://wordpress.org/plugins/nextgen-gallery/download/ and download an earlier version of NextGEN Gallery. We suggest choosing one version back to receive the as current bug fixes as possible.
IMPORTANT NOTE! Rolling back to 1.9.13 is no longer supported and is likely to cause problems. Rollbacks should be limited to recent versions within the last couple months. Also, for anyone using Pro, any rollback should be limited to the minimum compatible version of NextGEN Gallery (v2.0.63)
2) Unzip/unpack the .zip file
3) Open your FTP client, on the left side (local) locate the NextGEN Gallery files you unzipped, on the right side (server) go to /wp-content/plugins/nextgen-gallery/...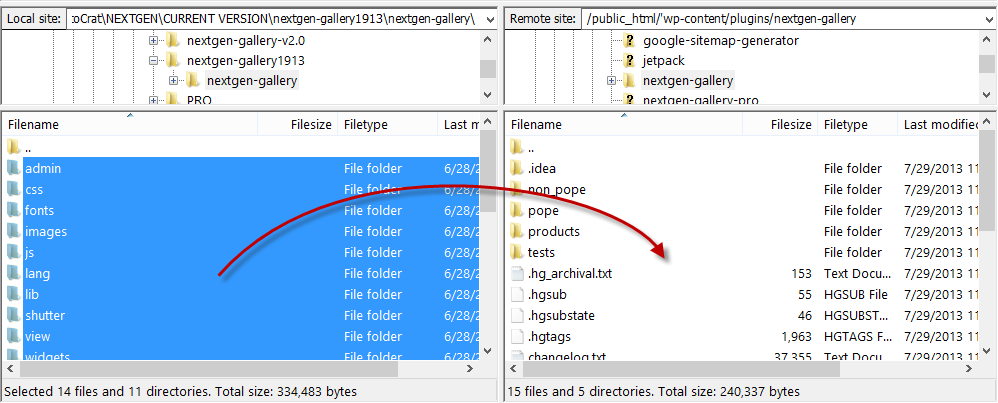 - Select ALL (local) NextGEN Gallery files, and drag and drop into (server) nextgen-gallery folder
- If prompted, select to overwrite files
4) When the process is complete, go to your browser and clear cache. Then re-open your WordPress dashboard, go to Plugins tab
- Reactivate NextGEN Gallery
- Confirm that the version number reflects the older version of NextGEN Gallery that you selected
5) You're done!