How Can We Help?
Search for answers or browse our knowledge base.
Troubleshooting the Lightroom Plugin
SSH Authorization
Lightroom's FTP module doesn't handle SFTP like a standard FTP application. Message: "Lightroom does not recognize this server's host key. Do you still want to access it?"
If your server required SFTP then you might receive a notice about SSH while setting up a new publishing service. Simply push the Accept Key button to continue.

Processing Error
If you receive an error like this processing error below, it is likely caused by entering the incorrect website address in the publishing server settings. For example, if your domain is http://www.myphotos.com, be sure to enter it exactly like that when creating the publishing service; leaving the www out will cause the error. The same goes for http or https, if your website is https://www.domain.com then the URL should match in Lightroom.

Security Plugins
If you find yourself being completely blocked from publishing new galleries, albums or images, it's possible there is an additional security measure in place. We built our Lightroom to prevent being blocked by XML-RPC, which is a common roadblock on many hosts. However, if you are using a security plugin like iThemes Security or SecuPress, there is a greater chance of Lightroom publishing being blocked. Try temporarily disabling the security plugin to see if it helps. If it doesn't, please contact support for further troubleshooting.
MacOS Version
If you find the plugin not working at all, and you're on a Mac, it is possible that you're not running the latest version of MacOS. At the time of the initial release of our Lightroom plugin, the MacOS version was 10.12 If you're using anything older than the latest version it is possible the Lightroom plugin will not work. We will not be supporting outdated versions of MacOS.
Lightroom Version
The Lightroom plugin only supports the latest versions of "Lightroom Classic". You can download and update that version using "Creative Cloud".
Server Settings

Our plugins will run well on any WordPress-friendly server with the following wordpress.org required settings
NextGen Gallery Requirements: https://www.imagely.com/docs/requirements/
Possible Plugin Conflict
Close the Lightroom application. Please try deactivating all of your plugins on your WordPress site, then reactivating the NextGEN Gallery and try publishing your gallery again.
If this fixes the problem, it was likely one of the deactivated plugins causing the issue. Now, retrace your steps activating each plugin (one at a time) and re-checking to see if the problem returns. We would suggest reactivating a security plugin first as some security plugins have been known to block publishing applications outside of the WordPress site. If it does, then that last activated plugin was probably the source of the conflict. Sometimes there can be more than one plugin conflicting with the publishing process; try reactivating the rest of the plugins and publish one more gallery to confirm that it is successful. If you do find one (or more) plugins causing this problem, we would greatly appreciate your feedback so that we can inform our developers.
Uninstalling Imagely Lightroom plugin
You can try to remove our Imagely Lightroom plugin. In windows, you should go to Settings > Add or remove programs.
Search "Imagely" and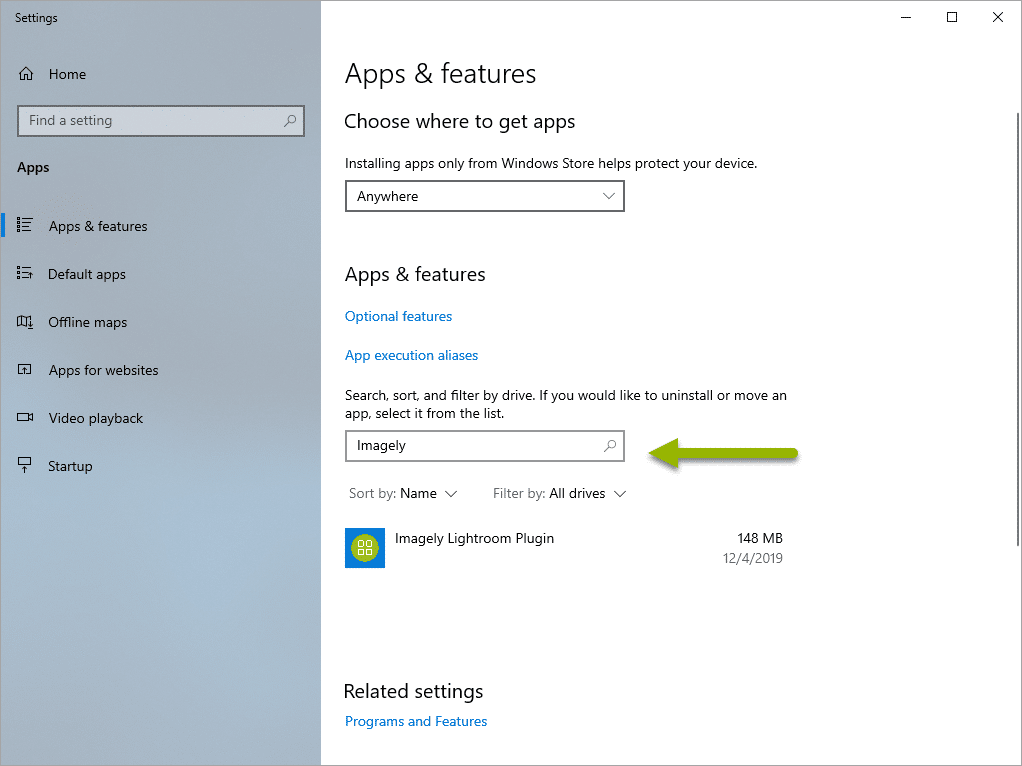 For MacOS, please, check this link: https://support.apple.com/en-us/HT202235