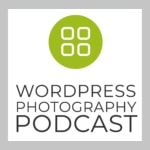 Things are changing here at The WordPress Photography Podcast.
The show is not going anywhere.
However, things have been busier than usual for me lately.
Through this pandemic, the last thing anyone else needs is more stress.
So after discussions with the team, we decided to slow down the rate for new episodes.
Now, usually, for the entire month of August, we take a break for the show. An informal season break, if you want to call it that.
But until then, we will probably be publishing one or two new episodes a month.
This has some benefits to you, the listeners, and viewers. For example, it gives us opportunities to focus more on the content and also preparing incredible guests.
I am very excited about the incredible things we are working on at Imagely. We are talking with new and existing partners to create deep integrations and tools you will utilize in your photography business.
We have more educational content coming to the blog and new features coming to our software.
Before I wrap this up, I want to say again - thank you to all who have been listening or watching every episode every other Thursday for the past few years.
I cannot wait for the next episode, even if it's a little later than you are used to.