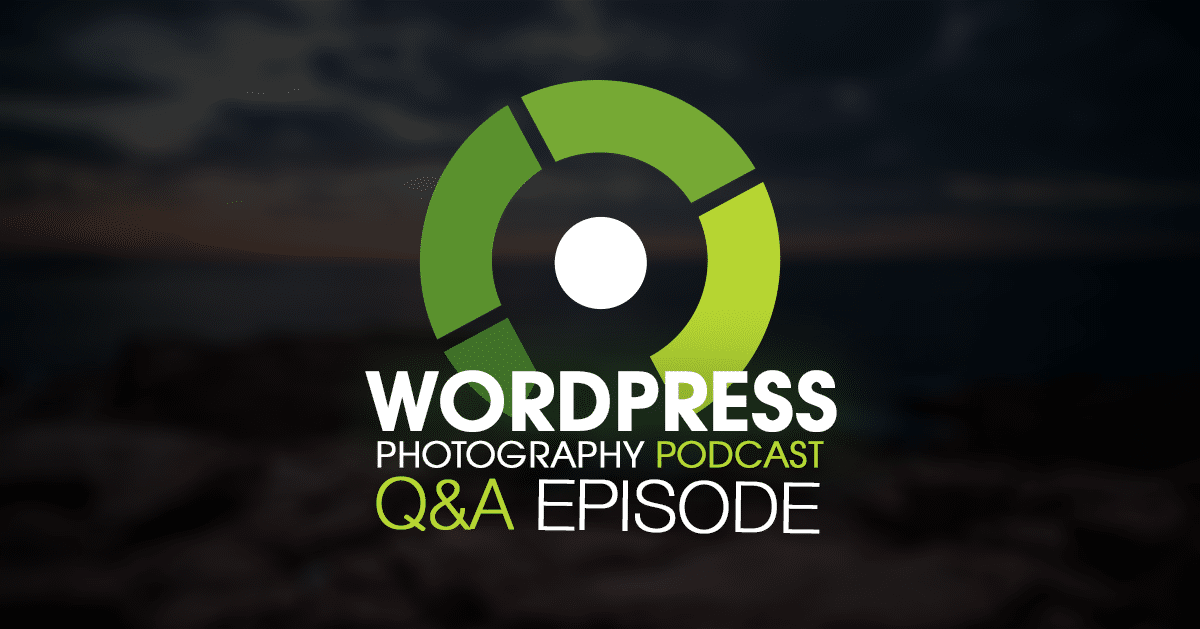 Welcome to the 4th volume of the WordPress photography Q&A episodes for the WordPress Photography Podcast. Our goal is to do a Q&A episode every ten episodes.
Ask your question for the next Q&A here.
In this episode, Scott answers 10 more questions from podcast listeners. Questions include SEO, funnels, plugin errors and more.
WordPress/Photography Related News:
WordPress 4.8 will be released on June 8th.
Listener Asked Questions:
Joe asked: I understand how a person can work SEO to get higher in local searches, say for a city a person lives in (lots of blogging referencing the city and photographic key search terms, etc.). How does one try to get higher rankings for a state? Or even the entire web? For example, if I sell fine art prints or wall prints, how does one show up if someone searches: fine art landscape photography Minnesota? Or if they don't put in the word Minnesota, does Google take into account the person is searching from Minnesota and give any preference to MN photographers? How do you get to the top of more broad or general searches?
Blake asked: The other day I couldn't open or collapse any menu items in the back-end. I started unplugging all plugins one by one to figure it out. Nothing after 58 plugins. It turns out it was Affiliate WP. It needed me to upgrade my database. Once I did that the menu items could open and close. I guess my main concern is, how can plugins affect the backend so much that collapsing and opening menu items is impossible until you update? To include anything in the Divi builder. Was this Divi related or plugin related?
Anka asked: What is the difference between Tags and Categories.
Anka asked: Are tags the same thing as meta keywords?
Dee asked: How can we control or at least manage the hotlinking of our images by unauthorized websites? There are some plugins for this but have not been updated in years. No right click and preventing copying of images only works from your site. Once found in Google Images, the link to the images are there for anyone. Can we block the image folder with exceptions a plugin or is code required?
Matte asked: I have used NextGEN from the very beginning. And I bought the NextGEN Gallery plugin for Lightroom from AlloyPhoto two years ago. Should I replace it with the Imagely plugin? And if so. Why?
Vitaly asked: When I disable a plugin, does it ALWAYS keep its configuration for the next time it will be enabled again? I have some plugins that took considerable time to configure (like caching, for example), and even slight changes in their settings might lead to big problems. Other plugins are easier to configure, but there are lots of them, and I don't want to check every single one to make sure they are all still configured correctly. Yet there are situations (like finding a plugin interference problem, for example) when I need to temporarily disable all plugins. Currently, I try to avoid those situations, because I am afraid of having to configure everything again. That means, however, that I need to put up with the problems I might be able to resolve if I could disable all the plugins safely. Do you have any suggestions?
Tom asked: I am a landscape/nature photographer. I am getting into portrait/head shot photography. I have gotten feedback from various folks (since these two photography types are too dissimilar) that it is best that I convert my current nature site to my portrait / head shot site and to create new (and free) ways to promote my nature/landscape stuff. It was further suggested that I make a separate Facebook page just for that, use photo sharing sites, and in person locations like galleries or local businesses. First, do you concur? Second, since my current domain will become my portrait domain, wouldn't I need to create a new, separate domain name for my landscape/nature stuff?? - OR - Could I promote my nature stuff withOUT having a domain specifically for it?
Jesse asked: Should I Have a Separate Site for Each Niche and how would it impact SEO?
Lane asked: Should I spend more effort on my website and blog or Instagram?
Transcription:
WordPress Photography Podcast Episode 40 – WordPress Photography Q&A Volume 4 https://t.co/NHVMDQy0lC

— Imagely (@imagely) May 18, 2017