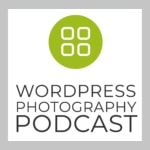 If you have ever wanted to find new ways to attract content reads fro people who have visited your website, there are many tools out there. For example, OptinMonster can do pop-ups, and there's social sharing like Social Warfare or Genesis Simple Share. There's a lot of different tools out there to share your content around. There is one tool specifically that I love using that I think a lot of photographers should consider. Right now the tool only works for Safari browser visits, but eventually, it will be available for Chrome and Firefox and any browser that winds up using the Ma OS notification system, which is going to be all the browsers soon. Chrome is switching from their own to the native MacOS version.
This is called PushUp. There's a lot of plugins out there that do push notifications with WordPress sites. I've tried so many of them. Some of them are a pain in the butt to set up, some of them are easy, like PushUp. Anybody can do it. Anybody can set up Push Up notifications.
Push Up is developed by a company called 10Up, one of the largest WordPress development companies. They've done some of the biggest websites that you've ever visited; you would never know it's a WordPress because they don't look like a WordPress website. 10UP is fantastic. They developed this plugin most likely for a client, and they wind up making it available for anybody to use. It is very inexpensive. In fact, it's one of the least expensive push notification platforms out there. There is a free version, but it's very easy to grow outside of the free version fairly quick.
What happens is someone will come to your website if they're using the Safari browser on a Mac. They will see a notification that says, would you like to receive alerts when there is new content published on this website. You will be surprised at the opt-in rate. It is quite high. In fact, for the eight months that I have been using Push Up, I have had 871 accepted, and 292 declined. Think about that. That is 871 people that said, "Yes, I want my computer to alert me whenever there is new blog content." This is individual people. This is not multiple because it uses your computer's system to keep track. It uses your computer's address in combination with the PushUp server to determine who gets the notification. It's not duplicated. That's 871 people said yes to getting new blog post content.
It tells you how many push requests that you've made, and it tells you how many were sent out to all the different people. For example, this month alone, I sent 14 requests. This month, 1,189 notifications went out. With that many notifications, that many subscribers, I'm at the $4/month subscription rate. To me, that's a no-brainer to pay for it. To me, for $4/ month, I'm getting 871 people that want, I know for a fact, that they want my blog content.
Think about Push Up. I'll link to it in the show notes. PushUp Notifications are well worth considering for your photography website.
Referenced Links: