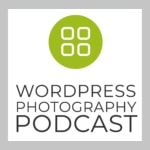 Please consider leaving us a review on iTunes, Spotify, Stitcher or wherever you listen to podcasts. Your review will help the podcast reach and educate more photographers like you.
In this special episode celebrating the New Year, we look forward to what is happening WordPress from here on. All we can go from here is up!
What we discuss:
I will be at CTPPA's 70th annual conference, speaking about personal roadblocks in life and sharing workflow and advice on using tools in your person and business life.
WordPress 5.0 and the future

Widgets
Headers & Footers
Page Builders
Speed

Join the WordPress for photographers group on facebook to stay up to date on the latest WordPress things as it relates to your photography website. Join in discussions that can help you grow your business through your website.
Start the year off with a new book, like This is Marketing from Seth Godin.
Print lab integration for WordPress with NextGEN Pro
Turnkey photography websites for photographers
Transcription:
Transcription was done by Temi.com which means it's an AI generated transcript. The transcript may contain spelling, grammar and other errors, and is not a substitute for watching the video.
Welcome to episode 72. My name is Scott Wyden Kivowitz and I am the chief community officer here at imagely. End the host of this podcast. Well, welcome to 2019. I can't believe we're here already. I feel like I just started this podcast for imagery and it's been two years already or I mean it hasn't been two years of doing the podcast, but we've gone through to new years already. It's amazing. Now I want to share a bunch of things. I want to share a bunch of things about what's happening, what's going to happen, what to expect and things like that. And well, I hope you've been enjoying the podcast up until now. We have a lot more to come, a lot more to discuss, a lot more to share with you and we want your involvement even more so. Please, please go to the show notes, imagely.com/podcast/seventy to share some feedback on what you like and don't like about the podcast, what you want to hear and see from the podcasts in the future and things like that.
We want to hear from you. We want to hear your question. What can I answer for you in the podcast? Now I want to share. I will be at the Connecticut for professional photographers of America, CTP PPA. I will be at their 70th annual conference in February and I will be there. Speaking about personal roadblocks in life and sharing workflow and advice on using tools and your personal and business life. I really hope that you can go. If you were in the Connecticut area, just go to ct PPA.com and you can check out their conference. I don't believe you have to be a member to attend. I think it is a little bit more expensive if you are not a member to attend, but I hope to see you there. Nonetheless. Of course we will be in 2019. We will be at a bunch more shows.
We hope to at least that is the current plan. It will be me and our CEO, Eric Dancer or just him or just myself who depend on location timing and things like that. Now we're pressed. Five point zero is here it is the future of wordpress and this is what's going to take wordpress too well, well beyond the future and take it to new levels and a potentially make it grow even further. I mean, last I heard we're pressed, was 33 percent of the Internet. Now with five point zero, the, the possibility of content creation that even further, uh, and wordpress is far simpler. So we're going to see a lot more people moving back to wordpress from things like squarespace and wix and weebly because now wordpress is even easier to create content. Now, five point zero does have a new visual editor experience. It is a block based systems.
You can drag and drop and put pieces of content wherever you want, and uh, in phase two and three and four of wordpress, the new visual editor or the code name of this was project Gutenberg. The next phages are determined the widgets that you are using into blocks so that you aren't just adding widgets to which areas you're adding blocks to which areas were block areas. Sidebar blocks basically, which means any plugin that has a block can go anywhere on your site. Then the next stage after that is things like header and footer, so we have to add blocks to your header and footer, just like if it was a widget. And of course the end goal of wordpress, five point zero is to make it more of a page builder like experience from head to toe from a to Z, from top to bottom.
Now I will be converting my personal site from a some pages which are using element or two pages using Gutenberg. I've already started this process and over the coming months I will be converting 100 percent of my element pages to Gutenberg because that is the future. And if there's a page builder, like experience in wordpress itself, why use a third party page builder? Well, right now the are still advantages of using a page builder plugin like element or beaver builder, but that's going to slowly, slowly degreed because of the new visual editor. Now imagely is working on a new product called Grizzy, which will play a major role in all the themes, imagely we'll be making in the future, including photo pro, a grid, the will be a page builder like experience adding more features like elementary and beaver builder to Gutenberg itself. Now, as a matter of fact, in initial testing of Gutenberg, of pages created using Gutenberg and then pages and made using elements from beaver builder that match the Gutenberg created pages in wordpress, five point zero are actually way faster.
The speed increases dramatically compared to using a page builder plugin like element or beaver builder. Now I want to just say to please, please join the wordpress for photographers group on facebook so you can stay up to date on the latest wordpress things as it relates to your photography website and you can join discussion that that help you grow your business through your website. This sort of, it's just something that I'm doing myself. It has nothing to do with imagely, but you know, I do work for imagery, so of course a lot of the content shared that I share is from imagely, but I also share content from elsewhere, but basically it's where I want you to go. You can talk about the podcast there. You can talk about plugins and themes. You can ask questions and just interact with the 2000 photographers that are there to discuss wordpress specifically.
Now I want you to start off this new year, 2019 with a book. The book that I want you to read is a quick read. You can probably read it in two or three days. If you put it down, pick it up. If you just read it straight through, you'll definitely be able to finish it in one day. It is from Seth Goden is called. This is marketing and it's basically sets new take on what marketing is in 2018, 2019 and it's a really good read. Now, next thing I want to talk about, our plugins that tools that I continue to use and I recommend to this day for contact forms and bookings. I recommend using gravity forms or wp forms. You might need their extensions depending on what you want to do with it, but they are so robust, very easy to use and quite powerful. Next is Jpegmini pro for image compression on your website, and this is something that you can do at a flight room at a photoshop and then if you want a wordpress plugin to do this also image of Phi.
It's fantastic for online image compression. Next up is social warfare pro for social sharing and soon social following. I know they've been working on that for some time and hopefully that comes soon, but social warfare pro is probably the lightest weight of all social sharing. Plugins that offer tracking the are lighter ones, but they don't offer a tracking of the sharing. Next is wordpress editorial calendar. It's a free plugin that allows you to organize the content you have scheduled or as drafts and you can do it in a calendar view, drag and drop to reorder it. Just a great way to organize the content you are working on in wordpress. Now, if you want to see my actual content creation workflow, I created a video for my on my youtube channel. I will link to that video in the show notes, so please just visit the show notes and you'll be, but check out that video.
Now for site speed, I recommend using WP rocket cache. We use it on all the imagely sites and I use it on my own personal sites. I highly recommend it for cashing your site and if you need a backup solution. Wp time capsule is like Mac the Mac time machine software, so it actually backs up your site incremental so you're not doing duplicate backups over and over and over again on a server. You're doing increments to make it a lighter weight backup, use less resources, and you can go back day to day without having to restore tons of files and database things, and if you like, automated social scheduling than using the service buffer combined with wp to buffer pro, the wordpress plugin, you can actually schedule all of your social media posts beyond a month just by hitting publish. It's a beautiful thing. So check that out and if you are looking to increase your lead generation using a tool like optin monster, which is a service you have to pay for the service, and then you install the plugin or using something like sticky emails will be fantastic for doing slight ups and popups to do lead generation.
Then of course there is yoast Seo, probably the most discussed plugin on this podcast. Still to this day is probably the most popular wordpress plugin ever. Uh, and it just something that you should have on your site and should be using to help clean up your site and make sure that a lot of the on page items are optimized. And of course next gallery for your portfolios, your galleries, your proofing and or ecommerce. And speaking of Nexgen gallery coming early, 2019 is print lab integration. Yes. I've talked about this many times on the show, but next Gen pros, automated print fulfillment is done. We completed it. And by the time that you're listening to this, we're in the launch planning stages. We have gone through a bunch of testing. We've ordered her own prints and we've done real world tests and it's doing very well. Of course it is an initial product, so there will be some fine tuning to do.
They will be some bug fixes to patch if as they come up and there will be some product improvements. Of course, right now it only integrates with one lab, White House custom color. They're out of Minnesota and the United States, they do ship internationally. So if you are not in the United States, don't worry. They will still ship wherever you want. Now, with that said, we do plan on adding additional labs. We do plan on adding additional print option, different different choices from what we're initially offering and have a much, much more, but we had to start out with something and as you might guess, developing a, an automated print fulfillment through a professional lab is a hard project in itself. Developing it for wordpress was even harder so it, but it is done and again, by the time that you were listening to this, it will already be in the launch planning stages and we hope very, very, very soon to get it out into your hands.
And of course with this also comes a relaunch of imagely hosting ring renamed as imagely sites, a turnkey photography website solution and it will be a hosting with backups with everything that you need, including next gallery, an extra pro, all the plugins that you need, all of the themes that you might want all available in one place at one affordable price. And we're really excited to get that out so that will be coming at the same time as we launch lab integration. We'll be launching ambiently sites now, the price of Nexgen pro and the lifetime accounts will be going up while the new price is yet to be determined. If you've been considering a subscription, you should pick it up now so you're not locked in before the price increases. So there you have it. Welcome to 2019. So much. Look forward to as far as with wordpress, five point zero and what it offers, what we're working on at imagely and just, you know, it's a time to celebrate. We made it to another year and that is a big thing. So I want you to take a moment, take a deep breath and welcome to 2019 here is to a fantastic year of photography in our photography businesses here is to a fantastic year of our websites being simplified and being able to do more for us. And here's to the next episode. I look forward to sharing more with you. Thank you so much for listening. Thank you so much for subscribing wherever you subscribe to podcasts, and I really do appreciate you listening to however many episodes. Have you listened to your fantastic.