As a photographer, you probably spend a lot of time focusing on improving your website in terms of displaying your images and landing clients. However, there are many ways to increase your income by making your online presence more versatile. Creating a Resources page is one of them.
Sharing your favorite photography tools and industry tips provides valuable content for your site's visitors and helps establish your authority in the field. Plus, by signing up for relevant affiliate programs, you can also use your Resources page to earn passive income.
In this article, we'll talk about what Resources pages are and how having one can boost your photography site's revenue. Then we'll go over five tips to help you craft your own. Let's get to it!
An Introduction to Resources Pages
A Resources page acts as a hub, centralizing all the tools and information your audience might be interested in. That can include links to tutorials, services, products, and pretty much anything else that fits the bill: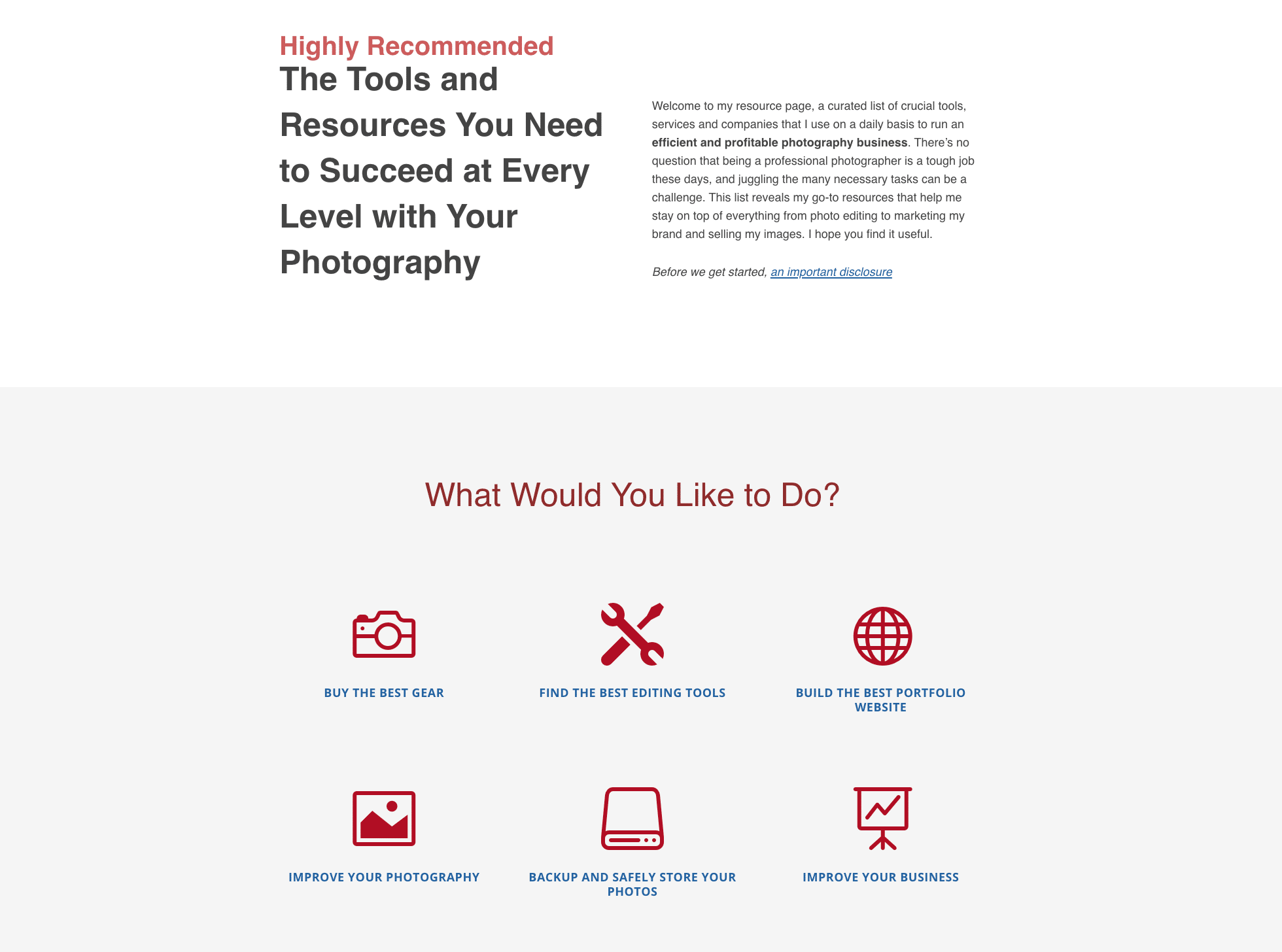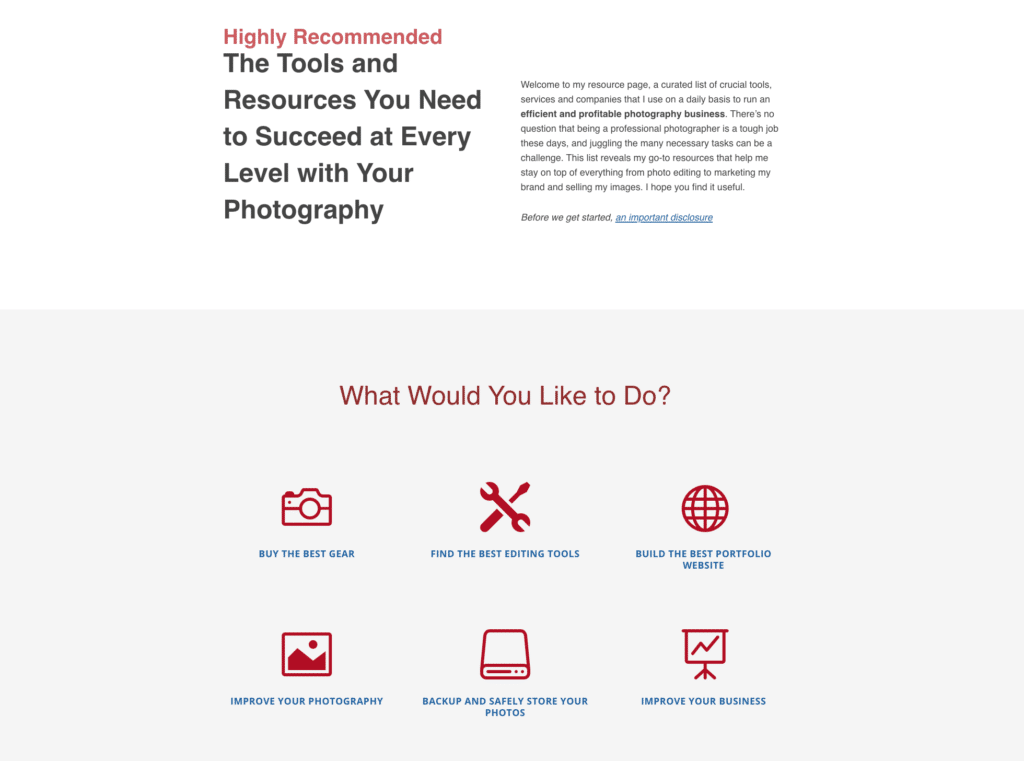 For a photography site, you might consider incorporating links to:
Photography gear. Your preferred cameras, bags, tripods, lens, and other must-haves. This can be especially valuable for beginners who aren't sure what to look for in a camera or other tools.
Editing software. Image editing is now a standard task for professional and even amateur photographers. Sharing the top platforms for learning and executing this skill can help your visitors find and consider options beyond Photoshop.
File storage and backup systems. Especially when you're taking photos professionally, it's easy to accumulate thousands of media files rather quickly. Recommending affordable and reliable services that can store and back up images will help others resolve this conundrum.
Tutorials, online classes, and other learning opportunities. New and experienced photographers alike can benefit from learning new technologies and techniques. Sharing quality sources for professional development and education – such as webinars or online classes – will help your visitors stay at the top of their games.
Blogs, newsletters, and other publications. Sources that help you stay up-to-date on the latest developments in the photography world may also be valuable to your visitors.
All of this information can attract attention from other photographers and hobbyists. Your Resources page can, therefore, help establish you as an authority in your industry. Users may recommend your site or services as a result, driving more traffic and potential leads your way.
How a Resources Page Can Boost Your Affiliate Income
In case you're not familiar with the term, an 'affiliate' is a content creator who promotes products or services for brands. Many companies have programs you can join to become a partner.
For instance, you could sign up for Adobe's affiliate program to promote Creative Cloud and the company's other software: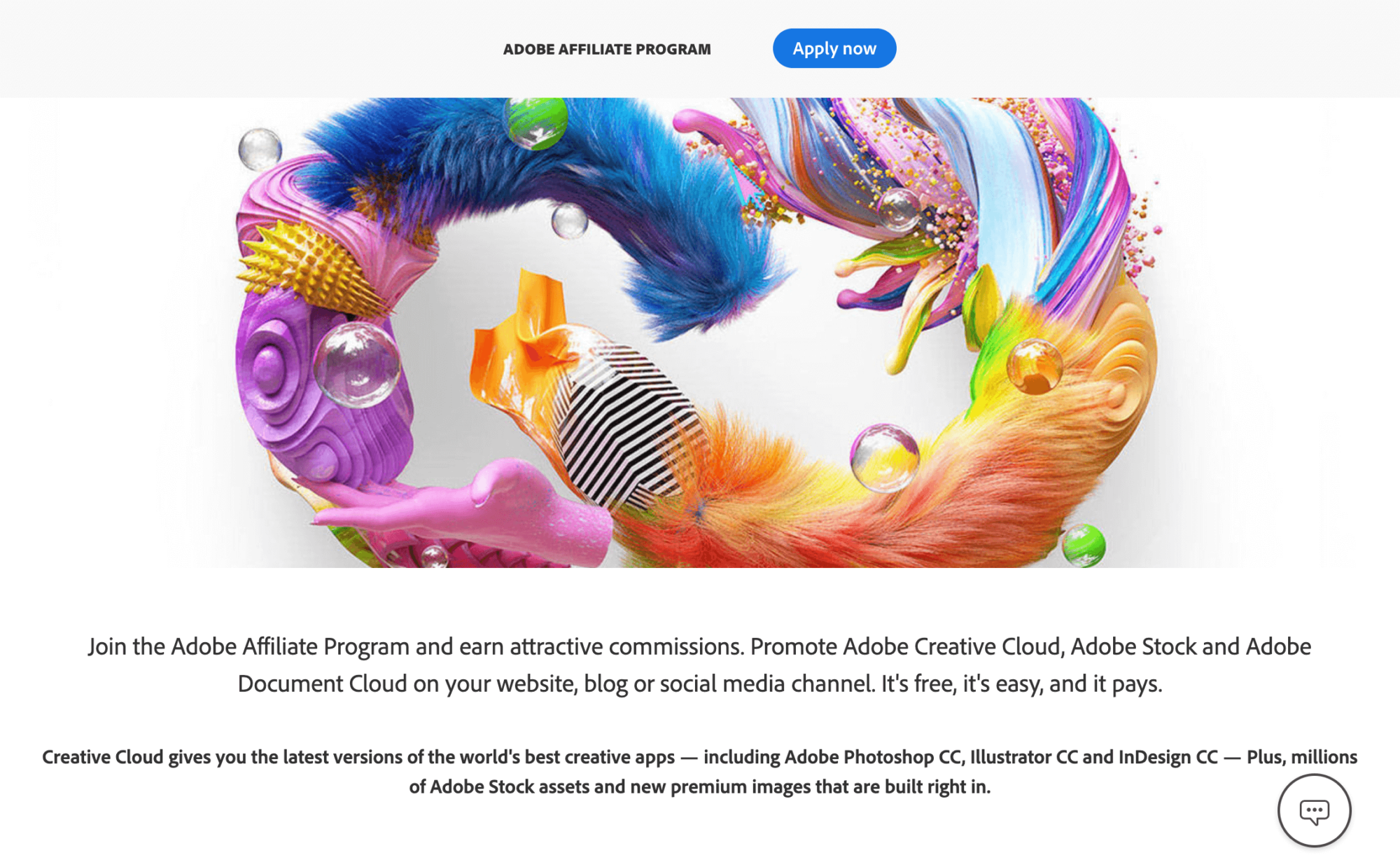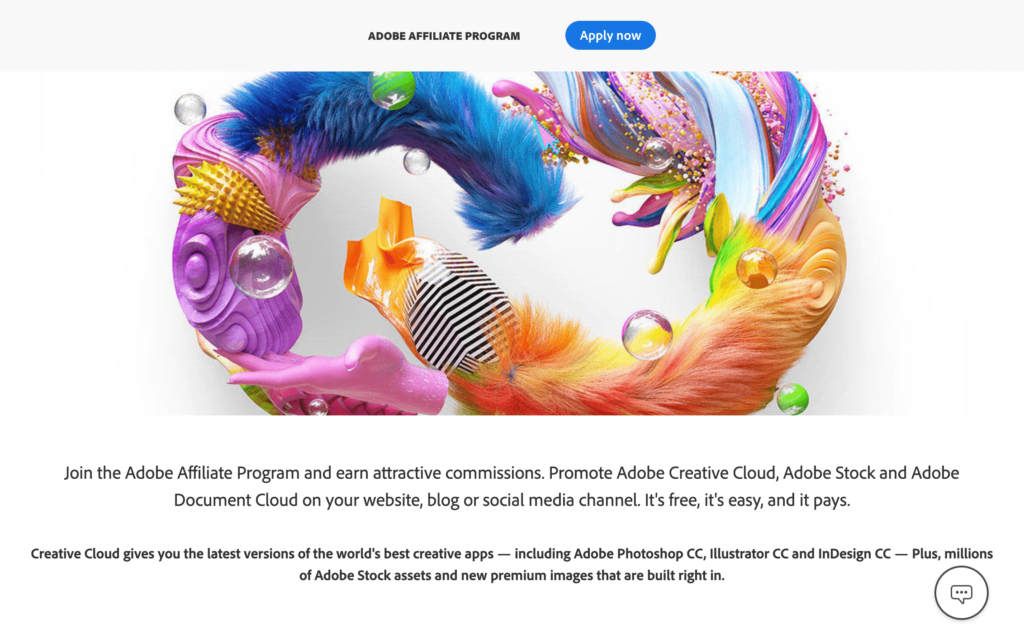 Once you've been accepted, you'll receive links to relevant products or services containing unique tracking codes. For every sale that results from your promotions, you'll receive a commission or some other form of compensation.
At Imagely, we also have an affiliate program. We pay our partners 25 percent of the checkout price for any plugin or theme sales they refer.
BECOME AN IMAGELY AFFILIATE TODAY
There are many ways to share affiliate links with your audience, including social media, blog posts, and your Resources page. The more places you can incorporate them, the more opportunities you have to drive sales and generate revenue for yourself.
Plus, visitors who seek out your Resources page are probably already looking to invest in new gear, sign up for an online course, or otherwise convert. It's usually easier to land a sale from someone who's ready and willing to spend money.
Finally, you can include as many affiliate links as you want on your Resources page without seeming too pushy. Incorporating too many of them in blog posts or on social media can sometimes come across as forced, and it's generally best to avoid sharing more than one or two links at a time.
On your Resources page, however, you're dealing with visitors who are looking for help with their shopping. Adding multiple affiliate links is not frowned upon in the same way it might be in your blog posts. This means more chances to earn commissions and boost your photography site's income.
How to Create a Resources Page (5 Key Tips)
Simply putting together a list of links isn't enough to build a trustworthy Resources page. If you're going to pour time and energy into this task, you want to make sure it actually produces positive results. Here are a few key tips to help you get started.
1. Only Include Resources That Are Valuable to Your Audience
Some websites include links to dozens of resources in the hope of building ultimate lists. That's a fine approach, but only if every product and service you include offers real value to your users.
For instance, the people coming to your photography site's Resources page will probably be aspiring photographers themselves. Including a link to your favorite meal kit isn't going to help them achieve their goals. This can negatively impact their perception of your site and will prevent you from building authority through this type of content.
The idea is not to dilute your content by mentioning references that aren't relevant to your target audience. Before you add any link to your Resources page, you should stop and consider whether it alleviates a pain point or solves a problem your users face.
2. Explain the Value of Each Resource You Add to Your Page
That said, a product or service's value may not be immediately obvious to your site's visitors. This is especially true if your audience is primarily made up of beginners. You'll want to create your Resources page assuming they don't understand the importance of any of the items you reference.
Plus, you don't want your Resources page to be a bare list of links. This wouldn't look very trustworthy and may discourage visitors from clicking through, which could result in lost affiliate income for you.
The easiest way to tackle these issues is to include a short description of each resource and why your users should care about it. If you're talking about services or products, you can go the extra mile and include information such as feature lists, pricing, and other details: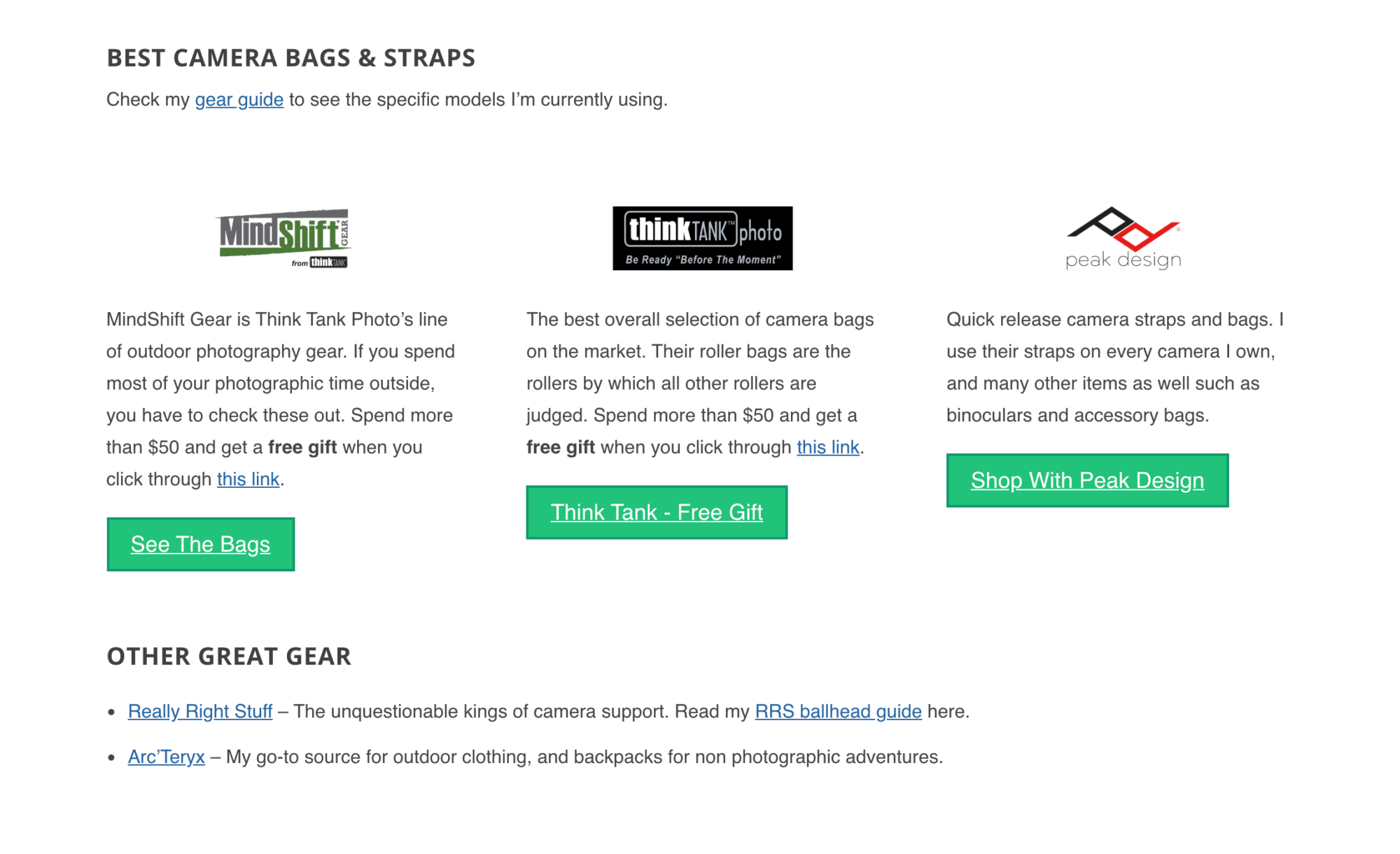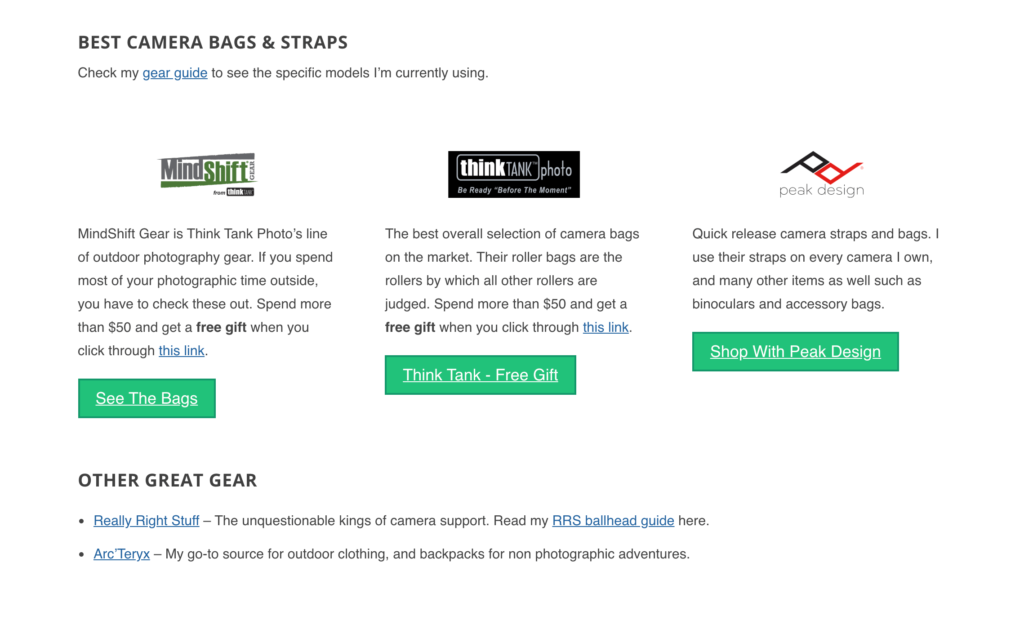 It can also be helpful to mention if you personally use a product, software, or service you include in your Resources page, especially if you have an affiliate link for it. This will lend credibility to the brand you're promoting.
You don't need to write a full review of every resource you include on your page. Instead, focus on providing just enough information to get your visitors' attention and explain your reasoning for including the item as part of your list.
3. Disclose Any Affiliate Links You Include On Your Resources Page
Throughout this post, we've emphasized the benefits of including affiliate links on your Resources page. However, if you're going to use this strategy, it's important to disclose any brand deals or partnerships you're engaged in.
Affiliate links can be pretty obvious if you pay close attention and know what you're looking for. Most of your visitors probably won't, though. Failing to disclose the fact that you may be compensated for purchases they make through your site can come across as deceptive.
Breaking trust with your visitors is a quick way to lose them. Affiliate commissions are nice, but recurring users are better. After all, without an audience, you won't be able to drive sales and bring in revenue of any kind from your photography site.
On top of that, depending on where your website is based, you might be required by law to disclose your relationships with affiliate programs. Failing to do so can result in fines, on top of the broken trust with your audience.
Fortunately, link disclosures can be as simple as adding a short paragraph to the top of your Resources page:
Ideally, you'll also want to write out an entire Disclosure page as well.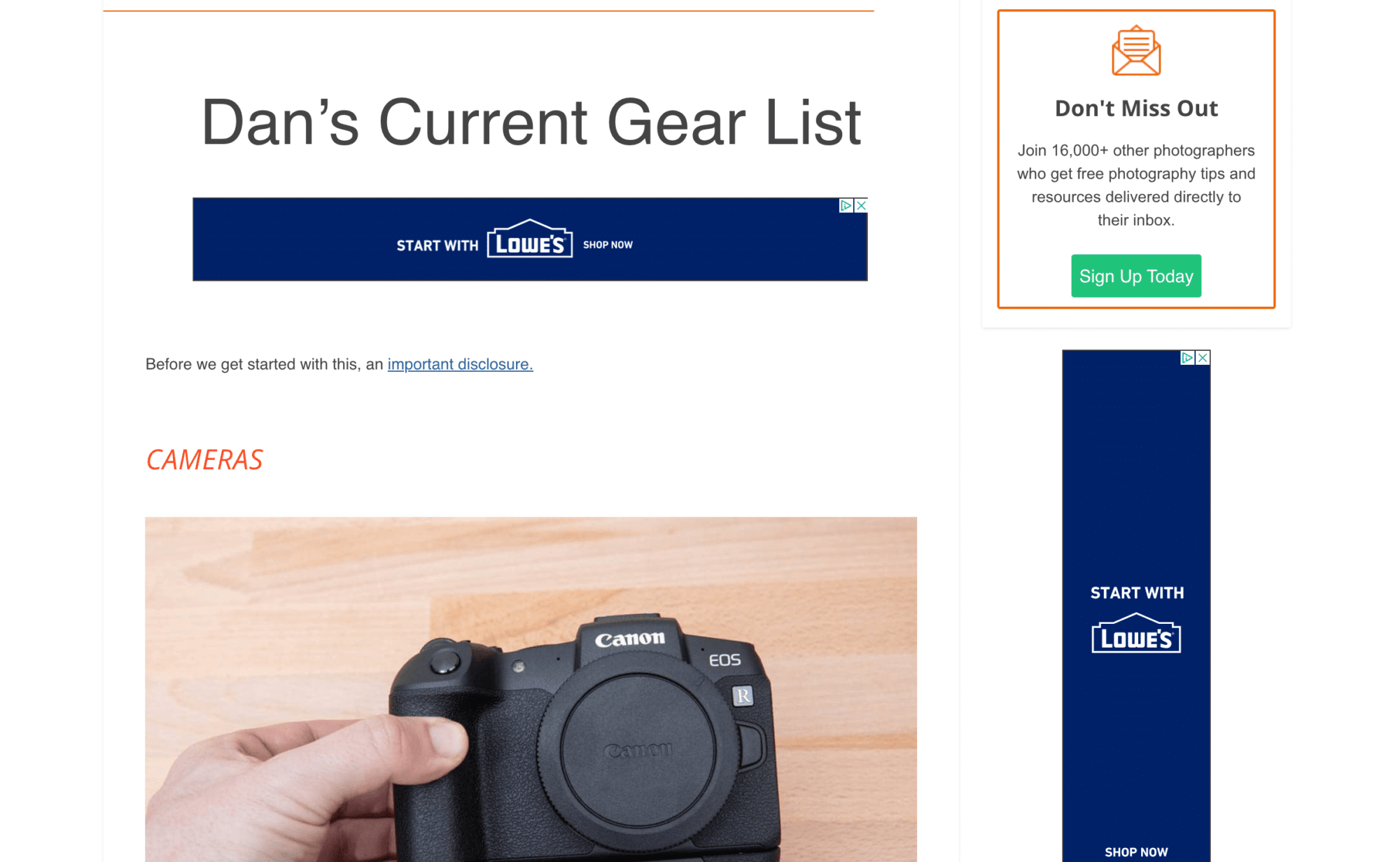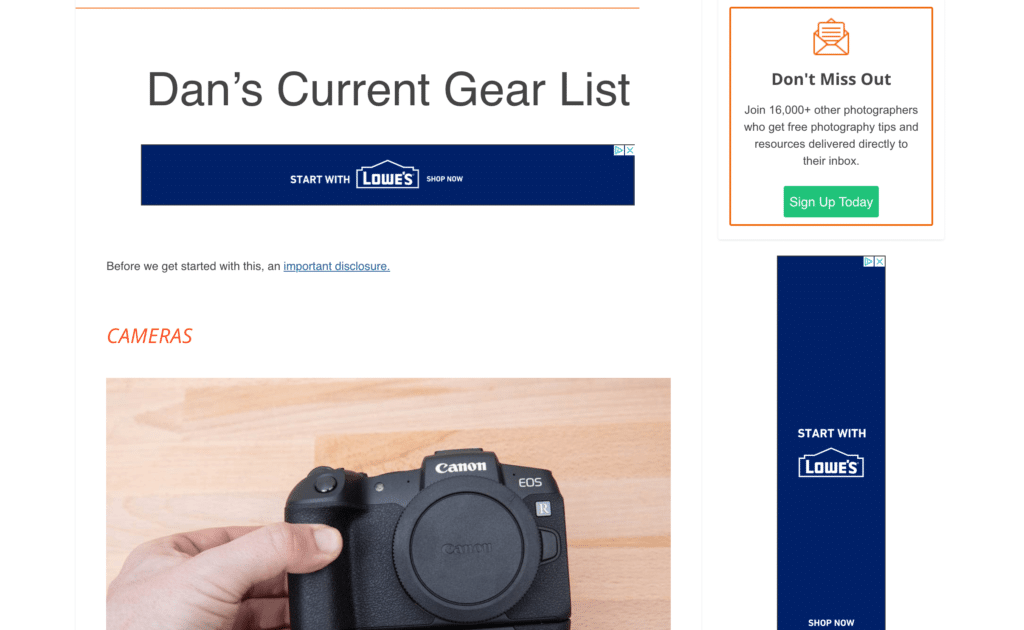 4. Place a Link to Your Resources Page In Your Menu
It doesn't matter how many affiliate links you incorporate into your Resources page if your visitors can't find it. The simplest way to help steer them in the right direction is to prominently include this content in typical navigation areas on your site.
Adding your Resources page to your top bar menu is the most straightforward option. This will make it almost impossible to miss:


A link in your primary menu lets your visitors know your Resources page is one of your website's key pieces of content, which can lend it more authority. Other logical places for it include a sidebar widget and your site's footer.
You can also have more than one Resources page, each focusing on different types of links. In this case, you may want to add them all to your menu by nesting them: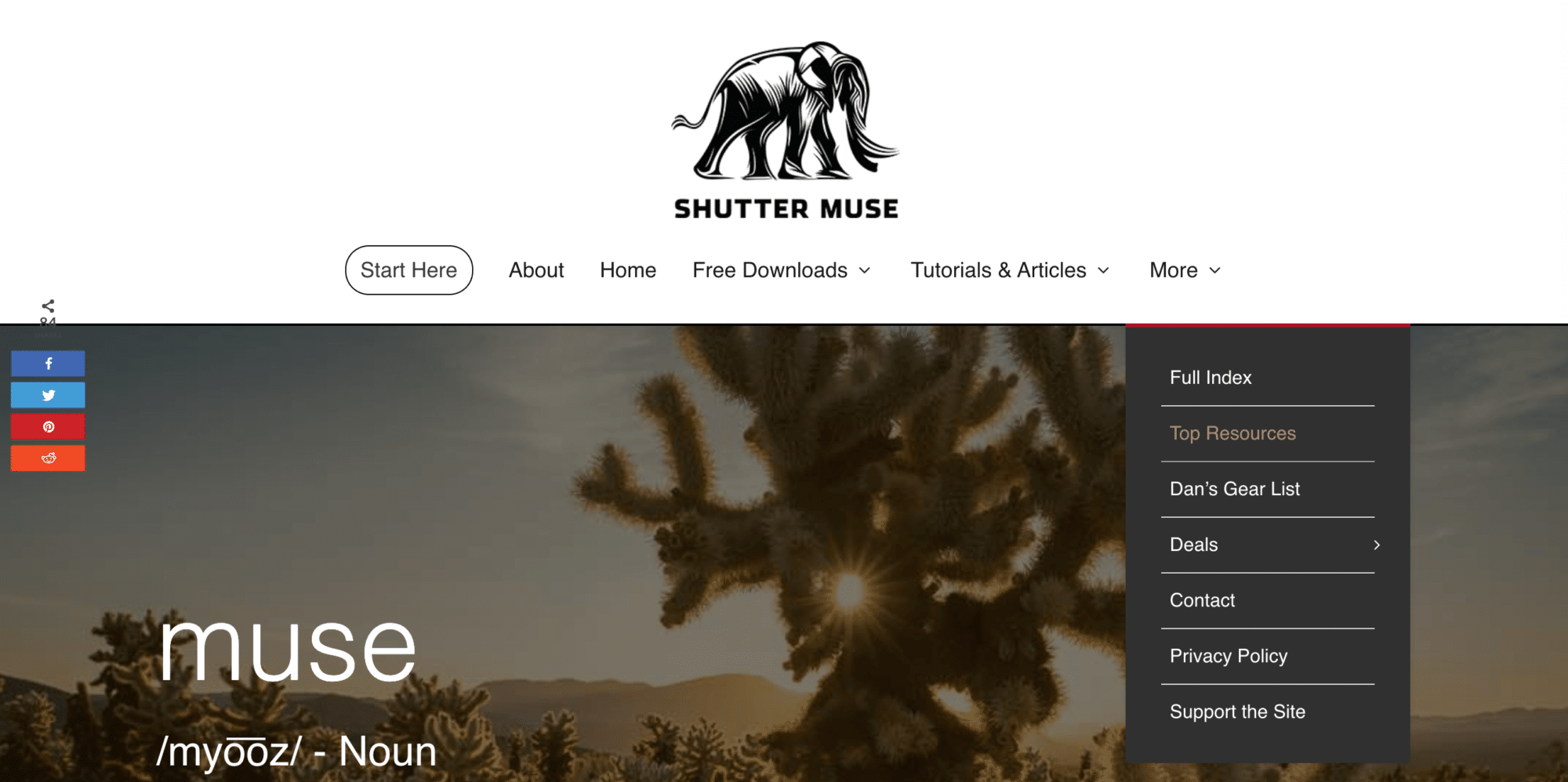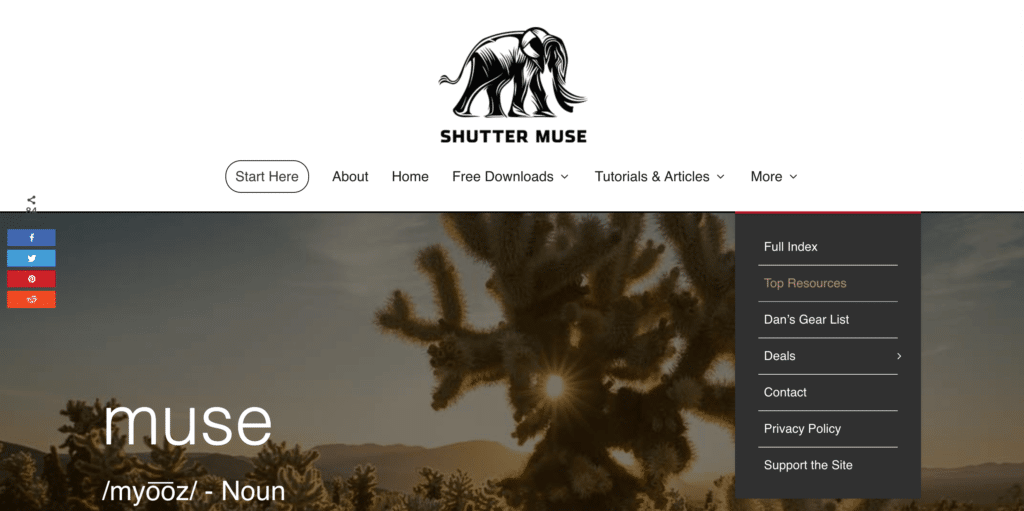 Some websites go as far as to include links to their Resources page in multiple areas. Don't be afraid to point to yours more than once, so long as you don't overdo it.
5. Keep Your Resources Page Up to Date
If you've all of the tips mentioned above, you've put a lot of effort into your Resources page. However, your work shouldn't stop once you click on the Publish button. You'll need to continue maintaining your list if you want to make sure it remains relevant over time.
It's important to understand that what might have been a valuable resource a year or two ago may be outdated today. This is especially true in the photography industry, where new technology and techniques are continually being developed.
It's up to you to keep up with the trends in your field so you can always recommend the most useful tools and information. This will help you stay credible and authoritative. Every six months or so, check back in on your Resources page and update any links that are now dated or irrelevant.
Conclusion
Resources pages provide you with a fantastic way to share your favorite tools, tips, and tricks with aspiring photographers while also displaying all your affiliate links. If the products and services you promote to are valuable to your users, you'll also build trust and authority.
If you're working on putting together a Resources page for your website, keep these five tips in mind to help ensure it's successful:
Only include resources valuable to your audience.
Explain the value of each resource you add.
Disclose any affiliate links you include.
Place a link to your Resources page in your menu.
Keep your Resources page up to date.
Do you have any questions about how to create a Resources page for your website? Let's go over them in the comments section below!