As a photographer, you know the importance of having a website. It gives you a place to showcase your work and maybe even sell some of your images. However, if you're starting to feel like yours is lacking in its design, functionality, or both, it may be time to look into ways to improve your photography site.
NextGEN Pro includes an impressive collection of features you can use to polish your online presence. From image protection and social sharing to e-commerce with automated print fulfillment, NextGEN Pro offers ways to transform an otherwise basic and limited photography site into one that is powerful and unique.
In this article, we'll explain what NextGEN Pro is and the benefits of using it. Then, we'll explain share ways NextGEN Pro can help improve your photography website. Let's get started!
NextGEN Pro is an extension for our flagship plugin, NextGEN Gallery: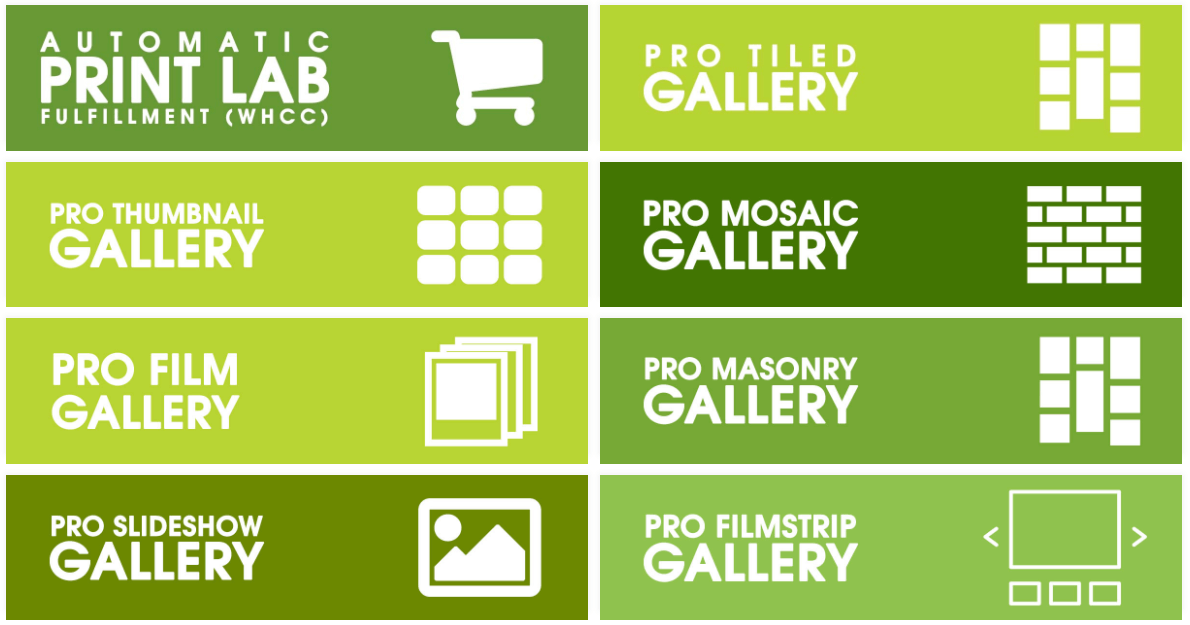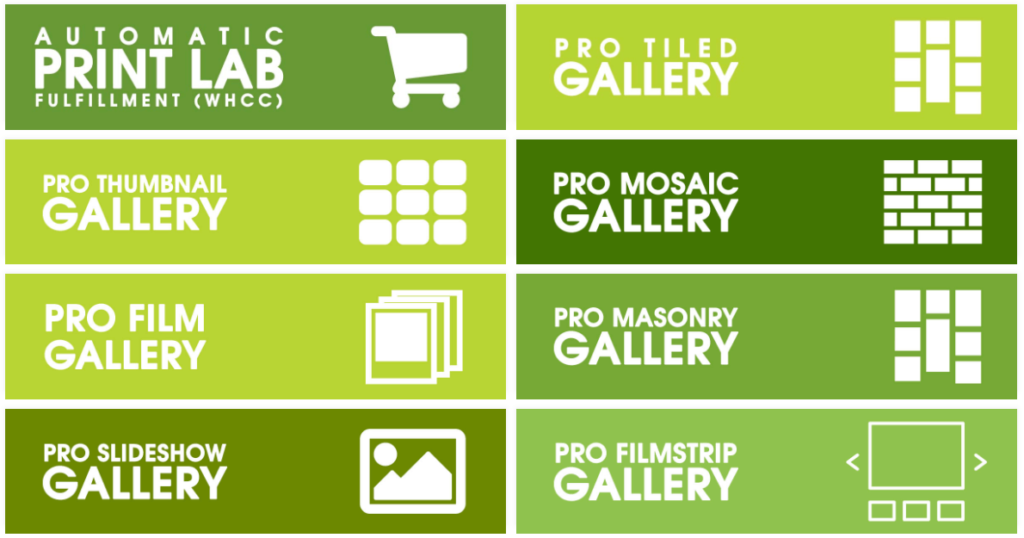 It provides several features that are particularly useful for photographers. In addition to premium gallery display options, NextGEN Pro also enables social sharing, image protection, digital downloads, and image commenting.
However, its biggest draw is its built-in e-commerce functionality. NextGEN Pro makes it easy for photographers to sell their work directly from their WordPress site, as digital downloads or physical prints. It's also the first WordPress plugin to offer automatic print fulfillment.
Current NextGEN Gallery users can upgrade to the Pro version directly from their WordPress dashboards. If you're new to the NextGEN plugins, you can install NextGEN Pro by purchasing it on our website then uploading its files to WordPress.
4 Ways NextGEN Pro Can Improve Your Photography Site
NextGEN Pro is a robust plugin with a lot of high-quality features. Let's take a look at how they can specifically help improve your photography website.
1. It Offers a Wide Selection of Gallery Layouts
The free version of NextGEN Gallery and some WordPress photography themes come with basic gallery options. While they can be useful, having a wider variety to choose from enables you to display your work in its best light.
NextGEN Pro includes a dozen unique gallery styles, including:
Mosaic
Masonry
Tiled
Thumbnail
Filmstrip
Blog-style
Slidescroll
Each can be used to serve a different purpose. The more layouts you have available, the better you'll be able to choose the one best suited to meet your goals for each specific gallery.
NextGEN Pro also includes premium album displays to better arrange your site's content. Let's say you want to create a separate gallery for each category of photos on your site, such as weddings, portraits, etc.
You could then add a Pro List Album to make it easy for your visitors to browse all your galleries and find the category they're interested in: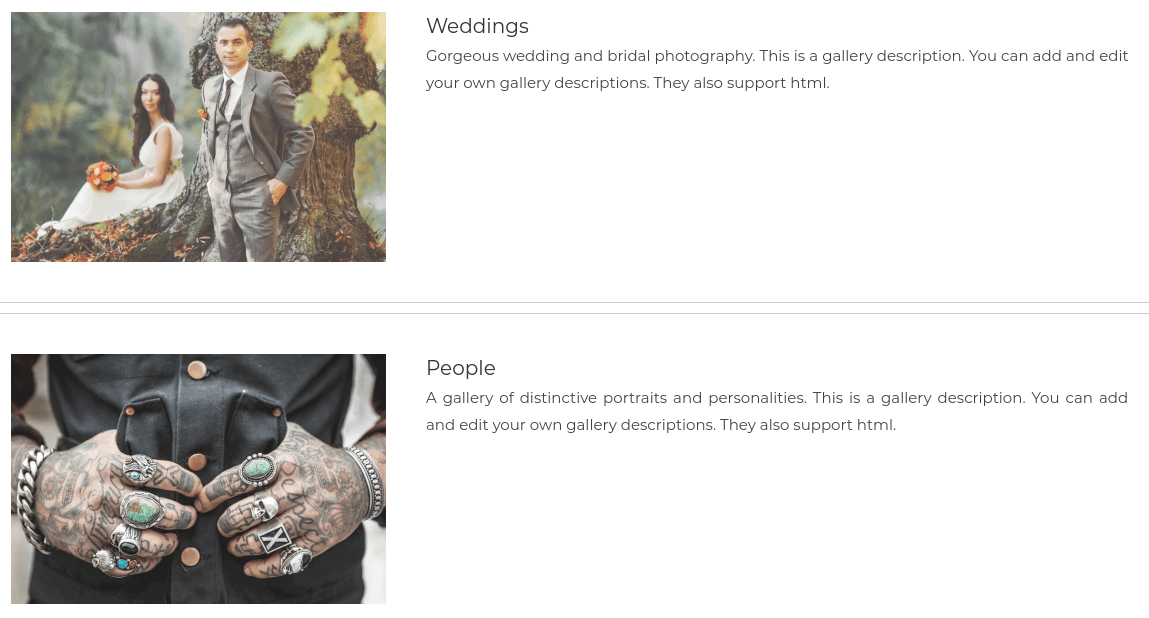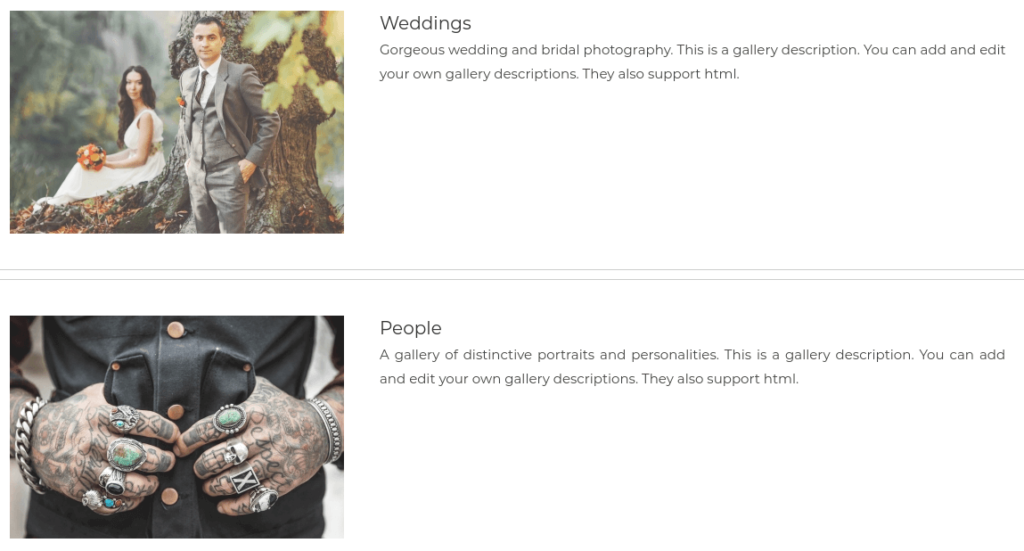 Finally, NextGEN Pro can improve your photography site by adding a shopping cart button to each image. As visitors click through your galleries and albums, they can add an item to their shopping cart and check out any time with ease.
2. You Can Use Image Protection to Prevent Theft
One of the most frustrating things to deal with as a photographer is people stealing your images. To prevent theft on your photography site, it's important to put security measures in place. NextGEN Pro includes multiple Image Protection features that can help.
A popular and effective method of deterring internet thieves is disabling the ability to right-click on images. You can turn on Image Protection in NextGEN Pro by going to Other Options > Image Protection: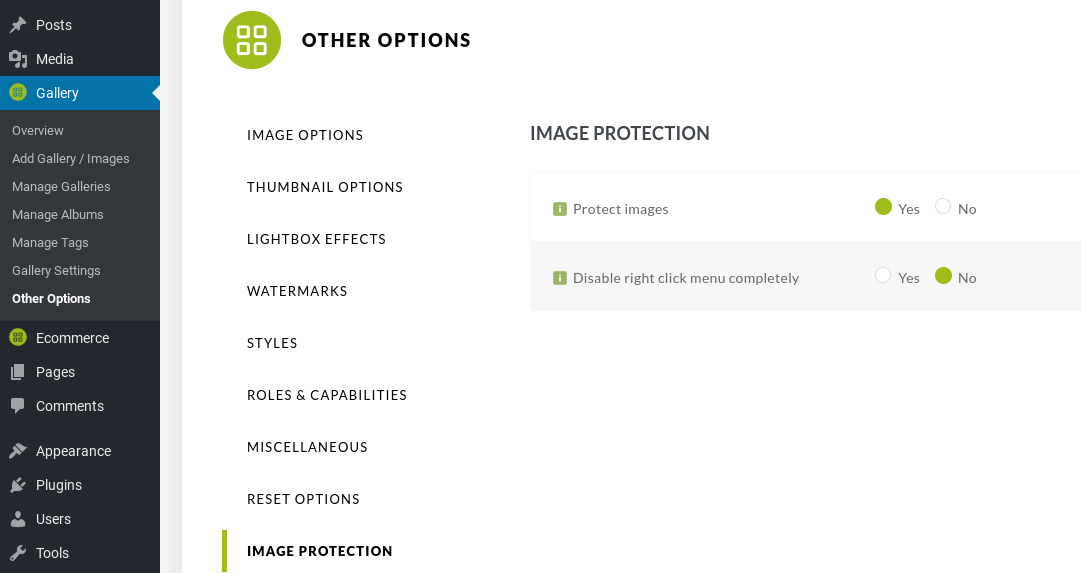 Another method people use to steal images is dragging and dropping them onto their desktops. However, NextGEN Pro includes drag protection so you don't have to worry about this, either. Finally, you can always watermark your photos to take credit for your work even if it is stolen from your site.
3. It Enables E-Commerce Features for Digital Downloads and Print Sales
As we mentioned, NextGEN Pro is the first WordPress plugin to offer automatic print fulfillment. This only further enhances the impressive e-commerce functionality available through our premium extension: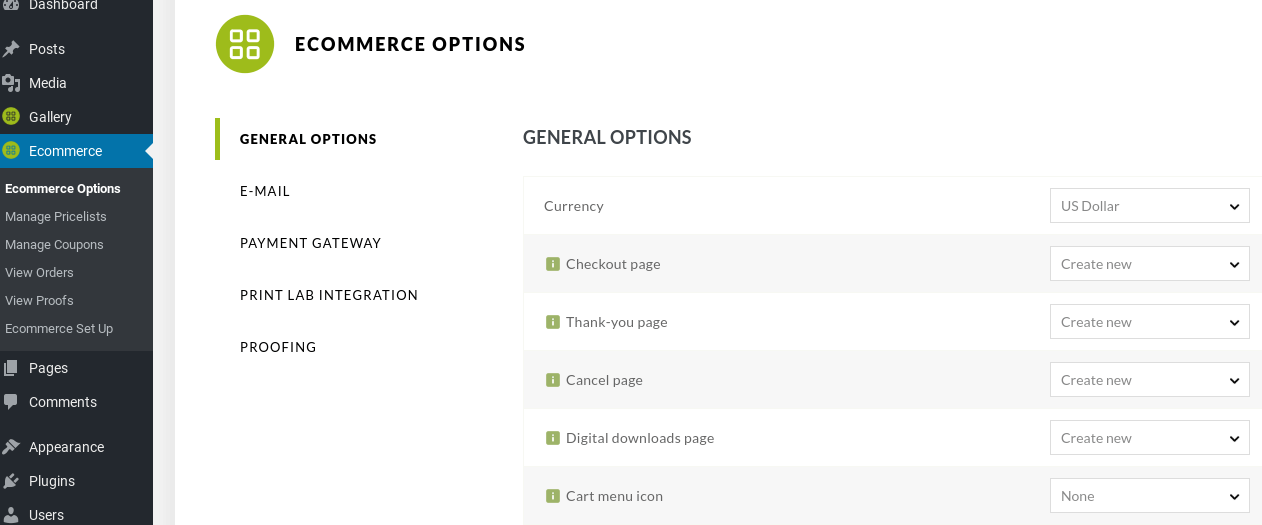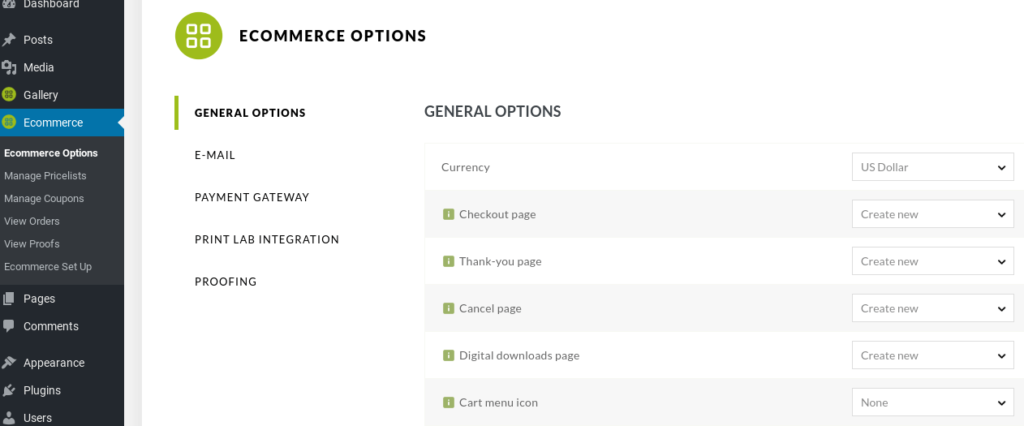 If your main goal is to increase sales on your photography site, NextGEN Pro can help. Directly from your WordPress dashboard you can:
Choose multiple payment gateways
Automatically calculate sales tax
Create price lists for galleries
Add and manage coupon codes
Fulfill orders through print lab integration
NextGEN Pro improves your photography site by enhancing the e-commerce experience for both you and your customers. White House Custom Color (WHCC), the print lab we've partnered with, provides a wide variety of options for shoppers to choose between directly in your galleries.
Meanwhile, you can put items on sale quickly and easily, and won't have to use a separate website to fulfill orders. WHCC will print and ship your images in white-labeled packaging. All you need is a credit card on file to cover the costs.
4. The Lightbox Feature Includes Easy Social Sharing
The Pro Lightbox extension that comes with NextGEN Pro includes options for image commenting and deep linking, as well as social sharing. This makes it easy for visitors to promote your content, which can help boost brand awareness for your photography site: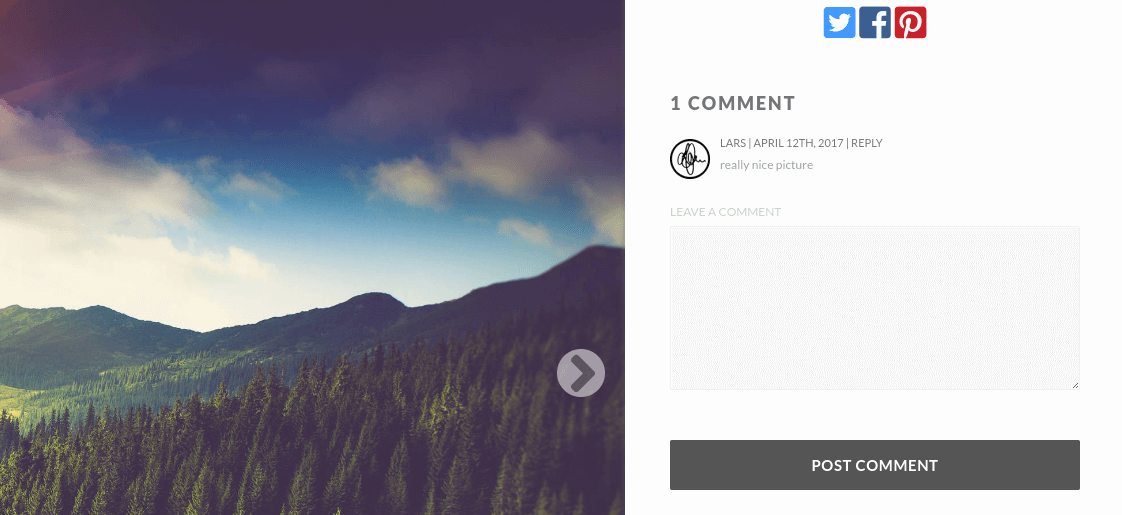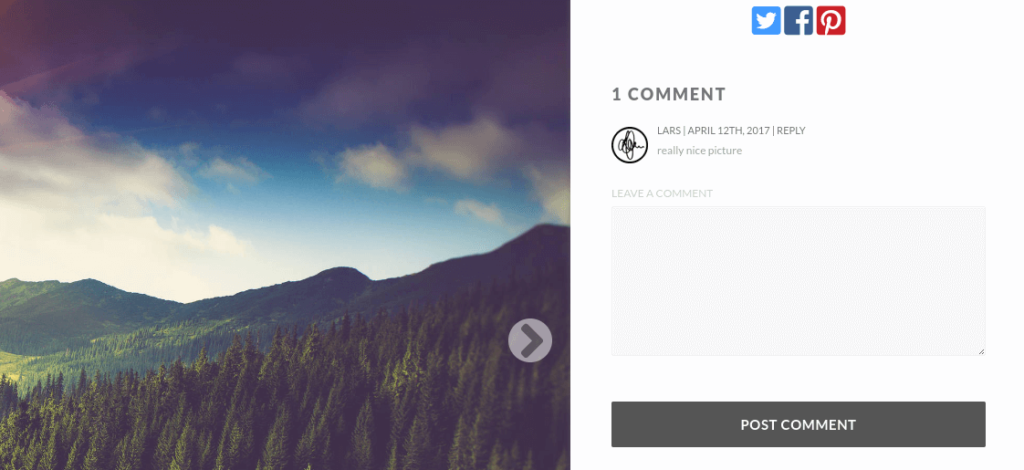 Using the lightbox effect, users can view your images in full-screen mode on their desktop computer or mobile device. In addition to leaving and reading comments on individual photos, they will also be able to see and use social sharing buttons and the shopping cart icon.
Conclusion
Having a website is essential for professional photographers. If you want to showcase your work in the best possible light and offer a smooth e-commerce experience, it's important to invest in WordPress plugins and themes that will enable you to do so.
As we discussed in this article, there are four primary ways you can use NextGEN Pro to improve your photography site:
Choose from the wide selection of gallery layout options.
Put Image Protection on your photos to prevent image theft.
Enable e-commerce features for digital downloads and print sales.
Use the Lightbox Pro feature to make social sharing easy.
Do you have any questions about using NextGEN Pro? Let us know in the comments section below!