Many photographers and other creatives use WordPress sites to display and sell their photos. While this is effective for digital downloads, you may have been forced to manage a separate, non-WordPress site for print sales.
Fortunately, that is no longer necessary. NextGEN Pro is now the first and only WordPress plugin with automatic print lab fulfillment. In addition to supporting the sale of manual prints and digital downloads, NextGEN Pro's e-commerce feature offers an easy way to fulfill and ship print orders directly from your site.
In this post, we'll introduce you to the benefits of NextGEN Pro's e-commerce feature. Then we'll provide step-by-step instructions on setting up automated print ordering with NextGEN Pro. Let's get started!
An Introduction to NextGEN Pro's Automated Print Fulfillment
Of the many WordPress themes and plugins we offer, NextGEN Gallery is our flagship product. There is a free version available, but many photographers will benefit from the dynamic features included in NextGEN Pro as well.
NextGEN Pro groups every available extension into one bundle. This includes extensions for:
Collection of galleries (thumbnail, mosaic, tiled, film, blog-style, etc.)
Image commenting, deep linking, and social sharing
Image protection and hover captions
One of the biggest draws of NextGEN Pro is its e-commerce features. In addition to price lists, photographers can use the e-commerce extension to accept PayPal and Stripe payments, and automatically incorporate sales tax.
Previously, this was available only for digital downloads, but you can now use it for print sales too. With NextGEN Pro, you can set up automated print ordering for your WordPress photography website. Therefore, your customers can choose between lab prints, manual prints, and digital downloads.
Lab prints get fulfilled by White House Custom Colour (WHCC), a leading print lab in the U.S. Customers can order directly from your site, and their orders will be automatically printed and shipped from WHCC in a white-labeled package.
How to Set Up Automated Print Order Fulfillment for Your WordPress Site (In 3 Steps)
If you don't already have the NextGEN Gallery plugin, you can download and activate it via WordPress. You'll need to do this if you want to set up automated print order fulfillment.
You will also need to purchase and activate a NextGEN Pro License. Existing users can upgrade through their WordPress dashboards by going to Gallery > Upgrade to Pro: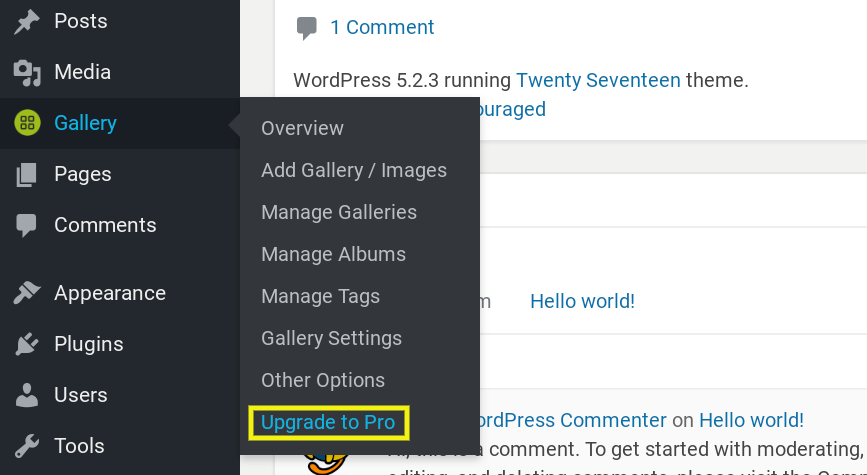 If you already have NextGEN Pro, make sure to update the plugin. You can do this using the e-commerce setup wizard available under Ecommerce > Ecommerce Setup. This is where you'll find a list of each step required to enable automated print order fulfillment. For further instruction, you can also watch our video and reference our documentation.
Step 1: Select Pages and Set Up a Payment Gateway
Once NextGEN Pro is installed and activated, go to Ecommerce > Ecommerce Options > General Options. This is where you can assign the checkout, order confirmation, thank you, cancellation, and digital download pages: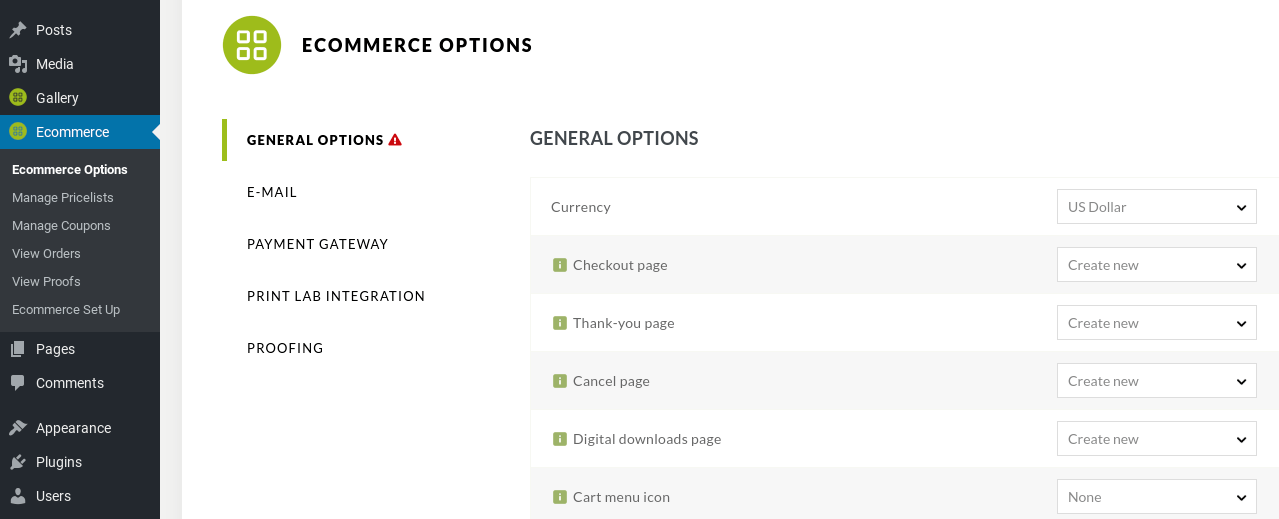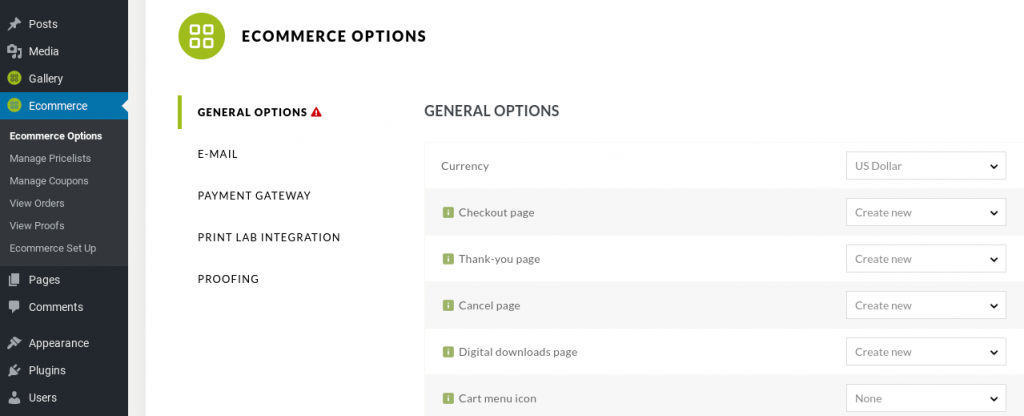 This is also the settings page, where you can enter your contact details. If you want the extension to automatically calculate sales tax depending on each customer's location, select Yes next to Enable sales tax. When you're finished, choose Save Options in the top-right corner of the page.
Next, you'll need to configure a payment gateway. You can do this by going to Ecommerce Options > Payment Gateway. You can enable PayPal payments and credit card payments (via Stripe):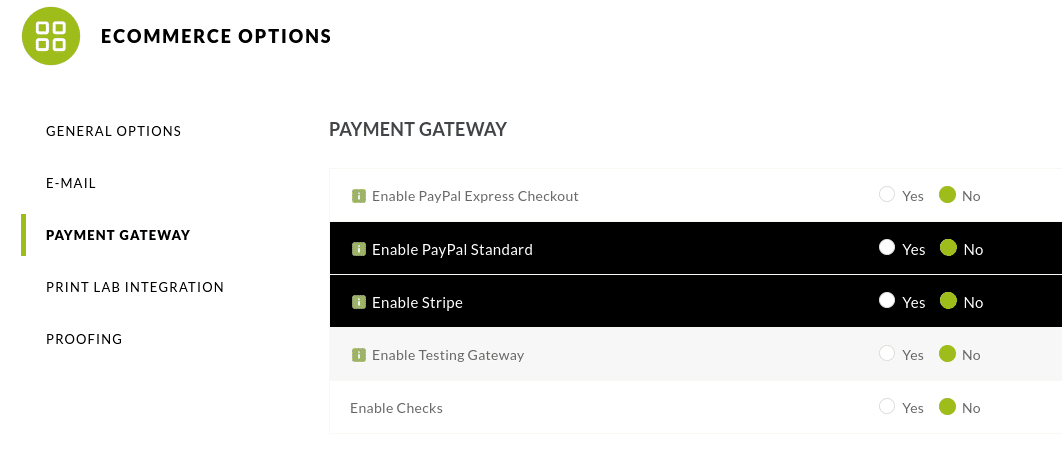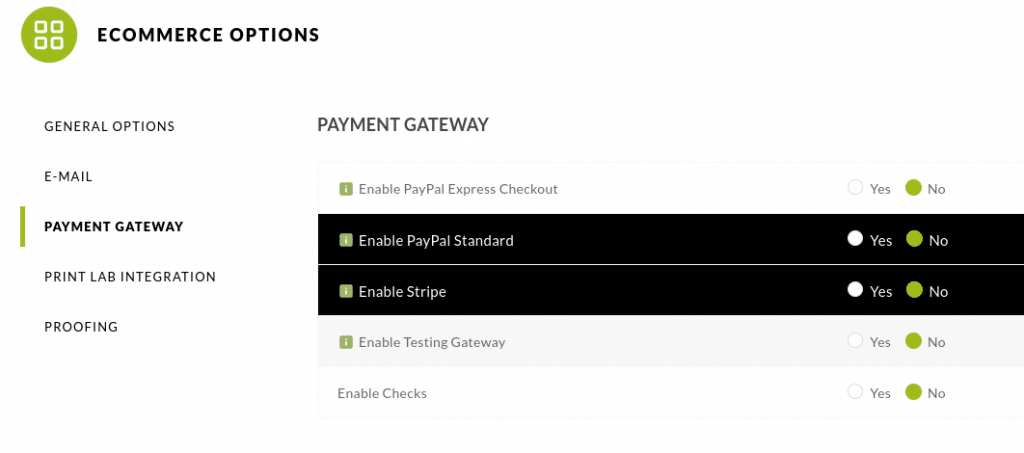 Finally, under Ecommerce Options, click on Print Lab Integration. This is where you'll need to enter a valid credit card to keep on file. You won't be charged until a customer makes a print lab order.
Step 2: Create a Price List
Now it's time to create an image price list. To do this, navigate to Ecommerce > Manage Pricelists > Add New. Name your list, and then select Add Product > WHCC Prints: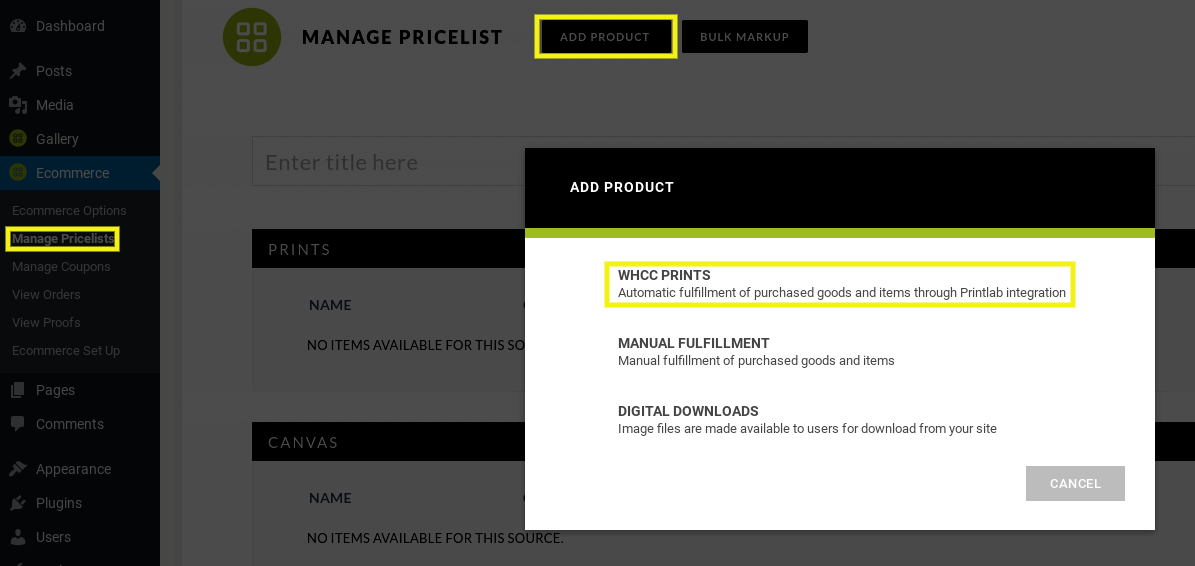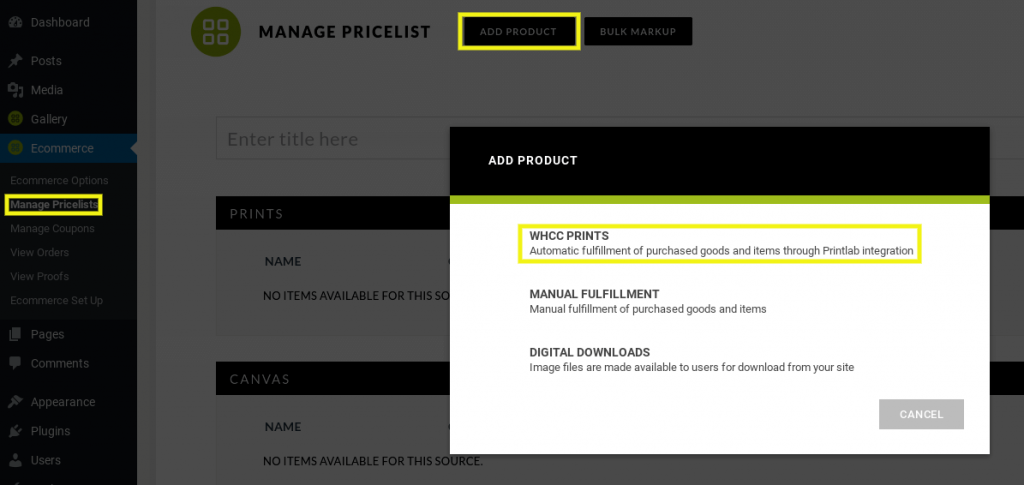 The most popular print items, including Canvas and Traditional-Mounted Prints, will be pre-selected. However, you can customize the list as you see fit. When you're satisfied with the price list, choose Add Product.
At that point, you'll see the price list that will be made available to customers. It will include the wholesale cost for each item and the prices that will be charged to customers. You can delete or override prices if necessary. When you're done, select Save at the bottom.
At this point, it's recommended that you turn on automatic image resizing and backups to preserve your originals. You can find these settings under Gallery > Other Options > Image Options.
Step 3: Choose and Insert a Gallery of Images to Sell
Now, you've set up your payment gateways and created a price list. All that's left to do is choose which image galleries to sell.
Under Gallery > Manage Galleries, you can choose from existing photo galleries or choose Add New Gallery. After you select the gallery you want, click Gallery Settings and select a price list under the Pricelist drop-down menu:


Next, go to Pages. You can choose an existing page or add a new page, and then insert a new block. In the search bar, type in NextGEN, and then select the NextGEN Gallery block. Inside the block, choose Add NextGEN Gallery: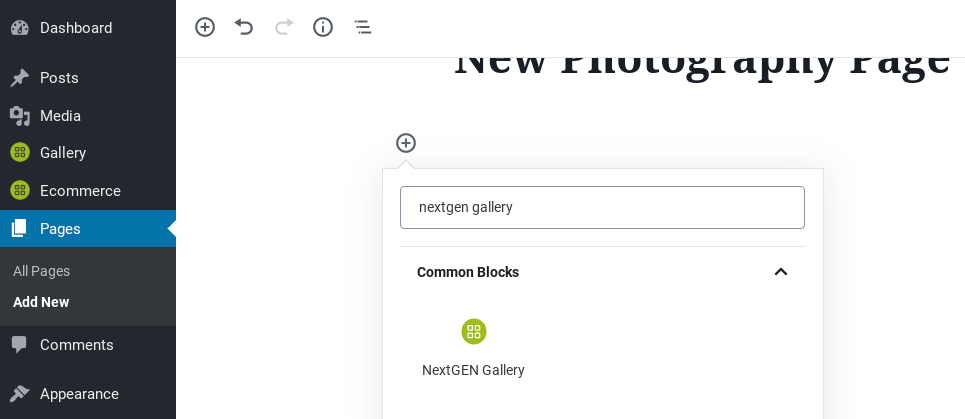 Choose the gallery you just assigned the price list to. Then, you can customize how the gallery will appear: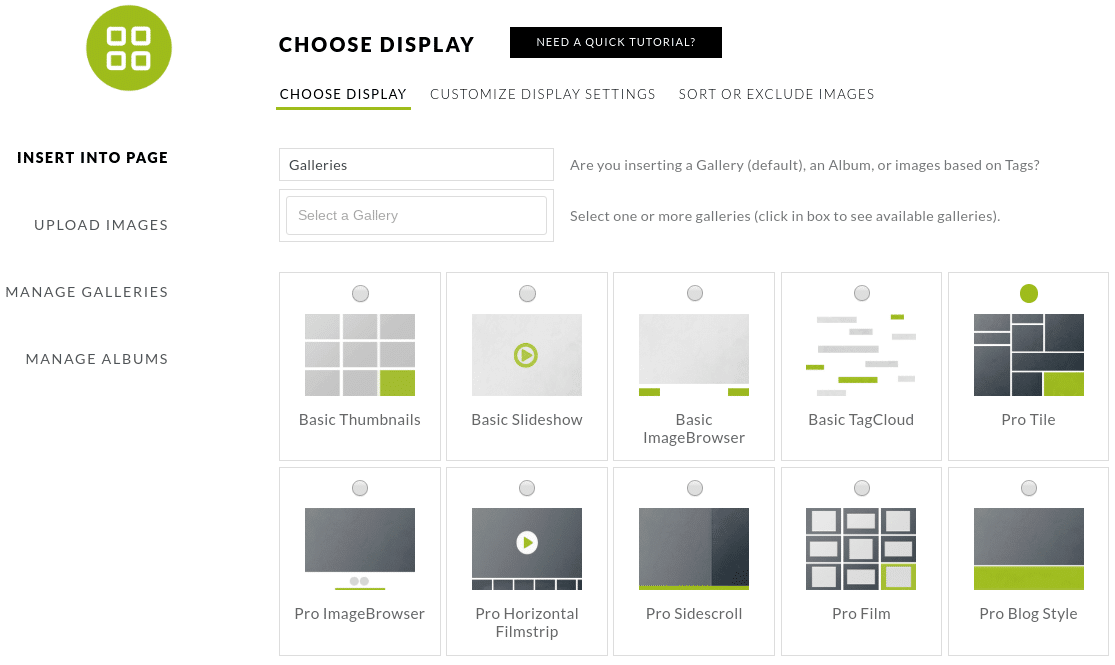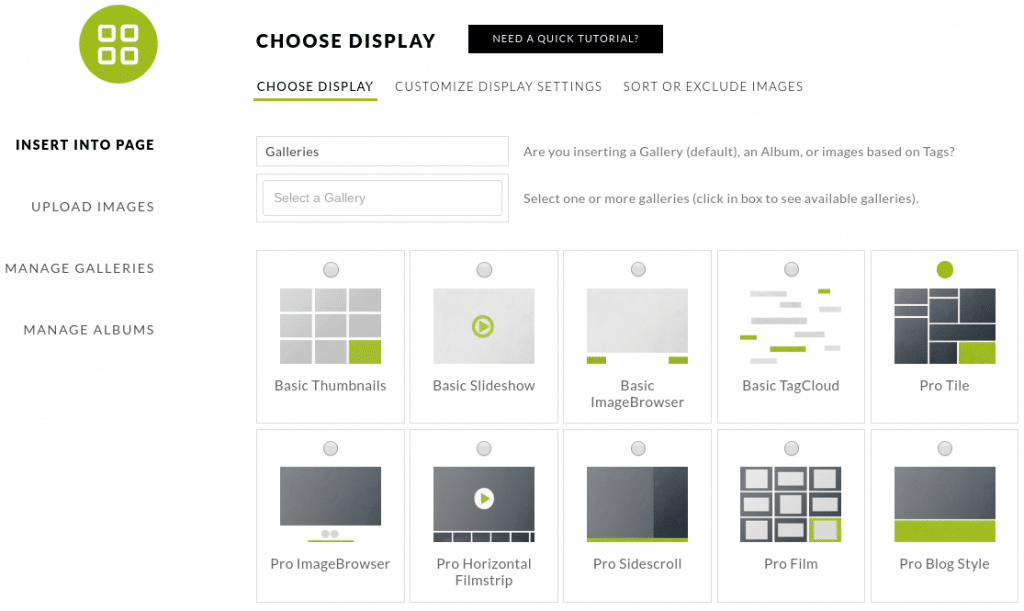 Finally, along the top, click on Customize Display Settings. At the bottom, select Yes next to Enable Ecommerce. Then choose Insert Gallery, and you're done!
Conclusion
Until now, WordPress photographers typically had to manage multiple platforms in order to sell and fulfill print orders. This isn't an efficient e-commerce strategy for you or your buyers. While a simple WordPress site may be effective for digital downloads, you'll need another tool to handle print sales.
After purchasing a NextGEN Pro license, you can use automated print fulfillment orders by:
Selecting pages and setting up a payment gateway.
Creating a price list.
Choosing and inserting a gallery of images to sell.
Do you have any questions about setting up automated print order fulfillment for your WordPress site? Let us know in the comments section below!