It's a natural extension of your photography ability to want to monetize it. While this isn't the goal for most shutterbugs, earning a little side (or full) income from your passion is a fantastic situation to be in. The direct way to do this is to sell photos online. However, this brings with it a number of concerns and considerations.
For example, you will want to decide on your chosen niche, the format for your images, and the legal considerations. From there, you need to look at the best format for your e-commerce setup, and display your photos in the best light. There are lots of ways to do this, but we believe we have the answer.
In this ultimate guide, we're going to show you how to sell photos online. We'll cover all of the bases we mentioned, and also offer up some insights into how to achieve all of your goals.
The Traditional Way to Sell Photos Online
Most photographers have a bunch of images that they'd like to sell. In fact, you probably have more than you know what to do with. The problem is one of value.
By this, we mean that you've spent time and effort on learning your craft and taking those photos. However, now those images sit on your hard drive and gather virtual dust. You believe they have more value than that, so you'll often look to sell them.
The typical way most photographers do this is through microstock sites such as Shutterstock.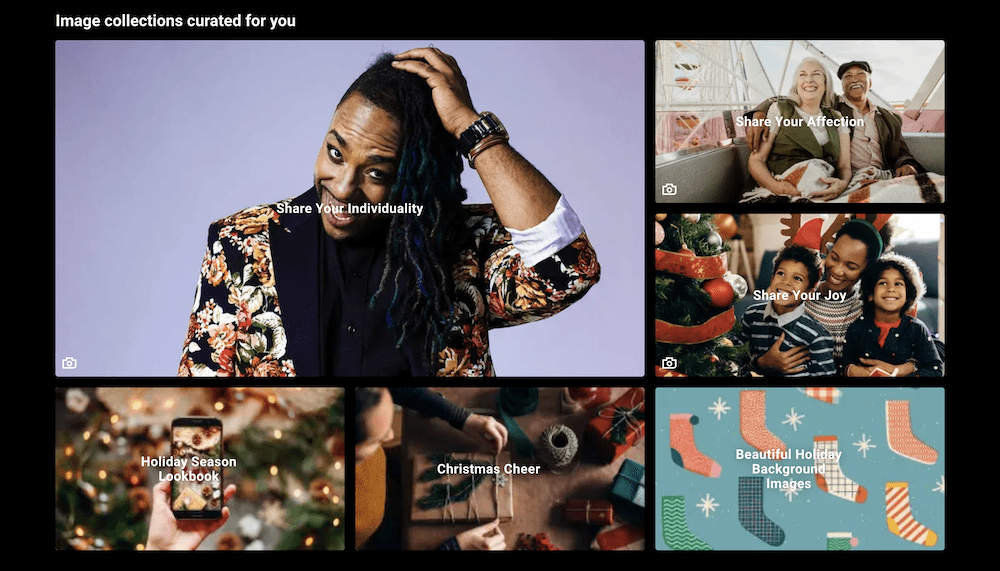 On the surface, this makes lots of sense. There's a captive audience for photography, with money burning a hole in their pocket. However, there are some severe drawbacks:
While there is lots of traffic, your work has to be excellent and you have to be fortunate for most to see it.
The work that often succeeds on sites like this is formulaic and almost 'cookie-cutter'. It could seem like a slog at times, where you won't get to follow your muse, rather follow the crowd.
You don't always get to decide how others use your work, which could have ramifications in a number of ways. For example, a company you don't agree with in an ethical way could use your photography (and credit you by name) in their advertising.
The payout rates aren't the best, and you could extract more value given a different vertical (that's business-speak!).
Third-party sellers aren't the worst solution to sell photos online, but you have to curate the collection with care. There's a better way to sell your work though, on your own terms, where you control the narrative.
Why You'd Want to Sell Photos Online Through Your Own Site
You may already have an idea of why you want to sell photos online through your own site rather than a third-party platform. However, if you need more understanding, here's why we think you'll want to run your own site:
You decide how you sell your work, the image format, which images matter most, and (most important) the price of each image.
There's a great opportunity to brand your site to match your vision, or evoke a certain feeling in visitors (just like your work should).
You can implement whatever functionality you need to sell your photos. This is a crucial aspect, because of the unique and custom approach.
There is no competition on your site unless you allow it. As such, your work won't have to compete with others, and won't be subject to bad fortune.
However, we can understand why some photographers head to third-party sites. After all, there's a lot of work involved in running a site to sell photos. Though, the work is achievable and is straightforward to assimilate into your own daily workflow. This means is well within the realms of possibility for you. Let's discuss this next.
How to Sell Photos Online: Pre-Planning
There are three points of pre-planning you'll want to consider when you begin to sell your photos online. Each one of these is important, and you may understand one in a deeper way than the other. For example, you may already know what format to sell your images in, but have less knowledge of the legal aspects.
As such, the next few sections will discuss each of the steps in the planning stage. From there, we'll look at some of the elements of building your site, and selling your work on it.
How to Choose a Photography Niche
It may not seem that way, but your chosen photography niche is going to be a foundation. It will be a base for everything else you do, because this will inform whether you choose physical or digital prints, the platform you select, and how you present your photos.
If you ask any other creative, they will tell you that specializing is the best way to profit from your talents. In this case, you'll want to choose a specific niche and target those types of customers. This might seem restrictive, but it can help in a number of ways:
It gives your work focus.
Visitors will know they are going to get fine art portraits of their dog, or landscapes of abandoned parking lots, or whatever you choose to specialize in.
This last point is more of an opportunity than you realize. Customers will talk to each other, and when someone they know needs pet portraits, you might be the one they mention first.
When it comes to your niche, there are a few considerations and options:
Will you choose people-focused or location-focused photography?
Would you want to sell one-off pieces (such as a headshot or a mountain landscape canvas), or would you sell lots of different types of images to use online as assets?
Do you envisage your images on other products, such as mugs or t-shirts?
All of the answers to these questions will help inform you. While we can't tell you exactly what niche to choose, you can whittle down the options using these questions.
You can even get diverse within a specific niche. For example, if you're a gig photographer, you can sell t-shirts for bands, posters, and license digital versions for print media.
Deciding Whether to Sell Prints or Digital-Only Images
Speaking of which, we should touch on the format for your eventual products. It could be that there is no sense in selling physical prints, such as canvases or framed photos. This is going to depend on the niche you choose at first.
However, the opposite is true. If you document fine art, for example, a digital image might not be your primary product. Instead, a customer may want a small framed print or canvas to hang in their bedroom.
The crux here is to consider how a customer might use their purchase, and figure out what format would best fit the need.
The Legal Aspects of Selling Photos Online
At some point, the law will involve itself. Not so much a visit from Jake Peralta or Saul Goodman, but the licensing frameworks that rule the roost with regards to online distribution.
Thinking about licensing is a necessary evil, although it doesn't have to be complex. In most cases, you'll want to choose the right license for your photos, and adapt the framework to your workflow. There are a few to choose from. For example:
Creative Commons. Work produced under this license is free, with conditions attached. For example, you may ask for a credit whenever the image is in use, although there are different licenses available.
Royalty Free. This doesn't mean free as in price, but in freedom to use the image. Once you purchase a license, the customer is able to use the image in any way they see fit.
Commercial Use. This license will grant the user the ability to use the image in marketing and promotional materials for their own business.
Editorial Use. Much like a commercial license, this gives publications the ability to use the image in news stories and articles.
Rights-Managed. Consider this like a one-time license to use an image. If the customer wants to use the image again, they would have to pay for another license.
This is nowhere near an exhaustive list, but it's a good start. Often, your license will set itself. For example, if you sell images to publications, an Editorial Use license is going to be necessary. For images that might appear on products, you could opt for a Retail Use license.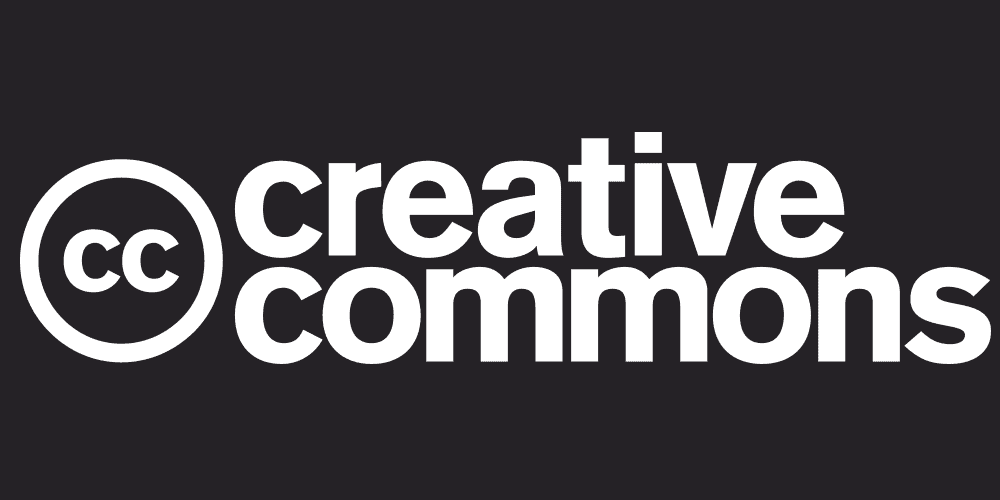 You might also want to consider using royalty-free and Creative Commons licenses for giveaway or promotional material. This way, you can distribute images en masse, and insist on a credit to bring traffic back to your site in the future.
Image Theft
There are lots of people who believe that any image online is free to use regardless of the license. This is (of course) false, but you'll want to protect your images against theft. While you can't eradicate this in full, you can mitigate the issue to some extent in the following ways:
Add a watermark to your image.
Disable downloads.
Disable right-click actions on your site.
Which one you choose is up to you, and you can combine the techniques here. However, mitigating image theft is more straightforward with the right platform and solutions in place. We'll look at this over the rest of the article, and mention ways to add these security elements to your galleries.
Choosing the Right Platform for Selling Your Photography
There is an almost overwhelming choice of publishing platforms available for your site, all with various pros and cons. However, most site owners will whittle the options down to a few such as Squarespace, Wix, or Shopify.
There's nothing wrong with any of these platforms per se, but they all pale into comparison when you bring WordPress into the fold.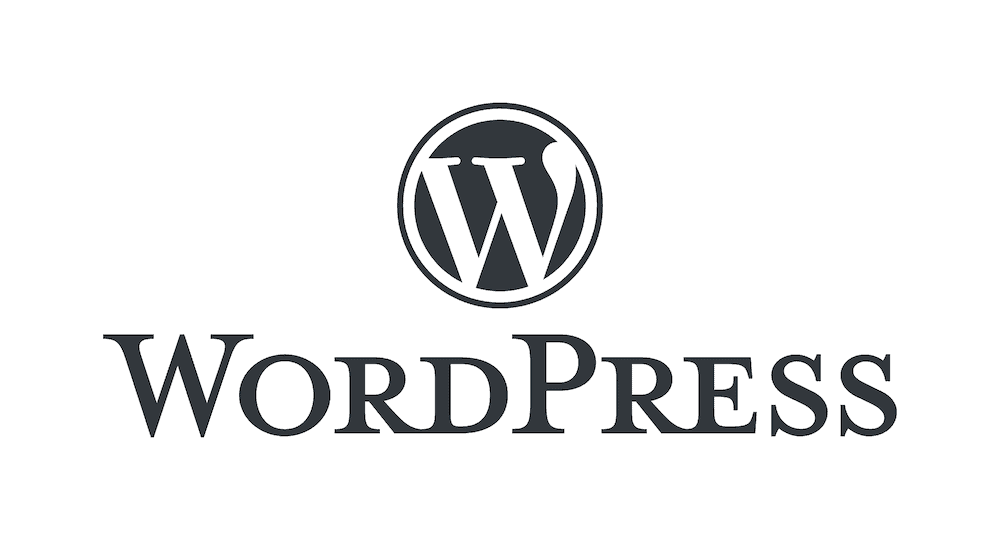 It's a Content Management System (CMS) that's free to use, flexible, extendable, and popular. It's sees use by nearly half of the web, and has a huge community of users.
What's more, you can choose how your site looks and acts using extensions called themes and plugins:
Themes. Consider these as the 'skin' for your site. They dictate its look, but can also provide further functionality too.
Plugins. These bolt on more functionality to your site, such as contact forms, social media icons, security tools, and much more.
When it comes to themes, you'll find lots of fantastic premium solutions, but only one that focuses on photographers: the Imagely theme: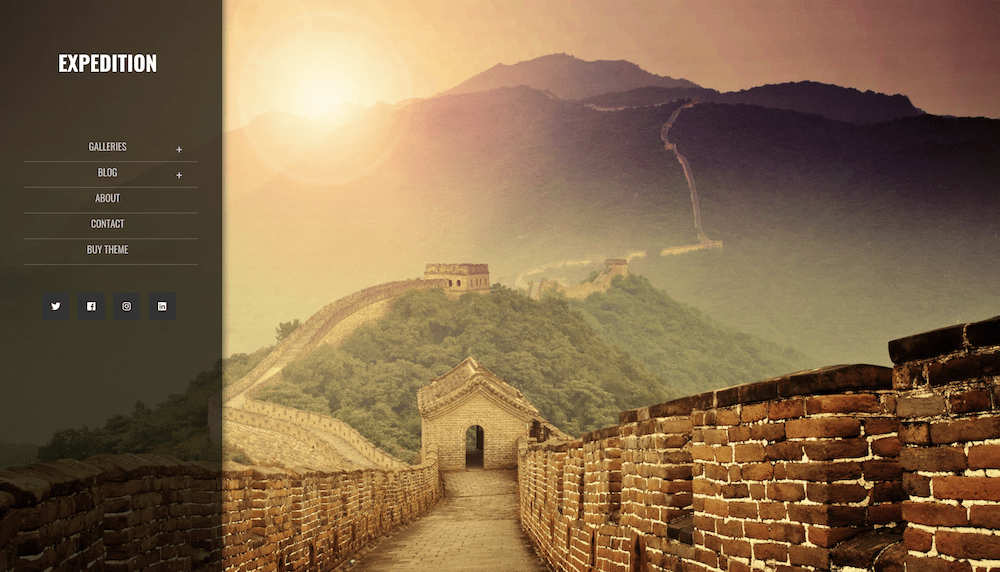 It offers lots of built-in designs, ways to brand your site to your exact requirements, and looks gorgeous regardless of the viewing device. However, our focus isn't on the Imagely theme for this article. Instead, we're going to discuss a core aspect when you sell photos online: your image galleries.
The Importance of Your Image Galleries for Your Income
This seems like an obvious statement to make, but your image galleries are central to your photography website. By extension, they will also help you to sell photos online.
The most straightforward way an image gallery can help is to display your photos in the best possible light. An attractive image gallery can take a collection of photos and make them a cohesive whole: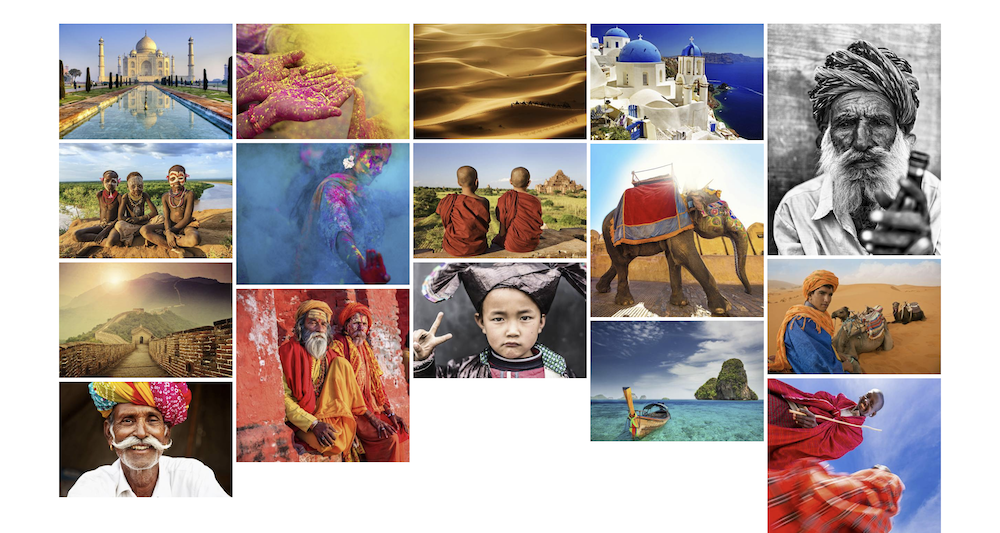 While WordPress does have the ability to display image galleries as a native, core feature, it's a simple implementation. Instead, you'll want to turn to a feature-packed plugin that can help your images stand out.
Introducing NextGEN Pro
NextGEN Pro is one of the leading plugins in the space for displaying images, and implementing a number of additional, related, and essential facets.

While the image galleries themselves are a notch above the competition, it's the extras that will help you to sell photos online. For example:
It includes image e-commerce functionality, using a variety of payment gateways.
There's automatic tax calculations, which means you stay as a photographer rather than an accountant.
You can display price lists if this is part of your strategy.
You have the option to offer coupons, which are great for holidays, promotional drives, and more.
There are options to offer digital downloads of your images, and carry out automatic print fulfillment too. This will help you maximize the potential of your store, and offer a variety of products for sale.
You'll also find that NextGEN Pro offers image protection too. This is a way to disable right-clicking on a site-wide level. It also includes watermarking functionality baked right into the WordPress dashboard.
The good news is that NextGEN Pro has a pricing tier to suit almost every budget. For example, $139 per year nets you the Imagely theme and NextGEN Pro, complete with everything we offer with regards to extensions.
This means you could get the full experience of NextGEN Pro, the Imagely theme, and a custom site for around a half-day rate on average. While the price is a snip, the functionality is fantastic. In the next section, we'll show you how NextGEN Pro works.
How to Sell Photos Online Using NextGEN Pro
This section isn't going to show you the technical aspects of installing NextGEN Pro and setting it up in depth. For this, we'll direct you to our article on creating a professional photography website. This will help you install and activate not only NextGEN Pro, but the Imagely theme too.
Instead, this section will run through the basics you need, along with some advanced techniques, to sell photos online. We're going to make some assumptions about what level your site is at:
NextGEN Pro is ready to roll.
You have an image gallery set up within NextGEN Pro.
From here, the rest of the functionality is within the plugin's options. To sell your photos online, head to the Ecommerce page within WordPress, and take a look at the Requirement Checklist: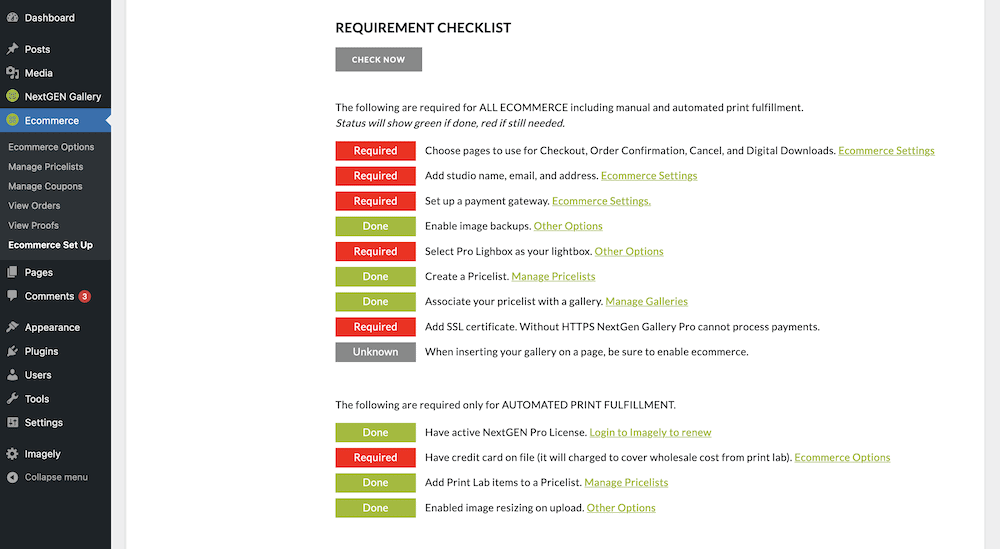 This is a list of criteria you'll need to fulfill to set things up. If one of the criteria is red, you'll need to take a look at this before you can sell your photos. There's a handy link next to each item in the list, to take you to the right page. For example, you'll need to head to the Ecommerce > Ecommerce Options page to set up elements such as a payment gateway, studio details, and more: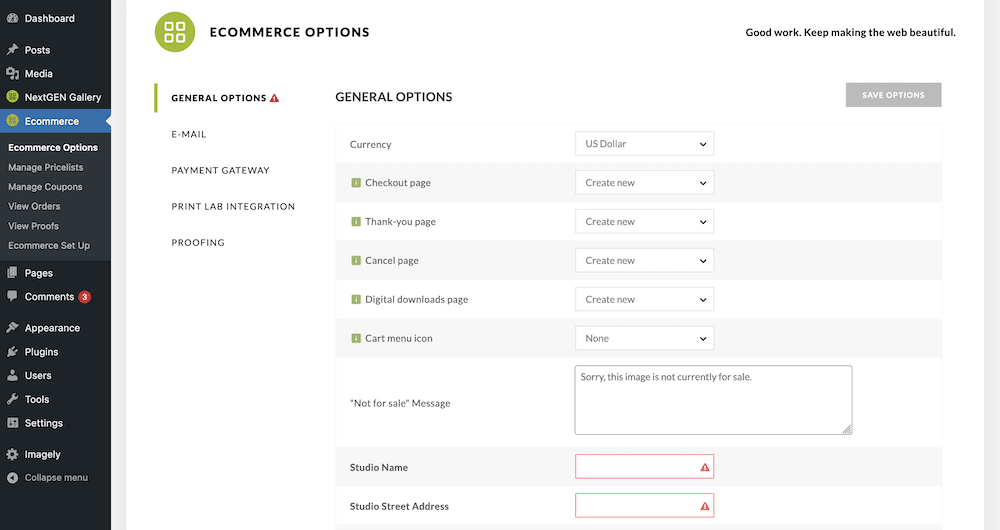 Once you fill out the required (and identified) fields, head back to the Requirement Checklist to update the status. Note that the Ecommerce Options page is where you'll also set up print lab fulfillment. You'll need to have an active credit card on file, along with a site that uses HTTPS.
We have more information on the Ecommerce options within our documentation. This goes into detail regarding each settings, and is essential reading.
Image Protection and Watermarking
The ability to protect your images is vital on the web. While you can't ever manage this 100 percent of the time, NextGEN Pro has some helpful tools on hand.
To find them, head to the NextGEN Gallery > Other Options page. You'll find the Image Protection tab at the bottom: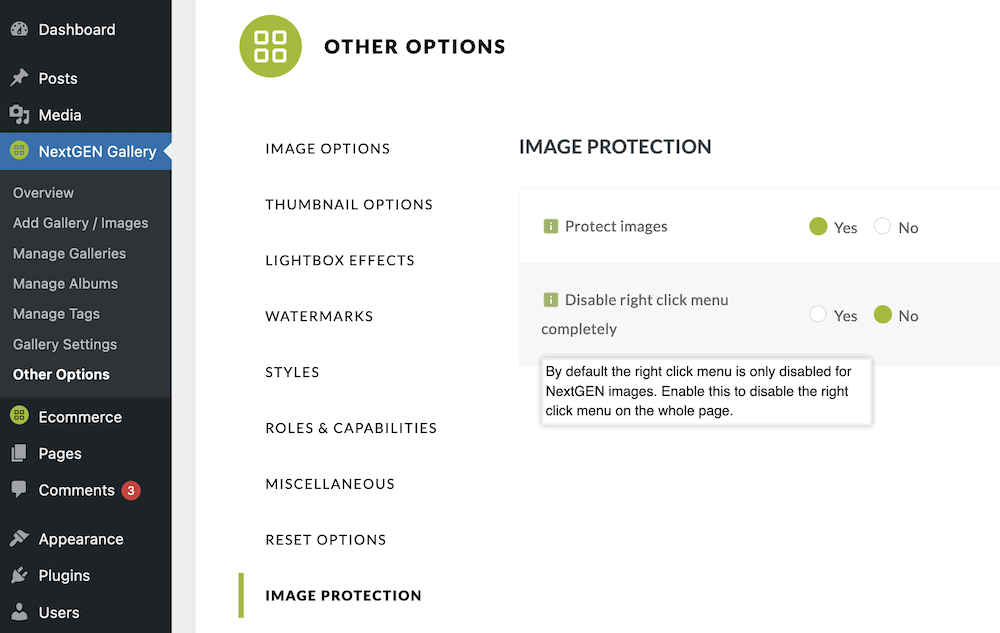 There are two options here. First, choose to enable image protection, then look to set the right action for the right-click menu. It should take no more than a few seconds, at which point you can head to the Watermarks tab to protect your images further: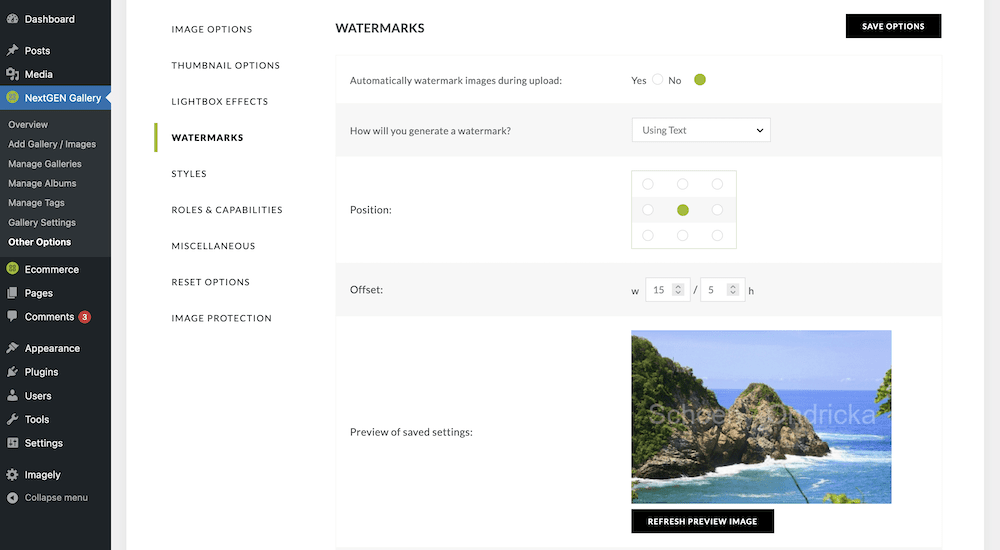 You have a wide range of options at your disposal here. For example, you can choose to be hands-off and set up automatic watermarking, use either an image or text for your watermark, and more.
You get to decide the position and alignment of your watermark too. However, we'll note that you may want to review this if you upload images in an array of orientations. The good news is that there's a preview pane available that shows an example of your watermark.
If you choose to use a text watermark, there are customization options here, such as the typography settings, color, and opacity: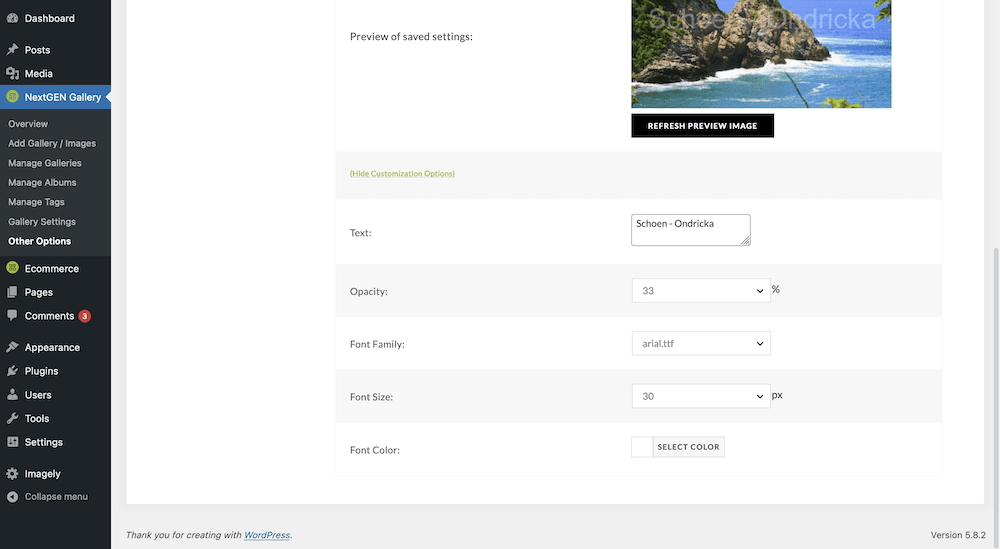 This gives you complete control over your watermark, and makes sure you can protect your images as well as possible.
In Summary
If you have stacks of virtual images weighing down your hard drive, it could be a good idea to sell it to others. After all, you will have put in the effort to take and edit them, so if others enjoy them enough to part with their cash, you'll want to take the opportunity.
While lots of photographers look to third-party microstock services such as Shutterstock, we believe that WordPress offers more value. For example, you can set up a site that looks fantastic using the Imagely theme, then design image galleries that turn into e-commerce products using NextGEN Pro. By the time you come to promote your online store, you'll be confident that it's going to be an ally for you, rather than a hindrance.
Do you want to sell photos online, and will Imagely and NextGEN Pro be the tools for you? Let us know in the comments section below!
Image credit: TheUjulala.