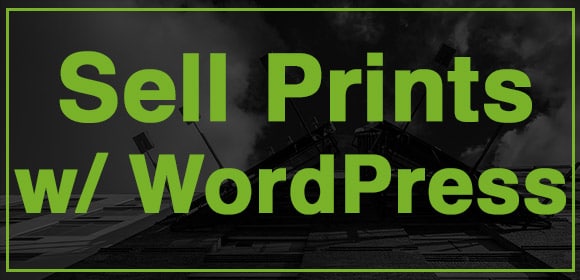 If you are wondering how to sell photographs to clients using WordPress then you are in the right place.
Once of the most popular feature requests we received for NextGEN Gallery was for a way to sell photographs. But while we scoured the WordPress Ecommerce ecosystem we could not find the perfect solution to integrate with. There are so many amazing Ecommerce plugins available, but none were designed for selling images specifically.
Being that NextGEN Gallery is an image management plugin, we felt that the Ecommerce system we went with had to work specifically on images and nothing else. So that's what we did. We started from the ground up. Our team hopped into lengthy meetings to map out the Ecommerce system, and the roadmap for which we will release each feature.
We knew that our customers wanted Ecommerce so instead of waiting until every feature was complete we decided to release it piecemeal. Doing so allowed for our customers to already take advantage of the Ecommerce system we built for them, without longer waits.
Now of course like any software bugs and features requests will occur. So while we build the next features for NextGEN Pro's Ecommerce system we are also adding new features and fixing reported bugs.
So what makes NextGEN Pro so effective for selling photographs to clients with WordPress?
Sell Photographs To Client Using WordPress
Let's start with the galleries. NextGEN Gallery allows you to manage your galleries and albums. Think of it as your portfolio. You can create password protected galleries using the built-in WordPress password protection features.
So step one would be to create a new gallery for your client.
Step two would be to create a password protected page with your client's new gallery.
You can then link up your client price list (NextGEN Pro allows for multiple pricelists instead of a set price for each photo)
Now your client can browse the photographs as thumbnails, a slideshow or however you want to display it. They can click to open the Ecommerce panel built-in to the Pro Lightbox, included in NextGEN Pro.
From there your client has the ability to choose from a variety of print products or digital downloads, which you specified in the pricelist.
Ordering the photos is my favorite part. One of the struggles we found with other Ecommerce systems was that photographers aren't super technical. So for the most part, photographers need something simpler to set up. That means not requiring SSL/HTTPS for payment pages. What does that mean? You know how when you browse an online store, like Amazon, that there is a little lock symbol somewhere in the browser? That basically means that the store is taking an extra measure to secure the website. SSL is a fantastic thing and can help improve conversion rate of sales. However, we did not want to require photographers to purchase and set up a SSL certificate. For the reason I mentioned above. But that does not mean you shouldn't. It just means that with NextGEN Pro you don't have to.
So how did we get around that?
Basically we use three forms of digital payment. The first is PayPal Standard which is the most basic form of PayPal payments. The second is PayPal Express which is similar to standard, but more reliable. Both of the PayPal options will take the client away from your website, over to PayPal and then back again once payment is completed. That means all the client information is set on the PayPal side. The third is Stripe which allows for direct credit card payments. The way this works is when a client chooses to pay by credit card and small modal window will appear asking for the client information, credit card, etc. We send the order total to Stripe and that modal window actually loads from Stripe's website. That means all the client data is typed and recorded on Stripe's SSL website.
Aside from security awareness, SSL acts as a form of conversion optimization because now clients will see that tiny lock symbol. In addition, Google now likes seeing websites that have a https in front of their domain rather than a http. So that means the website can rank better too. So although NextGEN Pro does not require a SSL certificate to sell photographs to clients, you can still do it if you want to.
NextGEN Pro also includes a check payment gateway which allows the photographer to gather the client information, wait for the check in the mail and then manually approve the order.
Overall the process of purchasing photography with WordPress is extremely simple thanks to NextGEN Pro already. The future holds even more awesome things for the plugin and we cannot wait to share it all with our customers.
But with that, please submit your feature requests to us at any time. Of course, if you have questions please do not hesitate to reach out.
Thank you.