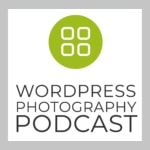 This is The WordPress Photography Podcast presented by Imagely. My name is Scott Wyden Kivowitz and I am your host and the Chief Community Officer here at Imagely.
This is the podcast for photographers looking to learn and do more with their WordPress photography websites. Conversations tailored to making WordPress more than just a tool and more of a part of your photography business.
With that said, this podcast goes way beyond WordPress. It is marketing, online marketing, photography websites. That is what we celebrate, teach and discuss in every episode.
Click subscribe or follow wherever you listen to podcasts.
Enjoy the show!