If you are here you might have decided to set up a powerful presentation tool -- slider -- on your website. We live in a fast-paced world where users (or customers) have limitless options to choose from, they don't have much time, as a result, developers often utilize their creative powers to capture users' attention by concocting fancy designs on their blogs or websites.
As the digital world gets bigger and more content creators turn digital, the websites owners (or content creators) begin to cook up shorter and engaging posts in order to grab users' attention in less time.
According to a study in early 2000, now humans have an attention span shorter, with the increase of digital media. One of the reasons could be the excess availability of content in the digital platforms. Today short videos are in trend, have you ever thought, why? From small companies to biggies such as Google, Facebook, etc. are plowing money into developing short entertaining content. On the whole, you need to have something that can compel users to stay on your website.
There are countless ways to make website users friendly and enticing, crafting a seductive slider in one of them. Sliders - they compel visitors to spend more time on a website if crafted carefully without overdoing it.
Sliders often play an important role in grabbing user's attention, increasing dwell time that affects SEO and UI both in a positive way. When it comes to designing a creative slider, WordPress developers always have an upper hand as it offers a plethora of plugins that help you in developing amazing sliders in less time.
In this article, we will go through a few plugins that are free and easy to use. Do you want to create a professional slider without investing much time and writing mind-draining codes, read on below.
Are sliders plugins useful?
Sliders are often used to describe some important information about your page you want to highlight in limited words with a mix of creative images and taglines or paragraphs. Also, many marketers use it when they don't have much content to put on the homepage, sliders come in the picture. Whether you want to use it to beautify your webpage or want some information to be "a focal point", setting up a beautiful slider can be a good idea.
Best free sliders plugin for WordPress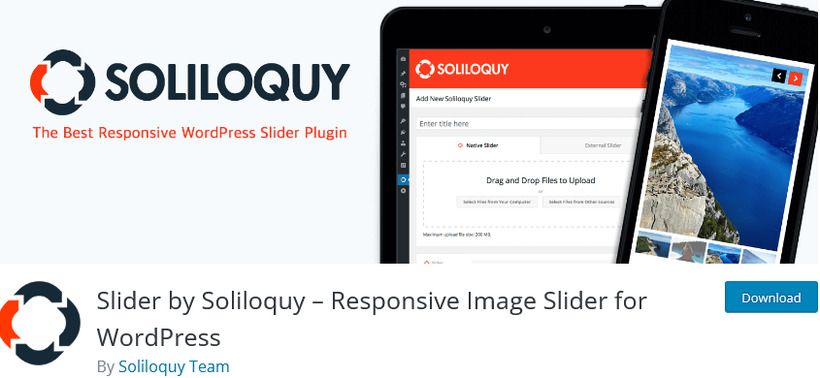 Active installations: 70,000+
WordPress Version: 4.6 or higher
Average rating: (4.6+ out of 5)
Pricing: Freemium
Slider by Soliloquy is a feature-packed, powerful, and beginner-friendly plugin that allows you to craft an amazing slider in a jiffy. It is highly praised by WordPress users when it comes to creating a visually appealing slider without affecting SEO negatively. 
One of the best features is that it doesn't have excess features and includes rich add-ons like a full-screen lightbox, product slider, etc.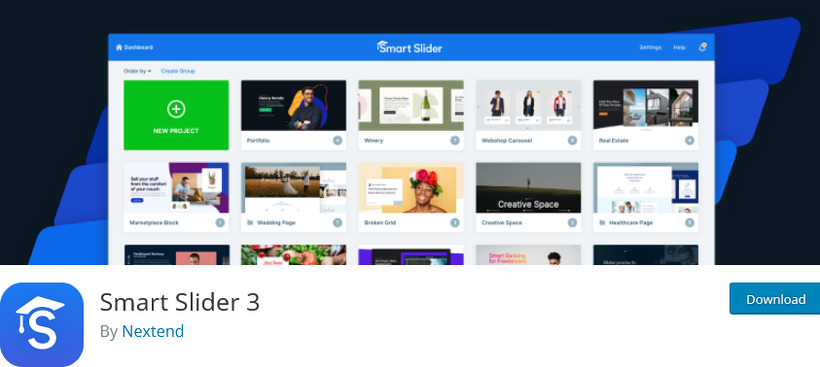 Active installations:800,000+
WordPress Version:4.9 or higher
Average rating: (4.5+ out of 5)
Pricing: Freemium
Smart Slider 3 is a newer version of Smart sliders which offers some amazing features. It claims to have some outstanding features with a live editor, and plenty of free templates and SEO optimization, and many more good features.
When it comes to choosing a slider for a WordPress website, Smart slider is a popular choice as it brings life to your content. With Smart slider, you can set up a catchy slider with no trouble and add striking animations that will hold users' attention.
Even a beginner can install a slider on a website with ease. Moreover, it doesn't include any excess features that make it easy to use for beginners.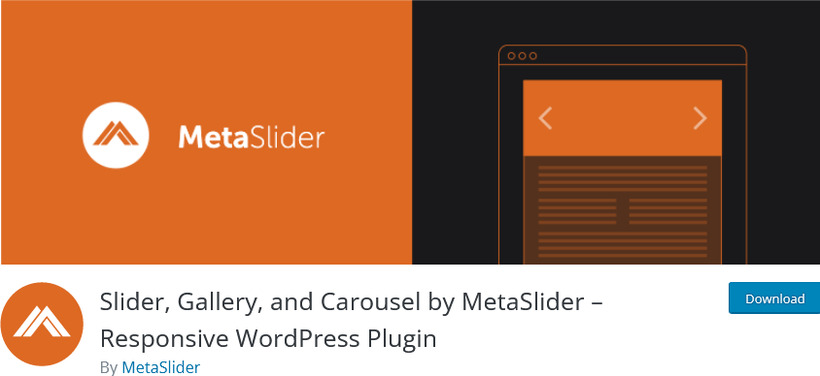 Active installations:700,000+
WordPress Version:5.2 or higher
Average rating: (4.5+ out of 5)
Pricing: Freemium
Meta Slider is one of the most popular plugins to add to the beauty of your website with slider. It lets you create a slider using photos and videos from your library along with the option to add slide captions and links.
It is a great plugin to create an image carousel-like shot. Setting up a slider with Meta Slider is very straightforward. All you need to select images and videos from your library to add and write captions.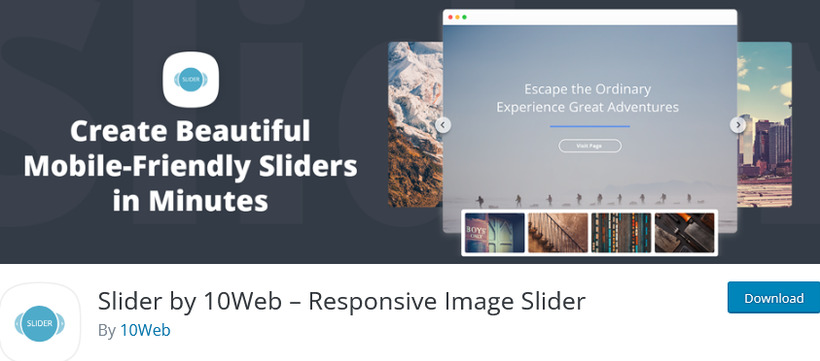 Active installations:40,000+
WordPress Version:3.4 or higher
Average rating: (4.5 out of 5)
Pricing: Freemium
10Web slider is another plugin that lets you create an SEO-friendly slider with a few steps and can be added to any page using shortcode and used as a widget such as on the homepage. You can use both images and videos which further can be mixed to design intuitive sliders made of images and videos to attract users.
It supports a number of transition effects and many amazing features can be unlocked after unlocking the premium version. This plugin comes up with a tutorial to help you create a slider if you are an absolute beginner.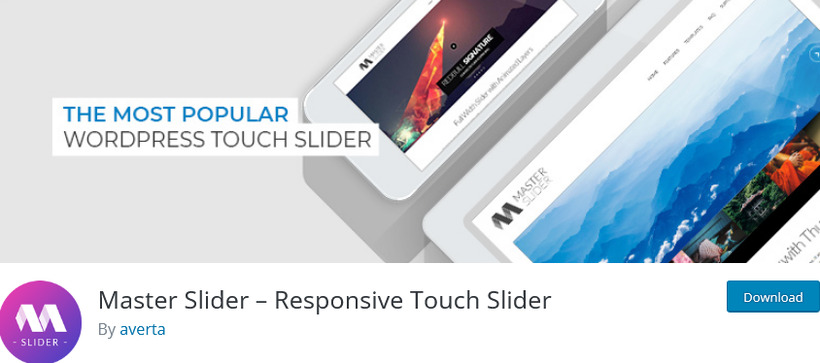 Active installations: 100,000+
WordPress Version:5.0 or higher
Average rating: (4.5+ out of 5)
Pricing: Freemium
Master slider is a beginner-friendly and SEO-optimized plugin that lets you create in a few minutes using videos and images in your library. It comes up with some amazing transition effects that give you a unique touch and impressive visual effects to the slider. This slider works on all browsers and features advanced import and export tools.
Creating a slider with Meta Slider is a piece of cake. Though the free version unlocked limited functions and translation, you can create a basic and striking slider in a matter of moments.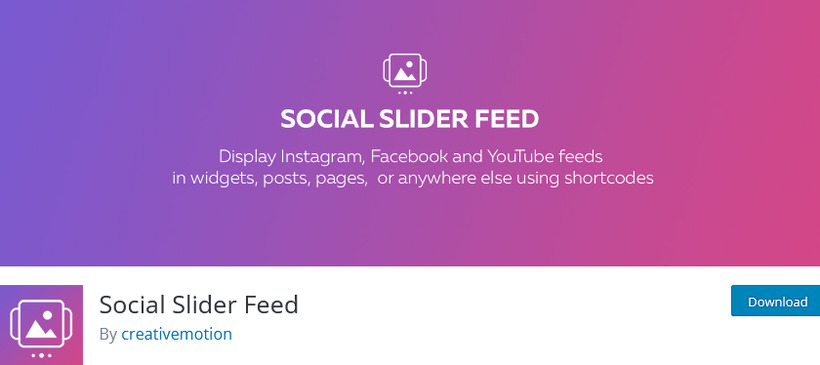 Active installations: 90,000+
WordPress Version:5.0 or higher
Average rating: (4+ out of 5)
Pricing: Freemium
It's a kind of unique plugin that lets you roll out Instagram, Facebook and other social media feeds in widgets, and anywhere on a website through a shortcode. By doing so, you can show your social media posts on a website in the form of a slider.
Final words
There are plenty of plugins you can find for your website that lets you create an impressive sliding transition. However, all of them are free; you need to pay in order to unlock some advanced features. The purpose of plugins is to let non-technical users design and create some websites widgets such as sliders in this article without knowledge of coding.
We hope you find this article helpful and informative. Who wouldn't like to make money from blogging? Sliders can be used as a monetization tool where you can put some promoted content as well.  Deciding on which plugin is best is hard to say as each plugin has its own unique features.

Create Beautiful Responsive Sliders in Minutes