How Can We Help?
Search for answers or browse our knowledge base.
Manage your galleries from your WordPress dashboard. Go to Gallery > Manage Galleries.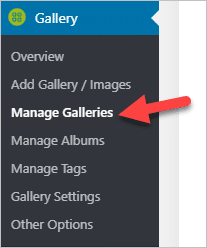 You will have access to the list of your galleries and some actions that you can apply to them.
Searching Images or galleries
Search images: You can search an image by name or title.
Search Galleries: You can search for a specific gallery by name.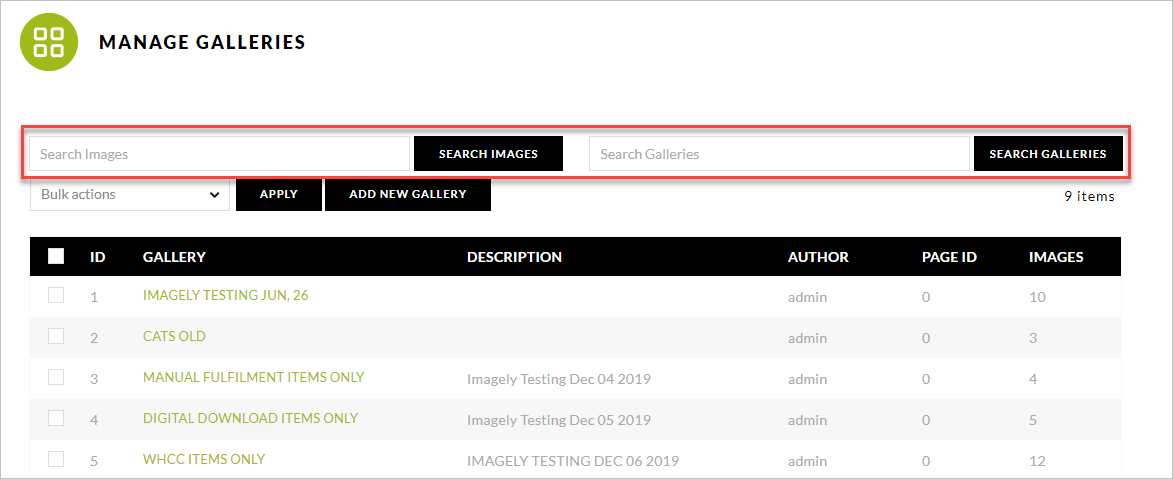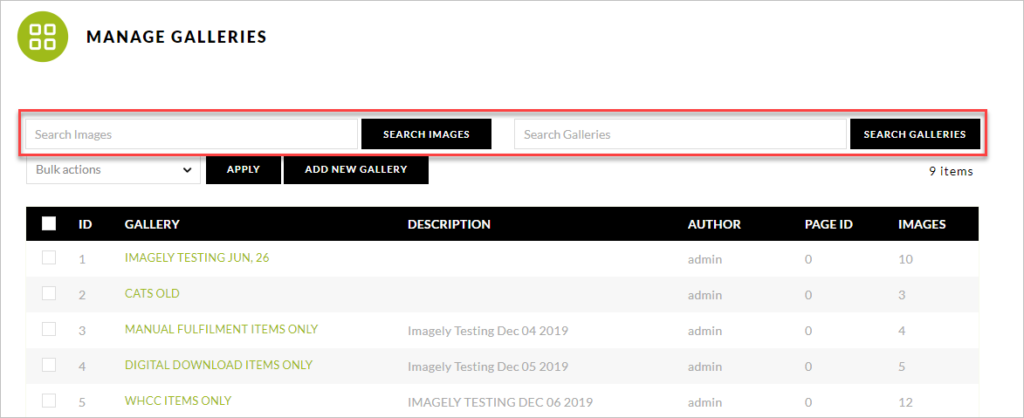 By default, it will display all galleries. The number of available galleries will be visible on the top right side. In this particular WordPress installation, we have nine galleries.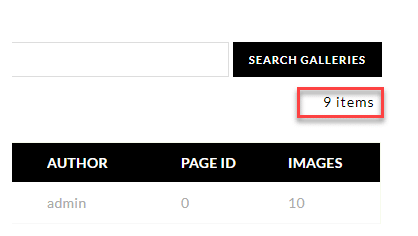 Bulk Actions
You can apply some actions to your galleries in bulk. Here are the available options: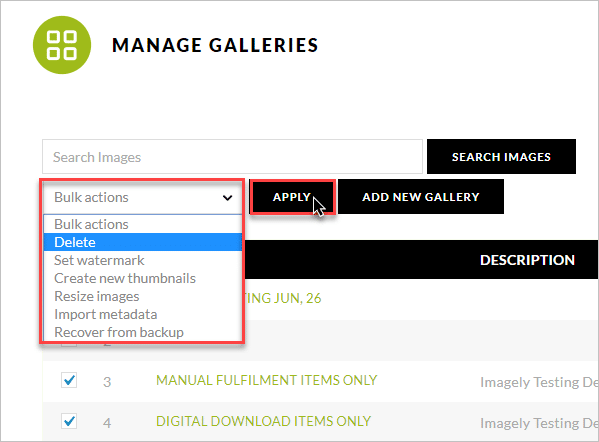 Add new Gallery Button
Use this button to add a new gallery; you do not need to add the photos immediately. You can add them later using the menu option Gallery > "Add Gallery / Images".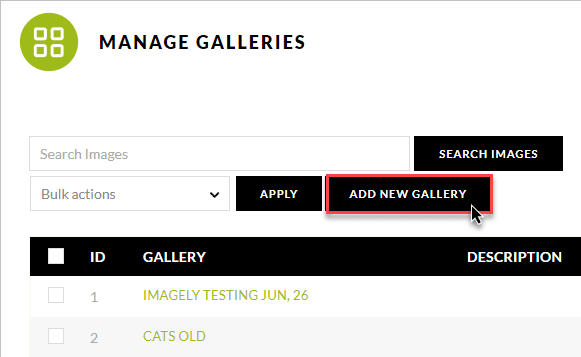 Galleries
The galleries will be listed and organized by Gallery ID.
Selection checkbox: You can choose one or all the galleries, and apply a bulk action.
ID: This is Id provided by the plugin (incremental value). You can use that id to include the gallery you want to display in a shortcode.
Gallery: Gallery name. If you click on that link, it will display the gallery content (list of images).
Description: Gallery description.
Author: The user that created the gallery.
Page ID: You can link galleries to existing pages inside WordPress, that column will display the unique page ID.
Images: The number of images or pictures inside that gallery.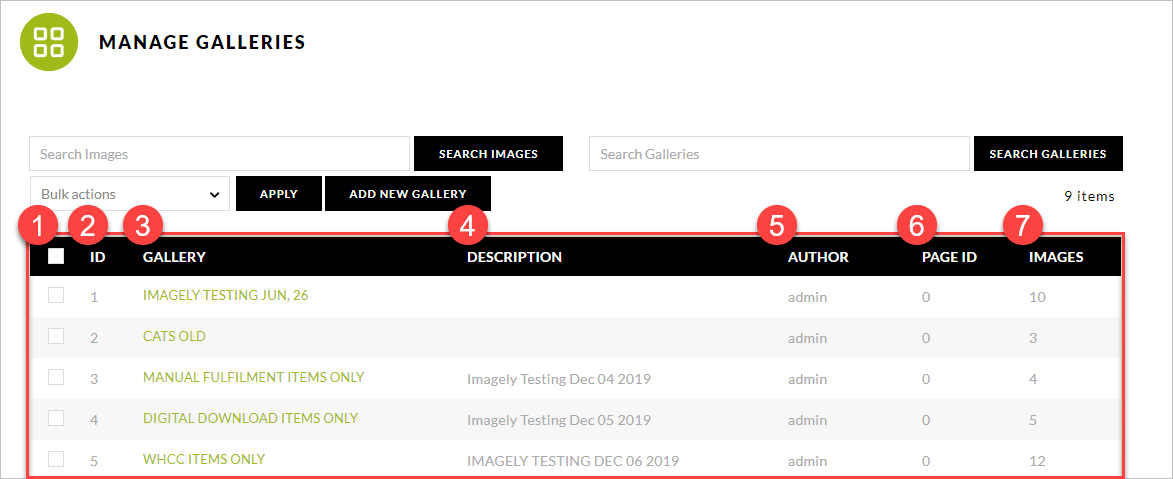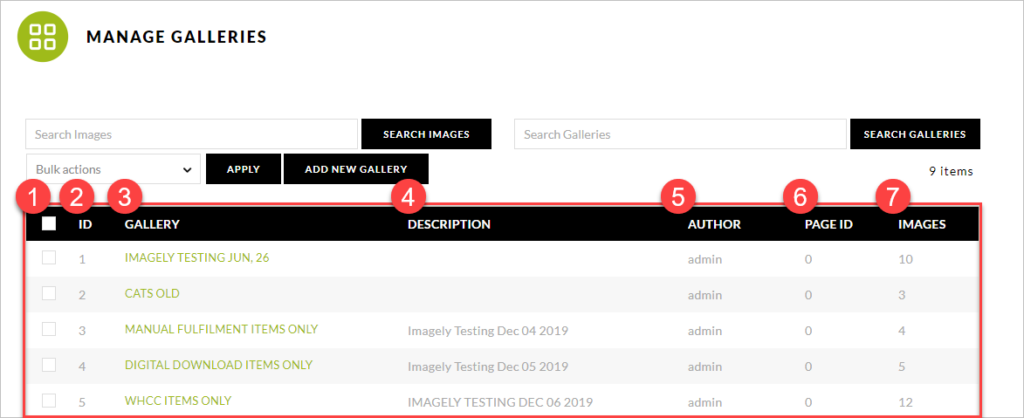 If you have more questions about creating an album or a gallery, please read this article: Albums vs Galleries
Gallery Details
Once you open one of the galleries, you will be able to see the label "Gallery Settings". Click on that accordion to display the available settings for your gallery.
Title: You can adjust the title of your gallery.
Description: Add a description of your gallery.
Gallery path: We do not recommend editing this path, but it will show the exact location of your gallery inside the /wp-conent/ folder.
Link to page: As described before, you are free to link your gallery to an existing page inside your site.
Preview image: This is the thumbnail that will be displayed as a representation of that gallery. You can select one of the images inside your gallery.
Create a new page: If the Gallery is not linked to a page, you can create a new page with the "Add page" button that will automatically create a page with the same name of the gallery using our default gallery display view.
Pricelist: If you are using NextGEN Gallery Pro, you can sell your photos online and add a price list to that gallery.
Scan for new images: It will import all the images available in the "Gallery path". It's used whenever you want to upload your photos using FTP to a particular folder.
Save changes: Save the changes made to your gallery settings.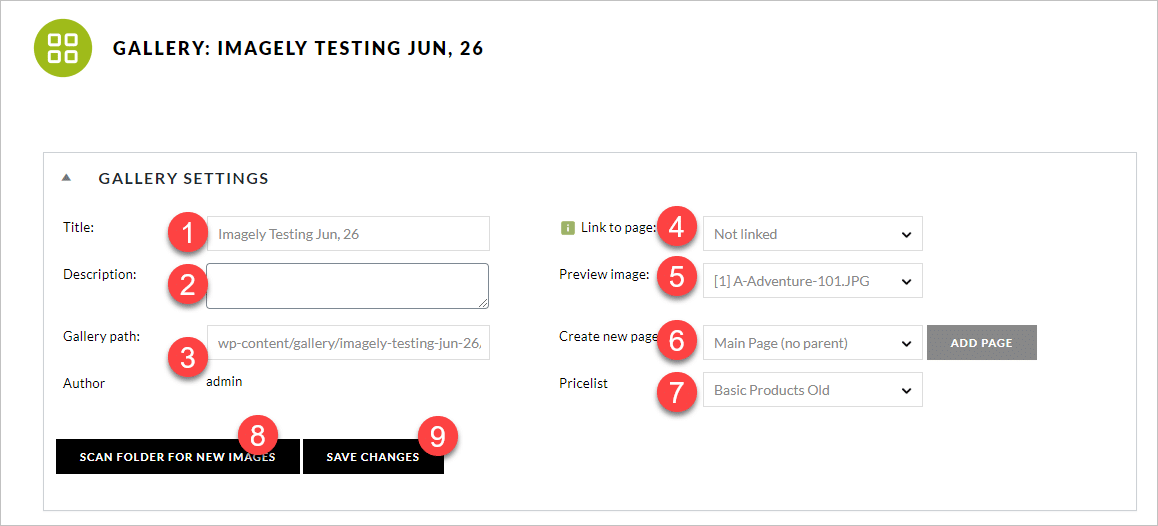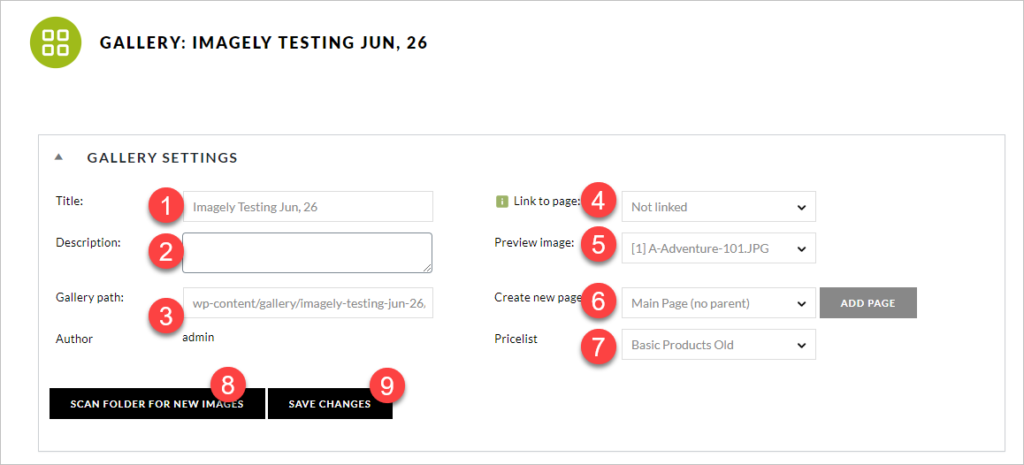 Images
A gallery is a group of images; here all the images part of the gallery will be displayed. There are some extra actions that you can apply individually or in bulk.
Bulk actions: You can apply the bulk actions to all or individual images.
Sort Gallery Button: You can set up a default sort order for each gallery.
Save Changes: Save any revision made to your images title, description, tags or pricelist.
Images pagination: This gallery is displaying 10 items or images, but you can use the pagination to display 25, 50, 75, 100 or 200 images per page in your Manage Gallery view.
Image details.

Checkbox: Allows you to select more than one image to apply a bulk action.
Thumbnail: The default thumbnail preview for your image.
Filename: It will show the filename, date, file size and an option to exclude the photo. Underneath you will see other links: View, Meta, Edit Thumb, Rotate, Recover, Delete.
Alt & Title Text / Description: Adjust the title and description of your photo.
Tags: Imported keywords of your photo; you can adjust or change them.
Ecommerce: the pricelist you want to use for this image; you can set up to use the gallery's price list or any other existing price list defined in your NextGEN Pro Ecommerce settings (not available in our free NextGEN Gallery version).