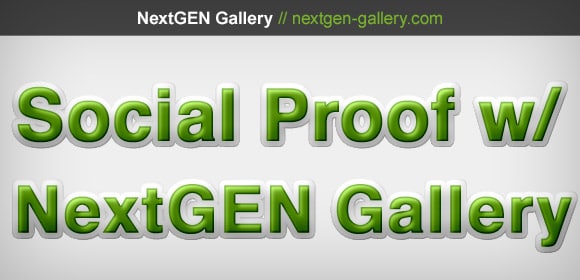 NextGEN Gallery has so many uses, which is also one of the many reasons the plugin is at the top of the most popular list.
Have you considered using NextGEN Gallery for social proof on your website?  Social proof can also be called testimonials or accolades.
On the Photocrati website, we recently published a free eBook for photographers.  On the landing page, we wanted to share quotes from photographers who can downloaded and read the eBook.  Instead of installing another plugin, we decided to utilize our own plugin, NextGEN Gallery.
So here is what we did:
Created a Photoshop template: left side text quote from the customer and the right side a photo of the customer.
Save multiple images: one for each quote
Create a NextGEN gallery specific to the eBook
Use the NextGEN slideshow shortcode to embed the quotes: we used [ slideshow id=1 w=388 h=154 ]
So there you have it.  A simple way to use NextGEN Gallery different than you might have originally though to use the plugin.
To see the social proof in action, visit 10 Tips To Supercharge Your Photography Website.
Thanks for reading,
Scott