Have you wondered how to set up a photo gallery to share images with your clients? Whether you need to get feedback on which photos they want to be selected or just need a quick way to conduct image sales with a group, a proofing gallery with Ecommerce support can be a great tool. This guide will cover the following items:
What is a proofing gallery?
Why do I need a proofing gallery?
How do I create one?
How to refine proofing galleries
Setting up a photo gallery for online proofing is an essential part of any professional photographer's workflow. Proofing gives you an easy way to share photos with your clients and get immediate feedback. For it to be truly effective, however, it has to be easy to set up and use, for both you and your clients. In this guide, we'll breakdown how to set up a photo gallery for online proofing with WordPress when using NextGEN Pro, a WordPress plugin that combines dozens of extensions essential for professional photographer's websites.
What is an Online Proofing Gallery?
As a photographer, you might already have a portfolio site, showcasing the best photos from your career. These sites are a great way of pitching your artistic vision to a client, allowing you to pick and choose your best works to put on display. Once you've shot an event or a session for a client however, you're faced with a challenge. You don't want to replace all of your diverse photos from this one shoot, but you still need a way to share the images with your client. While you can always email them a bunch of pictures or try to get them to figure out cloud storage, these solutions are awkward, and present a point of friction for generating sales.
A proofing gallery resolves all of these issues. A proofing gallery can be set up right on your website, where your clients are already comfortable browsing, but can still be kept somewhat separate from your full portfolio. For even more privacy, you can use WordPress's password protection feature, giving peace of mind to your clients. If you want, this gallery can just be temporary, making it easy to keep your website looking clean and professional, while still providing easy access to your clients.
Within the proofing gallery, your clients can easily select the photos they like and leave comments. Once they've made their selections, they just need to click the Submit Proofs button, and you're automatically emailed a list of the photos they've selected. This list is conveniently formatted into comma separated values, making it easy to search and find the relevant photos in your photo library software, like Lightroom.
To see what a proofing gallery will look like to your clients, check out our proofing gallery demo. Here you'll see an easy to use a gallery that puts the spotlight on your photos, while also making it easy for your clients to work with. Everything in this gallery will work just like it would on a live version of your site.

Why Do I Need an Online Proofing Gallery?
With NextGEN Pro, setting up a proofing gallery is very easy, and provides both you and your clients with several benefits. For the photographer, you get the benefits of keeping your client on your website, as well as streamlining communication, which makes for better customer experience. For the client, they don't have to worry about working a complex system of folders, filenames, and cloud storage options - they can instead just click on the photos they like and can submit that list with 1 click.
Another great aspect of the NextGEN Pro proofing gallery is that your workflow isn't just limited to the traditional back and forth of proofing. Instead, since the Ecommerce tools are built right in, you can start generating sales with that very first gallery. For example, consider creating a first-pass proofing gallery of the essential photos of a wedding, including the big family photos, and distributing that link to all the family members. They can purchase small prints right from that gallery!
How Do I Create One?
Creating a proofing gallery is easy. To get started, make sure you've exported your files without renaming them, as the comma-separated list you get back can let you easily search your file library, but won't work if you didn't rename the original files too. Once you've got your files ready to upload, use the Insert Gallery Window, and make sure to turn on the Enable Proofing option. You'll also want to turn on Display Triggers so that the proofing star is visible.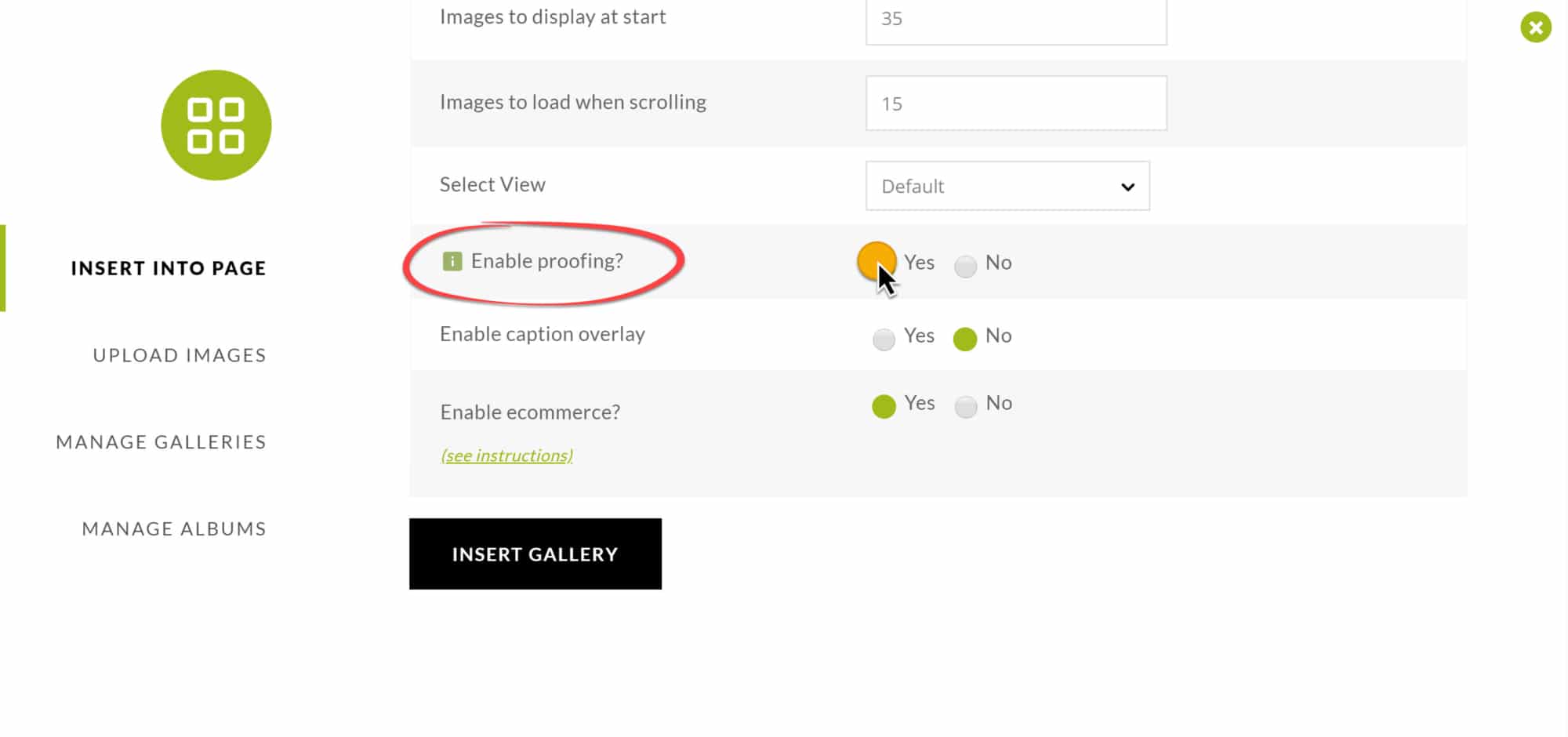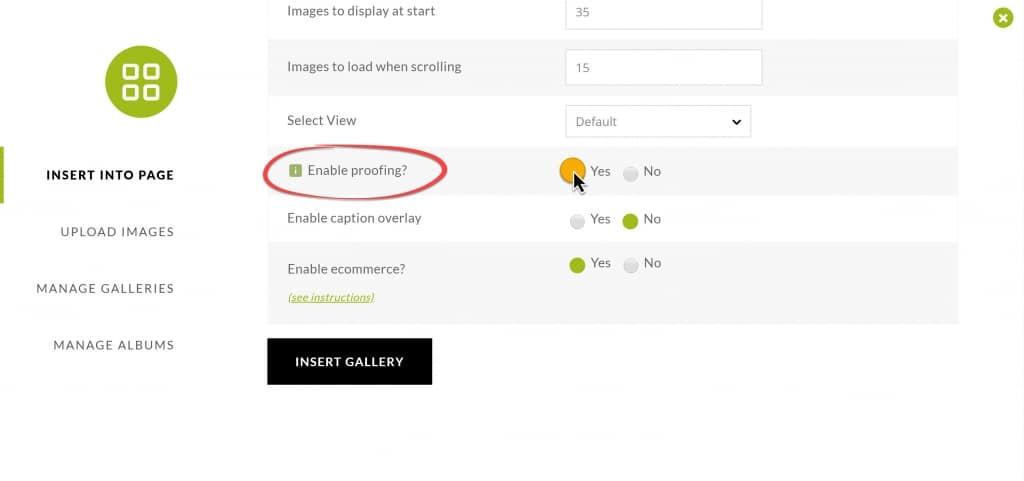 Once you've uploaded the photos, you can just send the gallery link to your client with simple instructions to click the star on images they like. The star can be visible from display triggers, on hover over, or in the Pro Lightbox. Once they've made their selections, they just have to hit the Submit Proofs button, enter their name and email, then submit.
Once you've received that email, you'll easily be able to search your photo library by consulting the comma separated list. These are the shots your client has selected, and you can now easily find them to further edit or print. Having a single email with the client's selected list of shots, as well as the client's contact info also makes it easy to share a single gallery with multiple clients, all while keeping things organized. No more jumping between multiple emails and lists!
Refining Online Proofing Galleries
If you've already customized your website to match your brand, there may be one more tweak you want to make. By default, the star icon is yellow, but fortunately, you can easily change this color to better match your brand identity. To change the color of the star, there are two simple tweaks to make.
To change the color within the Pro Lightbox, you just need to go into NextGEN Pro's Ecommerce Options. Within, you'll find a menu item labeled Pro Lightbox Icon Color. From here, you can easily select a different color, but this will only tweak the color within the Pro Lightbox itself.
To change the color of the star on the page itself, you'll want to make a change to your site's CSS. Fortunately, NextGEN Gallery includes a custom CSS feature, making your changes all update safe.
To change the setting within CSS, just copy the CSS code from the box below and paste it into the custom CSS box found under Other Options. You'll want to replace the color hex numbers, those start with color:#, with the hex numbers that correspond to your preferred colors. After this, just clear your cache and check out your changes.
As previously mentioned, you can easily set up a password to protect your gallery. If you're using Yoast's WordPress SEO plugin, consider adding the noindex/Nofollow flags, which can help prevent the page from showing up in search engine's indexes.
Hopefully, you've enjoyed this guide on setting up a proofing gallery. Consider adding proofing galleries to your workflow - your clients will love the easy interactivity and quick turnaround you can offer by using NextGEN Pro's proofing gallery. For more tutorials and guides on optimizing your WordPress site, make sure to follow us on Twitter and Facebook for more updates!