In NextGEN Pro 2.0 we added proofing to the Ecommerce system. Your customers would navigate thumbnails and click on the star display trigger in order to select an image to send to you.
The star selection can also be made within the Pro Lightbox.
We added a little color customization for the star. However, the color selection is to be made for the Pro Lightbox only, as that is really what you have the ability to customize for your brand's color scheme.
Within the proofing settings found in NextGEN Pro's Ecommerce Options you will find the Pro Lightbox Star color selection box.
Changing the default yellow color will only change the color within the Pro Lightbox.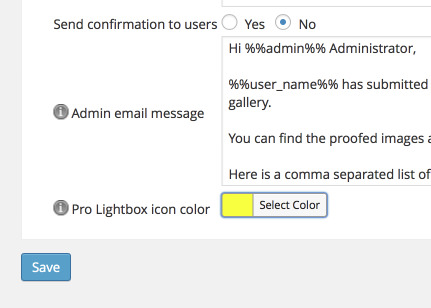 However, you have the ability to change the color of the stars on-page (not in the Pro Lightbox). This has to be done via custom CSS. Fortunately, we include a custom CSS feature in NextGEN Gallery, which will not be overwritten when you update. Yup, it's update safe!
Copy the custom CSS from the box below and paste it in the custom CSS box found in Other Options. Change the color hex numbers to the colors you prefer and then save. Clear any cache you may have on your site, including NextGEN Image Cache.
See the NextGEN Pro Proofing demo live.
Visit the help section to learn more about how to use the Proofing feature.