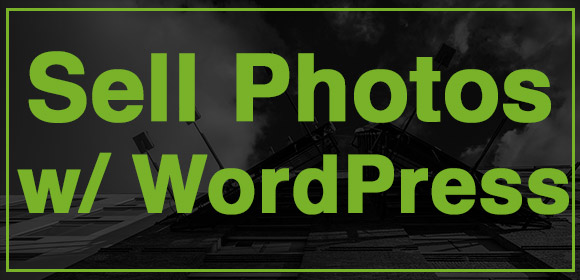 How do you sell photos with WordPress? If you ask me, there hasn't been a fantastic solution to that question until now.
I sell photos with WordPress and NextGEN Gallery - or more specifically NextGEN Pro, the new premium add-on.
Sell Photos With WordPress
When the team here at Photocrati was looking at all the WordPress ecommerce plugins available, none was really ideal for selling photos on a self-hosted WordPress website.
For the most part, each ecommerce plugin was developed for individual products. That's perfectly fine for the typical ecommerce store. However, for selling photos, that's not the ideal situation.
So we sat down and thought out the entire process for which photographers, graphic designers or any other creative would sell their images.
We started with pricelists which makes it easy to batch apply prices to photos. We then made it available for the plugin user to exclude individual photos from being sold in addition individual photos to use a different pricelist than the rest of the gallery.
NextGEN Pro Ecommerce allows you to sell photos with WordPress, without the extra features available in full ecommerce suites, and not specific to images.
It allows you to sell self-fulfilled photo prints in addition to automated digital downloads.  You can add custom licenses, specify your download sizes and so much more.
When developing the plugin, we wanted to make sure that out of the box each user had payment options that handled the most popular and easiest solutions.  So we added PayPal standard which requires a PayPal account's email address only.  We added PayPal Express which requires a user's API credentials (freely available from PayPal) and also Stripe integration so users can accept credit card payments.  We also used Stripe's modal payment feature so every NextGEN Pro user is not required to use SSL (although recommended still).
Sell Images With WordPress
Unlike other ecommerce plugins available, NextGEN Pro makes each of the features readily available for all current subscribers.  For example, instead of making the Stripe payment gateway extra, we included it for everyone.  Future gateways we develop will also be included, once they're ready, for all subscribers.
Unlimited pricelists and products can be created, and there is an order management section which is currently fairly basic but has reporting on the roadmap.
Selling Photos With WordPress
With all of this already available and so much more planned, like right-click protection, additional watermark features, front end searching, reporting and proofing (to name a few), the annual price is appealing and affordable for anyone who needs to sell photos with WordPress.
The annual payment comes with premium support, updates and future features which will require a subscription.
I sell photos with WordPress using NextGEN Pro and I hope you will check it out.  Here is the ecommerce demo.
Thanks for reading,
Scott