It is 2020 and Instagram just celebrated its tenth birthday on 6th October, marking the popularity that it has gained over all these years as a visual platform. These 10 big years also mark the existence of a creative outlet and a professional avenue for photographers from around the globe. This visual platform is no longer just a tool for sharing photos and videos but it also has become a medium for finding inspiration, establishing collaborations, and reaching out to prospective clients.
Being one of the best social networks for photographers, Instagram is a great place for professional and amateur photographers to show their work off to the world. Based on your ranking in the world of photography, you can either just be starting out or could be currently taking photos for a living; doing Instagram the right way is going to be your key to success with visual social media.
How to Use Instagram as a Professional Photographer
Instagram means business. So, here is a brief guide for photography enthusiasts and professionals to help them promote their photography on Instagram like a social media pro.
Beginning with the 'Bio'
Think of yourself as a member of the regular audience to an Instagram account that caters to the 'home decor' niche. There are obviously millions of accounts that deal in the same. So, what is it (apart from the core offering) that draws your immediate attention?
In our opinion, a rational Instagram user likes to scan through the Instagram Bio in order to dig deeper into the nature of the page. Instagram Bio is the first thing that people see when arriving at your account. Appropriately, it should carry a catchy yet relevant username, your personal and professional info, the email address you intend to use for potential clients, and your location. If you have a website, adding the URL is also highly recommended.
Remember that your Bio is not a plain introduction; it needs to be impressive and eye-catching. As a photographer, your passion for art should speak volumes and this is where your Instagram 'Bio' serves its purpose.
Quality over quantity
There are so many art pages on Instagram that you probably follow; at least a dozen of them already. And how many of them really make an impression or earn your likes and comments? A couple of them, right? This applies to your photography page as well. While your photography IG page is your valued property and you are the artist behind it, every post should be carefully composed before it is let out for the world to see. Make sure that you are putting in the same amount of effort as you do when you upload files on the website.
Hence, make sure that your Instagram photography page is the one where you upload great quality content that really leaves a mark. Making umpteen number of posts throughout the day isn't going to help. Quality content is the way to excel at your IG game.
Posting schedule
There is no denying the fact that Instagram is a high-on-exposure platform. But there's a catch - the very harsh competition. And when it is about photography pages, artists have a hard time. So, in order to put the spotlight on your Instagram photography account, you need to arrive on a posting scheduled that works for your audience. When you use Instagram for business, a posting schedule is a compulsion.
Posting at regular intervals is the most important prerequisite. Based on your audience type, their demographics, their time zone, you can choose the best time to post for organic growth.
Experimenting with various editing techniques
If you are an avid Instagram user, you probably are aware of the visual amplification offered by the platform. With its filter and image editing options, it does provide great tools to enhance your photos. However, not all of them are suitable for photographic composition. While these editing options provide a great new look to your pictures, all of them have a certain individual touch that is composition-specific. So, make sure that you choose them appropriately.
Hashtags are your best friends
One of the most crucial factors for Instagram pages to succeed is the use of the right hashtags. For pages looking to draw a higher level of engagement, utilizing hashtags on their posts, videos, and stories is a compulsion. The bucket of right hashtags (certain related words) makes sure that the related post comes up for people who are looking for Instagram content based on similar images.
While only 30 tags can be used on a page, when it comes to a photography page, one can extend their reach further by using the comment section to add these hashtags. It is good to start with 11 hashtags. It is highly recommended to use hashtags that are already beings searched for, instead of making up new ones. This, however, does not apply to branded hashtags.
Here are a few popular hashtags for photography pages:
#PicOfTheDay
#PhotographyEveryday
#Photogram
#JustGoShoot
#InstaPhoto
#WorldBestGram
#PhotographySouls
#PhotoOfTheDay
#Hubs_United
#ExclusiveShots
#Capture
#PhotographyIsLife
#Camera
#iPhoneography
#MasterShots
#Main_Vision
#PhotographDaily
#Composition
#Instadaily
#Photoshop
#HDR
#HDRspotters
#IGworldclub
#Aesthetics
#IG_Exquisite
#IG_Shotz
#superhubs
#global_hotshotz
#Visuals
#PhotographyAddict
#exposure
#Moment
#Snapshot
#Pixel_IG
#ThroughTheLens
#Instafocus
#PhotographyLovers
#PhotographyLife
#PhotoOfTheDay
BTS is your window to engagement
Ever came across one of those viral behind-the-scene videos/images from some popular photography pages on Instagram? They are really fun for viewers to watch and fetch a very high percentage of engagement from the audience. Take a look at this viral image: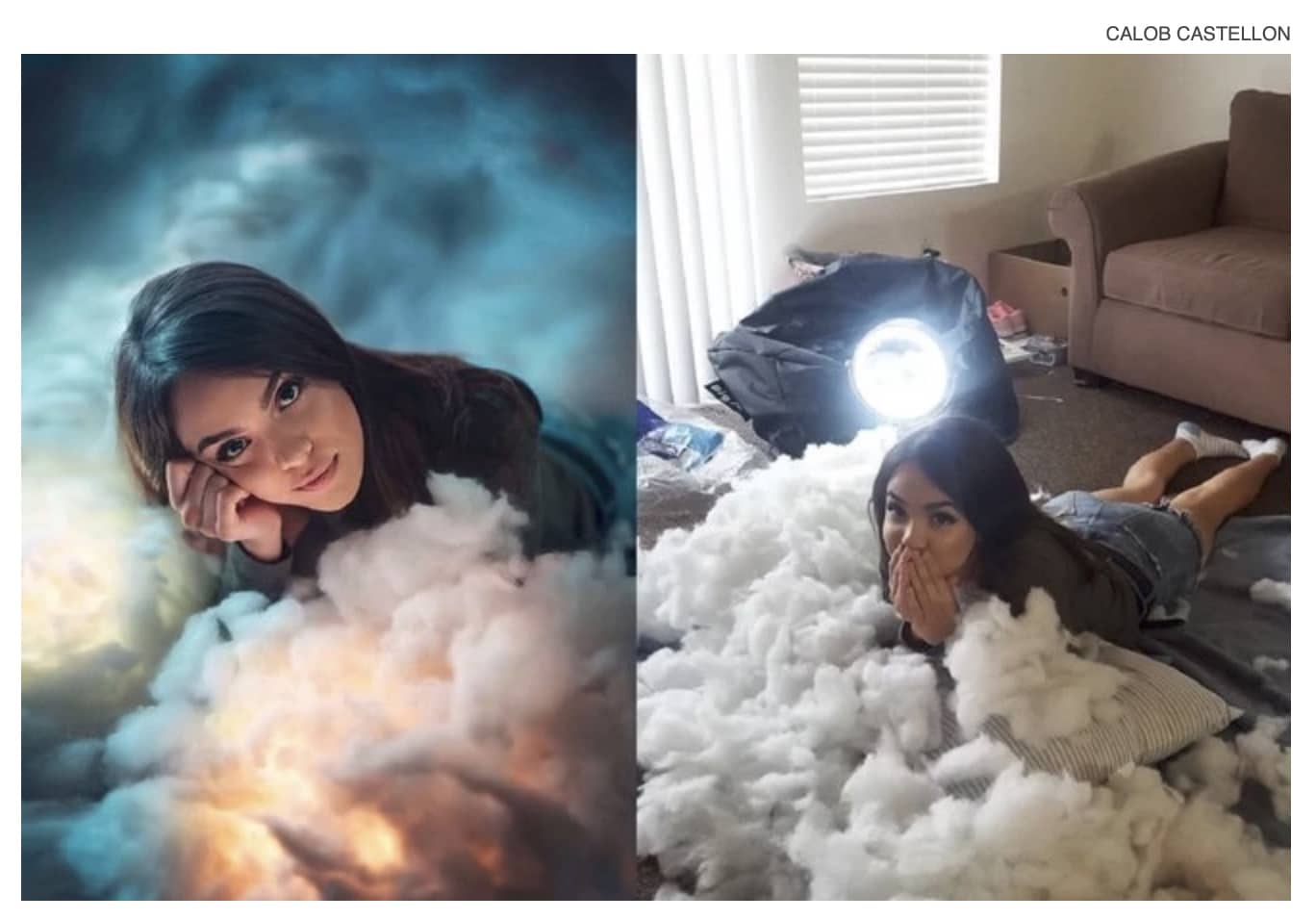 When an artist of a photography page chooses to disclose the real magic behind their amazing pictures, people of Instagram really appreciate it. You can also choose to include the behind-the-scenes snaps to show the effort that goes into your photos, making your page worthy of a check-out.
Engage with your page audience
Instagram is not just a platform to keep talking about your content. It is a social platform - requiring you to talk to your followers, for your followers to talk to you, and for you to engage with other users and brands. The world of Instagram competition is really tough. And for the audience that chooses to come to your page, follow it, like, and comment on the posts - deserve your time and attention.
Make sure that you are engaging with the audience on your page, replying to their comments and DMs, and recognizing their appreciation for your content. This not only boosts further engagement on your photography account but also makes your followers more loyal and helps you understand their expectations and feedback better.
Utilize every ounce of your Instagram
Your Instagram in 2020 is about Posts, Stories, IGTV, Reels, and filters. With such major avenues offering a display of the peculiar content type, photographer shave so much to showcase and ins o many ways.
While your feed can have posts of your exemplary work, you can use the stories to display your work as it happens. IGTV can be used to post tutorials or cover a major day at work to share with your audience. As mentioned above, behind-the-scene photos/videos can be compiled into Reels for the amusement of your audience. Collaborating with other photography pages is also quite an avenue for you to explore and
If you are a photographer and you're not already on Instagram, now is the time to be. With our photographer's guide to using Instagram, we hope you will soon brace the platform with enhanced improvements to the way you run your IG.
Got any other great tips for budding photographers to help them get the most out of their Instagram? Share them by dropping a comment. 🙂