Link to Google Images Folder
Creating a WordPress photography site is an effective way to promote your business and showcase your work. However, it's important to remember that web design plays a pivotal role in how visitors perceive your brand.
There's a strategic approach you can take to designing your website to increase engagement and improve the User Experience (UX). By following best practices, you may have more success establishing credibility and attracting new clients.
In this post, we'll explain why photography site web design is important and provide five tips you can use to improve yours. Let's get started!
Why Photography Site Web Design Matters
Your website is an extension of your business. As such, its design elements can impact visitors' perceptions of your brand and photography skills.
For example, you can showcase your credibility by using professional and consistent branding. Similarly, making your contact information readily available demonstrates a willingness to connect with clients. Even features such as clear navigation can influence visitors' opinions.
On the other hand, lacking in any of these areas could project disorganization and an unprofessional approach to client relationships. Plus, poor web design could reflect badly on your skills as a visual artist, driving away potential leads.
5 Web Design Tips for Your New Photography Site
Whether you're creating a new photography site or revamping your current one, it helps to have some web design pointers on your side. Let's take a look at five you can use.
1. Choose a Premium Photography Theme and Gallery Plugin
Your theme is the foundation of your site's design. While you don't need to spend a fortune, shelling out a little extra for some premium features can go a long way.
One feature that's worth its weight in gold is a premium photography theme. Designed specifically for sites like yours, it can bring more to the table than most free, generic options.
At Imagely, we offer an assortment of premium photography themes: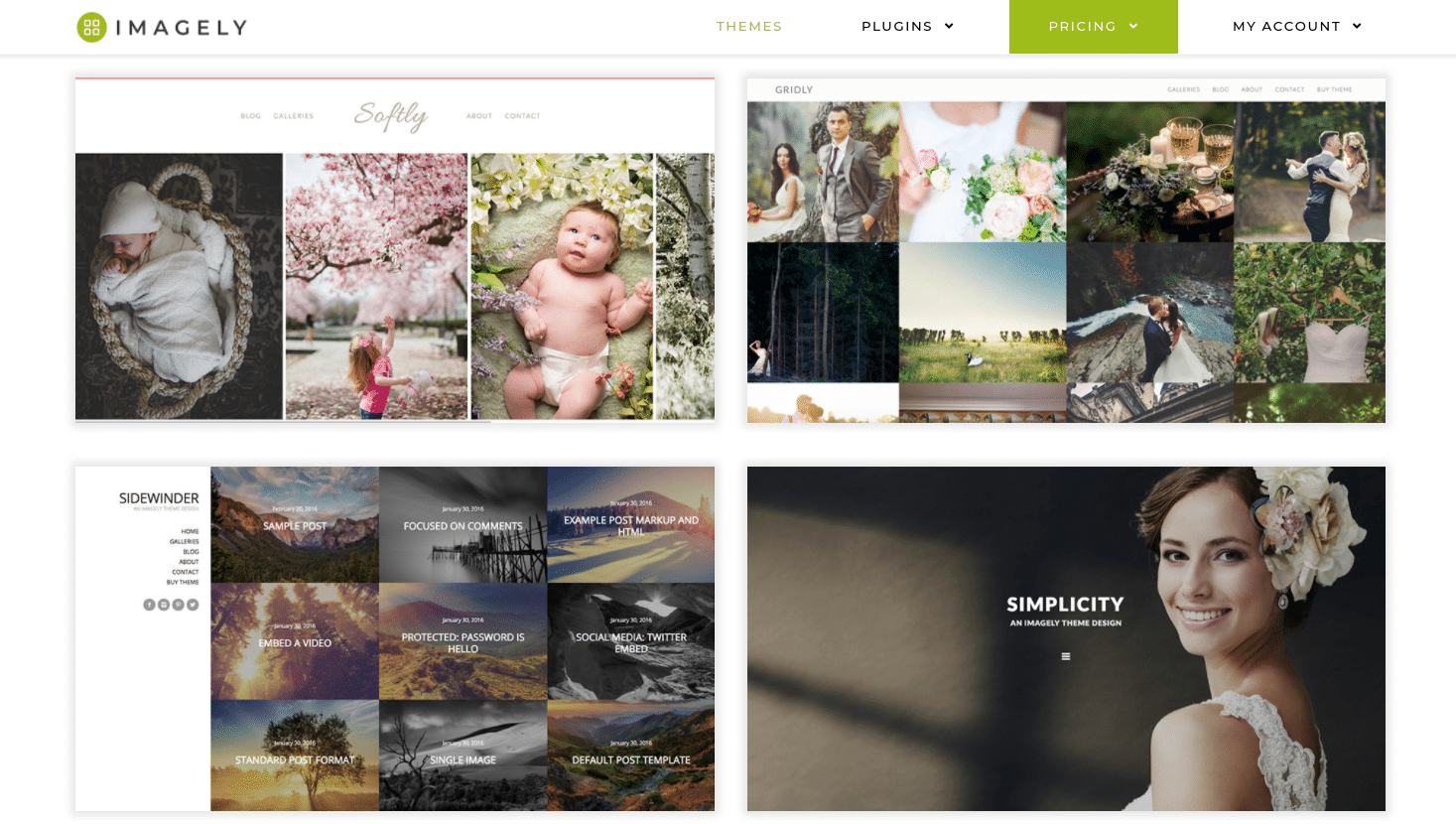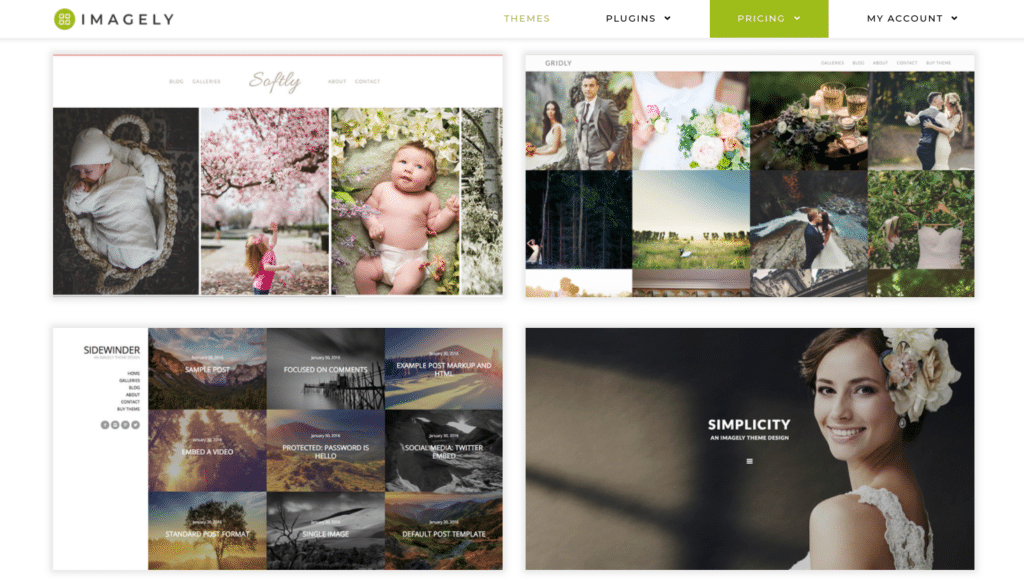 You can choose one that meets the specific needs of your site. A photography theme can help enhance your website's design by making sure your content is prominently displayed and appropriately organized.
The same applies to your image galleries. We recommend using our NextGEN Gallery plugin. It provides a collection of display options and feature-rich layouts to choose from:

Whether you want to save space with image sliders or display the full range of your photography abilities with masonry tiles, our plugin has you covered.
2. Keep the Most Important Elements 'Above the Fold'
In the web design world, a popular rule of thumb is to keep the most important elements on a page 'above the fold'. This means the area of the site that's visible without scrolling: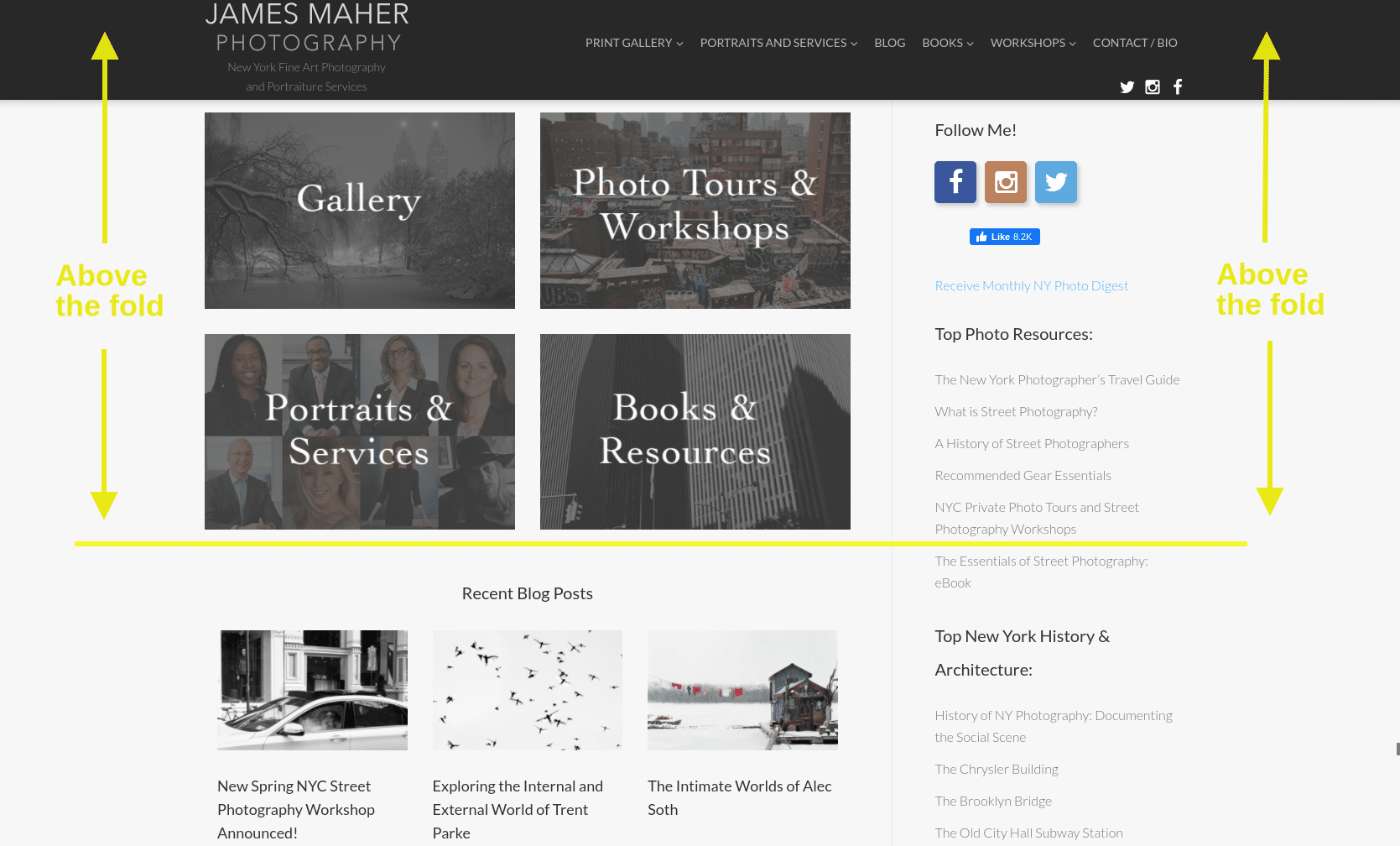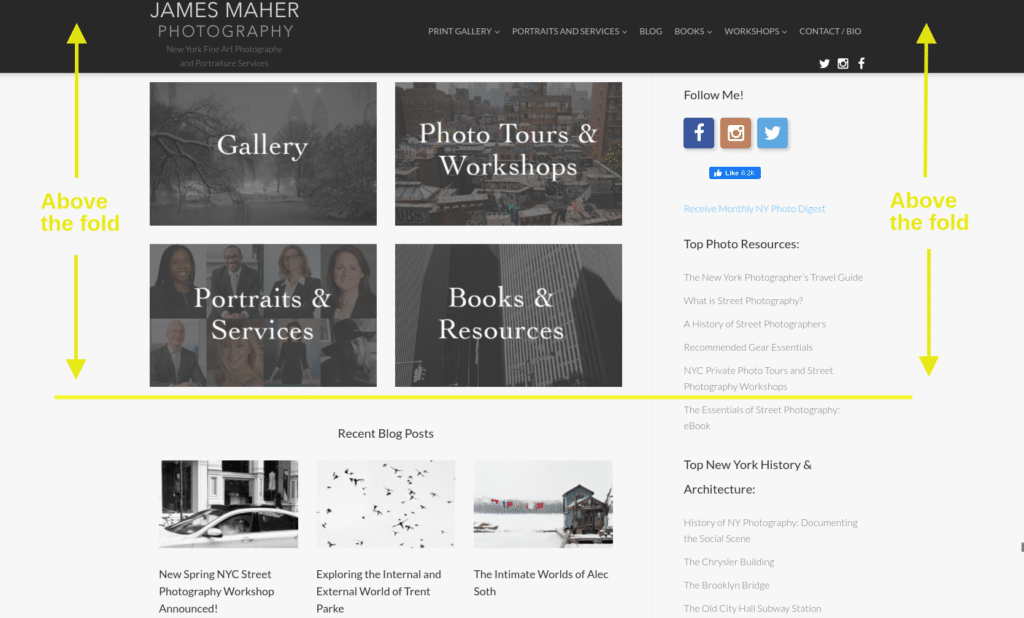 Research shows people spend about 80 percent of their time above the fold. Of course, this isn't always the case and factors such as screen size come into play. However, even if it isn't an exact science, the fundamental idea behind it makes sense.
Some features you might consider including above the fold are:
Contact information
Portfolio and gallery links
A brief description of your services
The goal is to have the information visitors are most likely to need readily available. Otherwise, they might leave without finding what they came for.
3. Make Your Calls to Action (CTAs) Stand Out
A CTA is meant to inspire action from a visitor. This could include a Buy Now! button, a link to your contact form, and a variety of other similar elements.
CTAs drive conversions, so it's essential they stand out from other site content. Some people place them in the top-right corner due to eye-tracking patterns. However, there are also arguments for putting them in the middle and at the bottom of your pages.
We recommend playing it safe by adding a floating sidebar or pop-up so your CTA is always accessible. To do this, you can use a plugin such as Popups by OptinMonster:

This is a free WordPress plugin that lets you easily create and add pop-up CTAs to your photography website. After you download and install it, you can customize the style, positioning, and functionality of your pop-ups without any coding.
4. Create a Clear, Organized Menu for Easy Navigation
Your menu is how visitors navigate your site, so it should be simple and straightforward. You can achieve this by creating custom menus and keeping your navigation bar lean: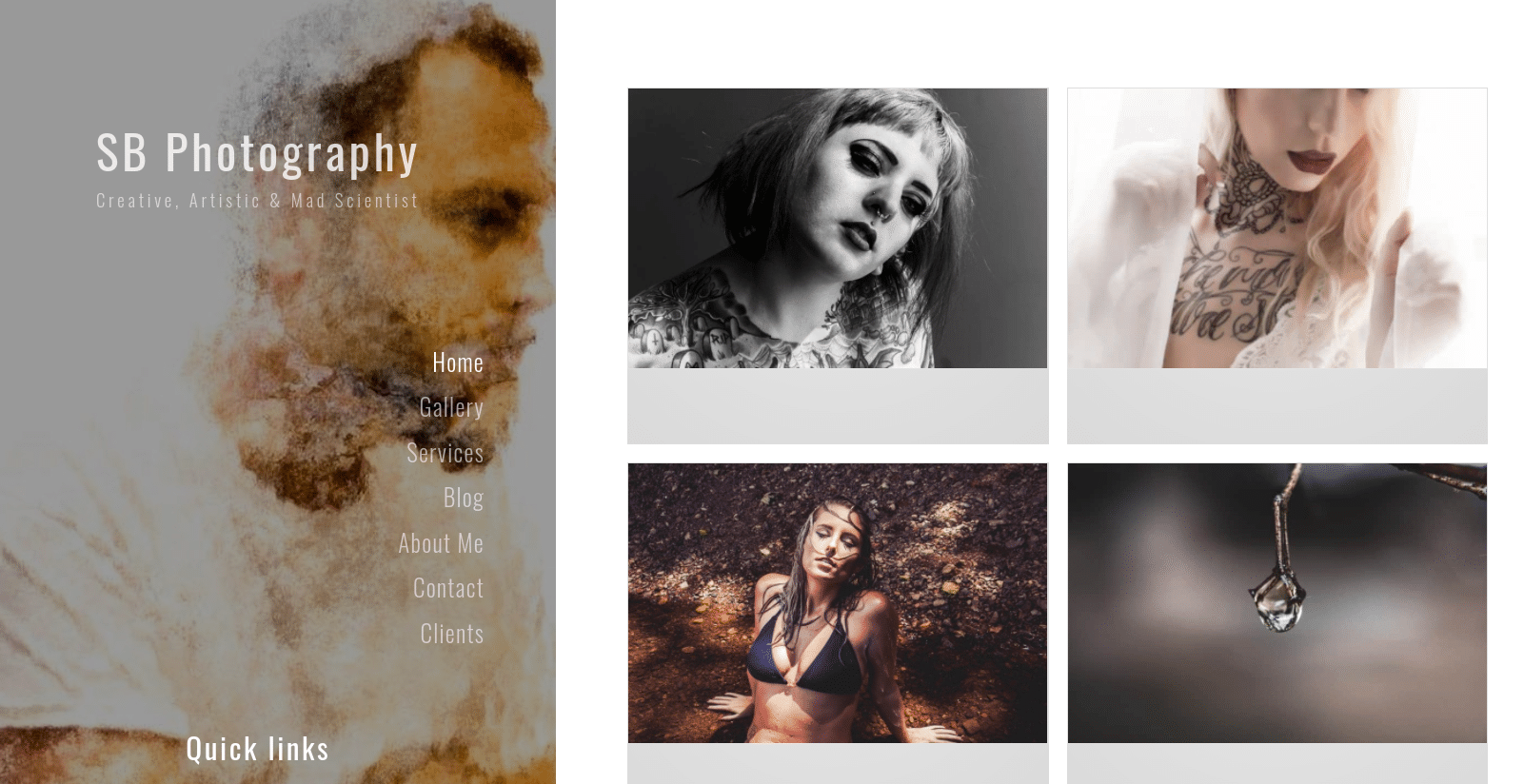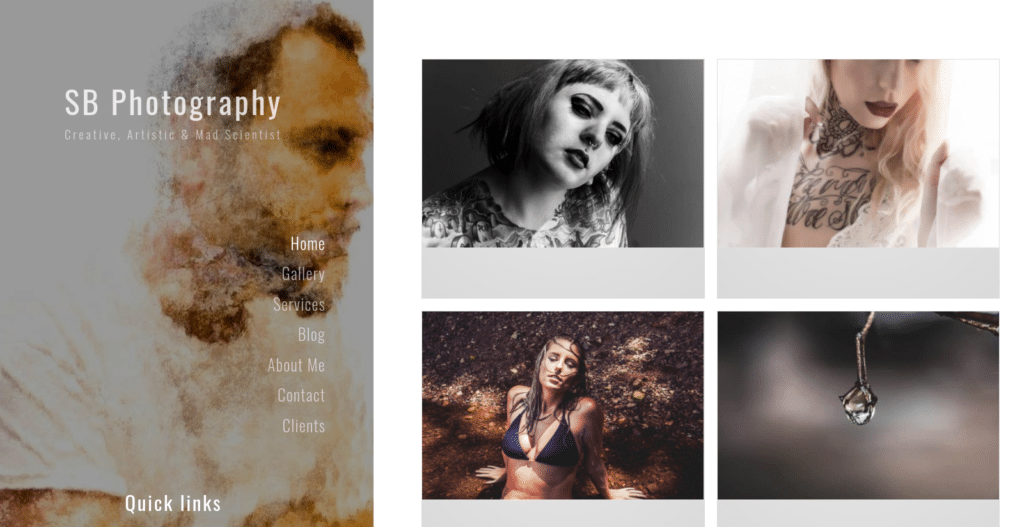 In addition to avoiding a cluttered header, it's helpful to consider the hierarchy of menu items and links. We recommend organizing it in tandem with visitor behavior. For example, it makes sense to put the Home and Services links before your Contact page.
5. Maintain Consistent Branding Throughout Your Site and Beyond
Having consistent branding means all your stylistic elements (and your tone) are cohesive throughout your online presence. This communicates professionalism and credibility so visitors perceive your site in a positive light.
In addition to using the same format, fonts, and logo, it's also important to consider your color scheme. To make consistent branding easier, we recommend using a tool such as Canva: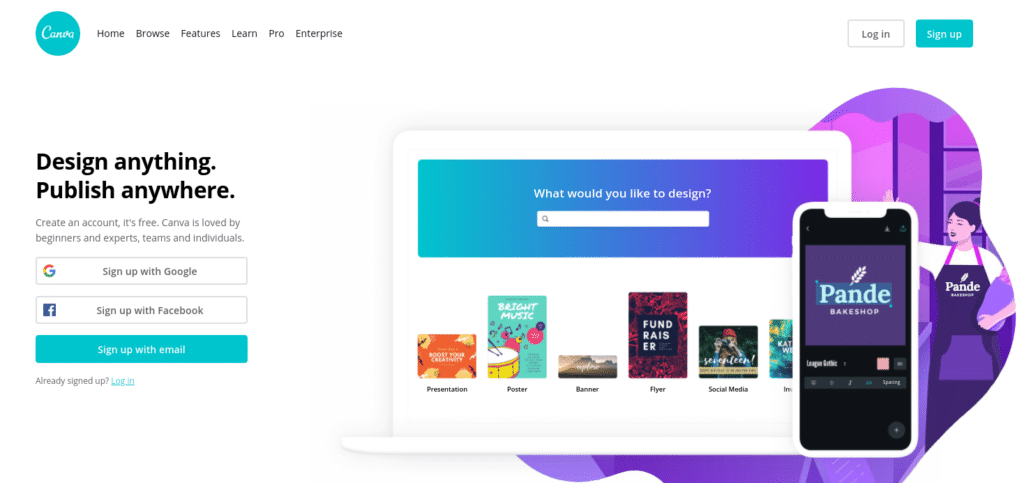 This platform lets you quickly and easily customize design templates. You can use it to create your logo, social media posts, and more so that your branding is consistent across platforms.
Conclusion
When someone visits your site, it only takes a few seconds for them to form an opinion of your brand. If you want to make a good first impression, quality web design is essential.
As we discussed in this article, five web design tips for your photography site include:
Choose a premium photography theme and galleries.
Keep important elements 'above the fold.'
Make your CTAs stand out.
Create a clear, organized menu.
Maintain consistent branding.
Do you have any questions about photography site web design? Let us know in the comments section below!